ESPN.com's UFC 101 primer
August, 7, 2009
8/07/09
9:41
AM ET
By Jake Rossen/Sherdog.com
ESPN.com
Archive
Anderson Silva's glancing up at the giant screens that surround the Octagon venue to see how much time he has remaining is an easily ignored bit of ring strategizing.
But if you listen to Silva talk, you might begin to view it as a metaphor for the dwindling days of his career.
Silva has been vocal about his obsession with the finish line. He has four fights remaining on his UFC contract, and most expect him to either follow Roy Jones Jr. into a gymnasium unannounced or happily corral his children in Curitiba, Brazil, seen only as background detail during the bouts of his friends and training partners. Already, his legacy weighs so heavily on his shoulders that he risked nothing in contests against Thales Leites and Patrick Cote.
Anderson Silva, it seems, is tired of being Anderson Silva.
In an effort to antagonize him, the UFC has enlisted for UFC 101 Forrest Griffin, the brief 205-pound ex-champion who makes a habit of dragging opponents down into a quicksand of dirty fighting. Griffin gets his hands dirty and his face bloody as a matter of course; it seems unthinkable that the bout will be anything but entertaining.
If Silva does manage to inject a paralytic into the event, it won't be the last thing anyone sees -- headlining is a lightweight title fight between B.J. Penn and Kenny Florian, two men who are as combustible as Silva is questionable. If you're only as good as your last fight, the UFC has nothing to worry about.
What: UFC 101: Declaration, an 11-bout card from the Wachovia Center in Philadelphia
When: 10 p.m. ET Saturday (check back here for a live blog during the event)
Why you should care: Because Penn is the most talented 155-pound athlete in the combat sporting world when he chooses to be; because Florian's work ethic and passion haven't yet turned him as apathetic as Penn sometimes appears; because Griffin's linebacker build is a curious problem for the lankier Silva to solve; because Amir Sadollah, the long-shelved "Ultimate Fighter" winner, is going to encounter both ring rust and Johny Hendricks, which is a little like getting both swine flu and food poisoning on the same weekend.
Fight of the night: Penn-Florian will lack "Fight of the night" honors only if the lights go out.
Sleeper fight of the night: Both Josh Neer and opponent Kurt Pellegrino sport two "Fight of the night" awards each, normally awarded to athletes who put crowd interest first and their health second.
Pre-emptive complaint: Alessio Sakara is 4-4 in the promotion, and he's still getting work on a major pay-per-view?
Hype quote of the show: "I can be beaten, but I'm not going to be broken. I'm not going to 'pitter-patter;' I'm not going to run." -- Griffin
Five questions for a big event weekend: UFC 101 and WEC 42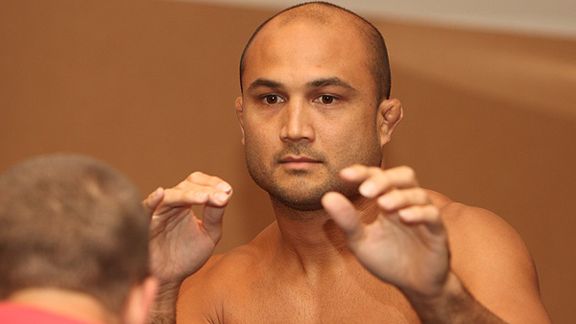 Dave Mandel/Sherdog.comB.J. Penn, above, will have his hands full with Kenny Florian.
If you don't get answers to these questions by 1 a.m. Monday, call and ask for a refund from your cable company. I'm sure it'll understand.
Q: Anderson Silva can deal with Forrest Griffin's striking. But can he deal with his size?
A: Stranger things and all that, but it is unlikely Griffin's muscular striking style will prove to be much of an issue for Silva, who practices Muay Thai like it's his religion. If this becomes a kickboxing match, Griffin will find himself with lots of time to learn what brand and wattage of bulb the house lights use.
But if he can bully Silva into the fence and force the middleweight champion into wasting energy in scrambles, carrying Griffin's weight, he might find himself on the proper end of a decision. Silva is not a small 185-pound athlete, but Griffin -- who actually has seen a scale hit 250 pounds more than once in his life -- is more mechanically dense. Size matters.
Q: Can Miguel Torres pick up where Urijah Faber left off?
A: For a promotion still struggling to adopt an identity even after UFC parent company Zuffa ran off with it, Faber was as good as the flannel-wearing guy who hawks Brawny paper towels: marketable, talented and dominant. Then Mike Brown happened.
While a solid ratings attraction for the Versus network, the WEC has yet to find itself in a position to begin a premium pay-television attack. Its focus on lighter-weight fighters has led to lighter-weight attention. Riding a 17-fight winning streak and able to corral the Spanish-language market, Torres -- who fights Brian Bowles on Sunday -- will either take over Faber's responsibilities as figurehead or cement the idea that the general public just doesn't care about the small guys.
Q: Will UFC 100's record business offer residual success?
A: Per Dave Meltzer's Wrestling Observer, the pay-television take of July 11's UFC 100 event might be in the neighborhood of 1.7 million buys. If true, it would incinerate previous totals and prompt both boxing and professional wrestling to begin staring sheepishly at their loafers.
What we should find out with the eventual business results of UFC 101 is whether a percentage of customers who had never purchased a UFC event prior to the anniversary show want to stick around. If this card is able to pull off an impressive number despite a lack of high-caliber drawing power, Dana White's proposition of global domination will seem increasingly less far-fetched.
Q: Can Javier Vazquez become a 145-pound threat -- again?
A: Celebrated for gutting out a 2003 war against Alberto Crane after tearing his ACL early in the fight, Vazquez left fighting because of too much pain and too little reward. A 2009 comeback hasn't made up for much; opponent Din Thomas dropped out of a June show, and in July, Vazquez got a call telling him a bout with LC Davis was scrapped, along with Affliction's entire promotional franchise.
Now the WEC has picked up the Vazquez-Davis fight intact, and talk inevitably will turn toward whether the jiu-jitsu expert has the tools to pose a threat to that promotion's deep 145-pound division.
Q: Is B.J. Penn doing the right thing?
A: Penn has admitted on several occasions that he is the director of his own movie and that no one has the cache or job description to tell him what to do. Training in Hawaii, he might be the best guy in the room on any given day. Contrast this with Georges St. Pierre, who -- when he wants to wrestle -- climbs into a ring with Rashad Evans.
For Kenny Florian, Penn has traveled to California and enlisted the help of Mark Marinovich, a somewhat infamous strength and conditioning coach to NFL athletes. This follows a round of testing last year with Mackie Shilstone, a world-renowned fitness authority who helped Michael Spinks and Roy Jones Jr. put on proper mass for higher-weight bouts. (Penn elected not to stay in New Orleans under Shilstone's guidance.)
Whatever you think of his training regimen, "consistent" is not the word that should immediately come to mind. While hiring Marinovich is an interesting addition, you have to wonder whether Penn's thoughts of grandeur -- he has, at various points, wanted to fight Wanderlei Silva and Ken Shamrock -- are up to the task of competing at 155 pounds and against a man who doesn't possess the adoptive legacy of a St. Pierre.
The biggest question mark is the one Penn dangles over his own head.
Back Against the Mat (BAM): UFC 101 and WEC 42 edition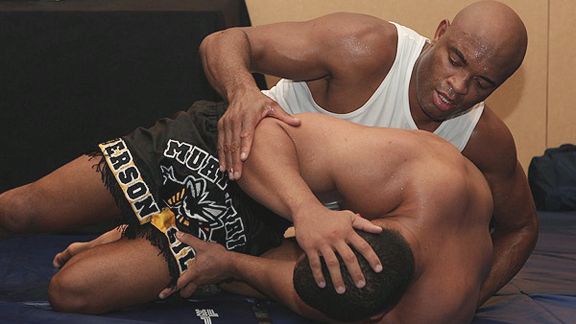 Dave Mandel/Sherdog.comAnderson Silva can't afford to look anything but stellar at UFC 101.
Because some fighters have more to lose than others.
Anderson Silva. Back-to-back insomnia solutions ported Silva from professor to pariah overnight. If he finds a way to behave eccentrically against Forrest Griffin, the UFC is going to have to consider arming his next opponent.
Jeff Curran. The WEC featherweight has lost three straight bouts against stiff competition. If he can't chamber a new career at 135 pounds against Takeya Mizugaki, he's probably due for the Phone Call.
Amir Sadollah. The ersatz Griffin and "Ultimate Fighter" finalist -- who entered the show with zero professional bouts -- impressed with the underdog victory in June 2008, but Sadollah dropped out of sight due to a broken clavicle and leg infection. Not his fault, but it's also not exactly setting the world on fire. Absentee attractions don't move tickets.
B.J. Penn. The athletically temperamental lightweight said he likely would have retired if he had defeated Georges St. Pierre in January, casting his interest in doubt; he also put off fans by dwelling on GSP's lubricated torso. Fortunately, fans remember only what you did last. If he can beat Florian convincingly, it'll be an amnesic to what's been an otherwise forgettable year.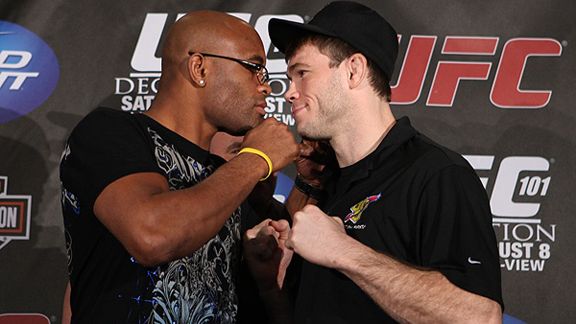 Dave Mandel/Sherdog.comForrest Griffin, right, tends to put his best foot forward against his toughest opponents.
Forrest Griffin's career since his 2005 "Ultimate Fighter" run has been repeatedly marked by bookmaker suspicion. In his bouts with Tito Ortiz, Mauricio Rua, Quinton Jackson and Rashad Evans, he was given little chance to win; bouts were handicapped with the idea Griffin would be opposing a speeding motor vehicle instead of a human being. (To the pleasure of those holding tickets in his favor, he went 2-2.)
Against Anderson Silva this Saturday, it should come as no surprise that he is again eliciting more sympathy than support. Wagering sites will give you $300 for every $100 risked if Griffin wins. It might not be their personal belief, but the numbers reflect what they think is needed to entice fans into backing him. The day Griffin is given a solid chance to win against any ranked opponent is the day pigs taste like chicken.
What it means: For Griffin, the chance to rise to new levels of stardom by beating a celebrated pound-for-pound great; for Silva, an opportunity to reinvigorate fan enthusiasm in his career.
Third-party investors: Vitor Belfort, Dan Henderson and Wanderlei Silva, all of whom are looking at a high-profile meeting with Anderson Silva somewhere down the line; and the UFC, which has trumpeted Silva's skills to the clouds only to wind up with egg on its face. Twice.
Who wins: Silva. Griffin can be a bully, but he's unlikely to finish Silva on the mat -- and Silva will have at least three chances to stay on his feet and light a fire.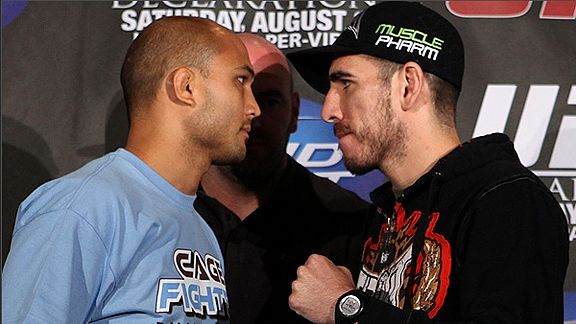 Dave Mandel for Sherdog.com B.J. Penn, left, can put the "GreaseGate" fiasco behind him with a win against Kenny Florian.
"It's time to kill the master" is not the most sporting of declarations, but with six straight wins -- and only one decision -- in the UFC since 2007, Kenny Florian has sweat and bled enough to earn a little hyperbole.
More than a few observers see Florian as the ultimate example of a non-gifted athlete who clawed his way into success and respect. (And they're right -- there's no video footage of Florian jumping out of a pool, which means he's practically useless physically.) Lightweight title holder B.J. Penn has seen more, done more and is more. Right?
Both Florian and Penn beat Joe Stevenson convincingly; Penn hammered Sean Sherk, who defeated Florian. Otherwise, Penn hasn't been nearly as active in the lightweight division as Florian. It's likely he would have handled Florian's opposition -- Roger Huerta, Joe Lauzon, Din Thomas -- but reputations aren't earned on hypotheticals, only what you're killed and eaten. And right now, Florian's appears to be the heartier appetite.
What it means: For Florian, the chance to monetize the status that comes with holding a UFC strap in seminars, how-to videos, appearances and merchandise; for Penn, an opportunity to erase "GreaseGate" from memory.
Third-party investor: Gray Maynard, an "Ultimate Fighter" recruit who holds a perfect record outside of the TUF house and appears due for a shot.
Who wins: Florian's commitment to the sport and physical maturation has been inspiring, and he might even give Penn some trouble standing. But the difference here is Penn's aversion to being controlled -- he can decide where this fight happens. And if he decides he wants Florian on the bottom, it'll go there. Penn by decision.