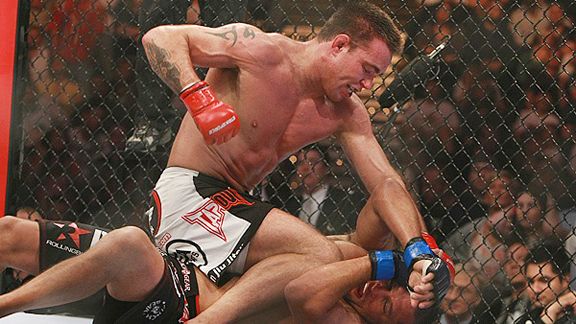 Dave Mandel for Sherdog.com
Jake Shields' first UFC match isn't likely to match the excitement of his final Strikeforce bout.
Sherdog.com has confirmed that exiting Strikeforce champion Jake Shields penciled in against Martin Kampmann for his UFC debut at a date and location to be determined.
Really? After months of noise about Shields, he's booked in a fight that promises to be stilted and workmanlike. Kampmann is a medium-heat fighter who probably can't do much about Shields seizing ground control and working him over. It's going to be a slow burn.
Tweet, tweet
Don't miss a moment of the latest MMA coverage from around the world. Follow us on Twitter and stay informed. Join »
This is process-of-elimination matchmaking, a condition of necessity over what might make for a better match. Jon Fitch and Thiago Alves are tied up with one another; Georges St. Pierre is committed to "The Ultimate Fighter" and Josh Koscheck. That leaves Kampmann as the most-credentialed welterweight available. And considering the volume of noise surrounding Shields' career decision, anything less than a dominant performance versus Kampmann going to be a disappointment.