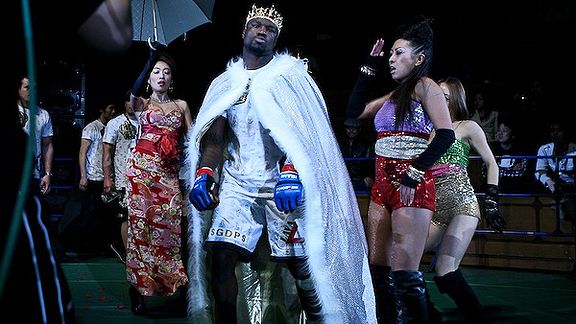 Daniel Herbertson/Sherdog.com
Does Muhammed Lawal have the goods to unseat Fedor Emelianenko as king of the heavyweights?
The promise of taking a wild swing at barely disputed heavyweight champion Fedor Emelianenko for a six-figure payday has become something akin to the world's most spectacular Toughman contest: land a crack at the champ, win a prize.
Since news of Josh Barnett's doped-up urine sample broke late Tuesday, no less than a half-dozen athletes have taken a number: in addition to reasonable choices Vitor Belfort, Bobby Lashley and Jeff Monson, David "Tank" Abbott, Don Frye and Muhammed "King Mo" Lawal have all been reported as expressing interest.
In ascending order of their odds:
Abbott (50-1): Slow, empty-tanked brawler who would give Fedor the fight of his life for five -- possibly seven -- seconds.
Frye (35-1): When given a microphone, the most entertaining man in the sport -- but 20 years past his best chance in the fight.
Monson (25-1): Submission artist who works in plodding movements on the mat and lacks stand-up efficacy: give Antonio Rodrigo Nogueira a call to discuss before agreeing to anything.
Lawal (15-1): Young enough not to be intimidated by the "mystique" of Emelianenko and maybe unorthodox enough to surprise him with something.
Belfort (15-1): The fastest opponent of Emelianenko's career -- too bad the Russian is about as speedy as any light heavyweight.
Lashley (10-1): Grass-green, but a good wrestler who could conceivably hold Emelianenko down. Pesky stand-up rule would likely be his downfall.
In the "too bad they're engaged" department:
Mirko "Cro Cop" Filipovic (15-1): Put up a passable performance against Emelianenko in 2005, the last time the Russian went the distance. After brief furor, wound up signing with the UFC.
Blagoi Ivanov (25-1): Beat Emelianenko in Sport Sambo in November via points. Easy hook for a confused, ornery audience. ("This guy beat Fedor!") Would never get a visa or stateside license in time.
Tito Ortiz (20-1): Hasn't been training after recovering from back surgery. Would likely demand a mid-seven figure salary and that he enter the ring carrying pepper spray.
Alistair Overeem (12-1): Lacerated his hand during a bathroom brawl in Holland, re-injured it training for Fabricio Werdum for an Aug. 15 Strikeforce event. Lots of reach, built like a security door, good submissions. Lots of problems that would need solving.