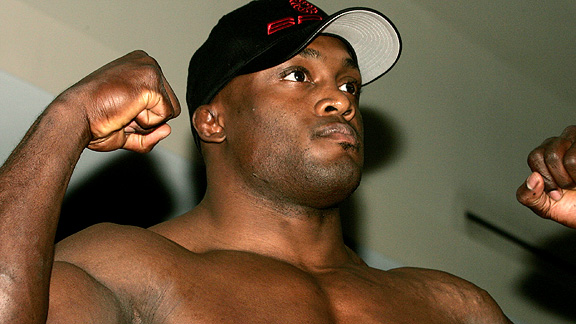 Cliff Welch/Icon SMI
Bobby Lashley's ego is inflated -- even for his oversized body.
No question, Bobby Lashley is a tough guy. Strong, has NAIA wrestling credentials and is tied up with American Top Team. He scrapes the upper end of the 265-pound heavyweight limit. A record of 5-0. Healthy ego.
That last part is becoming a problem.
Lashley is quite possibly the most rudderless fighter in the sport. He doesn't want to fight nobodies, as he told HDNet's "Inside MMA" on Friday, but jumping into a fight with Fedor Emelianenko (his preference) would be insulting even by Strikeforce's meager standards.
Lashley is a prospect, but you don't get fights based on potential. The promotion has a surplus of midtier heavyweights who would help establish his place.
Lashley wants a shortcut, and he's in desperate need of an adviser.
What can he do? He could fight an Andrei Arlovski, Antonio Silva or Brett Rogers. He could see whether his size would be enough to overcome the more substantial wrestling ability of Daniel Cormier. He could grasp the idea that he hasn't fought since the beginning of the year and that fans perceive his overblown appetite for big fights to be undeserved. He could acknowledge that he's still a rookie in the sport and that his fights should be determined by the promoter.
Lashley could argue that Brock Lesnar, another legitimate grappler, got his title bid in only three fights. But at least he beat a veteran in Heath Herring and very nearly finished Frank Mir before making a rookie's mistake. The cold reality is that Lesnar is a massive draw and can expedite his career; Lashley has yet to prove he can even deliver ratings above the norm. If pro wrestling is more about talking than ring time, it's no wonder he was such a star.