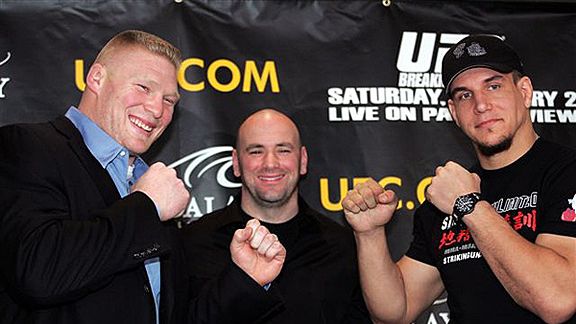 Sherdog.com
Frank Mir thinks Brock Lesnar's size is an advantage -- for Mir. Hey, he ought to know.
Talking with Steve Cofield this week, interim UFC heavyweight champion Frank Mir insisted that opponent Brock Lesnar's size would be a liability in the fighters' July 11 unification bout.
"Honestly, I think big guys are easier to fight," Mir said. "They don't move as fast, they get tired quickly and they're not as technical."
That's true much -- but not all -- of the time. Lesnar showed no signs of fatigue during a three-round decision over Heath Herring in August. But to be fair, he wasn't being asked to perform any muscle-contracting anaerobic work: Herring wasn't going to make him fend off a takedown.
I don't see this fight as being substantially different from Mir-Lesnar I (a Mir victory), save for Mir's having some idea of what to expect in terms of Lesnar's agility. Mir can win this fight anywhere, but it's Lesnar's strongest position -- on top and pounding -- that plays right into Mir's game. If Mir can submit a jiu-jitsu black belt in Roberto Traven, I don't think Lesnar and his two years of submission defense will avoid a bear trap.