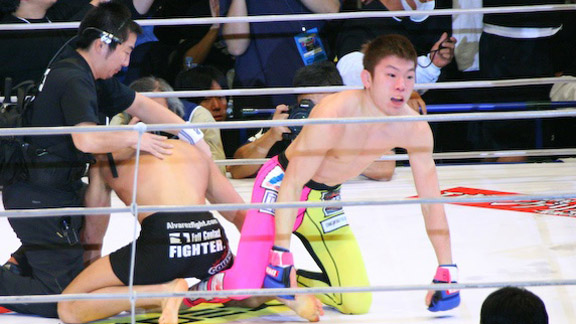 Sherdog.com
Shinya Aoki's leggings aren't only an eyesore, they might also give him an unfair grappling advantage.
Fanhouse's Michael David Smith seems to enjoy antagonizing athletes. Witness his contentious one-on-one with Ken Shamrock, admittedly an easy guy to agitate.
Smith is at it again, this time questioning the fair-play issue regarding Japanese star Shinya Aoki wearing spandex grappling leggings during competition.
"It is nothing to do with my grappling skills," Aoki told Smith via an e-mail interpreter. "Anybody who has experience of grappling should know about this. This questions seems for nonprofessional." (His words exactly.)
To Aoki's likely disappointment, I prefer the uniformity of the Unified Rules, which make it impossible for athletes to taint victories (or losses) with allegations of apparel interference -- as well as avoid any unfortunate spin-class ensembles.