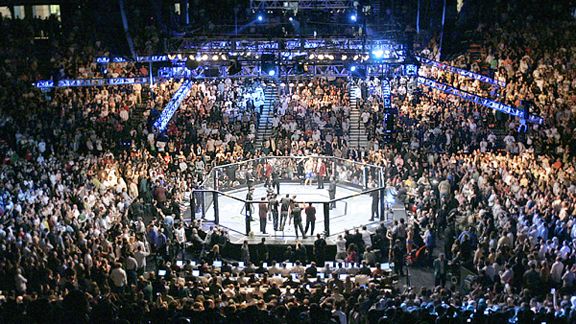 AP Photo/Eric Jamison
Between the Phillies, the Penguins and now MMA, it's a great time to be a sports fan in the Keystone State.
Though New York continues to pick its political nose when it comes to sanctioning the sport, neighboring Pennsylvania has no such problems. Four months after approving regulation, the state will host its first legal event in Pittsburgh on Saturday.
The promotional banner -- Ultimate Cage Fighting Challenge -- may appear creatively bankrupt, but at least it knows how to sell to locals: Former Steelers lineman Carlton Haselrig will headline.
Naturally, assemblyman and professional kook Bob Reilly makes his requisite appearance in local press, this time with fresh crazy. He now claims the sport has hosted up to 14 deaths to date.
It's absolutely true, Bob: Organizers have a mass gravesite hidden from view. It's up in the Catskills. Here's a flashlight and a map. Call when you get there.
Update: Honors for being Pennsylvania's first professional MMA event should be attributed instead to Cage Fight 1, a June 12 event held at Scranton's Riverfront Sports Complex. [i](Thanks to reader Alan Vannan)[/i]