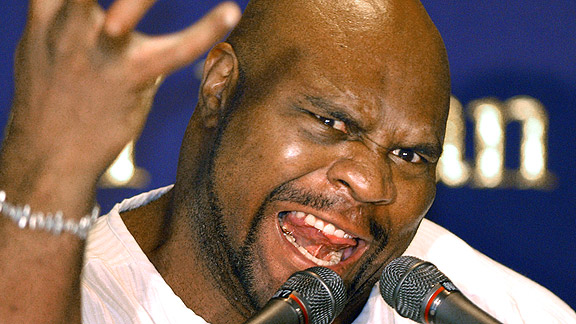 AP Photo/Koji Sasahara
"What do you mean you have to be under 400 pounds to use this toilet?"
He's made millions in his career and can't walk across a Japanese street without getting mobbed, but there are apparently limits to the benefits of being Bob Sapp: The super heavyweight tells Larry Pepe of ProMMARadio that
he's down to 320 pounds after breaking a toilet seat.
The good news: 320 pounds means Sapp will require a hell of a lot less oxygen than usual to function against Bobby Lashley during Saturday's "Ultimate Chaos" program in Biloxi, Miss.
The bad: He's still 320 pounds.
Sapp, as anyone who's spoken to him can attest, is a good guy who did what anyone in his size 15s would do: take the endorsement money for being a Japanese attraction, train when time allowed and show up for a fight. But if you expect anything beyond a minute or two of puffing haymakers, you're probably buying the wrong show.