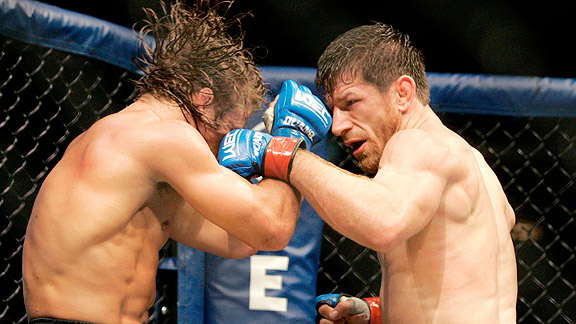 AP Photo/Jeff Chiu
Mike Brown's two wins over Urijah Faber leave little reason for a rubber match.
If Urijah Faber absolutely had to lose to Mike Brown on Sunday in Sacramento, this was the way to do it: go out only after stretching Brown through five exhausting rounds, getting your licks and leaving some measure of doubt in fans' minds over the outcome due to a seriously busted hand.
Faber's immediate future is still a question mark. He has had two opportunities to defeat the featherweight division's best fighter and he has come up short each time. A third match when one participant is down 0-2 isn't unheard of, but it'll take one or two spectacular performances by Faber and a completely barren contender's landscape for Brown.
That won't be an easy feat: Jose Aldo, who launched a flying knee at Cub Swanson that ended months of training in eight seconds, will be looking to capitalize on Brown's lethargic stand-up and eyes-to-floor haymaking. Good thing Aldo doesn't have a huge name yet, otherwise they might consider making us pay for it.
Next for Brown: Aldo.
Next for Aldo: Brown.
Next for Faber: Josh Grispi, who disposed of Jens Pulver with respectable efficiency.
Next for Pulver: Commentating.
New questions
[+] Enlarge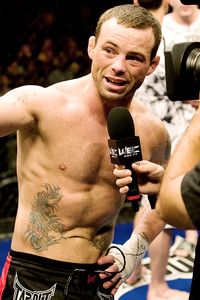 Josh Hedges/Zuffa/UFC/WEC
It's about time Jens Pulver looks for another line of work.
Q: Should Jens Pulver keep fighting?
A: Pulver is fortunate in that he has a credible skill -- analysis -- outside the ring. He should step away before the marbles start collecting in the mouth.
Q: Will Urijah Faber ever be able to beat Mike Brown?
A: Yes. He was in the fight for as long as he had hands. He can beat Mike Brown by staying away from him, wearing him out and going for points. Unless those two gnarled mitts begin to give him recurring problems.
Q: Can Jose Aldo beat Mike Brown?
A: He's faster and has better stand-up, but I don't think he can scramble the way Faber did. If Brown plants him, he will stay planted.
Q: Is "Fanarchy" going to be any good?
A: You watch it and let me know.
Etc. …
• Multiple fights in the stands, per the Wrestling Observer.
• WEC chair Reed Harris told media that the promotion would hold up to eight shows this year.
• Aldo's knockout of Swanson in eight seconds ties the WEC record for fastest knockout (with Lalo Moz-Bruce Nelson at WEC 1). The fastest KO of all time? Probably this one.