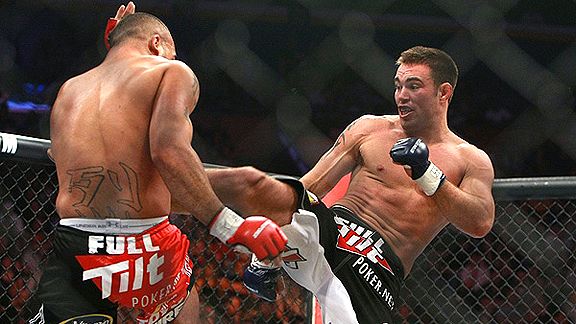 Dave Mandel for Sherdog.com
A league of his own: Jake Shields, right, will find the competition sparse at middleweight.
My tactful, indisputably articulate summary of Strikeforce's second Showtime event: It's been 16 years since UFC 1, and Gracie jiu-jitsu is still running things.
Kind of. Cesar Gracie students Nick Diaz and Jake Shields didn't enter the cage Saturday relying on sleeve chokes, but they used their grappling as the garnish for two impressive performances against two dangerous men.
Diaz -- who fought Scott Smith -- had his jaw tested against a younger, fresher middleweight than previous opponent Frank Shamrock, and he came out largely unscathed for the effort. He also became quite possibly the first non-video game character to land 200 punches in a three-round mixed martial arts fight. (I'll consult with my statistician. Once someone hires me one.)
Shields looked tentative and nervous early, backing away from Robbie Lawler's much-publicized power. But Lawler had no defense for a jump-in guillotine. Whether that's indicative of Shields' having a place at 185 is open to discussion, but at least he got by Lawler without suffering a blackout. Always a plus.
What's next for the two winners? Obviously not each other. Good thing there are plenty of other people to punch.
Next for Diaz: The surly Stocktonite may balk at facing a fresh loser, but a rematch with Lawler -- whom he defeated by knockout in 2002 -- would be post-July 4th fireworks. If not, Benji Radach would give him a workout. Unfortunately, Diaz may have outgrown a rematch with K.J. Noons.
Next for Shields: Whomever Diaz doesn't want to fight. Have you noticed Strikeforce's middleweight division has about four guys in it? It's kind of a problem.
Next for Brett Rogers: Probably some swell endorsement deals. His knockout of Andrei Arlovski was unexpected, impressionable, and sets up a title bout with Strikeforce champion Alistair Overeem. If he succeeds there, then maybe a bout with Josh Barnett or another top-shelf heavyweight -- but please, no talk of Fedor Emelianenko for a long, long time.
Next for Phil Baroni: A body-fat percentage above 4 percent. Maybe then he could stop draining energy from major internal organs.

Awards
The I-am-holding-a-betting-ticket-on-Kevin-Randleman-and-will-soon-be-foreclosed-on award: Kevin Randleman. There is no one in mixed martial arts who looks as foreboding, frightening or capable as Randleman: Wanderlei Silva would run from this guy in an alley. But all of that energy and ambition seems to get used up just before the opening bell. Against Mike Whitehead, Randleman couldn't keep him down, couldn't maintain Whitehead's pace, and couldn't finish the bout when he created a huge opportunity to do so. Randleman swore he was a changed man, but the results remained the same.
Ring attire of the night award: Phil Baroni. The Tom Hanks of this division, Baroni entered the ring wearing shades that had him ready to view "Star Trek" in IMAX.
Painting themselves into a corner award: Strikeforce. Two star-making performances from Diaz and Shields on Saturday -- but what were they worth? The teammates will never fight, titleholder Cung Le is busy hitting marks and Shamrock's mystique has gone the way of grunge. If their heavy push of Affliction was any indication of an alliance, they need to call in some favors. If they want, I'll even send in $45 as a down payment on Diaz-Vitor Belfort.
We respect you for trying award: Andrei Arlovski. The guy takes a fight on short notice, gets knocked out, misses the winner's share, and ruins his boxing debut on June 27, all in the space of about 10 seconds. That's a rough night.
New questions
Because the cycle never ends.
Q: Where does Phil Baroni go from here?
A: He's an easy punch line, but Baroni has an obvious work ethic and respect for the sport. What he needs is to consider MMA less of a pose-down competition and more a battle of technique. Whatever his conditioning routine has been for the past few years is clearly not the answer.
Q: Will Kevin Randleman fight again?
A: Yes. And he will swear he's changed his training, his mindset and his approach. And we will all believe him.
Q: But he also had Mike Whitehead nearly finished.
A: That's not a question.
Q: Respond anyway.
A: Randleman should see what he has at 185 before making any more decisions about his future. I do not think he would stand there and let Nick Diaz toss leather into his face 300 times. He would take that man down.
Q: Is Diaz cut out for 185?
A: The Shamrock fight did little to convince me of that. The Smith fight did everything.
Q: Is Shields?
A: Diaz can frustrate opponents on the feet; Shields cannot. I suspect Jake will run into a middleweight minefield well before Diaz does.
Etc. …
• Gina Carano versus Cristiane Santos is official for Aug. 15. Given 10 weeks to make weight, they just might do it.
Gilbert Melendez versus Josh Thomson will happen the same night. Not sure how it'll be much different from the first bout, which Thomson won.
• The introduction of the referee video recorder on the side of John McCarthy's face was jarring considering McCarthy's cheek took up a third of the screen. Shaky-orbital-cam needs to go.