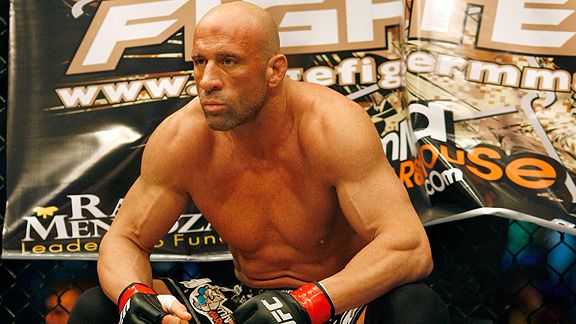 AP Photo/Peter Morrison
Mark Coleman's revamped corner and new attitude could spell trouble for Stephan Bonnar.
Yahoo Sports' Steve Colfield, who recently endured a distressingly intimate interview with a shirtless Matt Hughes, had a much more normal chat with Mark Coleman: the former UFC champion is adamant that his performance at UFC 100 on July 11 will erase the memory of a wheezy bout against Mauricio Rua in January.
"I told people I was going to stand up with this guy and everybody said I was full of s---," Coleman said. "Unfortunately, my instincts took over, I took him down early and I hadn't done enough wrestling myself. I feel like I wore him out wrestling, but at the same time I wore myself out early."
The Hammer is in camp with noted trainer Shawn Tompkins, and that's a good sign: Coleman's Hammer House regime of old frequently lacked game plans and a focused training strategy, which eventually led to piles of losses for both Coleman and protégé Kevin Randleman.
When Coleman trained with Pat Miletich in 2000, he made the most dynamic comeback in the history of the sport by topping the Pride Grand Prix tournament.
The corner matters, and aligning with Tompkins is smart business. I still don't like his odds against the younger, more versatile Stephan Bonnar, but a dialed-in Coleman should make anyone at least a little nervous.