Monday, April 4, 2011
Jardine Dreamcatching, then weight-watching

---
By Chuck Mindenhall



A funny thing happened to Keith Jardine on his way to reinvention as a middleweight -- somebody picked a fight with him. More accurately, he was offered a fight he couldn't refuse in Gegard Mousasi, widely considered a top-10 light heavyweight, on a week's notice.


How could he? How could he not? The very idea of fighting the "Dreamcatcher" had Jardine up in arms in Team Greg Jackson-like homage before the end of the phone call.

"I was having a great vacation, too, enjoying my new house in Albuquerque, and this sort of ruined my plans," Jardine said. "But you know what? I just have a hard time turning down fights. Especially now that Zuffa's involved. I just … I have a hard time saying no, so what the heck."

Although the April 9 fight with Mousasi isn't technically a crosspromotional bout, it has the feel of one. Jardine is still synonymous with the UFC and Mousasi with Strikeforce. Jardine has beaten -- and lost to -- champions and former champions. Mousasi is a former champion who has made a career batting down a who's who of well-regarded middlegroundsmen. His last notable win was arguably against Ronaldo Souza via an upkick at the Dream Middleweight Grand Prix in 2008. Jardine went into a career tailspin by losing five fights in a row, including four in the UFC that forced the promotion to issue his walking papers.

[+] Enlarge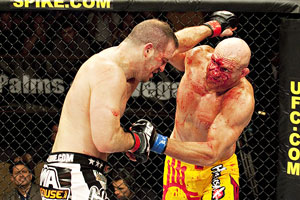 Jim Kemper/Getty ImagesKeith Jardine's last appearance under the Zuffa banner didn't go over so well.
Their trajectories are very different, and so are their styles. Mousasi uses spatial distance (known as the principle of ma-ai) to pick opponents apart; Jardine's is an unorthodox striking style with leg kicks that could obliterate spatial harmony.
But really, the fight is compelling for bigger reasons. Mousasi is in the process of defining; Jardine is in the process of redefining.
"Yeah, you know, I saw film on Mousasi for the first time [Saturday morning]," Jardine said. "Honestly, I've only heard of him, I haven't watched too much of him in the past. So I watched film this morning, and stylistically it's great, so I'm excited. He's held the Strikeforce belt before, so I get to fight another guy who's had the belt and is in the top-10 and all this. He's a worthy opponent. That's why I took it.
"At first I said, 'Man, I wish I had more time to game plan' and all that. But you know what? It's just a f---ing fight. You can overdo all that game planning and stuff. It's just a stupid fight. Let's just go do it, man."
In the tumult of the Rashad Evans/Jon Jones drama that's still playing out at Greg Jackson's place, Jardine wasn't planning on fighting again until late summer at the earliest, and very likely at middleweight. Just as Evans was going to set up camp away from Albuquerque, Jardine was looking to mix things up with his training by visiting some new gyms.
"I had a lot of plans of different things to do before my next fight," Jardine said. "My girlfriend [Jodie Esquibel] is fighting on the same night as me on April 9. She's a pro boxer, but she's doing her first MMA fight in Albuquerque. I was going to wait for her fight and then hit the road and train at a lot of different places and just work on my game. I promised myself I'd do a lot of stuff like that before I got my next fight, which I thought would be July or August. But like I said, I have a hard time saying no."
Even if Jardine beats Mousasi for his third win in a row, this might be the last time we see the "Dean of Mean" at 205 pounds for a long while.
"Yeah, I think so," he says. "In the long haul that's where I see myself. I feel like -- I haven't looked at Strikeforce too much yet, and I'm pretty excited about Zuffa owning it and everything. In the past I was looking at the 185 roster there, because I never cut weight very hard anyway. In fact, I'm a little chubby at 205, and I've never been real serious about my diet -- those guys in the top 10, [I] think I match up very well against.
"Even Anderson [Silva], that's a great fight."
---