Wednesday, December 8, 2010
UFC 124 primer

---
By Jake Rossen



Fighting just twice a year and rarely compromised by opponents, Georges St. Pierre might be the single greatest original product of the modern-era Ultimate Fighting Championship.

Zuffa -- which bought the UFC brand in 2001 -- inherited a number of attractions from previous owners, including Tito Ortiz, Randy Couture and Chuck Liddell; Brock Lesnar's fame was bred in pro wrestling; Kimbo Slice was a product of YouTube. The UFC has discovered and developed many stars, but St. Pierre is special.

St. Pierre had several fights in Canada to begin his career, but it wasn't until he began taking down high-level wrestlers in the UFC that people began to understand what was happening: A capital-A athlete had learned how to fight, and had developed his body for no other purpose.

Wrestlers had physicality, but only as a side effect of their collegiate careers -- worse, they often relied solely on their ability to grapple, their bodies and egos married to certain functions. When St. Pierre made his UFC debut seven years ago, he wasn't trying to adapt. The athleticism and the skill set were built simultaneously.

Before St. Pierre, athletes took turns succeeding with fighters, and good athletes who married good skills (Matt Hughes, Couture) were regular winners. But St. Pierre is a great athlete with a great ability; he has the frame of an Olympian in a sport that hosts a lot of varsity players. The interest -- and there's a lot, with St. Pierre's previous fight against Dan Hardy flirting with Lesnar numbers -- stems from that unlikely coupling. He could probably be a professional in another sport if he had made that decision. Instead, he's operating at that level for the purpose of a new form of prizefight.

A few years from now there will probably be many St. Pierres: groomed athletes who groom great physical gifts with an understanding of violence. For now, he's still the exception that will eventually insist on the rule.

What: UFC 124, an 11-bout card from the Bell Centre in Montreal

When: Saturday, Dec. 11, at 10 p.m. ET on pay-per-view

Why you should care: Because St. Pierre is flirting with cleaning out an entire division in a manner no one has managed yet; because Josh Koscheck comes from a camp (AKA) that produces some of the most difficult fighters to figure out; because Sean McCorkle could talk himself into Kimbo Slice levels of Internet infamy, with a good set of skills to go with it; and because Thiago Alves is still a question mark following a tough loss to Jon Fitch (and brain surgery).

Fight of the night: Alves versus John Howard, two talented strikers who are brawlers at heart.

Hype quote of the show: "Everybody in there is pushing you. If you have a bad day in there, let me tell you, you're going to go home and you're going to question yourself because you get your ass kicked in the gym. There's been many days in this training camp that I got beat down in the gym and I'm just like, 'Oh my God.'" -- Koscheck, in accidental humility, to the Montreal Star-Gazette
Questions: UFC 124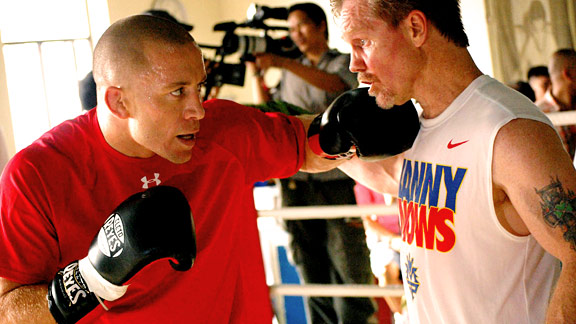 Michelle Butalon/AFP/Getty ImagesFreddie Roach, right, feels he knows how Georges St. Pierre can get to Josh Koscheck's chin.
Is Freddie Roach a reliable witness?
Roach, the highly regarded trainer for some of boxing's biggest names, has offered instruction to MMA fighters for the past several years; speaking about St. Pierre's fight with Koscheck, Roach suggested that Koscheck's lazy jab might be countered with a St. Pierre left hook.
The problem with using Roach as handicapping fuel is uneven testimony: He once criticized Manny Pacquiao's camp for being underwhelming -- when Pacquiao was his own fighter -- and has often bolstered the credentials of fighters more out of good faith than actual belief. Roach says a lot, but often winds up meaning very little.
Can MMA ever offer a hometown advantage?
Like Matt Serra before him, Koscheck has the unenviable task of trying to keep his focus while a 20,000-plus seat arena wants to see him drawn and quartered; that's the benefit of St. Pierre fighting for his Canadian base. But unlike in ball sports -- often measured attempts to drive in a goal, with time to absorb the crowd's negative energy -- there's not much else to pay attention to in a fight besides attacking and not getting attacked. If Koscheck can ignore the brutal walk to the Octagon, the crowd might not matter.
How will Dustin Hazelett do as a lightweight?
Dustin Hazelett's UFC career at 170 pounds was uneven (he went 5-4) but filled with wonderfully inventive grappling and submission highlights. In his past two bids, he was TKOed, prompting a move to 155 pounds.
Dropping weight is an easy reinvention: if you're losing, it might be because you're getting smothered. But Hazelett's problems came as the result of superior stand-up artists, and there won't be a deficit of those in any division.
Do or die for Danzig?
The UFC's current climate -- win or go home -- has never been more unforgiving, thanks mostly to the saturation point of shows and a choked-up roster from the WEC merger. Mac Danzig has lost four of his past five bouts; another one against Joe Stevenson would be the end of the road. Hardly unusual, but it would make only the third time an "Ultimate Fighter" winner was cut.
Red Ink: St. Pierre versus Koscheck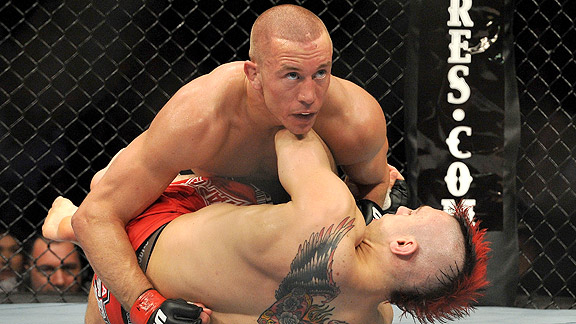 Jon Kopaloff/Zuffa,LLC/Getty ImagesGeorges St. Pierre, top, isn't one to find himself somewhere he doesn't want to be.
In most of his recent fights, St. Pierre has not allowed himself to enter situations he cannot control. Several times, he's passed up striking in favor of positional dominance on the ground, where fighters are made to be helpless and forced to defend themselves rather than think of an offense. Chris Leben, Wanderlei Silva -- these are "chips-in" fighters. St. Pierre doesn't bet unless the hand is good.
That approach has had two effects: It's won him fights against dangerous fighters -- which in turn raised his celebrity -- but it's also forced some fans to accept that not all champions bring lighter fluid into the Octagon.
Lately, the question was whether his superior wrestling would be enough to perform against athletes like Fitch or Alves. Taking either one down is like trying to bend a support beam. In both cases, he did, just as he put down Koscheck in 2007. Saturday's issue is whether Koscheck has paid enough attention to polishing his Division 1 credentials enough to stay on his feet, and whether St. Pierre can remove himself from his comfort zone enough to deal with him standing if it becomes necessary.
What it means: For St. Pierre, an opportunity to enjoy a victory against a disliked opponent in front of a partisan crowd; for Koscheck, validation that his projected ego is earned.
Wild card: St. Pierre's decentralized training. It's obviously working for him, but the minute it doesn't, he'll be criticized for not having any continuity in his camp.
Who wins: It's a tough bout for St. Pierre to look good in, but that's typical at this level. Koscheck should be able to scramble up from takedowns, but that will eventually fatigue him more than he'd like. St. Pierre by decision.
---