Wednesday, August 18, 2010
Strikeforce ponders Cowboys Stadium

---
By Jake Rossen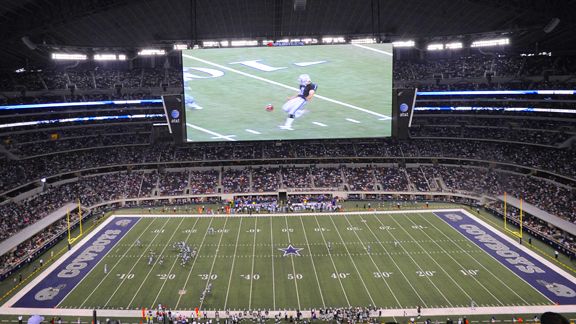 AP Photo/Cody DutyWith the world's largest flatscreen, Cowboys Stadium might be the only mega-arena suited for MMA.
There is a reason that records for MMA attendance in the U.S. pale in comparison to some of the better-attended sporting events: Fighting is an intimate activity, and sprawling only applies to technique, not spectacle. Get too far past a 20,000-seat arena and you run the risk of turning athletes into specks of undefined motion.
But because there's cachet that comes with a big audience number, the UFC has floated the idea of holding an event at Cowboys Stadium, the ostentatious 80,000-seat mini-town in Dallas. To circumvent the visual problems, the stadium has a giant, 160-foot HD screen hanging overhead. (You, too, can leave the confines of your living room to feel the energy of a sports milestone by ... watching it on a screen.) Now MMAFighting's Mike Chiappetta reports that Strikeforce has had internal discussions about the same thing: The company allegedly flirted with the idea for an October event, using former Cowboys running back Herschel Walker as an incentive.
When Manny Pacquiao -- one of the better draws in boxing -- fought Joshua Clottey last spring, the arena hosted 50,000 people, a portion of whom were boxing fans and a portion of whom were probably just thrill-seekers who were into the novelty of watching a fight in something more impressive than a Roman coliseum. Considering Pacquaio has consistently attracted 10 times the attention of Strikeforce on its best day, you can imagine that filling up those seats would require putting several thousand prisoners on furlough.
The UFC could get away with it, though in either case a Cowboys Stadium show has the potential for major embarrassment. What happens when you throw a party and no one shows up? It's better to have a packed 10,000-seat venue than an empty 80,000-seater. I don't think the plan will go beyond idle conversation -- unless Pacquiao wants to start stuffing takedowns.
---