May, 4, 2012
5/04/12
11:28
PM ET

By Franklin McNeil
ESPN.com
Archive
Since capturing the Bellator lightweight title on Nov. 19 from
Eddie Alvarez
with a fourth-round submission, Michael Chandler has refused to rest on his laurels.
Chandler is determined not to be a one-and-done champion so he has upped the ante in training camp. He's worked extra hard to improve every aspect of his game, especially his striking.
The extra work paid off Friday night as Chandler stepped into the cage for the first time since becoming a champion to face veteran Akihiro Gono.
Though his title wasn't on the line, the younger, stronger, faster and more determined Chandler wasted little time quashing any hopes Gono might have had of pulling off an upset.
Chandler landed a hard right hand that dropped Gono less than a minute into the Bellator 67 main event in Rama, Ontario.
He would follow the punch with another right hand, that forced Gono to cover up. With Gono making no attempt to mount an attack, Chandler began delivering right and left hands, many of which found the mark.
That was enough for referee Yves Lavigne, who jumped and waved the fight off at the 56-second mark.
Despite the impressive win, Chandler (10-0) preferred to downplay his effort. He has set his goals high, and knows there is much more to do before they can be achieved.
"I have a lot of work to do," Chandler said. "By no means am I complacent. I promise you I am going to be the best lightweight in the world, and I'm working toward that.
"I'm blessed with great sparring partners and trainers. It's going to be tough to take this [title] away from me."
Gono, 37, has now lost three fights in a row. His professional record stands at 32-18-7.
March, 9, 2012
3/09/12
11:56
AM ET

By Chad Dundas
ESPN.com
Archive
There are plenty of signs that 2012 might turn out to be a tough one for Bellator Fighting Championships.
The de facto second-best MMA organization in America has a broadcast deal with SpikeTV lined up, but legal tendrils from Spike's previous agreement with the UFC mean Bellator will remain marooned on MTV2 for most of this year.
As if being mired in that suspended animation wasn't bad enough, the company's Friday timeslot will soon put it up against "WWE Smackdown" and on the same night as the new "live" incarnation of "The Ultimate Fighter."
None of that is great news, but if you want perhaps the best indicator of how weird things are at Bellator right now, consider this: The company just booked its hottest star a fight with Akihiro Gono.
Yes,
that
Gono. The 37-year-old journeyman who is currently riding a two-fight losing streak and is 3-5 dating back to 2008. The one who didn't fight at all during 2011. The one who these days is better known for funny ring entrances than anything he's done between bells.
[+] Enlarge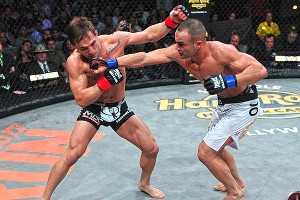 Courtesy BellatorMichael Chandler, left, is getting to know what it feels like to be a big fish in a small pond.
He's assumedly the best Bellator could find when it went in search of an opponent for
Michael Chandler
. Chandler leapt to the forefront of our collective consciousness when he took the promotion's 155-pound title off perennial Top 5 lightweight
Eddie Alvarez
in what many thought was the best fight of 2011. He's been idle ever since, and if the wave of momentum is still rolling underneath him, at this point it's trickling dangerously close to shore.
In other words, now is definitely a strike-while-the-iron's-hot kind of situation for Chandler and Bellator.
So ... yeah ... Gono. Pretty much the equivalent of trying to jump start a party by asking the four people still hanging around your apartment at 3:15 a.m. if they want to watch your high school football highlight tape.
The saddest part is, it's not really even Bellator's fault.
[+] Enlarge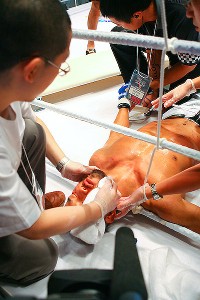 Daniel Herbertson/Sherdog.comAkihiro Gono has been on ice in more ways than one as of late.
This is simply the reality of trying to run a mom-and-pop MMA promotion in 2012. Last year's Chandler-Alvarez fight proved that Bellator can create homegrown stars, but right now it has precious few options for what to do with them after that.
It's not as if there are a ton of compelling lightweights floating around out there who aren't already under contract to one Zuffa property or another. Until Bellator's season six 155-pound tournament produces a challenger, there just aren't a lot of options for Chandler, short of guys like Gono or a rematch with Alvarez.
These upcoming six months of inactivity won't do him any favors, either. Chandler is currently hanging on at No. 10 on the ESPN.com lightweight power rankings, but to sit around from November 2011 until May 2012 knowing the best your employer can do is
Akihiro Gono
? That'll make your mind wander.
And it's no secret there aren't a lot of other places in this industry to wander off toward. Just one very big one.