February, 27, 2013
2/27/13
6:38
AM ET

By Franklin McNeil
ESPN.com
Archive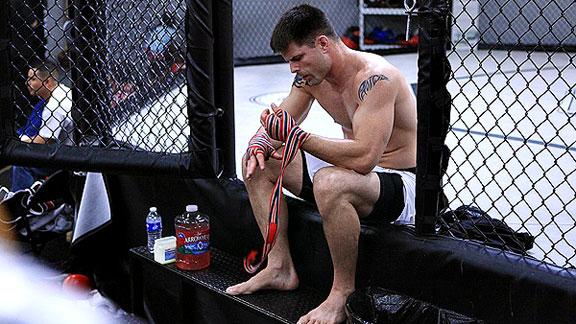 Dave Mandel for Sherdog.com Despite personal issues outside the Octagon, Brian Stann is eager to forge ahead.
The self-assured demeanor and authoritative sound of his voice have returned. They are solid indicators that
Brian Stann
is close to being his old self again -- personally and professionally.
For more than a year, Stann has been rebounding from a family tragedy.
His brother-in-law, Louie Rusti Jr., passed away on Dec. 23, 2011. Since that time, the overwhelming majority of Stann's focus has been on helping his wife and mother-in-law recover. It's been a very difficult period, emotionally, for Stann and his family -- losing a close family member is never easy. They haven't fully recovered from Rusti's passing, and possibly never will, but progress has been made.
Each day, life in the Stann household shows more signs of returning to normalcy. There's a lot of laughter again, daughters Alexandra and DeAnna keep the fun flowing. Their youthful innocence and playfulness is contagious throughout the home.
Another factor that has helped this family steadily put the pieces back together is Stann's decision not to leave for an extended period.
"

I plan to go undefeated this year. I plan to fight three times and I plan to win all three fights and I plan to finish all three fights. I take it very seriously that UFC put me in a main event. I take a lot of pride in that.

"

-- Brian Stann on his plans for 2013.
Rather than spend two months in Albuquerque, N.M., at Jackson's/Winkeljohn's gym preparing for fights, Stann has conducted each of his past three training camps in Atlanta. It's the best decision this dedicated soon-to-be-father-of-three could have made.
"The biggest thing is when you're not able to be a father; you're missing moments in time with your young children that you will never get back again," Stann told ESPN.com. "It's a big distraction.
"That would hurt me when I was in New Mexico [training at Jackson's]. It made me question whether I was choosing the right thing. Was I being selfish?
"Fighting pays me well, but there are other things I can do and be with my kids every day. I have a 5-year-old [Alexandra], a 3-year-old [DeAnna] and my wife [Teresa] is pregnant with our third child. I can't go for two months and live in another city to train for a fight. I can't be that selfish.
"I needed to make this [training in Atlanta] happen because, above all else, my No. 1 job in the world is being a father."
But Stann, who once held the rank of captain in the United States Marine Corps, also is a professional mixed martial artist. And he isn't the type of guy who cuts corners. Stann's prefight preparation in Atlanta is just as strenuous, if not more, than those he went through at Jackson's. Extensive stand-up, grappling and jiu-jitsu sessions are still on the docket.
As has been the case for a while, wrestling techniques get extra special attention. Stann is always looking to improve his wrestling.
A lot of progress was made in each of the previous two training camps. Fighters and coaches traveled from Albuquerque to Atlanta last year to help Stann prepare for fights against
Alessio Sakara
and
Michael Bisping
. He won the first with an opening-round knockout, lost the latter by unanimous decision.
But this latest Atlanta-based training camp has been his best. Stann is feeling great. The fire within burns as hot as ever, and he is ready to apply some heat Saturday night to hard-hitting veteran
Wanderlei Silva
during their UFC on Fuel TV 8 main-event showdown in Saitama, Japan.
The two middleweights will compete at light heavyweight. Both are former 205-pound champions -- Silva in Pride, Stann with WEC.
But Stann makes it clear that he does not intend to exit the 185-pound ranks. This fight against Silva at 205 is a one-shot deal.
"This is a middleweight fight in my eyes," Stann said. "We made an agreement to 'let's just not cut the weight.'
"I didn't pack on any extra pounds. I don't have a weight issue; I don't have a strength issue; I don't have a power issue. It's more important to be fast against Wanderlei than it is to be bigger."
Mourning the death of his brother-in-law hasn't fully dissipated, but Stann has come a long way since December 2011. So much so that he sounds like his pre-2012 self. The fight with Silva is part of a larger plan. The 32-year-old wants to be more active this year and continue participating in high-profile bouts. Getting rid of Silva in exciting fashion is the first step in that direction.
"A finish in this fight will definitely get me another fight against a significant middleweight, a top-10 ranked middleweight," said Stann, who will compete on foreign soil for the third time in a row Saturday night. "That's important to me.
"I want to go out there and dominate; I want to finish this fight. Everything in 2012 is behind me, now I can focus on what I can do.
"I plan to go undefeated this year. I plan to fight three times and I plan to win all three fights and I plan to finish all three fights. I take it very seriously that UFC put me in a main event. I take a lot of pride in that.
"I want to be a guy who is always considered for that part of the card, whether it's the co-main event or main event; that's why this is a big fight for me."
September, 18, 2012
9/18/12
7:26
AM ET

By Franklin McNeil
ESPN.com
Archive
After listening to middleweight contender
Michael Bisping
repeatedly express his intention of standing toe-to-toe with
Brian Stann
in Toronto, just about everyone is convinced he will stay true to his word.
"I have the advantage," Bisping told ESPN.com. "He has some punching power, but that's it. I'm a way better boxer and a way better kickboxer. I'm faster, have better head movement and better foot movement.
"I recognize that he's knocked some people out, but I have a good chin. I've been stopped just once in my career by
Dan Henderson
, and there's no shame in that."
With Bisping putting it so strongly, can anyone expect him
not
to fight Stann on the feet Saturday night at UFC 152? One man isn't ready to fully take Bisping at his word. And that man would be Stann.
The former WEC light heavyweight champion respects Bisping's striking skills and self-confidence, but he gives more credence to his opponent's intelligence.
"I welcome him standing with me and trading shots," Stann told ESPN.com. "That's an area where it's always been one of my best opportunities to win fights.
"But I don't think that's exactly what he is going to do. He'll use his footwork. He's not a pocket-puncher-type of guy. He's a stick-and-move-type of guy."
Trading strikes with Stann inside the cage has been proven to be a disastrous strategy. Stann, who is powerful and displays exceptional stand-up technique, also has a very sturdy chin, which he often invites opponents to test.
[+] Enlarge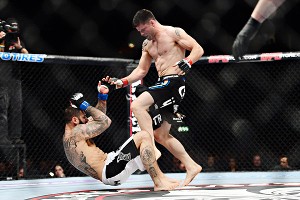 Martin McNeil for ESPN.comAlessio Sakara, left, learned firsthand the dangers of trading with Brian Stann.
The invitation is difficult to resist, and fighters who have given in to that temptation have paid a hefty price. Nine of Stann's 12 wins have come by knockout.
Stann's devastating punching power was on display in his most recent bout, when he needed slightly less than 2½ minutes to knock out
Alessio Sakara
in April.
Yet Bisping remains eager to take the bait.
"I stand with every one of my opponents, so why should Brian Stann be any different?" Bisping said. "He's the one coming into the lion's den with me. We'll see what happens."
In a few more days everyone will learn whether Bisping is playing coy. But on further thought, it might not be Bisping who is taking everyone for a ride. The more Stann responds to Bisping's stand-up comments, it becomes increasingly difficult to discern if he isn't the one pulling our legs.
After spending a good amount of time saying he welcomes a stand-up war, Stann tossed in this enticing tidbit: "I'm not expecting Michael to go out there and get into a kickboxing match with me. Mike's going to try to mix it up, and that's fine with me, too.
"I'm very excited to surprise him in the other realms of mixed martial arts. I feel he's underestimating me in my other skills and that's fine; I'm not going to tell him how good I am, I'm going to
show
him."
"

I stand with every one of my opponents, so why should Brian Stann be any different? He's the one coming into the lion's den with me. We'll see what happens.

"

-- Michael Bisping, on striking with the heavy-handed Brian Stann
Despite his relatively busy fight schedule, Stann has spent additional time in the gym improving on all non-standing aspects of his game. He has fought four times since 2011, and none of those bouts have gone more than two rounds.
Aside from an injury to his right shoulder that knocked him out of a fight against former Bellator middleweight champion
Hector Lombard
in July, Stann has avoided the injury bug.
Staying healthy, active and getting out of the cage quickly has put Stann in a comfortable rhythm heading into Saturday night. It's an advantage he expects to to come in handy against Bisping.
"That's pretty common for me," Stann said. "I have a lot of one-round performances. The layoff's bigger for Mike. He's been really spread out.
"He had a long layoff before he fought [Jason] 'Mayhem' Miller. And he had a decent layoff until he fought
Chael Sonnen
, and now he's coming off another big layoff.
"For me it's not about how long your fight is, it's about going through the whole training camp, going through the actual fight and the events the week of the fight. That's what keeps you in a rhythm. It's not about how long the fight actually lasts in the Octagon. I'm in that rhythm. I've been fighting frequently -- three times a year. I don't feel any rust; I'll be ready to go."
That said, Bisping remains unmoved. More than proving that he is the better stand-up fighter, it is the stench of a disputed unanimous decision loss to Sonnen on Jan. 28 that fuels Bisping. The setback cost him a 185-pound title shot, and Bisping is determined not to be denied again.
"I want to put this guy away; I want to make an example of him," Bisping said. "I have nothing against Brian Stann, but I want to send the message out that I'm the No. 1 middleweight contender. I'm going to put a beating on this guy. I'm not leaving it to the judges and get robbed again.
"I'm very confident I can put this guy away within three rounds. I'm predicting a second-round knockout or TKO. And I'm going for it 100 percent."
April, 13, 2012
4/13/12
11:32
AM ET

By Chuck Mindenhall
ESPN.com
Archive
It's been six weeks between Zuffa events; plenty of time to contemplate
Marlon Sandro
decked out as the Bellator icon. And if there's ever been a six-week span where so much wonderment has gone into the amount of testosterone found in horse filets, I'd like to hear about it.
But beginning Saturday in Stockholm, the UFC gets back to its furious pace. Over the next several weeks, there will be UFCs to keep us busy, all of them stubbornly numbered in pay-per-views, in FOX, FX and Fuel shows -- not to mention the occasional Strikeforce event. As such there will be a lot of debuts from guys like Yoislandy Izquierdo and Sweden's own Magnus Cedenblad. The producers of Starz's Spartacus could never have invented such fitting names for its crop of warriors.
Here's a look at five things to keep an eye out for at UFC on Fuel TV 2, and some storylines that might (or might not) be of immense interest to you.
Gustafsson's handling of the spotlight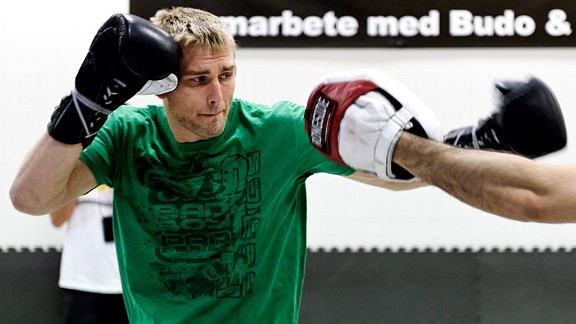 Martin McNeil for ESPN.comCan Alexander Gustafsson handle the pressure and deliver a breakout performance?
It's not only a homecoming for
Alexander Gustafsson
, but it's his first main event on a card specifically designed with him in mind. And it's his first time fighting as a true cusp contender from both a marketing standpoint as well as from the general notion that he's part of what's left out there for
Jon Jones
at 205 pounds. That's a lot of pressure for the 25-year-old from Arboga, Sweden. But it's the kind of pressure that comes with sustained success in a league founded more or less on attrition.
Gustafsson will be fighting
Thiago Silva
, who was originally supposed to be
Antonio Rogerio Nogueira
. Which is the more imposing foe? Probably Silva, who has only lost twice in his career, and each of those were against former champions (
Rashad Evans
and
Lyoto Machida
). Silva would be a huge notch for Gustafsson, enough of one to rev up the title talk. And coming in, it's hard to find much wrong in the Swede's game since losing to
Phil Davis
at UFC 112. It's not that he beat four guys in a row, but he finished them all, twice by TKO (
Vladimir Matyushenko
and
Matt Hamill
), and twice by rear-naked chokes (James Te Huna and
Cyrille Diabate
).
If he adds Silva to that casualty list, it means the "Mauler" has truly arrived.
Silva's potential ring rust and mental state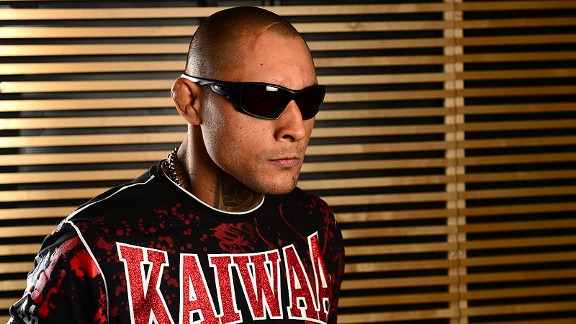 Martin McNeil for ESPN.comThiago Silva has a whole lot of ring rust to shake once he steps into the Octagon.
In a time when commission findings get more headlines than the fighters themselves, we must remember that Thiago Silva was the original bizarre. After his UFC 125 drubbing of
Brandon Vera
, the Nevada State Athletic Commission suspended Silva when it was discovered that his prefight urine sample turned up "inconsistent with human urine." He tried to mask banned substances by submitting urine that he ordered online. This didn't work out. To his credit, Silva admitted right away to his course of folly and took his punishment, which included a yearlong suspension.
Well, it's been 16 months since the Vera fight, and through a beneficial set of circumstances he ends up in a main event. The UFC tried to set up a rematch with Vera. When Vera was a no-go, the UFC tried to stick Silva in there against a tough but not-so-glamorous
Igor Pokrajac
.
Then
they needed a viable opponent for Gustafsson when Lil Nog went down. Enter Silva, who is still a top-10 light heavy in the UFC. Yet you have to wonder if the time away from the cage, the mental taxation, the travel, the fact that he's fighting a rising star in a rising star's homeland, and the oppositional musical chairs will hinder him in some way.
If none of that matters, it means Silva right where he left off before those ongoing back issues led to some monstrously bad decision-making.
Dennis Siver as a featherweight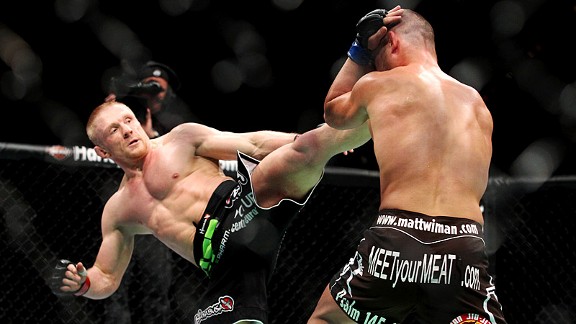 Ed Mulholland for ESPN.comDennis Siver is taking his high-kicking act to featherweight.
He was no slouch as a lightweight, but German fighter Dennis Siver wanted to try his hand as a 145-pounder after losing his footing in the 155-pound title race to
Donald Cerrone
. His first opponent as a feather?
Diego Nunes
. And if you remember, when
Kenny Florian
made his much-ballyhooed drop to 145 pounds, he was greeted by Nunes in his new weight class, too.
As a symbol, Nunes has helped more people lose weight than trainer Mike Dolce.
How will the weight cut play a role for Siver? It remains to be seen, but the kickboxer was knocking off some pretty tough guys as a smallish 155er -- guys like
Matt Wiman
,
Spencer Fisher
and
George Sotiropoulos
. In other words, he's a wily vet.
Brian Stann getting his brawl back on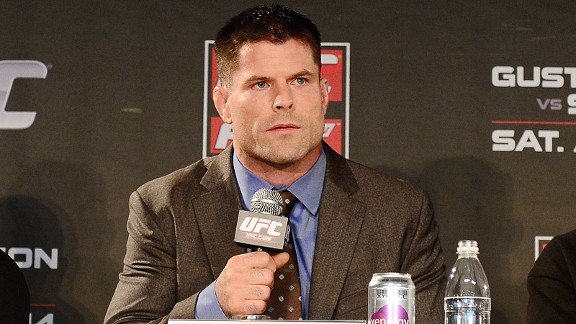 Martin McNeil for ESPN.comNo wrestling necessary: Brian Stann can get back to standing and trading on Saturday.
The bane of Brian Stann's existence so far as a professional mixed martial artist is wrestling. He was dominated on the ground by Phil Davis and, after dropping down to 185 pounds, ran into
Chael Sonnen
at UFC 136 and suffered the same fate. It's been a long six months since then.
Yet lucky for Stann,
Alessio Sakara
-- the free-swinging Legionarius -- would just assume gather up all the singlets and have a bonfire. He was recently outwrestled by
Chris Weidman
, and it left a bad taste in his mouth for no other reason than it wasn't his kind of fight. That is to say, it wasn't a brawl. In fact, going back to his 2006 bout with Drew McFedries, any Sakara fight in which there was a finish has always come by KO or TKO. He was on the wrong end of those nearly as often as he wasn't.
Think this thing is tailor-made for Stann? Could be. But there are plenty of people in Italy thinking the exact same for Sakara.
Damacio Page on the plank
This might be the fight of the night -- two tightly wound bantamweights coming off of losses, each of whom brings it every time. Between
Brad Pickett
and Damacio Page, Page is the one on the slipperier slope, having lost back-to-back fights to
Brian Bowles
and
Demetrious Johnson
. In both of those he was choked out via guillotine.
That's not likely to happen against Pickett, whose nickname is "One Punch." If Page loses here, it'll likely be by decision or because he got caught. With Greg Jackson in his corner and some intangibles (read: survival mode), it might set up a perfect storm to revisit the Page of 2009, the one who fought a grand total of 1 minutes, 20 seconds in finishing off Will Campuzano (via rear-naked choke) and
Marcos Galvao
(via punches).
Either way, this looks like the great unsung fight that could steal the show.
November, 3, 2011
11/03/11
12:19
PM ET

By Chuck Mindenhall
ESPN.com
Archive
The game plan to stray into people's wheelhouses and eat punches in order to land some is nearing extinction.
This makes
Chris Leben
an endangered species. His is a roadhouse style that demands cranial punishment. Hit him square in the nose, and he starts coming forward on toddler legs throwing bombs. It's what makes him a fun watch -- much in the same way it's fun to watch zombie movies, the parts when people with ordinary motor skills begin to turn.
Knowing this makes Leben extraordinary.
"The Crippler" will be fighting in his 19th UFC bout, this time against
Mark Munoz
at UFC 138. That's 19 times he will have gone in there headhunting. He wins two out of every three fights. A dozen times he's come out on top. A couple of times -- against
Anderson Silva
and
Brian Stann
-- he got blasted into space. He either wins spectacularly or loses that way, and it's enough for his corner to watch the action through their fingers. The last time he fought in England, he took a beating from
Michael Bisping
, and the first words off his lips were, "are you not entertained?"
We were. And partially because game plans are such fleeting things.
But imagine being in 19 brawls and yet, mysteriously, still sitting in middleweight contention. There's simply no accounting for his longevity, nor his success. The recently retired
Chris Lytle
liked to brawl but had fallback options, such as credible jiu-jitsu. Lytle was a career .500 fighter in the UFC. Should Leben beat Munoz this weekend, he'd be 13-6 and his name will start running up the flagpole for Joe Silva to consider in the Anderson Silva sweepstakes. (Think Ed Soares would be open to
that
rematch? His pen would shake with the excitement of a lottery winner signing the lucky card.)
[+] Enlarge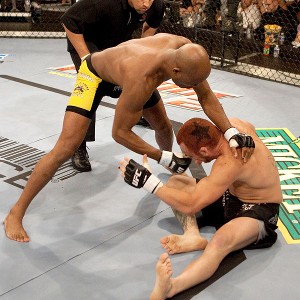 Josh Hedges/Getty ImagesSit tight: If Chris Leben can tie together a couple more wins, he might get a rematch with Anderson Silva.
By comparison,
Tito Ortiz
and
Matt Hughes
, the leaders in Octagon appearances, have 25 UFC fights to their names. Neither one of them brawls the way Leben does. Hughes knew enough to use his wrestling to neutralize danger areas; Ortiz was a ground-and-pound specialist, not a stand-and-bang practitioner (unless he was forced to be).
Leben? He'd be at home if barstools and glass bottles were being flung and crashed over heads. It's a life of hazards, and yet he fights on. He trusts his punch is harder than yours, and that his chin can withstand more. As the old saying goes, you can't teach chin -- but surely you can advise against testing it so frequently.
Then again, does Leben look like the kind of guy to take advice?
The first time I saw him live was at UFC 82, when he was fighting
Alessio Sakara
in Columbus. He'd just eaten something around a couple hundred consecutive punches and somebody yelled out, "Hey Leben, you've got to move your face!" This drew a collective chuckle. Leben didn't move his face. He kept hacking away, his hair the screaming color of a target, until Sakara dropped.
Ahead of UFC 102, on the shuttle ride to the arena in Portland just hours before he was to fight
Jake Rosholt
, he pointed to a bridge crossing the Willamette and said, "I used to jump off that bridge when I was a kid."
Brandon Vera
, the nearest to him, could only shake his head and laugh.
Which is sort of what we do when Leben answers the bell like a blood-dimmed tide. You're going down, or he is. It's not exactly a recipe for a sustained career, but it has worked for Leben for many years, making him the most durable fighter to ever embody the kamikaze way of thinking.