July, 1, 2014
7/01/14
10:25
AM ET

By Brett Okamoto
ESPN.com
Archive
Alexis Davis
had to have gone to bed on May 24 with a smile on her face.
There is no easy way to say this: Davis (16-5) will attempt to do the seemingly impossible at UFC 175 on Saturday in Las Vegas -- that is, defeat UFC female bantamweight champion
Ronda Rousey
in a cage fight.
There is no blueprint on how to do it. Not even close. Rousey, a former U.S. Olympian in judo, has devoured every opponent put in front of her in mixed martial arts. Surviving one round against her infamous armbar has become an accomplishment in and of itself.
There are, however, blueprints for Davis on how to win a fight no one thinks is winnable. Her adopted teammate,
TJ Dillashaw
, actually just drew one at UFC 173 on May 24.
As many will recall, Dillashaw put a whooping on
Renan Barao
that night, eventually claiming the UFC bantamweight championship via TKO in the fifth round. The performance was immediately hailed as one of the greatest upsets in UFC history.
Davis, who shared a training room with Dillashaw at Team Alpha Male in Sacramento for large portions of this camp, had a front-row seat at that event.
To be clear, she always believed she could beat Rousey -- but watching Dillashaw dominate a heavily favored opponent was reassuring.
[+] Enlarge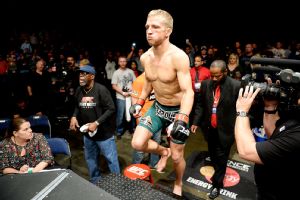 Jeff Bottari/Zuffa LLC/Getty ImagesTJ Dillashaw's stunning victory over Renan Barao has provided a chunk of inspiration for Alexis Davis.
When preparing to shock the world, it's nice to be reminded that shocking the world is indeed possible to begin with.
"The fight itself was kind of the same scenario as mine," Davis said. "Nobody thought TJ was going to win. Watching that, you kind of feel the anxiety before the fight and then he was doing so well and then came away with the win -- it kind of shoots right through you -- the adrenaline that comes with all that.
"I remember talking to him after and he gave me great advice. He said, 'Nobody thought I was going to win so I just said I was going to enjoy myself. The press, media and then just have fun when I fight.' It was great for me to hear that."
"

I remember talking to [TJ Dillashaw] after and he gave me great advice. He said, 'Nobody thought I was going to win so I just said I was going to enjoy myself. The press, media and then just have fun when I fight.' It was great for me to hear that.

"

-- Alexis Davis, on taking a positive approach to her upcoming fight against heavy favorite Ronda Rousey
It's impossible not to know where you stand when facing Rousey.
Davis is embedded right now in the Rousey Effect. It's inevitable. Certain things happen to you when you fight one of the most recognizable faces on the UFC roster.
An Ontario, Canada, native, Davis says her number of Twitter followers has exploded since the fight was announced. Fans want to take photos with her. Media want to hear from her.
The final stages of the Rousey Effect, however, can look like the opposite of that. Just as suddenly as everyone cared, they don't anymore. Expectations are that, by Sunday morning, Davis will be recycled back into the women's 135-pound division.
Maybe -- some day long from now -- she'll resurface and we can ask her what it was like the day she lost to Ronda Rousey.
Even Rousey (9-0) occasionally lets it slip that is just the way it is. She swears to never take an opponent lightly (and to her credit, she hasn't thus far) but she's aware of the situation. She summarized it rather well in a recent UFC promo.
"Alexis Davis is just the next one," Rousey said.
And in so many ways, Davis does look the part of "just the next one."
She doesn't look necessarily uncomfortable under the spotlight, but admits that during a news conference held on Memorial Day weekend in Las Vegas, she continually reminded herself to, "not say anything stupid."
[+] Enlarge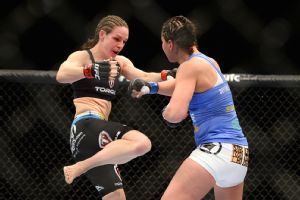 Al Powers for ESPNAlexis Davis, left, envisions herself the victor against the heavily favored champion Ronda Rousey.
That same day, she made the rookie mistake of not wearing high heels. In stare-down photos taken on stage, she appeared half a foot shorter than Rousey.
"I do really wish I would have worn heels," Davis said.
In other ways, though, Davis has reason to believe she's more than just an inevitable footnote to Rousey's greatness.
As you are certain to hear again before the fight starts, Davis is a black belt in both Brazilian and Japanese jiu-jitsu, which makes her more familiar with Rousey's judo than many previous opponents.
"Every single day I visualize the fight," Davis said. "Every single time I get my hand raised. One moment, it's a first-round knockout. Then a submission. Then it goes all the way to the fifth round and it's an all-out war. I always see myself on top."
Not too many share Davis' vision of the fight. Almost none, actually.
But as Dillashaw proved six weeks ago in a building across the street from where Davis and Rousey will meet, sometimes it only takes the belief of one to get it done.
June, 13, 2013
6/13/13
7:51
AM ET

By Brett Okamoto
ESPN.com
Archive
Against better judgment, let's talk about UFC 149 one last time.
The pay-per-view event took place on July 21, 2012, at Scotiabank Saddledome in Calgary, Alberta. An interim bantamweight title bout between
Renan Barao
and
Urijah Faber
served as the main event.
It was, by most accounts, a terrible night. UFC president Dana White admitted he was "embarrassed" by the main card. It really was one awkward fight after another.
Cheick Kongo
and
Shawn Jordan
embraced in a tired hug for 15 minutes.
Brian Ebersole
resorted to a series of strange karate slaps to James Head's leg in a dull split-decision loss.
Hector Lombard
stood in place and ate jabs. By the time the main event started, the Calgary crowd had fallen in love with a "refund" chant.
[+] Enlarge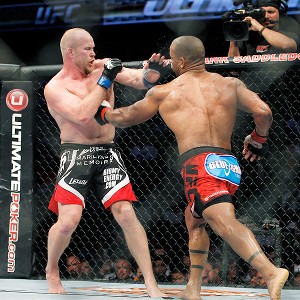 Ric Fogel for ESPN.comThe UFC's last foray into Canada wasn't exactly one for the time capsule.
To this day, White remains apologetic to the entire Canadian city for that event.
Well, meet the ill-fated UFC 149's brother, UFC 161. The similarities between these two events are eerie.
UFC 161 was originally headlined by an interim bantamweight title bout between Barao and
Eddie Wineland
, which fell through due to a Barao injury. Similarly, UFC 149 lost its main event, a featherweight title fight, when
Jose Aldo
was injured.
Mauricio Rua
was supposed to fight at UFC 149 and 161. In both cases, he was removed when his opponent suffered an injury.
Thiago Silva
withdrew from the contest last year. This time it was an injury to
Antonio Rogerio Nogueira
.
Speaking of Nogueira injuries, Lil Nog may have just been following the example of his twin brother. Antonio Rodrigo Nogueira was originally scheduled to fight Cheick Kongo at UFC 149, but he withdrew due to injury.
In both cases, a "name" fight was added by the UFC to give the card more value. At UFC 149, it was Lombard and
Tim Boetsch
serving as the co-main event. This weekend, it's
Roy Nelson
and
Stipe Miocic
serving as ... the co-main event.
Kind of weird, right? Hopefully, the similarities stop come fight night.
FIVE STORYLINES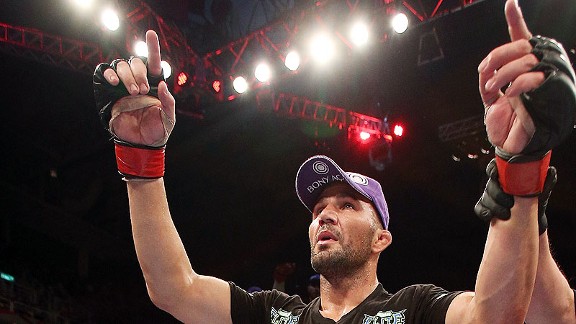 Josh Hedges/Zuffa LLC/Getty Images)If successful Saturday, expect Glover Teixeira to campaign for a bout against Alexander Gustafsson.
Roy Nelson's gamble.
Nelson has long considered himself an underpaid fighter. It's not hard to see why. During his UFC career, Nelson has typically been one of the lowest-paid athletes on PPV main cards. For instance, his purse against
Frank Mir
in the co-main event at UFC 130 was a paltry $15,000. To that point, Nelson reportedly turned down an extension offer by the UFC and will finish out his current contact at UFC 161. A loss would certainly affect his leverage in future contract negotiations.
Glover Teixeira's Twitter account.
It's nice and simple -- @gloverteixeira. You might want to keep an eye on it when the main event goes off. Teixeira has read the writing on the wall and it says "Alexander Gustafsson." Feeling one win away from a title shot, it wouldn't be shocking to see Teixeira comment publicly on the winner of Hendo, Evans.
Alexis Davis' party.
You see this from time to time -- Brazilian fights in Brazil or an Aussie fights in Australia. They don't just look good. They ignite the crowd and win in such a way that you don't forget about it when the next UFC card comes around.
Alexis Davis
is a dark horse in the women's division. She's well-respected, but few fans really know her yet. That could change here. She's fighting on home soil and has a type of charm that once cameras find her, they might stick on her.
The evolution of Stipe Miocic.
Miocic has the athleticism and the intelligence to turn into a legitimate heavyweight -- the question is when will it happen? He has good instincts and he comes with a game plan, but sometimes in martial arts you have to go off script. Can he surprise a guy like Roy Nelson? Miocic has the fundamentals. Has he added that element of unpredictability?
Seriously, don't be UFC 149.
UFC 160 was three weeks ago. UFC 162 isn't for another three weeks. If UFC 161 does end up being the second coming of UFC 149 we can't hide from it. The smell will linger.
FIVE QUESTIONS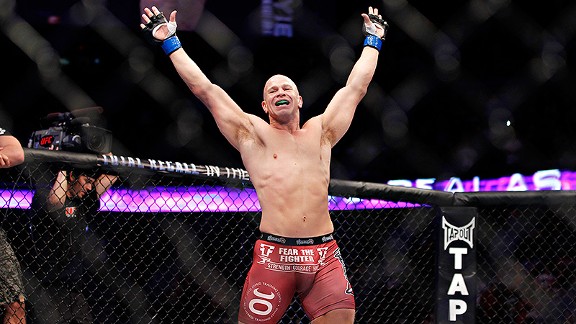 Ric Fogel for ESPN.comIn his last Canadian outing, Ryan Jimmo's celebration dance lasted longer than his bout.
Q: Is Rashad Evans still Rashad Evans?
He and his team would say yes. Certain critics would say he hasn't been the same dating way back to the knockout loss to
Lyoto Machida
in 2009. That might be a stretch, he did dominate
Phil Davis
with three cracked ribs as recently as last year, but no doubt about it, this fight will answer questions about Evans after he didn't look like himself in February.
Q: Is Dan Henderson still Dan Henderson?
It was hard to tell in his last fight. Machida stayed on the outside and refused to really engage with him. Henderson's too smart to just sprint after him, so we were kind of left with a points fight that Henderson came out on the short end of. One right hand is all it takes for Henderson to get right back into title talk -- an opportunity many still feel he deserves. Can he still land it against the elite 205ers?
Q: How good is Tyron Woodley?
He's always been an eye-catching prospect. In the same way a loss to
Jon Fitch
might have gotten
Erick Silva
to turn a corner, maybe a loss to
Nate Marquardt
did the same for Woodley. He destroyed a tough veteran guy in
Jay Hieron
his first time out. If he looks half as good in his second UFC fight against a talent like
Jake Shields
, we might need to get this guy on the fast track.
Q: Can lightning strike twice?
The one saving grace of UFC 149 was Mr. Ryan Jimmo's seven-second knockout over
Anthony Perosh
, followed by a strikingly good robot dance. Perosh was knocked out instantly, so much so that Internet users started Photoshopping his knockout face onto pop-culture images. What will Jimmo do in his Canadian encore?
Q: Is Sam Stout good or just entertaining?
It's OK if it's the latter, but it seems he has potential for more. He's always good for a show. Six times he's taken home bonus money, but he's never set great expectations in terms of racking up wins with an overall 8-7 UFC record. That might be changing, as Stout has won four of his past six.
WHO'S ON THE HOT SEAT?
Jake Shields.
The UFC's acquisition of then-Strikeforce middleweight champion Jake Shields was a big deal in 2010 -- but it's failed to deliver much. Through five UFC appearances, Shields is 2-2 with a no-contest and a drug suspension last August. He can't seem to figure out what weight class he wants to compete in, and his fighting style is such that even when he's winning, he's getting booed. He has little room for error here.
WHY YOU SHOULD CARE
Because even though it's not the most stacked card in the world, it's still Evans and it's still Hendo ... because you don't know Alexis Davis and you should ... because Roy Nelson is rolling the dice on behalf of disgruntled employees everywhere ... because there are sure to be live shots of Winnipeg, Manitoba -- which is quite lovely this time of year ... because Game 5 isn't until Sunday ... because if it does turn into UFC 149 revisited, Dana White's head will turn a bright red that should be visible regardless of what camera angle is being used ... because the H-bomb will be there.
February, 19, 2013
2/19/13
7:46
AM ET

By Chuck Mindenhall
ESPN.com
Archive
Liz Carmouche
is not a can. She is a human being with motivation and drive and a world of dreams that can be realized one weekend late in February. But what happens if she realizes her dreams and beats
Ronda Rousey
at UFC 157?
What, in this game of four-ounce gloves and four-leaf clovers, happens then?
The vanguards of women's MMA are being stacked up against each other in the old Washington Generals/Harlem Globetrotters dynamic. No, it's not fixed or choreographed, but it's a foregone conclusion that Rousey wins this historical first women's title fight on February 23. Isn't it? It has to be.
There would be no women's MMA in the UFC if Rousey didn't catch Dana White's eye. Her mere arm-barring presence made up for all the red flags that kept it out so long -- namely, the "lack of divisional depth" that White talked about.
Of course, that was all BR (Before Ronda). Now, the depth of one transcendent fighter is enough to fill out a division. It's the wide world of Rousey, and then everybody else. White has made no secret that Rousey is the reason.
That's why it isn't that Carmouche is a can -- it's that they're
all
aluminum product.
Miesha Tate
(whom she's already beat), Sara McMann (who is in the on-deck circle) and even
Cris "Cyborg" Santos
, who is jettisoning herself from the UFC (and can't/won't make 135 pound besides). All of them. This is Rousey's domain. It was her patent. The future of women's MMA is Rousey's burden in the present tense. The pressure is only to win. And preferably to collect a couple more arms along the way, like she's done a million times before (or six, to be exact).
Make no mistake, this is boom or bust.
And if she doesn't win? Well,
Seth Petruzelli
becomes the second greatest party pooper of all time.
Should Carmouche get her arm raised in Anaheim, this whole thing becomes a Jenga proposition. Rousey, who White admires for being "so nasty, so mean" -- who has broken into larger and more varied media realms than
Georges St-Pierre
,
Anderson Silva
and
Chuck Liddell
combined -- would then slip into more pedestrian ranks. The iconoclast who is potentially inspiring thousands of young girls to give MMA a chance would get hung up in "potentially". I've written in here before that Rousey is the
Royce Gracie
of WMMA. She's the example of broader possibility.
I still believe that.
But how fast a loss leads the chorus to chants of "you've been exposed", even for those with Olympic medals in judo. How fast those six victories would seem incomplete if upended by a single loss. How shaky the idea of women's MMA in the UFC becomes overnight. How fast the eggs would topple out of that single basket.
And if this is all experimentation, you'd have to wonder how long the experiment goes on -- even with the signings of Tate, Cat Zingano and others to fill in the inaugural bantamweight division.
Carmouche's Marine background is cool. It lends to her no-nonsense pluck. That she's the UFC's first openly gay fighter is admirable and perfect for narrative. She's nice, genuine, sincere -- there's not a bad thing you can say about her. But "Girl-Rilla" Carmouche as champion? What on
John Moraga's
green earth would the UFC do then? The most marketable fight for Carmouche at that point would be a rerun of Rousey (because surely the first fight would have been an aberration). Beyond that, it's just a bunch of jacks scattered on the linoleum. Or Jills, as it were.
In any case, it's an awful lot riding on a single fight -- this is a crossroads bout right out of the gate.
Yet it's not Carmouche's place to contemplate the aftermath. It's her job to win, even if that means dealing an indirect blow to the thing that she's fighting for. That's a unique mission. It's at least her job to go down swinging, as that's the scenario we've grown most comfortable imagining. Carmouche volunteered herself for this piece of historic martyrdom. We like that. We expect her to go down valiantly.
But man, can you imagine if things don't go to expectation?
March, 4, 2012
3/04/12
8:46
AM ET

By Chuck Mindenhall
ESPN.com
Archive
COLUMBUS -- Heading into the fight, Strikeforce's women's bantamweight champion
Miesha Tate
said that wrestling trumps judo nine out of 10 times. She was speaking from experience, and experience also happened to be an x-factor against an opponent with only two minutes, 18 seconds of cage time. Experience was also supposed to trump a green challenger.
Funny how the fight game works.
By the time it was over,
Ronda Rousey
proved more than ready to bust theories, and if need be, the more experienced fighter's arm. In what was being hailed as the biggest women's MMA event since
Gina Carano
versus
Cristiane Santos
, Rousey emerged as a star in just her fifth fight, while proving that she could back up the audacity of her prefight talk.
Rousey submitted Tate the same way she did her previous four opponents -- via a first-round armbar. And, though she more than doubled her total time in the cage this time out, it was again the judo that delivered her to the moment. Rousey used a brilliant hip toss to get Tate down, transitioned to mount, and then punched away until she could pry the arm away to set up her signature submission. The crowd at Nationwide Arena cringed as she hyper-extended the limb into an unnatural position, torquing it for the tap. It finally came at the 4:36 mark of the first round.
And even though you'd have trouble finding a list of big viable challenges for Rousey right this second, she became the future of women's MMA with a clear-cut challenge ahead in Sarah Kaufman, who won an equally memorable back-and-forth war with Alexis Davis. With Santos' suspension, the retirement of Carano and the state of women's MMA in flux, this played out as the best-case scenario for Strikeforce.
Or as a case of perseverance, to hear Strikeforce president Scott Coker tell it.
"Strikeforce has been supportive of female mixed martial arts since 2006 when we started," he said during the postfight news conference. "Gina Carano versus Elaina Maxwell in December of '06 was the first [female MMA] fight that was licensed in the state of California. We've always believed in female martial arts fighting. Before that we were a kickboxing league.
"We had many great fights in the female division and, personally, for myself, I believe these ladies that grew up in a martial arts school, or in a wrestling program, they should always be allowed to compete. And I think tonight justifies those feelings of the past. And we talk about fighting at the highest level, I think tonight we saw it. We had four amazing athletes fighting in the female division at the highest level. And we're going to continue moving forward. I think a star was born tonight, and it's onward and forward for the female division."
[+] Enlarge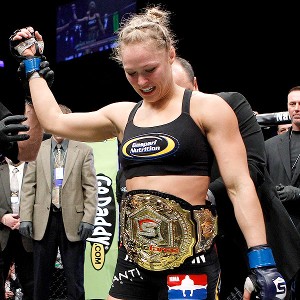 Esther Lin/Getty ImagesBy battering Miesha Tate, newly crowned champ Ronda Rousey proved she can back up the talk.
Afterward, Rousey dedicated her new 135-pound title to her late father. Yet when asked if she could quash her beef with Tate, which reached a crescendo at the weigh-ins when Rousey headbutted Tate, she chose not to. In regard to the armbar that looked like it did some serious damage, she said, "I don't feel bad about it," which sent the crowd into raptures. Part of the reason Rousey got a title shot in the first place was by telling it like it is and causing waves in the media. She wasn't about to back down after achieving her goal as being a champion at 25 years old.
And it looked like she might end the fight as early with an initial armbar attempt.
"I didn't feel like I really had it," she said. "The second [armbar attempt], I knew for sure I could get it, and that's why I abandoned the dominant position. The first one I just kind of fell into it; it didn't feel that secure."
Now the new champion can set her sights on former champion Kaufman, who has contended all along that it's still her belt. Just as you'd expect, she already thinks she spots a weakness in Rousey's game.
"I thought overall that Ronda looked good," Kaufman said. "There's definitely something's that she doesn't like that I do really well. It's going to present a really interesting fight and a really good fight for the fans and for myself as well."
Asked to elaborate, she added, "clearly I like to strike ... and based on my face, I also like to get hit. But Ronda hasn't been challenged by somebody who can strike like I am able to strike."
It was a good night for women's MMA, and everybody involved knew it. The women stole the show in Columbus, and a star was born in Ronda Rousey.