MMA:

American Kickboxing Academy
January, 20, 2014
Jan 20
9:21
AM ET
By Michael Huang
ESPN.com
Archive
At some point in his career, every fighter gets bit.
Not bit like "Mike Tyson on Evander Holyfield" bit, but by the injury bug. In a combat sport, injury almost is inevitable since the root objective of fighting is to inflict damage on another human being. Fights are harsh enough, but practice, conditioning and grueling training camps can be just as damaging.
UFC lightweight contender
Josh Thomson
knows full well the impact of that injury bug. At the end of 2008, he was seemingly cruising along in his MMA career. "The Punk" had found success in three fight leagues -- UFC, Pride and Strikeforce -- and wrested the Strikeforce lightweight championship from
Gilbert Melendez
in June 2008.
[+] Enlarge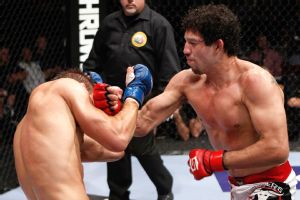 Getty ImagesJosh Thomson, left, was narrowly defeated by Gilbert Melendez when the pair met in 2012.
From 2009 to 2011, however, a string of injuries prevented Thomson from finding that groove again, sidetracking him out of several bouts, including a title defense and unification bout. Upon his return to UFC, an injury opened a door to a title opportunity in 2013 when T.J. Grant injured his knee and Thomson was offered a shot at champ
Anthony Pettis
in December. But Pettis injured his knee, and the bout was called off.
So excuse Thomson if he's tired of fight camp and injuries. Since his convincing win over
Nate Diaz
almost a year ago, Thomson says it feels like he's been in fight camp forever.
"Honestly, this might be the worst camp of my career," Thomson said. "It's just been so long. I got into camp for Pettis, then he got hurt. Then we got Henderson, so I just extended camp and kept going. So it's been like 15 weeks. I'm like, 'Man, are we there yet? Can we just get this crap over with?'"
Thomson cut himself some slack -- about one week's worth after he took the Benson Henderson fight, which will be Saturday at UFC on Fox 10. But that's it.
"You know what made it an extra tough camp is that it was all during the holidays," Thomson said. "Everyone was gone. It was hard to get even anyone to spar or roll around with in the gym. The gym was desolate. No training partners. I had to do everything to stay focused."
Got that groove again
Finding a moderate pace seems foreign for Thomson's hard-charging personality. Indeed, some of his past injury issues have originated from Thomson's own intensity during practice and training camp. Just ask his coach at American Kickboxing Academy, "Crazy"
Bob Cook
.
"

Josh is one of those guys who, in the past, probably inflicted more damage on himself than he needed to from practice. Josh has always done more than everyone else. But there comes a point where maybe you shouldn't do that extra conditioning or sparring.

"

-- Trainer Bob Cook, on Josh Thomson's prior overzealous approach to training
"Josh is one of those guys who, in the past, probably inflicted more damage on himself than he needed to from practice," Cook said. "Josh has always done more than everyone else. But there comes a point where maybe you shouldn't do that extra conditioning or sparring. You've got to let your body rest."
Flash back to 2008: Thomson was on a serious roll, riding a six-fight win streak into his Strikeforce lightweight title bout with Melendez that he would win via unanimous decision. Both UFC and Strikeforce were enjoying deep and talented lightweight divisions, and Thomson suddenly was one of the sport's brightest stars and a marquee draw for Strikeforce.
That star was due to get brighter with Strikeforce set to debut on Showtime featuring Thomson's rematch with Melendez. However, a broken ankle suffered during training just 10 days before the fight sidelined Thomson for the next eight months. He and Melendez ended up fighting a trilogy; Thomson lost his title in the process and never regained the belt.
Injuries -- suffered in training and in fights -- would set back Thomson another couple of times to the point where many wondered whether he could ever regain the level he achieved leading up to winning the Strikeforce lightweight belt.
In fight camp, Thomson follows the AKA protocol, sparring three days a week and grappling/wrestling the other days. Conditioning is at night. It's a plan that has produced UFC heavyweight champ
Cain Velasquez
and some of the best mixed martial artists in the world.
But Thomson knew he had to make some adjustments. When he first fought in UFC, he was 25 years old. In his second UFC "debut," Thomson was closing in on 35.
"When you're young, you can keep doing what you're doing. But as you get older, your body changes and you have to make adjustments," Thomson said. "I admit I tend to push myself harder. I do a little more mitt work, a little more bag work. I do a little more just about everything. But it's about training smarter, not just harder."
[+] Enlarge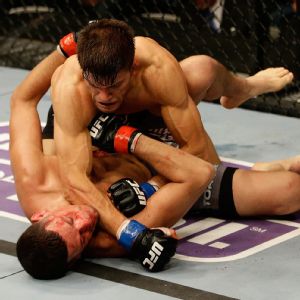 Ezra Shaw/Zuffa LLC/Getty ImagesJosh Thomson became the first to stop Nate Diaz when he defeated him via strikes at UFC on Fox 7.
While he didn't detail what those adjustments were, the results have been obvious. Thomson's return to UFC was spectacular, defeating Diaz at UFC on Fox 7. Thomson bludgeoned Diaz with pinpoint head kicks and eventually earned the TKO via strikes. Until then, Diaz had yet to be finished in UFC.
Strangely, Thomson said he wasn't feeling very well before the Diaz fight. In his win against Melendez, he battled two staph infections, the flu and several minor injuries leading up to the fight. Against Diaz, he felt a similar sluggishness.
"The morning of the Diaz fight I just felt like crap," Thomson said. "I was sitting on the couch watching TV and just passed out. I woke up at 2 p.m., and check in was 2:15, so I packed up real quick and headed down to the arena.
"On the way to the arena, I felt really, really good. Just that two-hour power nap I got in the middle of the day, I felt like a rock star, man. I felt phenomenal. I had that tingly feeling in my body and had a great fight."
So if this camp has been grueling, perhaps a new part of that AKA protocol will be a prefight power nap.
For Thomson, it seems like a bad camp doesn't always mean a bad outcome. Regardless, he'll be ready.
"Just coming back to the UFC and beating Diaz was sort of the validation I needed to show I belong among the top-five guys in the lightweight division," Thomson said. "Now it's about making progress and show I deserve a title shot.
"The shot was given to me before, but Pettis got hurt, so I moved on. Look, if I can't get by Benson, then I probably don't deserve a title shot and he does. But to me he's the best lightweight in the division. So if I beat him, there's nothing stopping me."
March, 9, 2012
3/09/12
5:08
AM ET

By Chad Dundas
ESPN.com
Archive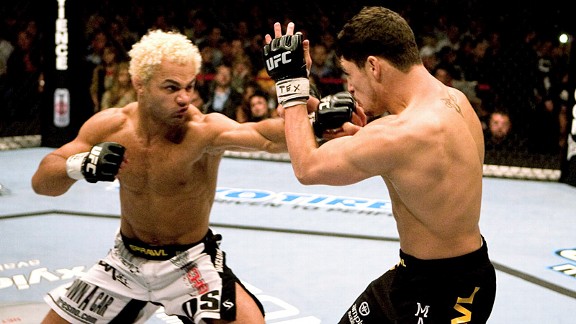 Josh Hedges/Getty Images
Longtime followers of MMA no doubt blanch a bit when they hear
Josh Koscheck
casually refer to himself as "the old man" of the UFC welterweight division.
After all, it doesn't seem all that long ago that Koscheck and that first bunch of lovable misfits showed up and started punching doors at their McMansion in Las Vegas on the debut season of "The Ultimate Fighter." Considering the miles we've all put on in such a relatively short time -- plus, the impending "live" debut of TUF 15 today -- it's almost enough to make the most jaded observer want to pack his stuff and go sleep in the yard, Leben-style.
If you'll excuse what feels like a particularly pained metaphor, perhaps Koscheck has done just that during the last few months. The consummate 170-pound villain appears to have suffered the MMA equivalent of a mid-life crisis of late, permanently uprooting from the American Kickboxing Academy and striking out on his own as he prepares for his May 5 showdown with
Johny Hendricks
at UFC on Fox 3.
In doing so, Koscheck has officially reached the awkward third act of his athletic career. He's the captain of his own ship now, no longer just a fighter, but a gym owner and the architect of his own future. Having already lost twice to
Georges St. Pierre
he's admitted he's more interested in big paydays than the divisional rat race, even offering to go up to middleweight to get them. It's odd that matchmakers have responded to that shift by setting him up with back-to-back fights against up-and-comers like
Mike Pierce
and Hendricks, but that's probably a topic best left for another day.
Koscheck is far from done -- the five fights left on his relatively new UFC deal attest to that -- but whatever moves the 34-year-old has left on the board, now's definitely the time to make them.
[+] Enlarge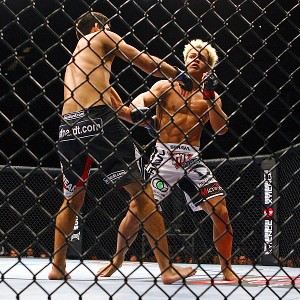 AP Photo/Tom HeveziJosh Koscheck will have no one to blame but himself if things go wrong from here.
By leaving AKA, a team that has always taken pains to cast itself as one of the sport's tightest-knit, in favor of his own Dethrone Base Camp squad (and burning bridges with coach Javier Mendez on the way out) Koscheck has put the bulls eye squarely on himself for the remainder of his career.
He knows his time is running short and he knows his best chance to reaffirm his status as a player at welterweight is while St. Pierre is out with a knee injury. To his credit, he also seems to understand what's at stake for him by choosing to try it on his own terms.
"I definitely have a lot to prove because everybody is looking at me like, 'OK, he left, now what's he going to do? Is he going to be successful or is he going to fail?'" Koscheck told MMAFighting.com's Ariel Helwani recently. "I can guarantee that in my life, when I put my mind to something, I can usually get it accomplished."
By blaming Mendez's coaching for the fact that AKA has produced a litany of top contenders but only a few champions, Koscheck will take the full brunt of whatever happens next for him. If he beats Hendricks and goes on to reenergize his career, he makes it look like he had a point. If he loses, if things don't go better for him at the Base Camp, then his words inevitably start to look like the sour grapes of a guy trying to explain to himself and everyone else why he came so close, but never captured UFC gold.
Some athletes thrive under that kind of scrutiny and maybe Koscheck is one of them. Running your own camp typically isn't a recipe for success for fighters, but in fairness, we've never seen an in-his-prime Koscheck coached by anyone other than the guys at AKA. Maybe the change will indeed do him good. Maybe he'll turn back the tide of new 170-pound contenders and pave his own road back to the top.
Maybe not.
Either way, it's all on him now, and that's probably the way the "old man" has wanted it all along.