November, 18, 2013
11/18/13
3:13
PM ET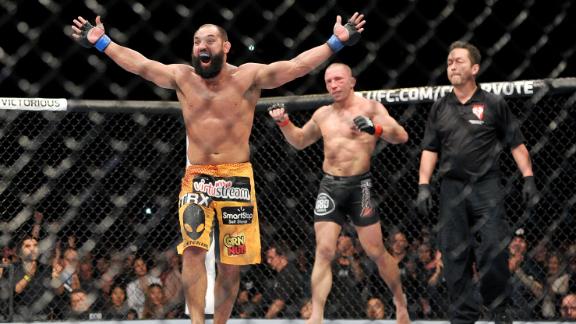 At UFC 167, many felt that
Johny Hendricks
did enough damage against
Georges St-Pierre
to become the new UFC welterweight champion. On Glenn Trowbridge's scorecard, Hendricks did just that. The other two judges (Sal D'Amato and
Tony Weeks
) saw the first round for the champion, giving him the 48-47 decision and the victory for St-Pierre's UFC record-breaking 19th win inside the Octagon.
While the decision can be argued for both fighters, it marks just another recent example of champions barely leaving the Octagon with their titles.
UFC 165 - Jon Jones defeats Alexander Gustafsson (48-47, 48-47, 49-46)
In September of this year, Jon Jones made the sixth defense of his UFC light heavyweight title against his toughest challenger to date, Alexander Gustafsson. While Jones outstruck the challenger 28-19 in significant strikes in the opening round, Gustafsson scored a takedown while Jones was stuffed on all three of his attempts.
Gustafsson won Round 1 on all three scorecards. Rounds 2 and 3 are where things got tricky with the judging. Neither man gained a takedown (Jones 0-for-3, Gustafsson 0-for-2), but Jones held the striking advantage in Round 2 26-15 and Round 3 29-26.
Jones won four of the six cards in those two rounds. Round 4 was again close in significant strikes (27-26 Jones), but the champion did more damage, winning all three scorecards.
Round 5 was again close, with the significant strikes even at 24 for both fighters and Jones landing a takedown while stuffing all four Gustafsson attempts.
When the final scorecards were read, Jones was ahead on all cards, earning the unanimous decision.
UFC on FOX 7 – Benson Henderson defeats Gilbert Melendez (48-47, 47-48, 48-47)
Benson Henderson made the third defense of his UFC lightweight title in April 2013, defeating former Strikeforce lightweight champion Gilbert Melendez.
Round 1 went to the challenger despite landing fewer significant strikes 9-7. Melendez did land his only takedown of the fight and landed the better strikes in the eyes of the judges.
Round 2 was again close, with the champion holding a 15-13 significant strikes advantage. Both fighters landed hard shots in the cage, but Henderson won the round on two of the three judges' scorecards. Henderson responded with his best round of the fight, landing 15 of 29 significant strikes (52 percent) and landed two leg kicks during the round that knocked Melendez off balance.
Rounds 4 and 5 were virtually even on the cards despite Henderson outlanding Melendez 29-16 in significant strikes. Henderson landed 12 leg kicks to help him win Round 4 on two of the three cards.
In the final round, Melendez won two of three cards despite landing only 15 percent of his significant strikes. Melendez won the fight 48-47 according to the first card, but Henderson won 48-47 on the other two cards, retaining his title.
UFC 125 – Frankie Edgar draws with Gray Maynard (48-46, 46-48, 47-47)
Frankie Edgar held onto his UFC lightweight title after a very tough fight with the only man to beat him, Gray Maynard, to start the fight calendar in 2011.
The first round of the 2011 Fight of the Year was its most memorable, with Maynard knocking the champ down three times and furiously landing punches to the head. Maynard would win the round 10-8 on all cards, outstriking Edgar 47-10, with 25 of those deemed significant.
Edgar would rebound in Round 2, outstriking a hesitant Maynard 21-6 to win the round as well as landing the slam that you see in the UFC PPV entrance video today.
Round 3 was the closest round of the fight, with Edgar holding a 21-17 significant strike advantage, but Maynard landed two takedowns.
Round 4 went to Edgar across the board as he landed 52 percent of his significant strikes, the highest in any round. Edgar also landed two takedowns.
With the fight on the line, Round 5 was a 20-16 advantage to Edgar with neither man gaining a takedown (Edgar 0-for-3, Maynard 0-for-7).
Maynard would win on two of three judges' scorecards to close out the fight. The first announced card of
Glenn Trowbridge
(only one to pick Hendricks) was 48-46 Maynard, while Edgar won a card 48-46 and the final judge scored the bout 47-47 for a split decision draw.
UFC 104 – Lyoto Machida defeats Mauricio Rua (48-47, 48-47, 48-47)
In October 2009, Lyoto Machida made the first and only defense of his UFC light heavyweight title against Mauricio "Shogun" Rua. Rua came out the gates with his best statistical round, landing 70 percent of his significant strikes (19 of 27).
Machida landed nine significant strikes and stopped Rua's lone takedown attempt, winning the round on two of three judges' scorecards. Machida unanimously won Rounds 2 and 3 on the scorecards, but was outstruck 40-16 in significant strikes. Machida did stop each of Rua's takedown attempts in the rounds and quality kicks the body and legs to win each of the rounds.
The fourth round was a 10-1 striking advantage to Shogun, and he won on two of the three cards. Round 5 was unanimous to the challenger, who mixed in 11 significant strikes to the head and legs while the champion Machida landed six.
In total, Rua outlanded Machida 80-38, with a 49-4 advantage in strikes to the legs. Machida did his damage with punches and kicks to the body, holding a 24-16 advantage. When the scorecards were read, Lyoto Machida won all three cards with identical 48-47 scores to retain his UFC light heavyweight title.
In the UFC's 20-year history, only one champion has ever lost his title by way of split decision (
Kevin Randleman
to
Bas Rutten
at UFC 20). Whether it's intended to be or not, the words of the famous wrestler Ric Flair come to mind: "To be the man, you have to beat the man." In the world of the UFC, most of us are still wondering if there's an exact definition to what that means.
July, 31, 2013
7/31/13
1:02
PM ET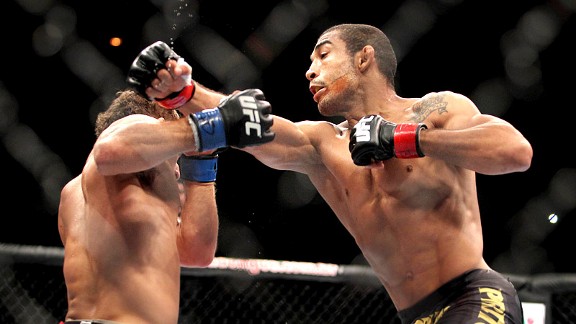 AP PhotoFeatherweight champ Jose Aldo has defended 92 percent of takedowns in his WEC/UFC career.
Jose Aldo
makes the fifth defense of his UFC featherweight title Saturday in Brazil at
UFC 163
when he faces
Chan Sung Jung
, who is ranked sixth in ESPN.com's featherweight rankings. In the co-main event, former light heavyweight champion
Lyoto Machida
takes on
Phil Davis
.
Here are the numbers you need to know for the fights:
92:
The percentage of takedowns Aldo has defended in his WEC and UFC career. In 12 career fights spanning the two organizations, opponents are 5-for-66 in takedown attempts against the featherweight champion. Aldo defended 9 of 11 takedown attempts in his last fight against
Frankie Edgar
. In three UFC fights, Jung is 5-for-6 in takedown attempts (83 percent).
1:
Both Aldo and Jung have finished a UFC fight with one second remaining in a round. Aldo ended his
UFC 142
fight with
Chad Mendes
in the final second of Round 1, one of just 10 times that has happened in UFC history. Jung submitted
Leonard Garcia
with arguably the most unusual hold in UFC history, the twister, at 4:59 of the second round at
UFC Fight Night 24
. It was the only ending at exactly 9 minutes, 59 seconds of a UFC fight until Saturday when
Jorge Masvidal
accomplished the same feat with a D'Arce choke against
Michael Chiesa
at
UFC on Fox 8
.
8:
Jung has eight submission victories in his career, including five by choke. The twister victory against Garcia won multiple awards for submission of the year in 2011. Jung won his last fight against
Dustin Poirier
at
UFC on Fuel TV 3
by D'Arce choke, which was a candidate for 2012 submission of the year. Aldo has never faced a submission attempt in 12 WEC/UFC fights.
7:
Aldo is one of seven undisputed titleholders from Brazil in UFC history, along with
Vitor Belfort
,
Murilo Bustamante
,
Junior dos Santos
, Machida,
Mauricio Rua
and
Anderson Silva
. Aldo is the only Brazilian to currently hold undisputed gold after Silva's loss to
Chris Weidman
at
UFC 162
. (
Renan Barao
holds the UFC interim bantamweight title.)
4.6:
Significant strikes landed per minute by Jung. "The Korean Zombie" landed 89 significant strikes in his WEC debut against Garcia, a fight nominated for 2010 fight of the year. That total is just above the 74 he landed in four rounds against Poirier. Jung is known to get hit as well, absorbing 3.8 significant strikes per minute, including a head-kick loss to
George Roop
in 2010. Aldo lands 3.5 significant strikes per minute.
7:
Seconds needed for Jung to knock out
Mark Hominick
at
UFC 140
, tied for the fastest official knockout in UFC history. Jung needed just six strikes to finish Hominick. Aldo's fastest win is eight seconds, a knockout against
Cub Swanson
at
WEC 41
in 2009.
3:
Consecutive wins for Jung in the UFC after two losses in the WEC. Those losses were both on WEC cards where Aldo was defending his featherweight title. Aldo has won 15 consecutive fights, with his lone defeat coming in 2005. Four of Aldo's wins since becoming WEC/UFC champion have been by decision. In 16 fights before winning the WEC/UFC title, Aldo had three decision wins.
6:
Jung is the sixth fighter from Asia to fight for a UFC title belt. The previous fighters (
Yuki Kondo
,
Yushin Okami
,
Hayato Sakurai
,
Caol Uno
and
Kenichi Yamamoto
) went 0-5-1. Yamamoto (
UFC 23
) and
Kazushi Sakuraba
(
UFC Ultimate Japan
) are the only fighters from Asia to win a UFC tournament championship. Jung is the first Korean fighter to challenge for a UFC title.
11:
Knockdowns landed for Machida in his UFC career, tied for fourth most all-time. In the light heavyweight division, Machida is second to UFC Hall of Famer
Chuck Liddell
, who has 14. Davis has not been knocked down in nine UFC fights.
74:
Davis' significant strike defense percentage, fourth highest in UFC history. "Mr. Wonderful" is one of the most difficult fighters to hit, absorbing just 53 significant strikes in his seven UFC wins. In his loss against
Rashad Evans
, Davis was hit with just 38 percent of significant strikes. Machida is one of the best strikers in UFC history, landing 57 percent of his significant strikes, which is seventh best all-time.
April, 16, 2013
4/16/13
3:17
PM ET
UFC on Fox 7 will air on free network television from the HP Pavilion in San Jose, Calif., Saturday night. In the main event, UFC Lightweight Champion
Benson Henderson
will defend his title against the debuting #1 contender
Gilbert Melendez
, who was the final Strikeforce lightweight champion. In the co-main events, Strikeforce Heavyweight Grand Prix winner
Daniel Cormier
will face former UFC heavyweight champion
Frank Mir
and
Nate Diaz
faces another UFC debutant in former Strikeforce lightweight champion
Josh Thomson
. Here are the numbers you need to know for Saturday's fights:
6:
UFC decisions to start his career for Henderson, second among active UFC fighters behind flyweight champion
Demetrious Johnson
. Henderson is the only fighter to start his UFC career with at least five consecutive decisions won.
Most UFC Decisions to Start Career, Active Fighters
Demetrious Johnson 7
Benson Henderson 6*
Diego Nunes
6
Nam Phan
6
*Won all decisions
10:
Consecutive title fights for Melendez, who held the Strikeforce title from April 2009 to January 2013 when the organization was dissolved into the UFC. Melendez won four fights by decision and three by KO/TKO. His notable wins include rival Josh Thomson (twice) and DREAM lightweight champion
Shinya Aoki
.
11:
Wins by KO or TKO for Melendez, four under the Strikeforce banner. Henderson has been knocked down three times in his UFC/WEC career, most notably the jumping kick off the cage from
Anthony Pettis
at WEC 53.
9:
This will be the ninth time Melendez will fight inside the HP Pavilion, the proverbial stomping grounds of Strikeforce. He is 7-1 in previous fights at the "Shark Tank," losing the Strikeforce lightweight championship to Thomson in 2008.
21:
Takedowns for Henderson in six UFC fights (3.5 per fight). Melendez has a 71 percent takedown defense but allowed a combined 13 takedowns in his two career losses (seven to
Mitsuhiro Ishida
, six to Thomson).
3.6:
Strikes landed per minute by Melendez. During his seven-fight win streak, Melendez has outstruck his opponents 482-272 (plus-210) in significant strikes. Henderson absorbs 1.5 significant strikes per minute and only 30 in his last win over Melendez teammate Nate Diaz.
8:
Mir has an eight-inch reach advantage over Cormier (79 inches to 71). That's nothing new to Cormier, as he's beaten
Antonio Silva
(82),
Devin Cole
(79.5) and
Josh Barnett
(78).
6:
All six of Mir's career losses have come by way of KO or TKO. The former UFC heavyweight champion has never lost back-to-back fights in his career. Seven of Cormier's 11 career wins have come via strikes (five KO/TKO, two submissions due to strikes).
8:
Submission wins by Mir inside the UFC Octagon, tied for second most all time. Cormier has faced only one submission attempt in his Strikeforce career (Barnett).
Most UFC Wins by Submission
Royce Gracie
11
Frank Mir 8
Nate Diaz 8
Kenny Florian
8
3:
This is Mir's first camp with Jackson's MMA in Albuquerque, N.M. If he wins, Mir would be the third UFC heavyweight from Jackson's to win in this calendar year, joining
Shawn Jordan
(UFC on Fox 6) and
Travis Browne
(TUF 17 finale).
5:
Of his eight submission wins inside the UFC Octagon, five have earned Nate Diaz a UFC submission of the night bonus (second all time). Thomson has never been submitted in 25 professional fights and also has nine submission victories of his own (four in Strikeforce).
Most Submission of the Night Bonuses
Joe Lauzon
6
Nate Diaz 5
Terry Etim
4
208:
Diaz landed 30 significant strikes in his title fight against Benson Henderson, 208 fewer than his victory over
Donald Cerrone
in two fewer rounds. Thomson will be tough to hit as well; he absorbs 1.8 strikes per minute, but did absorb 3.0 per minute in his last loss to Melendez.
March, 13, 2013
3/13/13
10:30
AM ET
The rivalry between UFC welterweight champion
Georges St-Pierre
and
Nick Diaz
comes to a head Saturday in the main event of
UFC 158
. Here are the numbers you need to know for the title fight:
6.03:
Diaz's strikes landed per minute in UFC/Strikeforce fights. Diaz has landed more than 100 significant strikes in four of his last five fights, with the lone time under 100 being a first-round TKO of
Paul Daley
. The leader in strikes landed per minute in UFC-only fights is heavyweight champion
Cain Velasquez
at 6.37 per minute.
1.2:
St-Pierre's strikes absorbed per minute -- sixth best in UFC history and first among active welterweights. In his last five title defenses, none of St-Pierre's opponents have landed more than 24 percent of their significant strikes.
Georges St-Pierre's significant strike defense in last five fights:
UFC 154 -
Carlos Condit
: 76 percent
UFC 129 -
Jake Shields
: 81 percent
UFC 124 -
Josh Koscheck
: 88 percent
UFC 111 -
Dan Hardy
: 85 percent
UFC 100 -
Thiago Alves
: 81 percent
55:
Average number of significant strikes landed per fight for "Rush" in 19 UFC fights. St-Pierre's total of 1,048 significant strikes landed is the most in UFC history and 190 more than second-place
BJ Penn
. Diaz has landed 604 significant strikes in 12 UFC fights, for an average of 50.3 per fight.
78:
Percentage of takedowns landed for St-Pierre. In his last fight against Condit, St-Pierre took down "The Natural Born Killer" seven times, tied for third most in a UFC fight for the champion. Diaz hasn't been taken down multiple times in his last 15 fights, spanning back to February 2007 at PRIDE 33 when he was taken down three times by
Takanori Gomi
.
3:38:
The minimum amount of time the fight against Diaz must last for St-Pierre to eclipse UFC Hall of Famer
Randy Couture
(4 hours, 41 minutes, 50 seconds) for third-longest total fight time in the UFC. St-Pierre has had two UFC fights shorter than 3:38 -- a UFC 69 loss to
Matt Serra
and a UFC 48 win against
Jay Hieron
.
2:
Diaz is just the second southpaw St-Pierre has faced in 19 UFC fights. At UFC 54 in 2005, "Rush" faced
Frank Trigg
in his only UFC matchup against a southpaw. Trigg landed one punch in three attempts before succumbing to a rear-naked choke in the first round.
405:
The number of days Diaz will have gone without a UFC fight -- a span of over 13 months. Diaz was suspended due to failing a post-fight drug test after UFC 143 and fought just once in 2012. The only other year in his MMA career Diaz fought once was his first year of competition in 2001.
Nick Diaz's longest MMA layoffs in days:
February 2012-March 2013 - 405
August 2001-July 2002 - 314
July 2008-April 2009 - 258
June 2009-January 2010 - 237
5:
Consecutive title defenses for St-Pierre without a stoppage -- the same as
Anderson Silva
and
Jon Jones
have combined in the UFC. Eleven of Diaz's 34 MMA fights have gone to a decision, including six of his eight career losses.
17:
The combined number of UFC or Strikeforce main events both fighters have been involved in over their careers. The champion has been in the main event 10 times in his UFC career, starting with his first title victory over
Matt Hughes
at UFC 65. Since then, only two of St-Pierre's fights haven't been the main event (UFC 100 against Alves and UFC 74 versus Koscheck). Diaz is no rookie, as his last two UFC bouts have been main events as well as five of his six appearances for Strikeforce.
5:
The number of men who can say they've fought St-Pierre and Diaz in MMA competition. Penn lost to both men (St-Pierre twice). Condit defeated Diaz for the interim title before losing to St-Pierre.
Karo Parisyan
faced Diaz (UFC 46) and St-Pierre (UFC 49) in back-to-back UFC appearances, defeating the Stockton bad boy but losing to the Canadian.
Sean Sherk
went in the opposite order, losing to St-Pierre at UFC 56 before defeating Diaz at UFC 59.
Thomas Denny
lost to "Rush" in 2003 and Diaz in 2008, the only fighter to be stopped by both men.
February, 28, 2013
2/28/13
6:35
AM ET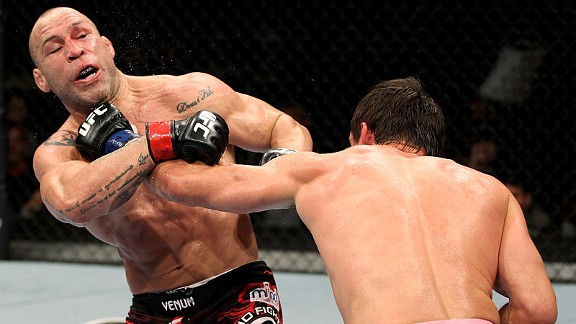 Josh Hedges/Getty ImagesWanderlei Silva has struggled against American opponents since 2007.
UFC on Fuel TV 8 takes place from the Saitama Super Arena in Japan this Saturday, the sixth time the UFC has traveled to the "Land of the Rising Sun." The main event sees
Wanderlei Silva
battle
Brian Stann
at light heavyweight while
Stefan Struve
takes on
Mark Hunt
in a heavyweight bout. Here are the numbers you need to know for Saturday's fights:
6:
Fights Silva has had against an American fighter since his return to the UFC in 2007. He is 1-5 in those bouts, losing his past four (
Rich Franklin
twice,
Chris Leben
and
Quinton Jackson
). "The All-American" has fought just one Brazilian fighter in his career, defeating
Jorge Santiago
at UFC 130.
Wanderlei Silva, UFC Career vs. American Fighters:
UFC 147 Rich Franklin L, UD
UFC 132 Chris Leben L, KO
UFC 99 Rich Franklin L, UD
UFC 92 Quinton Jackson L, KO
UFC 84
Keith Jardine
W, KO
UFC 79
Chuck Liddell
L, UD
6:
Times Silva has been defeated by KO or TKO in his 48-fight career. Four of those knockouts have come inside the UFC Octagon, while the other two were his last two PRIDE fights against
Dan Henderson
and
Mirko Filipovic
. The "Cro-Cop" fight was the last time Silva fought in Japan, which served as the home for PRIDE organization. Stann has nine KO/TKO wins in 17 career fights.
75:
Percent of wins by "The Axe Murderer" that have come by KO or TKO (24 of 32). When Silva defeated
Michael Bisping
at UFC 110 by unanimous decision, it marked his first win not by KO or TKO since November 2003 at PRIDE: Final Conflict.
3:
The combined takedowns by both fighters in their UFC careers (Silva 2, Stann 1). Each fighter attempts less than one takedown and one submission attempt per 15 minutes. In other words, it would be shocking to see this fight go to the ground unless one of the fighters gets knocked down.
2010:
The last time former WEC light heavyweight champion Stann fought at 205 pounds, where he is 8-3 in his career. Stann will be dropping back to middleweight after this fight with Silva, where he holds a 4-2 record.
9:
The reach advantage for 7-footer Stefan Struve in his co-main event bout against 5-foot-10 Mark Hunt. Struve's reach is 83 inches while Hunt has a 74-inch reach. The 83-inch reach for Struve is second behind
Jon Jones
(84.5 inches) for longest reach in the UFC.
9:
Wins for Struve inside the UFC Octagon, tied with
Junior dos Santos
,
Gabriel Gonzaga
and heavyweight champion
Cain Velasquez
for third among active heavyweights. With a win, he would join
Frank Mir
,
Cheick Kongo
,
Andrei Arlovski
and
Randy Couture
as the only UFC fighters with double-digit wins in the division.
Most UFC Wins, Active Heavyweight Fighters:
Frank Mir 14
Cheick Kongo 11
Cain Velasquez 9
Junior dos Santos 9
Gabriel Gonzaga 9
Stefan Struve 9*
*Four-fight win streak
3.9:
Submissions attempted per 15 minutes for "The Skyscraper," fifth highest in UFC history and first among heavyweights. "The Super Samoan" has six submission defeats in seven career losses, all arm-related (three by armbar, two by kimura, one by keylock). Of Struve's 16 submission victories, only three are by armbar (13 submissions by choke).
2:
The main and co-main events are the only fights on the card not to feature a fighter from Japan or South Korea. There are nine Asia versus The World contests on the card. Japan is represented by
Takanori Gomi
,
Yushin Okami
,
Mizuto Hirota
,
Riki Fukuda
,
Takeya Mizugaki
, and
Kazuki Tokudome
. The South Koreans are represented in three matchups by
Dong Hyun Kim
,
Kyung Ho Kang
and
Hyun Gyu Lim
.