June, 27, 2013
6/27/13
11:42
AM ET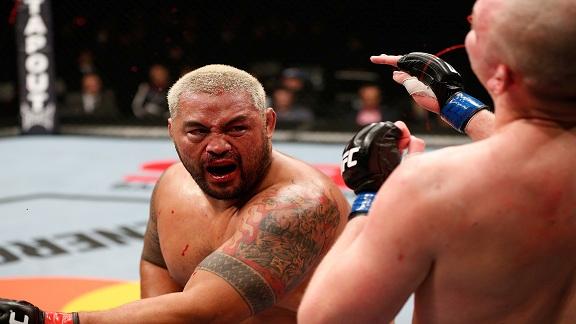 Six months remain until the 2013 mixed martial arts year officially concludes, but already several knockouts have left lasting impressions.
While some have been more devastating than others, timing and circumstance also are significant factors in determining which knockouts stand out from the pack. And none stands out more than middleweight contender Vitor Belfort's spinning heel kick on May 18 that finished Strikeforce titleholder
Luke Rockhold
at UFC on FX 8.
[+] Enlarge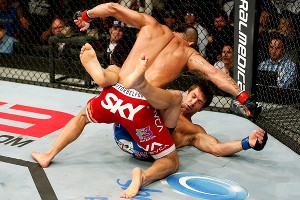 Josh Hedges/Zuffa LLC/Getty ImagesVitor Belfort's concussive power was on full display against Luke Rockhold.
The strike was quick, precise and unexpected. After it connected, Rockhold was on his way to sleep before absorbing a few more of Belfort's punches, which forced referee
Leon Roberts
to stop the assault at 2:32 of the first round.
The knockout was so impressive that ESPN.com voted it the best of 2013 thus far.
Rockhold had no chance of defending himself; he didn't see the head-rattling strike coming. It caught Rockhold just under his left ear. The kick, which likely will be talked about throughout this year and many more to come, was a thing of beauty.
In fact, everything about Belfort that evening was beautiful. His body was chiseled, there was that nostalgic sparkle in his eyes and he exuded an extremely high level of confidence that hadn't been seen in a long time. Belfort was going to leave to Octagon victorious, and there wasn't a doubt in his mind about it. The 36-year-old Belfort appeared to have found the fountain of youth: His hand speed and reflexes conjured up images of the 19-year-old "Phenom" who knocked out Tank Abbott in 59 seconds at UFC 13 in May 1997.
These images, however, are the reason this knockout will struggle to retain its top spot at the end of 2013. Heading into the bout, Rockhold repeatedly raised concerns about Belfort's reliance on testosterone replacement therapy. The topic hovered over this bout like a toxic cloud and fueled hostility between the fighters.
"I don't necessarily trust him. And I don't necessarily trust the system," Rockhold said before the fight. "Do I think he's cheating? Yes, I do.
"He definitely looks bigger than I've normally seen him. If you see the comparisons versus back when he fought
Anderson Silva
to now, [and] the
Jon Jones
fight, he put on some serious muscle mass."
With Belfort's previous positive test for elevated testosterone levels and the fight taking place in his native Brazil, where questions abound regarding the lack of stringent drug-testing, Rockhold's concerns seemed reasonable. The outcome only increased suspicion.
But until proven otherwise, Belfort is presumed innocent. And his knockout of Rockhold is the best midway through 2013.
The knockout secured Belfort's place among the top two 185-pound contenders. He is likely first in line to face the Silva-
Chris Weidman
winner -- which takes place July 6 in Las Vegas.
But cries have already begun for Belfort's next fight to be held in the United States. Each fight he has participated in this year has been in Brazil. Belfort won both fights by knockout -- perennial contender
Michael Bisping
went down in the second round Jan. 19. And yes, Belfort looked physically ripped in that fight.
Belfort didn't simply beat Bisping and Rockhold; he stopped them with punishing knockouts. It's hard to imagine any middleweight surviving the strikes Belfort delivered in those two fights.
To begin erasing doubts about the validity of his recent performances, Belfort must prove his resurgence isn't the result of having a home-field advantage. He must show off his renewed speed, cardio and physical physique under the Association of Boxing Commission's closely monitored therapeutic-use-exemption guidelines. Otherwise, the doubts will escalate.
---
Other notable knockouts:
No. 2: Emanuel Newton KO1 Muhammed Lawal: Bellator 90 (Feb. 21).
Newton's spinning back fist that knocked out former Strikeforce light heavyweight titleholder and huge pre-fight favorite "King Mo" Lawal was a thing of beauty.
No. 3: Antonio Silva KO3 Alistair Overeem: UFC 156 (Feb. 2).
"Bigfoot" Silva earned a rematch and title shot against Cain Velasquez with an impressive third-round stoppage of top contender Alistair Overeem.
No. 4: Muhammed Lawal KO1 Seth Petruzelli: Bellator 96 (June 19).
Lawal makes his second appearance on the KO list, but as the winner this time. His first-round knockout of Seth Petruzelli was about as brutal as they come.
No. 5: Mark Hunt KO3 Stefan Struve: UFC on Fuel 8 (March 2).
Stefan Struve suffered a broken jaw and a hit to his title contendership at the heavy hands of Mark Hunt.
April, 22, 2012
4/22/12
12:57
AM ET
Jon Jones
retained his light heavyweight title Saturday with a unanimous decision over
Rashad Evans
at UFC 145 in Atlanta.
Evans could never mount a consistent attack and lost by judges' scores of 49-46, 49-46 and 50-45. ESPN.com scored the fight 50-45 for Jones.
The victory ends, or at least tempers, a long-running feud between the former sparring partners.
While Jones (16-1) successfully defended his belt for the third time, he displayed more caution against Evans than in previous title bouts. His cautious approach might be contributed to having faced Evans often in camp.
"I did a lot of things tonight that weren't planned," Jones said. "My striking was looking a little elementary. I didn't want to make mistakes.
"But who I beat was very important to me.
[+] Enlarge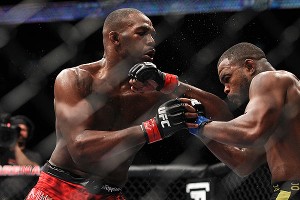 Ed Mulholland for ESPN.comJon Jones' sharp elbow stikes helped slow down Rashad Evans.
"It felt completely different fighting [Evans]. Tonight I threw a lot of elbows. Those are the things you would never do to a training partner."
The elbows, especially in the second round, slowed Evans' attack. They also left swelling above the former light heavyweight champion's right eye.
After suffering the injury, Evans spent much of the fight protecting that right side of his face. Evans also failed to take Jones to the canvas.
The lone time Jones was on his back came in the fifth round when he pulled guard. But that occurred with seconds remaining in the bout.
"He was pretty crafty and pretty tricky," Evans said. "He threw some things he didn't throw in practice, but there were some things he did better in practice than he did tonight."
Evans suffered just the second loss of his career. He is 17-2-1 overall.
MacDonald finished Mills in impressive fashion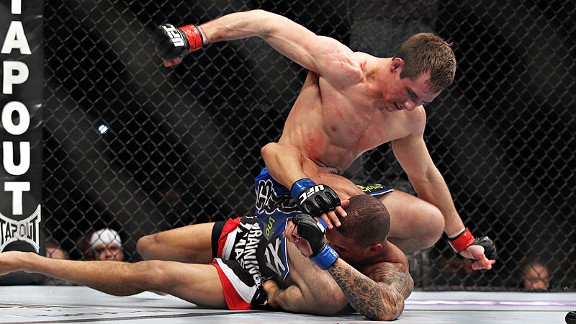 Ed Mulholland for ESPN.comRory MacDonald's ground and pound left its mark on Che Mills.
If
Rory MacDonald
was to be taken seriously as a welterweight contender, he needed to pass a presumed stiff test in Che Mills.
MacDonald passed the test with flying colors.
He dominated Mills in the first round, taking him to the ground quickly and landing hard punches. When the horn sounded to end the round, Mills' face was bruised, cut and bloody.
By the start of the second, there was little doubt MacDonald would come out victorious.
He quickly took Mills back to the ground and again landed punches. Mills was on his back and had no strategy to reverse his misfortune.
And MacDonald (14-1) wasn't about to help him find an answer. Once he got Mills' back, MacDonald aggressively landed punches that forced referee Mario Yamasaki to step in at the 2:20 mark.
"Che was a great opponent," MacDonald said. "I took this fight very serious. I'm very happy with the way the fight went."
Mills fell to 14-5 with one no-contest.
Rothwell stops Schaub by TKO in Round 1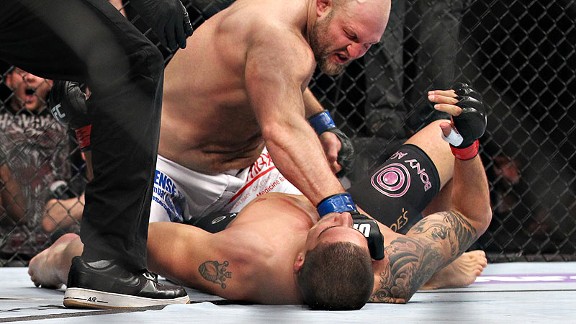 Ed Mulholland for ESPN.comBen Rothwell's power proved the deciding factor against Brendan Schaub.
Brendan Schaub
isn't afraid to exchange punches with the biggest, strongest heavyweights in mixed martial arts. That lack of fear, however, cost him against hard-hitting
Ben Rothwell
.
During a vicious exchange, Rothwell landed a left hook to the head that rendered Schaub unconscious at 1:10 of the first round.
"I worked very, very hard," Rothwell said. "I changed my workout. I'm not backing down. I know my chin can take some shots."
Rothwell improved to 32-8. He is 2-2 inside the Octagon competition.
Schaub, who not long ago was one of the fastest rising heavyweights in the UFC, has dropped two in a row. He is now 8-3 overall.
McDonald knocks out ex-champ Torres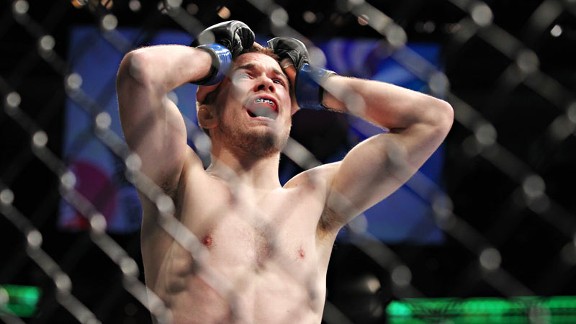 Ed Mulholland for ESPN.comBy knocking out Miguel Torres, Michael McDonald proved he's arrived.
The road back to the top of the bantamweight division became a lot more bumpy for former WEC champion
Miguel Torres
.
Michael McDonald
landed a hard right uppercut in Round 1 that sent Torres to the canvas. Torres was asleep before hitting the ground.
The fight would end at the 3:18 mark, dropping Torres to 40-5.
While Torres' professional record still looks impressive on paper, it's deceiving: Four of his five losses came in Torres' seven most recent fights.
"I was paying attention to his range," McDonald said. "I wanted to make sure he didn't get his jab off."
McDonald improves to 15-1. He has won eight fights in a row.
Hominick drops third fight in a row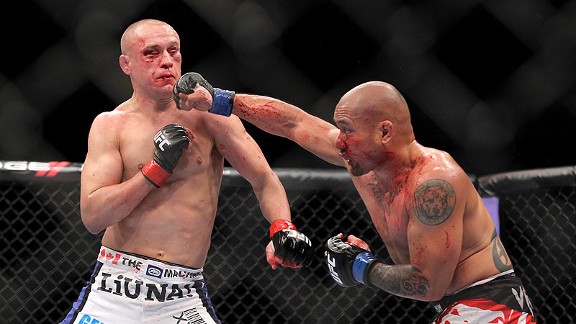 Ed Mulholland for ESPN.comEddie Yagin's aggression made life difficult for Mark Hominick.
Former top featherweight contender
Mark Hominick
continues to struggle to find his groove.
For the second straight fight, Hominick failed to rebound from his UFC 129 unanimous decision loss to champion
Jose Aldo
.
Eddie Yagin registered knockdowns in the first and second rounds to edge Hominick by split decision.
Two judges scored it 29-28 for Yagin, who improved to 16-5-1. The third judge and ESPN.com had Hominick winning 29-28.
Hominick (20-11) ate right hands from Yagin during most of the bout. And in the first two rounds he was dropped by Yagin right hands.
Despite tasting hard right hands, Hominick found his rhythm in the third and punished Yagin with still left jabs and hard right hands.
But that knockdown in the closely contested second round proved too much for Hominick to overcome.
Bocek takes down Alessio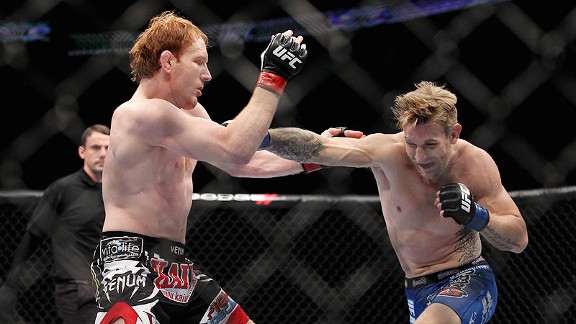 Ed Mulholland for ESPN.comMark Bocek, left, dominated on the feet and on the ground against John Alessio.
Mark Bocek
is one of the most underrated lightweights in UFC. But he might have turned that around with a unanimous decision over veteran John Alessio.
The fight was scored 30-27, 29-28 and 30-27. ESPN.com had Bocek winning 29-28.
Bocek came into the bout as the superior ground fighter and wasted little time proving it. He took Alessio to the ground early in the first round and punished him with hard left elbows.
But while Bocek had the advantage on the ground, Alessio was better standing. And in the second he caught Bocek repeatedly with left-right combinations.
Bocek (11-4) would get Alessio on the ground briefly, but they stood for most of the round.
Alessio, a former welterweight, slips to 34-15.
Browne submits Griggs in first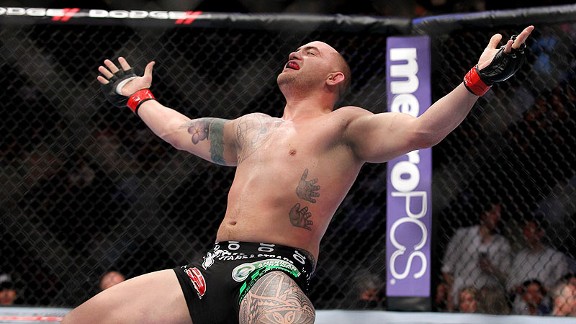 Ed Mulholland for ESPN.com
Taking on hard-hitting
Travis Browne
is proving to be a difficult task.
Chad Griggs
became the latest heavyweight to learn this lesson.
Browne improved to 13-0-1 with a first-round submission of Griggs. The loss was just the second for Griggs as a pro.
Browne entered the fight determined to make a statement. He was disappointed after his most recent outing -- a unanimous decision over
Rob Broughton
.
During that fight at UFC 135 in Denver's high altitude, Browne was sluggish as he gasped for air. But cardio never became a factor for Browne in Atlanta.
He landed a hard left knee that stunned Griggs. Browne than took his opponent to the ground, where he applied an arm triangle that forced Griggs to tap at 2:29.
"I belong here," Browne said. "UFC heavyweights, watch out baby."
Griggs fell to 11-2.
Brown hands Thompson his first pro loss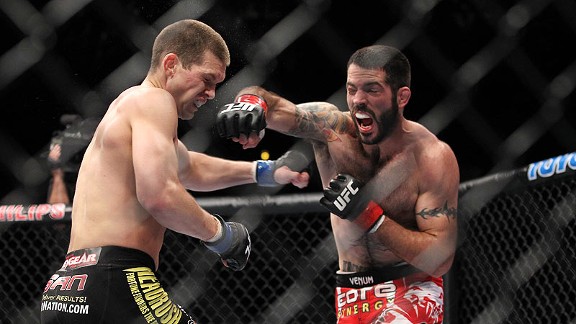 Ed Mulholland for ESPN.comMatt Brown, right, dug down deep to grind down Stephen Thompson.
For the first time in his professional mixed martial arts career, Stephen Thompson suffered a loss.
Veteran
Matt Brown
used his experience and superior ground skills to punish Thompson for three rounds during their welterweight bout.
The judges scored the fight 30-27, 29-27 and 30-27 for Thompson. ESPN.com scored it 30-27 for Brown.
Brown's experience would prove especially beneficial in the second round.
With Thompson finally able to get his striking game untracked, a wobbly Brown (14-11) landed a hard right hand. The punch put Thompson on his back.
On the ground, Brown landed an elbow that opened a cut on Thompson's forehead.
Both fighters were exhausted entering the third, but Brown was able to take Thompson to the ground and punish him.
Brown would get Thompson (6-1) in a mounted triangle, where he began landing several left hands.
Longer Njokuani shuts out Makdessi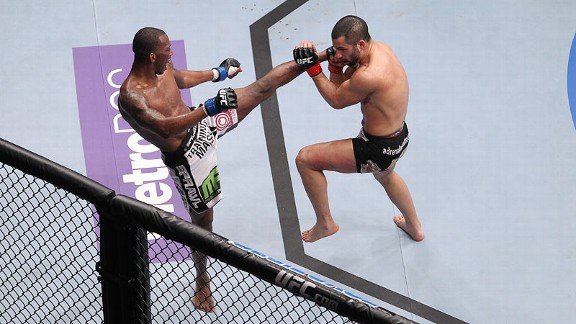 Ed Mulholland for ESPN.comAnthony Njokuani's range proved the difference against John Makdessi.
In a 158-pound catchweight bout,
Anthony Njokuani
landed kicks to the head and body of
John Makdessi
en route to a unanimous decision.
All three judges, as well as ESPN.com, scored the fight 30-27.
Njokuani (15-6, one no contest) stunned Makdessi with a hard left hook on the chin. He would utilize a 7½-inch reach advantage to land most of his strikes and stay out of harm's way.
Makdessi, despite not finding a solution to Njokuani's reach, continued to press the action throughout the fight. But entering the third round his left leg was showing the damage done from absorbing numerous kicks.
Makdessi's left leg was badly bruised.
The fight, originally slated for 155 pounds, became a catchweight bout when Makdessi (9-2) came in two pounds over the lightweight limit during Friday's weigh-ins.
Danzig ignores injured ankle to beat Escudero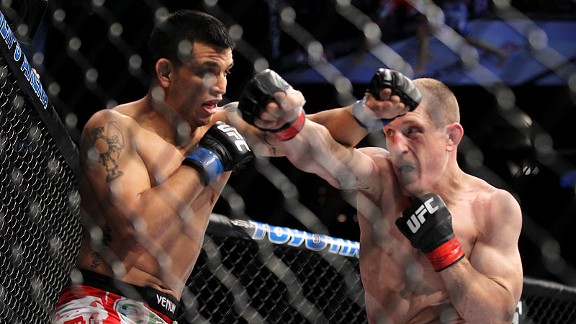 Ed Mulholland for ESPN.comMac Danzig, right, fought through the pain to overcome Efrain Escudero.
In the battle of former TUF winners, lightweight
Mac Danzig
overcame a badly swollen right ankle to earn a unanimous decision over
Efrain Escudero
.
The judges scored the fight 30-27, 30-27 and 29-28. ESPN.com scored the fight 30-27 for Danzig.
Danzig controlled the standup with his jab and an occasional left hook. But Escudero nearly finished him in the first round with a right ankle hook.
Danzig, however, escaped the submission attempt and despite swelling to his ankle fought hard in the second and third rounds.
The damaged ankle did not prevent Danzig from applying pressure on Escudero, who could not find a rhythm in any of the three rounds.
Danzig, the Season 6 "Ultimate Fighter" winner at welterweight, improved to 21-9-1. Escudero, a TUF Season 8 lightweight champion, slipped to 18-5.
Clements punishes Wisniewski with strikes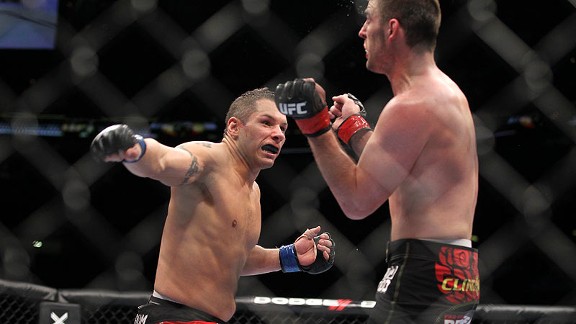 Ed Mulholland for ESPN.comKeith Wisniewski, right, absorbed punishment from all angles against Chris Clements.
Chris Clements landed hard strikes in the second and third rounds to earn a split decision in his UFC debut over fellow welterweight Keith Wisniewski.
Clements persuaded two judges who gave him scores of 29-28 and 30-27. The third judge favored Wisniewski 29-28. ESPN.com scored the fight for Clements 29-28.
After a close first round, in which Clements (11-4) was taken to the ground, he picked up his striking attack in the second and third. He hit Wisniewski with hard punches, elbows and spinning back kicks.
Wisniewski (28-14-1) absorbed the punishment and fought hard, but the accumulation of strikes began to wear him down late in the third round.
Brimage holds off Blanco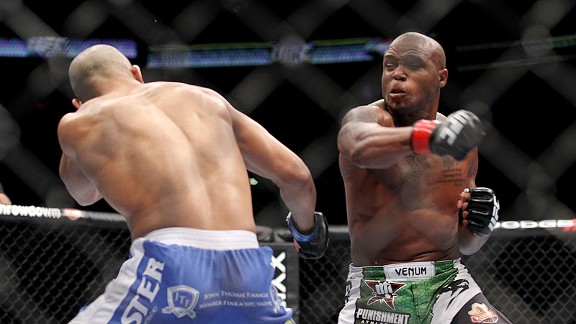 Ed Mulholland for ESPN.comMarcus Brimage's aggression helped power him past Maximo Blanco.
Despite tasting several front kicks in the second round, Marcus Brimage refused to back down in the third and secured a split decision over Maximo Blanco in a featherweight bout.
Two judges scored the fight for Brimage 30-27 and 29-28, while the third had it 29-28 for Blanco. ESPN.com scored it for Brimage 29-28.
Brimage (5-1) was the more aggressive fighter in Round 1, landing hard punches. But after tasting several front kicks on the chin, he fought more cautiously in the second.
Seemingly aware that the third round would likely decide the outcome, Brimage picked up the pace. He remained somewhat cautious of Blanco's kicks, but took the risks and came forward.
Blanco, who made his featherweight debut after competing previously at lightweight, falls to 8-4-1 with one no-contest. He has lost two fights in a row.
July, 6, 2011
7/06/11
11:17
AM ET
UFC bantamweight champion
Dominick Cruz
might have to savor his unanimous decision win Saturday night over
Urijah Faber
for a while.
The Nevada Athletic Commission released its medical suspensions to ESPN.com on Tuesday for fighters who participated in UFC 132, which was held July 2 at MGM Grand Garden Arena in Las Vegas.
Cruz is required to have his right hand x-rayed. If the results are positive, Cruz must be cleared by an orthopedic doctor or he won't be allowed to compete until Dec. 30.
Faber must have his right hand, right wrist, right shoulder and chest x-rayed. If the results are positive, Faber must be cleared by an orthopedic doctor or he too will not be allowed to compete until Dec. 30.
Regardless, Faber can't compete until Aug. 17, and must not have contact until Aug. 2.
Wanderlei Silva
, who was knocked out in 27 seconds by
Chris Leben
, is suspended until Sept. 1. He can't have any contact until Aug. 17.
Dennis Siver
(forehead lacerations) is suspended until Aug. 17, and can't have contact until Aug. 2.
Ryan Bader
, who was submitted by
Tito Ortiz
, is suspended until July 24, and must avoid contact until July 17.
Both
Dong Hyun Kim
and
Shane Roller
must have right orbital fractures cleared by an ear, nose and throat doctor or ophthalmologist. Otherwise, neither can compete until Dec. 30.
Regardless, neither Kim nor Roller can compete before Sept. 1. They also must avoid all contact until Aug. 17.
Melvin Guillard
(cut under right eye) is suspended until July 24, and can't have contact until July 17.
George Sotiropoulos
, who was KO'd in the first round by
Rafael dos Anjos
, is suspended until Sept. 1. He can't have contact until Aug. 17.
Brian Bowles
must have his right hand X-rayed. If the results are positive, Bowles must be cleared by an orthopedic doctor or he will not be allowed to compete until Dec. 30.
He is under minimum suspension and can't have any contact before July 24 or compete until Aug. 2.
Donald Walker (laceration on right eyebrow) and Brad Tavares (laceration on left eyebrow) are suspended until Aug. 2 and neither can have contact before July 24.
Andre Winner
is suspended until Aug. 2, and can't contact before July 24 due to facial bruising.
Anthony Njokuani
, who defeated Winner by unanimous decision, must have a contusion on his lower left leg cleared by a physician or he can't compete until Dec. 30.
Njokuani also chipped a lower right tooth.