March, 25, 2013
Mar 25
12:34
PM ET

By Chuck Mindenhall
ESPN.com
Archive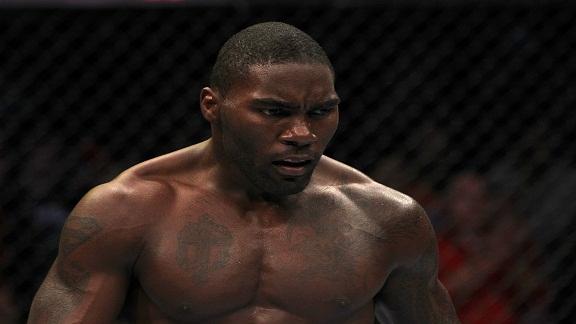 Jon Fitch
wasn't good enough for the UFC, but he's (apparently) worthy of an automatic title bid in the World Series of Fighting.
In MMA, perception is everything. Not that
Josh Burkman
, who knocked out
Aaron Simpson
at WSOF 2 on Saturday to "earn" his own shot, is a fan of the idea.
Burkman thinks Fitch needs to beat somebody within the promotion before he can barge into the place and think about titles. Fitch, who was 14-3-1 in the UFC and will debut in June, has the greatest credentials never to be taken seriously. He has never known the red carpet treatment, either, so why should he now? Remember when he was about to fly off to join the cast of the original "Ultimate Fighter," only to be told -- while sitting on the tarmac -- that he didn't make the cut?
Life hasn't always been pretty for Fitch. This is why he's always gnashing his teeth.
Of course, Burkman may be forecasting here. He may be thinking about the task of trying to get up from under Fitch's onslaught of elbows. He may be thinking of the futile nature of simply "trying to stand back up" against Jon Fitch. Of the 14 wins Fitch scored in the UFC, 14 opponents were saddled with the project of staying off their backs against Fitch heading in. Fourteen found themselves on their backs come fight night anyway.
Burkman may sense something inevitable.
But Burkman won't ultimately decide who fights for the inaugural welterweight belt at WSOF. The decision will be up to WSOF president,
Ray Sefo
. If Sefo says Fitch, then it's Fitch. If he says it's Burkman versus Fitch, Burkman should just be happy his name isn't Abercrombie. Imagine the confusion that those posters would generate?
[+] Enlarge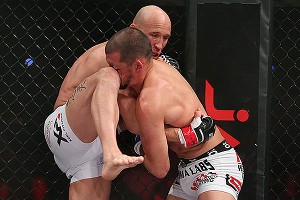 Dave Mandel/Sherdog.comJosh Burkman, left, should be more concerned about intriguing fights than a World Series of Fighting belt.
You know what would be novel, though? Have Burkman against Fitch
just for the heck of it
. Don't make it about glorified accessories like the other clubs. Don't create world titles. Just have the best guys go toe-to-toe. Tear down partitions, and put on "intrigue fights." Have Burkman and Fitch fight just because it's logical, at this point in time, to have them fight.
Imagine an MMA utopia that goes about business without the tyranny of gold-played belts. Where guys are free to roam weight classes in pursuit of the best, most ridiculous scenarios. Like former welterweight
Anthony Johnson
against former UFC champion
Andrei Arlovski
, perpetuated.
Bizarre = fun.
If
Quinton Jackson
joins the ranks, or
Josh Barnett
-- or whoever, as there will be plenty -- the idea should be that they join a pool of
possibilities
. Rather than former UFC fighters coming over to resurrect themselves as contenders and/or champions in a different setting, they enter the salt mines, baby.
Or something like that.
WSOF has a chance to build itself any way it wants. Why not do fan-friendly fights that are strictly about fan friendliness? Have people fight -- not desperately, but happily -- for simple relevance. The alphas will always stand out anyway. Who knows, it might be a lure, too. Those who hate structure can come to the Wild West, where fantasy matchmaking happens. The WSOF could make it about the best names that couldn't get at each other in the UFC (or elsewhere) coming together under their own banner. Anthony Johnson wants to fight "Rampage?" All too easily arranged.
Marlon Moraes
against, say,
Bibiano Fernandes
? Roll it out.
Tyrone Spong
against just about anybody from 205 pounds on up?
Here's a league of pure hospitality.
It's a thought. And, really, it's not a very original thought, as I've seen MMA Fighting's Ariel Helwani and others tweet similar ideas about a titleless landscape.
Ultimately there's nothing that says you have to have belts at the top of every weight class. Belts exist for a reason. They mean money. It's a game of thrones. We like belts and speculating on the hierarchy of contenders and to have belts hanging over all proceedings like surveillance cameras. But the UFC does that already. So did Strikeforce (mostly) and so does Bellator (periodically). To do that, you have to fill in weight classes and harvest talent. That's hard to do in the current landscape, not to mention tedious. That line of thinking "competes" with the UFC.
So make it about putting on the best available fights just for the sake of putting on the best available fights. If Josh Burkman doesn't think Jon Fitch deserve a title shot, fine -- remove the politics from the equation. Get rid of the notion of belts. That's so un-UFC. Would you have cared more if Arlovski/Johnson was for the heavyweight title? Probably not. They are, very consciously, UFC retreads (Arlovski even wore a UFC glove).
But that an unthinkable pairing should come together at WSOF gave it a fresh coat of intrigue. And you know what? That sort of matchmaking doesn't need titles.
June, 18, 2012
6/18/12
12:48
PM ET

By Josh Gross
ESPN.com
Archive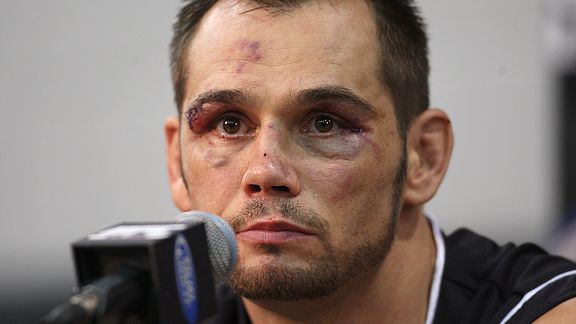 Scott Cunningham/Getty ImagesRich Franklin is the latest fighter to admit he's considering testosterone replacement therapy.
Rich Franklin
said recently he'll consider testosterone replacement therapy because, at the age of 37, his hormone levels aren't what they once where.
Stop the presses. This is called getting old, and it's among the biggest reasons TRT comes off as a farcical medical treatment for athletes.
But have you ever wondered what the fight world would be like if mixed martial artists like Franklin didn't hesitate to take substances likely to help them in their pursuits? Think of it. No drug testing. All problems solved. Bye-bye bad headlines and missed fights. What a world!
On its face this sounds preposterous, though that hasn't stopped some people from arguing it's the way to go. Where would you peg usage rates if fighters were essentially allowed to dope for lack of deterrents? We're still talking illegal drugs, just no testing. How would that tug at the moral fiber of fighters who, under today's testing requirements, have thus far remained PED-free?
I'm thinking, despite known repercussions, use would be off the charts. Maybe you'll have some guys who won't on principle -- yes, principle -- but I wouldn't assume many.
Junior dos Santos
? The way he's addressed PEDs, the guy is either a shining beacon or total hypocrite. We have no reason to suspect the latter, yet in a test-free environment, would temptation prove too much?
Tito Ortiz
made the claim recently that he would still be champion were it not for multiple surgeries that plagued his career. What if a substance banned under current regulations/law could have a) prevented his ailments or b) helped repair them quickly so he could fight at full strength? Wouldn't it be worth allowing him to use unencumbered? Let the chips fall where they may over time, but in the moment, if it kept him fighting, and others were free to use if they wanted, what could be so bad about that?
Hey, I'm glad testing exists. I hate that it needs to, but the fact that it's there -- as disjointed and inconsistent as the practice is worldwide -- gives hope that the sport won't just drown in drugs.
Why does it matter?
What it comes down to, I think, is this: I want to see the best fighters in the world compete. And I want to knowing their accomplishments aren't insured by a steady baseline of synthetic testosterone. Yes, even if that means they're more likely to stave off injury and fight more often over a longer period of time. (Though use could have the exact opposite effect, as penalties, such as weakened tendons, make injury more likely.)
Based on past conversations, I'm aware many fans don't care. They'd be fine if regulators walked away from testing programs and Zuffa washed its hands of PED interests. A virtual free-for-all makes them salivate.
I'll make just one request. If this ever happens (it won't), can we at least get a tale-of-the-tape that includes "drugs used" next to height, weight and reach? That could be fun for a little while.
Atlantic City, hello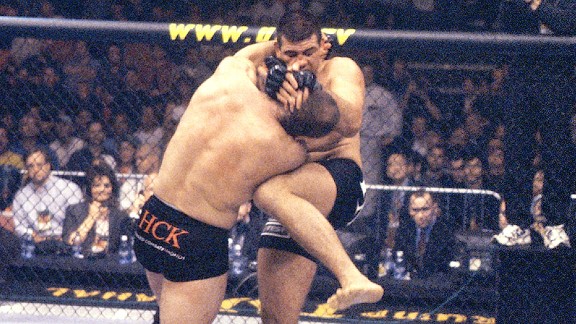 Susumu Nagao/Zuffa LLC/Zuffa/Getty ImagesPedro Rizzo, facing, and Randy Couture took turns pummeling one another on May 4, 2001, in Atlantic City.
For the first time in five years, the UFC returns to Atlantic City this weekend, featuring two of the promotion's best lightweights,
Gray Maynard
and
Clay Guida
.
The UFC has a tradition of holding memorable events by the Jersey shore (which hosted the company's first regulated event prior to Zuffa entering the equation in 2001), and Maynard-Guida looks well suited to join an impressive list of fights.
In descending order, these are my favorite A.C. bouts:
8. Rich Franklin mauls Evan Tanner to win the UFC middleweight title.
This was ugly. Though Tanner knocked Franklin down with a right hand in the opening round, he spent the rest of the fight being brutalized to the face, rendering the him nearly unrecognizable by the time a ringside physician stopped the contest.
7. Shonie Carter spins his way past Matt Serra.
As you'll soon realize, UFC 31 is one of my favorite events ever. Carter-Serra produced a spinning backfist finish that, at the time, was rare and stunning. Down on the cards late in the fight, Carter faked a kick, spun through with his arms, and connected with a glancing shot that dropped Serra to the canvas for good.
6. Matt Hughes teaches youngster Georges St. Pierre a lesson.
Ten months after losing the UFC welterweight title to
B.J. Penn
in 2004, Hughes regained the strap against a talented French Canadian kid who'd go on to do big things. Hughes treated GSP appropriately before locking in a perfectly setup armbar from the top that brought a tap at 4:59 of Round 1. St. Pierre credits lessons learned in this fight for his subsequent championship run.
5. Jens Pulver claims first UFC title of Zuffa era.
Technically this was for the bantamweight title at the time, though we now know 155 pounds to be the domain of lightweights. The fight, a majority decision favoring Pulver over
Caol Uno
, was extremely close and well contested.
4. Tito Ortiz pummels Evan Tanner.
Ortiz never appeared more dangerous than this frightening slam that rendered Tanner unconscious and injured. The impact of Ortiz lifting then driving Tanner to the floor still stands as among the UFC's most violent moments.
3. Randy Couture returns, wins back belt.
After winning and relinquishing the UFC heavyweight title against Maurice Smith in 1997, Couture returned to the promotion three years later for its regulated debut in New Jersey. Couture handled fellow wrestler Kevin Randleman in an exciting contest that ended with punches late in Round 3.
2. Carlos Newton stuns Pat Miletich.
Trying for his sixth UFC title defense, Miletich failed when he made the mistake of sticking his head where it didn't belong, prompting nice guy Newton to squeeze as hard as he could when he wrapped Miletich in an old-school playground choke. The result opened the door for Matt Hughes, a Miletich student, to fight for the belt.
1. Heavyweight war of attrition.
Among my favorite fights of all time, Randy Couture and Pedro Rizzo produced a wild heavyweight title fight at UFC 31. Rizzo dominated Couture in the opening round, nearly finishing the American within the first five minutes. Couture returned the favor in the second, pounding on Rizzo for a full round. They were understandably slower the next 15 minutes, yet this is one of the great battles in MMA history.