February, 21, 2013
2/21/13
4:16
PM ET

By Jake Rossen
ESPN.com
Archive
An unprecedented level of media coverage has surrounded the UFC debuts of female fighters
Rhonda Rousey
and
Liz Carmouche
at this weekend's UFC 157. While Carmouche has enjoyed press for making history as the promotion's first openly gay athlete, it's Olympic Judo player Rousey that remains the show's main attraction.
Dimpled, quick-witted and savage, Rousey is expected to emerge as one of the sport's top drawing cards. Having barely broken a sweat in her MMA career, winning seems to be a foregone conclusion.
But magazine covers are no guarantee of success, and not all heavily hyped debuts have gone the way promoters had hoped. Here's a look at fighters who failed to meet expectations their first time out of the gate:
10. Brock Lesnar (vs. Frank Mir, UFC 81, 2008)
A Renaissance man of violent contact sports, amateur wrestler Lesnar acquired his celebrity through a stint as a World Wrestling Entertainment attraction. When he tired of that industry's grueling road schedule, he decided to try out for the Minnesota Vikings despite never having played a day of college ball. When he failed to make the team, his focus turned to MMA -- realizing his dream, he once told an ESPN reporter, to "pick a fight on every street. If I wouldn't lose money, I'd fight ... every day."
Lesnar's UFC debut wasn't his first sanctioned bout: months earlier, it took him a minute to pummel an overmatched
Min-Soo Kim
in a little-seen pay-per-view event. But coming into the industry's leading promotion meant an unprecedented level of attention: Much was made of Lesnar's "lunchbox-sized hands" and a frightening level of agility for being a 280-pound slab of lean mass. It was a promotional tactic used by Japanese matchmakers for years to see if the pro wrestler had any real fight in him.
For a good portion of the 90 seconds he spent against Mir, the answer was yes. Lesnar quickly took Mir down and pounded him through the mat. But referee Steve Mazzagatti's restart -- Lesnar was docked a point for hitting behind the head -- seemed to slow his momentum, and his lack of submission knowledge cost him when Mir locked in a kneebar, forcing Lesnar to tap and exposing his limited training.
It was a painful education, and one Lesnar took to heart considering he practically disfigured Mir in their 2009 rematch.
9. Karam Ibrahim (vs. Kazuyuki Fujita, K-1 Dynamite, 2004)
While MMA has hosted a number of Olympic-level athletes and medal winners, the majority have been either alternates, bronze/silver competitors, or years removed from their prime. The Egyptian-born Ibrahim, however, holds the distinction of being the only mixed martial artist to have a prizefight the very same year he won his gold medal.
A Greco-Roman style wrestler, he was enticed by the promise of a sizable payday from Japan's K-1 promotion. Ibrahim's credentials were impeccable, and their choice of opponent was seemingly a gift as Fujita, an experienced fighter who nonetheless had Greco skills (as a national champion in Japan), paled in comparison to Ibrahim.
Call it an adrenaline dump, pure instinct, or just a temporary leave of his senses, but Ibrahim entered the ring completely forgetting his superior wrestling ability and decided to slug it out with Fujita -- a man dubbed "Ironhead" by the press for his near-inability to be knocked out. Predictably, Fujita brushed off Ibrahim's rudimentary strikes and needed barely a minute to send him crashing to the canvas.
Despite being in his athletic prime and world-class in the same base of wrestling that brought
Randy Couture
great success, Ibrahim never again competed in MMA. He remains one of the sport's greatest "what if" stories.
8. Renato "Babalu" Sobral (vs. Mikhail Zayats, Bellator 85, 2013)
A 16-year veteran, Sobral has fought all over the world and for virtually every major promotion, cultivating a name that made him one of Bellator's highest-profile acquisitions.
"Sobral is an awesome addition to the Bellator family," Bellator CEO Bjorn Rebney said at the time. "He's beaten some of the greatest fighters in the sport, and poses a tremendous threat to every fighter in our light heavyweight division."
While that may hold true, he posed little threat to Zayats, another debuting fighter for Bellator who held zero major wins over seasoned competitors. With seconds to go in the first round, Zayats uncorked a spinning back fist sending a dazed Sobral to the canvas where he was finished with strikes. Bellator's long game of having Sobral meet fellow 205-pound attraction
Muhammed Lawal
down the line was also TKO'd.
7. Satoshi Ishii (vs. Hidehiko Yoshida, Dream, 2009)
As Rousey and predecessors like
Karo Parisyan
have proved, Judo can be an extremely effective base for MMA since few athletes train enough of it to become proficient, and even fewer are prepared for some of the more unorthodox throws and trips that a seasoned Judoka can pull off.
Ishii won a gold medal in the 2008 Beijing Games and almost immediately declared his intentions to pursue a fight career. His credentials were impressive enough for the UFC to take the rare step of entering into discussions -- despite Ishii being a neophyte in the fight game -- before he had even a single bout to his credit.
Owing either to failed negotiations or the realization of the caliber of opponent he'd be tasked with, Ishii instead opted to make history by participating in the sport's first gold medalist-versus-gold medalist bout against Hidehiko Yoshida in Japan. While Ishii was fresh off his win in the Games, Yoshida was nearly 20 years removed from his Olympic appearance and had lost four of his previous five bouts. It was intended to be a passing of the torch, and the likely emergence of a new star in the fading Japanese fight scene.
Unfortunately for Ishii, Yoshida wasn't discouraged by statistics: he dominated Ishii standing en route to a unanimous decision win, smothering Ishii's hype and prompting him to make the unprecedented move of accepting two amateur fights after he had already competed as a professional.
6. Mirko "Cro Cop" Filipovic (vs. Eddie Sanchez, UFC 67, 2007)
You'd have to go back to Mike Tyson to find a striker that prompted more tremors in opponents than Filipovic, a K-1-groomed kickboxer who made a grand entrance to mixed-style fighting in 2001, splitting open
Kazuyuki Fujita's
skull practically down to the bone. Where most strikers could often be nullified by wrestlers, Filipovic -- who had no amateur grappling background -- was able to defend tackles and expose the rudimentary stand-up of his opponents. "Cro Cop" was simply vicious, and his high kick carried the very real threat of serious injury.
Coming into the UFC after a long run in PRIDE, Filipovic had just enjoyed arguably his best success ever: winning that show's loaded Absolute tournament, pummeling names like
Wanderlei Silva
and
Josh Barnett
to claim the championship. Only months later, he was in the United States and facing the uncelebrated Sanchez, a grappler with little name recognition. Coming off a who's who of opponents in Japan, Sanchez seemed like a step backward.
Unlike most on this list, Filipovic did win his debut. But in doing so, he revealed a slower, more apprehensive fighter than he'd displayed during his run in Japan. In the end, there was no spectacular highlight-reel knockout that the announcers had practically guaranteed -- Filipovic knocked Sanchez down and threw some strikes to finish the job. After watching him fold men in half and rip away their self-awareness with a sniper's professionalism, this version of Cro Cop couldn't have been more unexpected. Or disappointing.
5. Norifumi "Kid" Yamamoto (vs. Demetrious Johnson, UFC 126, 2011)
Before the UFC began to heavily publicize the lighter weight divisions, there was one name that made the trip across the Pacific: "Kid" Yamamoto, a dynamic 140-pound fighter with an amateur wrestling background who could easily be mistaken for a striker. Fighting kickboxing star
Masato Shiozawa
, he managed to knock the bigger, far more experienced striker down -- a losing effort that nonetheless opened up eyes to Kid's potential as an all-around threat.
For years, Yamamoto was considered the fantasy matchup for
Urijah Faber
, the WEC's featherweight champion. Kid's 2009 loss to
Joe Warren
in Japan dulled the shine of that bout, but the UFC still pursued Yamamoto when he was contractually available. Making his debut at 135 pounds, Yamamoto was expected to outhustle Johnson. But Johnson -- now the UFC's flyweight champion -- beat Kid at his own game, being evasive and landing swarming strikes. For someone who had been discussed as a UFC hopeful for nearly a decade, Kid's debut was too little, too late.
4. Shinya Aoki (vs. Gilbert Melendez, Strikeforce, 2010)
The sport's one-time tendency of elevating the reputations of Japanese fighters often came from their lack of challenging competition -- it's easy to look fearsome when your opponents are overmatched.
To Aoki's credit, his employers weren't shy about throwing him to the wolves. During a tremendous run in the DREAM promotion, he faced
Joachim Hansen
,
Caol Uno
,
Eddie Alvarez
, and
Gesias "JZ" Cavalcante
-- beating them all and displaying a world-class grappling game that defies description.
That history led to high expectations when Aoki made his U.S. debut in Strikeforce, facing the lightweight champion Melendez. But whatever magic Aoki could conjure in his country didn't seem to make the trip over. He put Melendez in no danger whatsoever, and instead faced 25 minutes of excruciating offense in a ridiculously one-sided fight.
If there is such a thing as a hometown advantage in MMA, Aoki certainly benefits from it: he won his next six fights in Japan.
3. Hector Lombard (vs. Tim Boetsch, UFC 149, 2012)
From his April 2009 debut to spring 2012 exit, Lombard delivered 13 wins under the Bellator umbrella with no losses. (He would take three of those fights in other promotions, with the organization's blessing.) Despite the fact that the competition was underwhelming, Lombard's record and marble-carved physique led to a lucrative UFC deal and the hint of a showdown with
Anderson Silva
. Boetsch, despite going on an impressive win streak at middleweight, was supposed to be a warm-up.
Owing to injury, nerves, or just getting the losing end, Lombard was unable to make any kind of statement against Boetsch, who landed more significant strikes to earn a split-decision victory. An anomaly? Possibly. Lombard went on to destroy
Rousimar Palhares
last December. But you only get one chance to make a first impression.
2. Bas Rutten (vs. Tsuyoshi Kohsaka, UFC 18, 1999)
Rutten was a star of Pancrase, a Japanese fight league that didn't adopt striking with a closed fist until late into its existence. During his tenure, he was a tenacious fighter even with palm strikes. In signing with the UFC, the idea that he could now exchange proper punches seemed like a good reason to keep a plastic surgeon on standby. UFC didn't ignore that potential: the poster for the event discreetly billed him as "The World's Greatest Martial Artist."
Against Kohsaka, a durable grappler who cut his teeth in RINGS, Rutten didn't quite look the part. He was often shut down by Kohsaka's aggression and takedowns, and it wasn't until an overtime round that he finally turned on an offensive flurry that seemed to warrant his advertising copy. (Rutten would compete only once more in the UFC, beating
Kevin Randleman
in a controversial decision for the heavyweight title.)
1. Mauricio "Shogun" Rua (vs. Forrest Griffin, UFC 76, 2007)
Rua's run in PRIDE was nothing short of Hall of Fame material. At 12-1 -- his only loss the result of a poor break fall that left him with a broken arm -- Rua tore through
Quinton Jackson
,
Antonio Rogerio Nogueira
,
Alistair Overeem
and
Ricardo Arona
to be crowned the 2005 Grand Prix Champion. At the time of PRIDE's demise and Jackson's KO of
Chuck Liddell
, Rua was considered by many to be the top light heavyweight in the world.
Griffin, meanwhile, had been alternating wins and losses after winning the first season of "The Ultimate Fighter," and was largely derided as a "reality TV star" who had little business against elite competition. At the time of the bout's announcement, Rua's fans seemed annoyed he wouldn't be getting to work up more of a sweat. A title bout with Jackson seemed inevitable.
But the Rua that dominated the PRIDE ring post to post was nowhere to be found against Griffin, who endured some early aggression before getting Rua's back and sinking in a rear-naked choke. Was Griffin underestimated, or did Rua fail to shift into second gear? Either way, no one has ever entered the Octagon with more hype -- or left with so little of their reputation left intact.
January, 16, 2013
1/16/13
12:40
PM ET

By Josh Gross
ESPN.com
Archive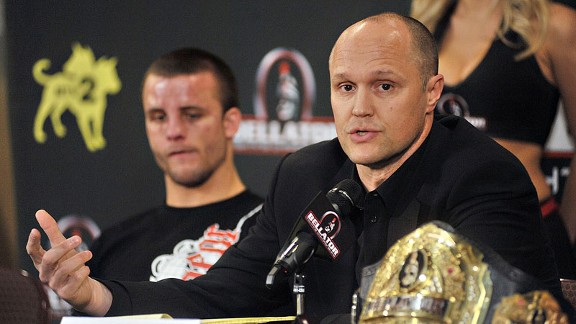 Henry S. Dziekan III/Getty ImagesBellator CEO Bjorn Rebney has had success with fighters staying healthy despite a grueling format.
HUNTINGTON BEACH, Calif. -- He might not like to be reminded of it, but that doesn't change the fact that
Renato "Babalu" Sobral
has entered his 16th year as a professional mixed martial artist.
A sport that paid him well and, to his chagrin, provided a whisper of fame, MMA has changed in so many ways since Sobral represented Rio de Janeiro in his pro debut against Sao Paulo in 1997 by winning an eight-man tournament via leg kicks, punches and stomps, and will-breaking, respectively. Yet through all the rubble, one component has remained a familiar element for Babalu and MMA: tournaments.
Few fighters are more steeped in the concept. Sobral won three of the five tournaments he entered, and came in second to
Dan Henderson
during a mammoth event in Japan in 2000.
On Thursday, the 37-year-old light heavyweight meets Russian
Mikhail Zayats
to begin his first multi-fight quest since 2003 (
a classic one-nighter
promoted by Paul Smith in Denver that featured, among others,
Forrest Griffin
and
Chael Sonnen
. Sobral went the distance with
Trevor Prangley
before guillotining
Mauricio "Shogun" Rua
and decisioning
Jeremy Horn
in the finals. The prize was $50,000 -- before taxes. Sobral hadn't considered that Uncle Sam might want his cut, and anyone walking the bowels of the Pepsi Center heard his frustration).
The prize for beating Zayats (19-6) and two others on Spike TV pays $100,000, plus a Bellator title shot. It won't need to be done on a single evening, yet the Brazilian sized up the challenge as the most difficult tournament format he's faced.
"On one night you can throw all yourself into it. After the fight it's a bucket of ice on the face, a bucket of ice on the hands and then you fight again," Sobral said. "But now, if you go home next day you're going to swell. And you have to be healthy for next time and get back into the gym to train. It's not possible to get beat up and rest. You have to train."
Into its eighth season, Bellator has almost been blessed when it comes to winners staying healthy enough to move to the next round a month later.
Asked about this, Bellator founder Bjorn Rebney knocked on wood.
"We've done, on average, four to five tournaments per season," Rebney said. "I think we've lost four or five guys total who have been declared the winner and been unable to proceed. So the numbers have been really, really good."
Bellator's good luck is rather remarkable considering the injuries that piled up around the Octagon in 2012.
While he was building out Bellator in his mind in 2006 and 2007, Rebney said he spoke with doctors and ringside physicians across the country, trainers and other players in the sport, to get "inside everyone's head" about how to avoid pushing fighters past their limit. Taking into account the typical arc of a television show, Rebney asked, "How many? How long? What could be done?"
"The consensus opinion was you could go one fight a month for three months," Rebney recalled. "You couldn't go longer. There were a lot of parameters. But it worked. The new tag line 'The Toughest Tournament in Sports' is well-founded. Hopefully those odds keep working for us."
Again, he knocked on wood.
Rebney created a scenario in which fighters, if they're good enough to make it to the final round, must maintain grueling training camps for a third of a year, if not longer.
"When you sign that Bellator contract you know that's what you're signing up for," said
Michael Chandler
, the promotion's lightweight champion. "There can't be any excuses. Three fights in one night sounds bad because you're taking more damage in one night. But when you're talking about training two months just for the first fight, then you have another fight and another fight, you're in camp for four or five months -- and that's a long time to be in training camp -- in the gym two times a day, six days a week, getting punched in the face and going through that many workouts and dieting that much and going through the ups and downs of emotions. It is a grueling thing, and it was something I knew I would excel at.
"It's definitely not asking too much, but it's adding a cool little spice to the mix."
During tournaments there's no such thing as a favorite, Sobral said, because "luck" has as much to do with advancing as hours spent toiling in the gym. He believes he's done well in these things because, as Renzo Gracie once told him, "when you choke somebody out, you don't get an injury in the hands."
Chandler and featherweight
Pat Curran
simply outclassed the competition en route to tournament crowns and Bellator belts. The mid-20-something fighters "exemplify what we're all about," Rebney said. "Using that tournament structure to go from unknown to top of the world."
Curran's upset victory over high-priced
Roger Huerta
, whom everyone earmarked for a fight with
Eddie Alvarez
, prompted Rebney to "put all my trust into the fact this tournament would give rise to the best fighters. They're the ones that are going to get through."
Hawn ready for his close-up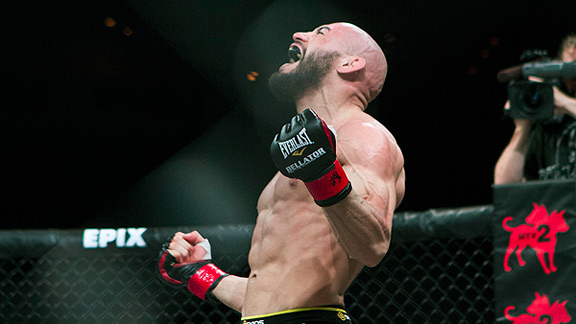 Andrew Hemingway for Sherdog.comAt 36, a rejuvenated Rick Hawn has reinvented himself in Bellator as a power-punching lightweight.
For the next 48 hours,
Rick Hawn
might best be known as
Ronda Rousey's
Olympic judo teammate. But if the 36-year-old Massachusetts fighter upends Chandler in the first headliner of the Bellator on Spike TV era, the power-punching lightweight won't feel that he's been overlooked any longer.
Since shedding 15 pounds after dropping a split decision in 2011 to welterweight
Jay Hieron
, Hawn (14-1) has looked like the real deal.
"My technique and size weren't ready yet, but now I'm coming together as a striker -- as a well-rounded fighter," Hawn said. "With technique comes speed; with speed comes power."
While earning the shot against Chandler, Hawn took two of his three tournament bouts by knockout, capped by a highlight-reel straight right on
Lloyd Woodard
.
"Hawn has looked unbelievable in his last few fights for us," Rebney said. "So few guys are able to go '85 to '70, or '70 to '55, or even '55 to '45 and bring the power with them because they lose so much when they make the cut. But this guy, as an Olympian and world-class athlete, did it. He brought all that power with him."
After years of competing at the highest level in judo, the ability to drop bombs came easily.
"I've heard people say that not everyone has power or can create it," Hawn said. "Some people are just gifted with it and apparently ... I don't know. I don't know if I really buy that or it's something you learn in the gym.
"Judo is all about explosive power in the hips and being able to toss someone who doesn't want to get thrown. All that power generates in the hips, so maybe it's because of my lifetime in the other thing."
All his work has led him to Chandler.
"He can take a punch," Hawn decreed. "It's a tough fight. He's a grinder. I believe I am as well. You just have to get that perfect shot. That's all you need, right? It could be the end of the fight for him. Everyone he's fought he's destroyed or made a great fight out of it. Tall task at hand, but I'm ready to go."
News and notes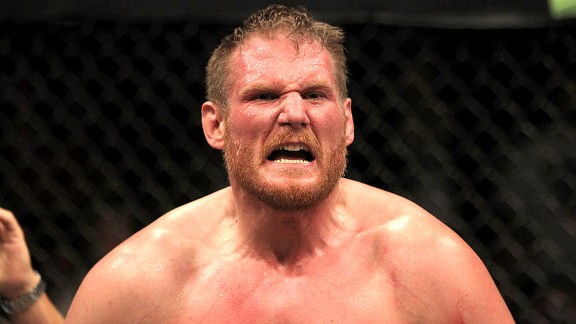 Josh Hedges/Getty ImagesVeteran heavyweight Josh Barnett doesn't appear to be on Bellator's radar right now.
• In the wake of Strikeforce's demise, several fighters will hit the open market. Heavyweight
Josh Barnett
is a free agent with a following, but Rebney said Bellator doesn't plan to make any offers at the moment. "There aren't guys off that roster that I go, 'Oh, we've got to get him and make the move.'" He left the door open to scouring through whatever the UFC passed on, but demurred on the inclination of the tournament format as a divining rod for talent. "In this format, there's no big
Kimbo Slice
-esque superfight," Rebney quipped. "If you're not good enough to compete you're going to get blown out in the first or second round." Barnett is a classy enough heavyweight to have won any of the previous Bellator tournaments, that's for sure. Still: "Josh is a great character and he's had some great fights," Rebney said, "but he's not really on our radar."
• A couple of hours before Bellator held open workouts at
Tito Ortiz's
gym in Huntington Beach, the UFC held a conference call to promote next weekend's Fox card featuring
Demetrious Johnson
defending the flyweight belt against
John Dodson
. Also on the card is one
Quinton "Rampage" Jackson
, who continues to scream bloody murder about the mistreatment he apparently feels he's been subjugated to under a tyrannical Zuffa regime. Basically, he's making it sound like he wants to leave, and, as an example of why, pointed to an inability to flaunt his sponsorship with Reebok. Zuffa, he said, would not allow him to wear it into the cage. Zuffa collects a sponsor tax, which they are well within their rights to do and have done for years. Bellator has not yet. Rebney said fighters are free to wear what they want and the promotion will not impose its own tax. He also said that when Jackson is free, he'd be a fighter that might be worth making a play for.
•
Jeff Curran
, pioneering lighter-weight fighter that he is, is intently focused on his cousin Pat's title defense against
Patricio "Pitbull" Freire
. But he hasn't lost the urge to fight and promises to return this year at 125 pounds. "Big Frog" set as his goal a contract to fight in the UFC as a flyweight.
• Thursday's card at the Bren Center on the campus of UC Irvine is scaled for around 4,000 seats. Bellator expects it to be full. "I think that's where we'll be," Rebney said.