March, 14, 2012
3/14/12
3:09
PM ET

By Chad Dundas
ESPN.com
Archive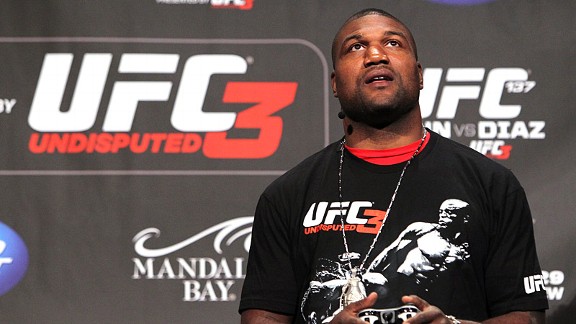 Josh Hedges/Zuffa LLC/Zuffa LLC/Getty ImagesIt might be fun and games now, but what happens when Quinton Jackson walks way from the UFC?
Good news, fight fans: Now that he's discovered the miracle of testosterone replacement therapy,
Quinton Jackson
says he can fight another 10 years.
The bad news? It looks like it won't be in the UFC.
In touching off a tornado of controversy by admitting he used testosterone leading up to his recent loss to
Ryan Bader
and then engaging in a contentious war of words with his current employer during the past week, Jackson has essentially taken a BA Baracus-style flamethrower to his career in the Octagon.
That means, if we set aside for a moment the obvious ethical and philosophical questions of an athlete using a doctor's prescription to tack an extra decade on to his career -- which Jackson himself seems perfectly happy to do -- the most pressing issue obviously becomes:
Where
?
Where exactly does a guy who has already retired once, has never seemed particularly motivated, has groused on and off about his pay and has made it clear that he doesn't like MMA fans (only
his
fans) think he's going to spend the next magical decade of his career fighting?
Clearly, if and when he becomes available, someone will sign Jackson, who is still talented and who (at least theoretically) retains a healthy base of fans.
In doing so, however, that person will also be taking a sizable risk.
If his first dozen years in MMA -- which includes at least one high-speed police chase, remember -- hadn't convinced you, the last couple of weeks should serve as conclusive proof. After the initial wave of bad press over his now notorious interview with Fighters Only Magazine, "Rampage" has spent the last few days likening his treatment from the UFC to "slavery," calling fans of the sport "sheep" and trumpeting TRT as pretty much the greatest thing to happen to him during the last few years.
In response, the UFC threw down its trump card, saying Jackson will finish out his contract with a bout against
Mauricio Rua
, the guy who TKOed him via soccer kicks the first time they met in Pride back in 2005.
After that, it seems Jackson will be on his own, and if his most recent outburst isn't enough to make independent MMA promoters think twice about signing him, well, that's amazing. At this rate, though, Jackson could well enter free agency around the same time he turns 34 and might be facing a market with fewer options than ever before for such an independently minded fighter.
[+] Enlarge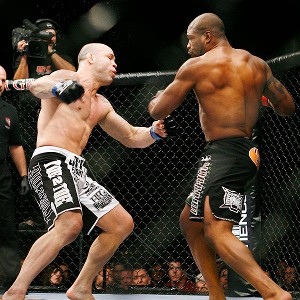 AP Photo/Eric JamisonQuinton Jackson, right, has given us our fair share of memories over the years.
There is Bellator, which allegedly passed on signing
Nate Marquardt
when the welterweight fighter was released from the UFC in a haze of testosterone last year. There is BAMMA, where Marquardt eventually signed, then unsigned after his promotional debut was continually delayed.
There is ProElite, which has yet to make waves through three shows since it was brought back to life, and there are a number of new-ish organizations in Asia, where Jackson has said he feels most comfortable fighting, but where the MMA market has been on the wane during the past few years.
That's about the size of the market and, frankly, none of it shapes up as a rosy future for "Rampage."
Clearly, MMA is a "never say never" industry and the possibility exists that Jackson and the UFC could bury the hatchet between now and his showdown with Rua.
If not, it's difficult (bordering on impossible) to imagine a scenario where Jackson thrives in a smaller organization quite the way
Dan Henderson
or
Nick Diaz
did. He's said he doesn't care if he ever "make[s] $500 again," but that seems like perhaps the most dubious claim of all, coming from a guy who's already walked away from the sport once to chase a big-money future in Hollywood.
Who will pay what is sure to be a hefty asking price for a fighter who has been so inconsistent, has so much baggage and has proved to be such a public relations nightmare?
Someone will, but how much and for how long is anybody's best guess.
December, 1, 2011
12/01/11
2:48
PM ET

By Chuck Mindenhall
ESPN.com
Archive
The fight game takes all kinds.
We know that
Brian Stann
is a rarity. Not many people have something to their back story that makes becoming a cage fighter champion the very least of their credentials. Stann is a decorated war hero that could one day end up living on Pennsylvania Avenue. All of the cage honors he gains will be tinsel to an already full life. He was awarded a Silver Star for valor for his part in Operation Matador in Iraq. The WEC title he once held was just fun aftermath.
As is everything he'll do.
In England, there's a fighter with a similar story to Stann's -- only, Jack Marshman spent his youth in and out of jail, fighting on the streets of South Wales. He changed his fate, though, when he enlisted in the British Armed Forces, where he's a soon-to-be Lance Corporal in its airborne infantry unit. Marshman is BAMMA's first British middleweight champion. He battled back from the brink to beat Carl Noon to win the strap at BAMMA 7 (TKO, punches) in September, with his left eye swollen shut for the last two rounds.
And that's how he fights. Marshman has put together a quick 9-0 record since his first bout in early 2010. The Army boxing champion has finished every guy he's faced so far, eight by knockout and one by submission. When he defends his 185-pound title against Lee Barnes at BAMMA 8 on Dec. 10, he will have fought five times in 2011.
The crazy part? He does it all on the side, with the approval from the British Army. MMA is playtime for Marshman, something to do when not dropping into hostile territory as part of the 3 Battalion, Parachute Regiment. The contrast in dangers? No contest, he says. Check out the video above of the Welshman talking about the difference between fighting and jumping from airplanes in Afghanistan.
July, 22, 2011
7/22/11
11:26
AM ET

By Chad Dundas
ESPN.com
Archive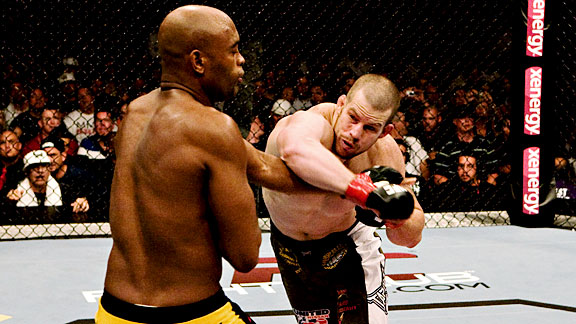 Josh Hedges/Getty ImagesCan Nate Marquardt reach the same heights he scaled in 2007?
It admittedly felt good to see things take a positive turn for
Nate Marquardt
when the embattled fighter inked an exclusive, multifight deal with the UK-based BAMMA organization, as first reported by ESPN.com's Josh Gross on Friday.
As positive as things can get, that is, for a guy who is still persona non grata in the UFC. A guy who, despite remaining the No. 5 middleweight in the world according to the ESPN.com rankings, appeared to have few good options left after Bellator and even the re-launched ProElite organization recently decided they weren't interested.
Marquardt and his controversial testosterone replacement therapy have been a hot topic of conversation among message board certified, comment section-approved medical experts ever since he was unexpectedly yanked from the main event of UFC Live 4 and subsequently fired from the company via 12-second internet video in June. Fact is, those of us who aren't doctors still have no real idea if Marquardt is a cheater or just a victim of his own naiveté, but seeing him at least temporarily close what must have been the most difficult four weeks of his professional career on Friday was a welcome sight.
As obscure as it is in the states, BAMMA appears on the rise after successfully staging six events in England since its debut in 2009. The promotion will undoubtedly move quickly to try to put Marquardt into a fight with
Paul Daley
for its vacant welterweight title and the middleweight championship currently held by
Tom Watson
also looks like easy pickings for a fighter the caliber of "Nate the Great." With the UFC still only committed to one or two shows per year across the pond, the potential exists for BAMMA to be at least a modest regional success (and a profitable one) with Marquardt as a star attraction.
[+] Enlarge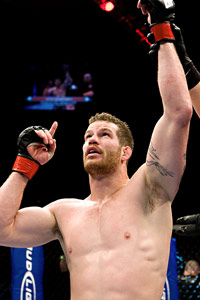 Josh Hedges/Getty ImagesAfter several rough weeks, things are starting to look up for Nate Marquardt again.
Yet, even as he finds a provisional home in the UK, it's hard to ignore the fact that Marquardt's long-term prospects remain pretty bleak so long as he's unwelcome in the UFC and/or Strikeforce. More and more in MMA, it feels like there are the Zuffa properties -- with their pay-per-view events and cable television deals and accident insurance -- and then everybody else.
It also won't help Marquardt's public image that his next fight will take place in England, where drug testing and regulatory efforts are largely left to promoters. Despite what BAMMA Vice President Liam Fisher told Gross about the promotion introducing "mandatory PED tests for title fights and random PED tests both pre- and post-event," some fans will no doubt see this move as Marquardt trying to avoid further run-ins with American athletic commissions, like the ones in Pennsylvania and New Jersey that contributed to his UFC ouster.
At 32 years old, he'll still be able to have some marketable fights and make a little money, but so long as Marquardt remains locked out of the UFC, he'll never again attain the heights he reached while making a run at the middleweight title in 2007 or as relevant as it appeared he was on the verge becoming again with a potential foray into the UFC welterweight division. Those are just the facts, stinging as they are.
Debate will no doubt continue to rage online about what Marquardt may or may not have done to bring about the end of his UFC career. What's that old saying about opinions? They're like web sites, everybody has one? Something like that.
In the long run, the only opinions that will matter about Marquardt belong to the guys who hold the keys to the Octagon and, so far, they appear unwavering in their declaration that the former middleweight No. 1 contender will never fight for them again.