April, 12, 2012
4/12/12
11:48
AM ET

By Josh Gross
ESPN.com
Archive
An elite fighter's job description includes coping with the high stakes of winning or losing. If someday Bellator bantamweight champion
Zach Makovsky
enjoys enough success to join that class, and he's on the right path, he'll have a book recommendation to thank for that.
"For a while, I didn't know how to handle losing and I put a lot of pressure on myself for every fight. I feel like I never performed well when I did that to myself. It was a problem I had in college," said the 29-year-old Drexel University grad. "I almost didn't know any better. Wrestling teaches you winning is everything."
Not long after the last setback of his mixed martial arts career, an opening-round submission loss three years ago to an unheralded Japanese fighter in Tokyo, Makovsky's friend and occasional training partner,
Eddie Alvarez
, along with his trainer, Stephen Haigh, recommended he read a personal favorite of basketball coaching legend Phil Jackson.
"Thinking Body, Dancing Mind: Taosports for Extraordinary Performance in Athletics, Business, and Life," said Makovsky, taught him "a lot about what I thought I was doing wrong, and really what competition means to me. I don't think I understood who I was and I was trying to define myself a lot by the results of my competition, which I think is a terrible thing to do. I think the whole process of learning and having fun and getting better is what's important, and not necessarily your record and your results."
It's funny how these things work out.
[+] Enlarge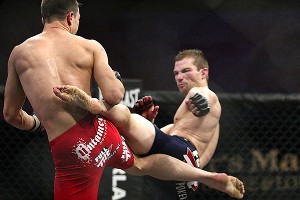 Keith Mills/Sherdog.comZach Makovsky has been on a tear since "not caring about results."
Not caring about results, if Makovsky is to be believed, led to an eight-fight winning streak and the distinction of dominating Bellator's debut tournament at 135 pounds. This Friday at the Boardwalk Hall in Atlantic City, N.J., an hour's drive from his hometown of Philadelphia, Makovsky is scheduled to put his belt and mantra on the line for the first time against young and dangerous Brazilian,
Eduardo Dantas
.
"We're two guys who come from different backgrounds and styles," Makovsky said. "We've both had a lot of success fighting in our respective arenas. We've both gone through these tournaments in Bellator to reach this stage. He's pretty much in the same position I am."
Though Makovsky (14-2) walks into the fight with the belt hanging around his waist, he's right to think of his bout with Dantas, 23, as Bellator's first 135-pound title fight.
"I have the belt but I don't think I did anything more than he did to necessarily earn it," Makovsky said.
Dantas (13-2) is a well regarded fighter, who, like Makovsky, hasn't lost since 2009.
This is where their similarities end. While Makovsky tends to rely on wrestling -- "I don't think there's a question that probably against everyone in the world, the best place for me is to be on the ground on top of them, grounding-and-pounding and looking for submissions," he said -- Dantas is the "most aggressive" and "most talented" opponent the Bellator champion believes he's faced thus far.
That could mark an advantage for Makovsky, at least that's how he reads the tricky matchup. Aggressive strikers can get sloppy and leave themselves open to be taken down, and it's not as if Makovsky needs help in that department.
"I feel like my takedowns are better when people come at me," he said.
Still, Makovsky is cautious not to think he must plant Dantas on the floor. That sort of attitude is begging for bad things to happen.
"I have to be able and willing to fight Eduardo Dantas everywhere, and I think I'm capable of that," he said. "I'll mix things together at my own pace and try to be comfortable everywhere.
"No matter what happens, if I win this fight I'm going to be in a much better situation financially, personally, for my whole life to continue the way it is. Really, there's no question that that's true, but it's not something you should think about. In the end I'd fight for free and continue fighting because I love it. It's just a fight. I can't worry about how much money I could lose or what's next. All that is later. I don't need to think about any of that. I just have to focus about the fight. Really, there's just two guys in there. I have to go in, fight smart, fight as hard as I can, and whatever happens happens. I'll deal with the rest later. There's nothing to gain by worrying what's next."
How very Zen of him.
November, 18, 2011
11/18/11
1:21
PM ET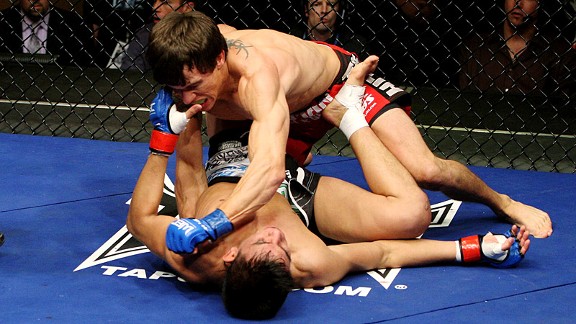 Josh Hedges/Getty ImagesTo most, Brian Bowles' title-winning effort over Miguel Torres is all but a distant memory.
SAN JOSE, Calif. --
Brian Bowles
freely admits that whatever "it" is, he doesn't have it.
Charisma, charm, mass appeal. Whatever you want to call it, it doesn't come naturally to Bowles.
His reserved personality has been forced to the forefront this week, the situation only exacerbated because he's fighting
Urijah Faber
on Saturday at UFC 139. While Faber is pound-for-pound one of the most outgoing characters in MMA -- his entire persona exuding a kind of laid-back California cool -- Bowles is the exact opposite.
Where Faber is gregarious, Bowles is quiet. Where Faber is over the top, Bowles is understated. Where Faber is one of the most popular figures in the sport, Bowles is perhaps one of the most under the radar.
And you know what? He's OK with that.
"Some people are going to be popular and some people aren't," Bowles said in San Jose this week. "Some people are just gifted with that. He's like the cool kid in school. You don't know why he's cool, but he is. I happen to not have it. Some people have it. Faber has it."
One thing Bowles has had that Faber has not, of course, is the bantamweight championship. Yet somehow, despite the fact Bowles dealt
Miguel Torres
his first loss in six years at WEC 42, snapping his 17-fight win streak with a first-round KO and thrusting Torres' career into a period of uncertainty he's still trying to work out of, nobody seems to remember that.
[+] Enlarge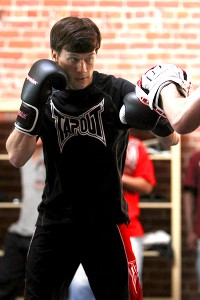 Josh Hedges/Getty ImagesBrian Bowles prefers to let his fists do the talking at UFC 139.
Part of that is because Bowles refuses to run around shouting about it. Another part is that his reign on top was short, lasting just seven months before he was forced to concede the title to
Dominick Cruz
, bowing out of their fight at WEC 47 with a broken hand. It doesn't help either that he had to spend a year on shelf nursing that injury and that while we was out, the WEC was absorbed into the much larger landscape of the UFC.
Bowles has won two straight fights so far in the Octagon, but seems at peace with the idea the few people yet know his name. He knows that will change so long as he can keep winning.
"I do feel overlooked ...," Bowles said. "But I'm just now building up my momentum."
He gets his best chance yet to kick start that momentum this weekend, along with the chance earn another shot at Cruz and the UFC 135-pound title.
Bowles enters this bout as a bit more than a 2-1 underdog and Faber's wrestling prowess arguably makes it a tough matchup for him. Despite the long odds however, he hopes to emerge from UFC 139 as the No. 1 contender and, he said, maybe even a little bit more popular.
"I look at this fight like it's a chance for me to shine," Bowles said. "He's a popular guy. Fighting him is going to bring me fans either way, as long as I go out there and put on a [good] performance."
November, 17, 2011
11/17/11
7:29
AM ET
SAN JOSE, Calif. -- It's still good to be
Urijah Faber
.
If the man himself has anything to say about it, it's going to stay that way for awhile.
Despite the fact that he's lost his three most recent title opportunities and is just 4-4 in his last eight fights, Faber isn't feeling any added urgency this week as he prepares for a No.1 contender bout against
Brian Bowles
at UFC 139. At 32 years old, it might be tempting to look at this as perhaps his last best opportunity to make a run at UFC gold, but Faber just doesn't see things that way.
Not at all.
"I'll make as many [title] shots as opportunity allows ...," he said on Wednesday, after his open workout at Heroes Gym in downtown San Jose. "There's a reason I've been at the top of the weight class, any weight class, since I started in this sport and that's because there aren't that many guys out there that can beat me."
Hard to argue with that.
There is no question that after an eight-year MMA career, Faber remains among the best and most popular fighters in the UFC's lighter weight classes. His unanimous decision loss to champion
Dominick Cruz
at UFC 132 was close enough for him to remain tied with teammate
Joseph Benavidez
as the No. 2-ranked bantamweight in the world and his status as a fan-favorite has made it a no-brainer for the company to insert him into a title eliminator against Bowles here.
To Faber, the outcome of the Cruz bout still seems like nothing more than a matter of opinion and he clearly doesn't believe is should raise any questions about his future in the division.
[+] Enlarge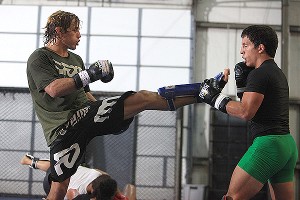 Dave MandelMixed results haven't discouraged Urijah Faber, left, from pursuing another title shot.
"There are people who thought I won that fight with Dominick Cruz and he's pound-for-pound one of the best on the list," Faber said. "Had I won that fight, I'd be pound-for-pound one of the best on the list and I've been here for eight years. It doesn't make any sense for me not to be at the top."
Of course to stay on top, he needs to win. Just 1-1 so far in his UFC career, he can't go on being the bantamweight division's biggest star if he doesn't string together a few Ws. In the short-term, that obviously means defeating Bowles this weekend and in the big picture, it likely also means one day capturing another title, something he hasn't been able to do since he lost his WEC featherweight crown to Mike Brown in November, 2008.
Still, as he approaches what some might consider a pivotal fight, the recent ups and downs Faber has experienced certainly haven't caused any personal soul-searching about his place in the sport. For now, he still knows where he belongs.
"I mean, I'm a top-level fighter," he said. "I have been for years and I'm getting better ... If this guy [Bowles] is the No. 1 contender and I beat him, what's the sense of me going any lower than that? It doesn't make any sense. If he beats me, then that's a different story. But I'm not going to let that happen."
September, 27, 2011
9/27/11
4:07
PM ET
Anyone with lingering doubts about the pecking order among the UFC's weight classes needs only get a load of the following juxtaposition.
On Saturday in Washington, D.C.,
Dominick Cruz
is set to make the second defense of his bantamweight title against
Demetrious Johnson
at UFC Live 6 on basic cable TV in what most observers believe will be the UFC's final broadcast on the Versus Network. If ratings are in keeping with the last couple of UFC Live events, the audience will hover in the range of 750,000 viewers.
A little more than a month later,
Cain Velasquez
will defend his heavyweight crown for the first time against
Junior dos Santos
on Fox, in prime time and on the heels of a slew of advertisements during the network's mainstream sports coverage. Viewership -- on this we're all crossing our fingers -- will be well into seven figures.
As the UFC hunted around a few weeks ago for a fight it could use to headline its first broadcast on network television, these two bookings must have been no-brainers. After all, the company needs to make a big splash during its Fox debut and matchmakers know full well the fight-friendly mainstream public can be counted on to tune in for heavyweights.
For bantamweights? Not so much. At least not yet.
It's been nearly 10 months since the UFC absorbed the remnants of the WEC and the assimilation of 135- and 145-pound fighters has gone about as well as could be expected. The UFC continues to hold firm that it will promote feathers and bantams with the same high-profile zeal as its better known weight classes and to date, you have to give the promotion credit for sticking to its guns. It headlined UFC 132 with Cruz's first title defense against
Urijah Faber
and two weeks from now featherweight champion Jose Aldo's bout with
Kenny Florian
will be the co-main event of UFC 136.
[+] Enlarge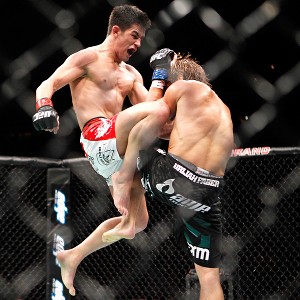 AP Photo/Eric JamisonIt's been an uphill battle for attention for smaller fighters like Dominick Cruz.
Additionally, season 14 of "The Ultimate Fighter" reality show -- the last before SpikeTV is also ditched for the Fox Family -- debuted last week as the first ever to feature 135- and 145-pounders. That fact, maybe more than anything else, underscores the UFC's commitment to getting the little guys over with its fan base.
Still, at least in the public's eyes, feathers and bantams may not quite be there yet. Though UFC 132 didn't do terribly on pay-per-view, its reported 350,000-375,000 buy rate also isn't exactly the gold standard. Without an organization specifically geared to showcasing their talents, they have faced a bit of an uphill climb with mainstream fight fans, many of whom weren't familiar with their work in WEC and some of whom still carry the age-old, boxing-based prejudices against smaller fighters.
Now, as the UFC shifts its focus to network TV and likely ends its relationship with SpikeTV and Versus -- which for three-plus years was the exclusive platform for the company's bantamweights and featherweights -- questions remain about the Octagon's newest, smallest weight classes.
How will 135-pound and 145-pound fighters ultimately fit in this new era of bigger stages and higher stakes?
At least in the short term, they'll probably continue to be relegated to cable. Precisely what the UFC's cable television offerings will look like after it moves to Fox remains to be seen, but FX and Fuel TV figure to play prominent roles. It's also a good bet you'll see the 135-pound and 145-pound UFC titles regularly represented on these smaller networks. This will serve the dual purpose of getting featherweights and bantamweights more exposure, while reserving the company's bigger draws for bigger, more important shows.
That's not fair, but it's the current state of things.
Will the day soon come that talents like Cruz, Faber and/or Aldo will headline a major UFC broadcast on network television? Not just yet, but I believe it will. The 135-pound and 145-pound fighters are too good and too exciting to be denied for long.
For now though, they'll have to settle for supporting roles.
July, 4, 2011
7/04/11
8:24
AM ET
Some are already beating the drum for a rubber match between reigning UFC bantamweight champion
Dominick Cruz
and
Urijah Faber
in wake of their memorable five-round scrap at UFC 132 on Saturday in Las Vegas. Other matchups, however, would allow the promotion to build towards what appears to be an inevitable trilogy.
More »
May, 24, 2011
5/24/11
8:57
AM ET
By Jason Probst/Sherdog.com
ESPN.com
Archive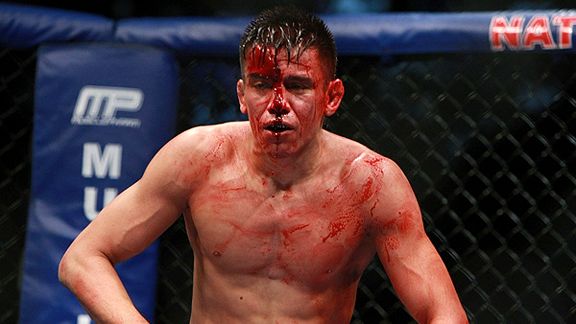 Dave Mandel for Sherdog.com Miguel Torres is one of several fighters jockeying for position at 135 on Saturday.
Three of the five fights on the UFC 130 undercard on Saturday feature fighters in the 135-pound division, including former WEC champion
Miguel Torres
. He will put up his 39-3 record against the blinding speed of
Demetrious Johnson
.
More »