October, 15, 2011
10/15/11
11:28
PM ET

By Franklin McNeil
ESPN.com
Archive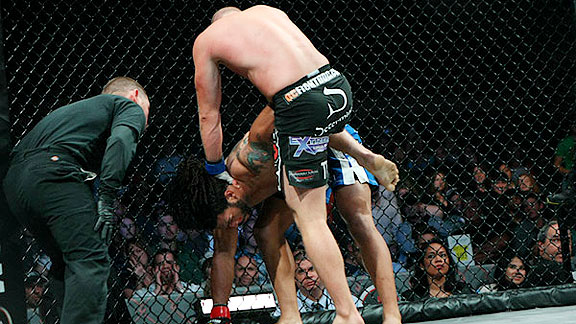 Keith Mills for Sherdog.comAlexander Shlemenko's heavy knees helped soften up Brian Rogers.
Alexander Shlemenko outslugged Brian Rogers in a middleweight bout Saturday night en route to a second-round TKO win at Boardwalk Hall in Atlantic City, N.J.
The fight came to an end at the 2:30 mark.
With the victory, Shlemenko heads into the Bellator Season 5 middleweight tournament final where he will face Vitor Vianna.
The Shlemenko-Vianna winner gets a shot at Bellator middleweight champion
Hector Lombard
.
Rogers started the fight aggressively, landing several hard right hands. One of the punches dropped Shlemenko in the first round.
Later in the round, Rogers would toss Shlemenko to the ground. But Shlemenko would get to his feet quickly.
Shlemenko would turn the momentum in his favor during the second round by catching Rogers with a reverse right hand punch.
The strike stunned Rogers and Shlemenko delivered a right knee. Rogers put his right hand on the canvas to prevent Shlemenko from throwing additional knees.
Rogers' strategy would only delay his demise.
Shlemenko would again land a right knee that sent Rogers reeling. This time Rogers was too badly hurt to put his hand on the canvas and Shlemenko landed additional knees, forcing the referee to jump in.
"The shots were really good; he didn't see all of them," said Shlemenko, who improved to 42-7. "I got him against the fence, to finish him there."
Shlemenko has now won five fights in a row. He has stopped 26 opponents.
Rogers, who entered the cage on a seven-fight win streak, falls to 8-3.
Vianna advances with a first-round TKO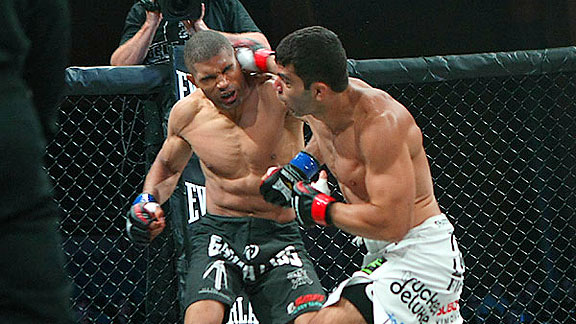 Keith Mills for Sherdog.comVitor Vianna blasted his way into the Bellator middleweight tournament finals.
Vitor Vianna punched his ticket into the Bellator Season 5 middleweight tournament final with a first-round TKO of Bryan Baker.
The fight began with Baker moving forward and pushing the pace, but his momentum ended quickly.
An overhand right from Vianna sent Baker to the canvas; Vianna then began landing hammer fists. Baker was unable to defend himself and the referee waved the fight off at the 54-second mark.
Vianna improves to 12-1-1, and extends his win streak to five. Baker, who entered the fight on a three-fight win streak, slips to 16-3.
Makovsky submits Roberts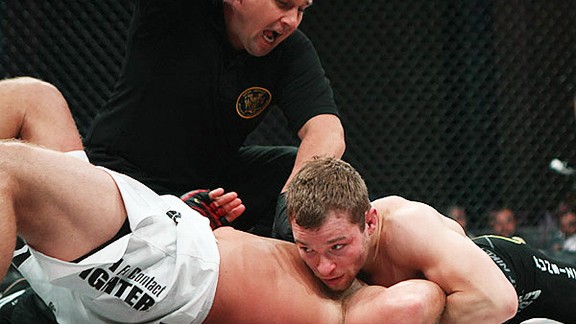 Keith Mills/Sherdog.comGet some rest: Zach Makovsky ended Ryan Roberts' night early.
Bellator bantamweight champion Zach Makovsky used superior quickness to register a first-round submission win over Ryan Roberts in a nontitle bout.
Makovsky was took the larger Roberts down on several occasions and control matters in the standup. He landed two solid left hands followed by a kick that briefly stunned Roberts.
Shortly thereafter Makovsky (14-2) took Roberts to the ground where he applied a north-south choke. Roberts (16-10) tapped at the 4:48 mark.
Kirwan hands Nazare first pro loss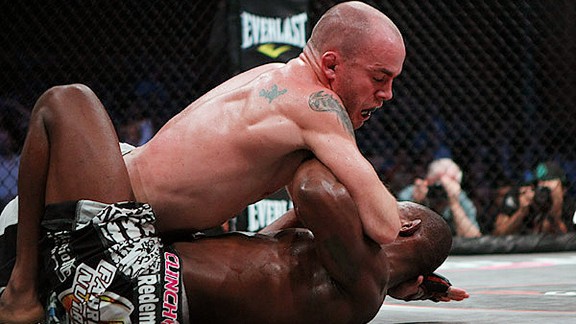 Keith Milles/Sherdog.comJacob Kirwan gave Rene Nazare a mouthful during their three-round fight.
Lightweight Jacob Kirwan made his Bellator debut memorable with a unanimous decision over Rene Nazare.
It was Nazare's first professional loss.
The judges scored the fight 29-28, 30-27 and 30-27. ESPN.com scored the fight 29-28 for Kirwan.
Nazare found it difficult to keep the fight standing as Kirwan was able to take him down repeatedly throughout the bout. Once on the ground, Kirwan was able to land punches and elbows.
Kirwan improves to 9-3, while Nazare falls to 10-1.
October, 14, 2011
10/14/11
5:38
AM ET
Bellator Fighting Championships bantamweight titleholder Zach Makovsky will carry a seven-fight winning streak into his non-title matchup with Ryan Roberts at Bellator 54 on Saturday in Atlantic City, N.J. The 29-year-old Atlanta native chases success, not necessarily the fruits that come along with it.
More »