February, 9, 2014
Feb 9
6:59
AM ET

By Brett Okamoto
ESPN.com
Archive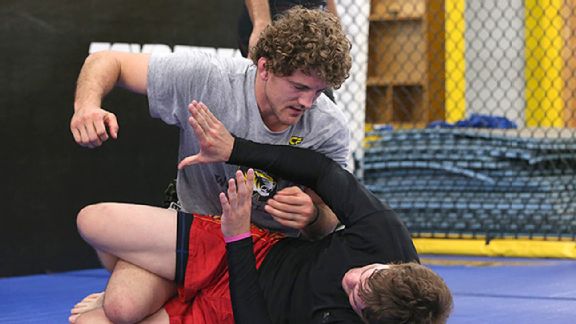 Dave Mandel/Sherdog.comSpurned by the UFC, unbeaten welterweight Ben Askren signed a two-year deal with One FC in Asia.
LAS VEGAS --
Ben Askren
gives a smooth interview.
The undefeated welterweight is plenty charismatic and (by now) has a pretty good idea of what questions he's going to be asked.
A former champion for Bellator MMA whose contract expired in July, Askren's free agency was a major story in 2013. He eventually signed a two-year deal with Asia-based promotion One FC, after the UFC neglected to offer him a contract.
Drama ensued after the UFC's snub -- Askren at one point referred to UFC president Dana White as, "a bald-headed fat man" -- but it has died down. Askren moved on and will fight for the One FC welterweight title in his promotional debut in May.
Askren causally discussed the details of his free agency with ESPN.com on Thursday. He hesitated during just one question, however, breaking into a wide grin when it was asked:
How many welterweights can you name on the One FC roster?
"
[Phil] Baroni
,
[Adam] Kayoom
,
[Nobutatsu] Suzuki
,
[Brock] Larson
," Askren said. "There are these two other guys who train in Singapore -- man, I can't remember."
This was the obvious knock Askren took when he signed with One FC in December -- very few in the U.S. (and those few, apparently, don't even include him) are familiar with who he's about to fight for the next two years.
What effect will that have on the reputation you have built since 2009? Askren is currently
the No. 8 ranked welterweight in the world
according to ESPN.com. A certain contingent of MMA fans believe he's ready to hold the UFC title right now. Will they continue to think that, as he fights thousands of miles away?
"As long as I stay undefeated, people are going to be interested," Askren said. "If I've never lost, it's going to be hard for anyone to discount me."
Any criticism for facing lower-level competition won't exist for Askren in Asia, where the fan base is, at least for now, relatively unaware of whom in the world he is.
One FC CEO Victor Cui, however, is aware of it and promises Askren will not waste his talent fighting nobodies over the next 24 months.
"I know we'll get some exciting matchups out of this," Cui told ESPN.com. "Nobody wants to see a blowout fight. That's not good for the fighters, it's not good for our organization and it's not good for fight fans.
[+] Enlarge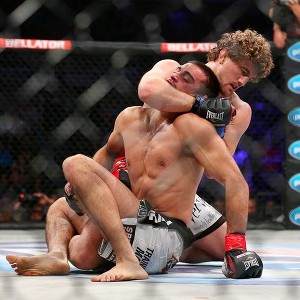 Will Fox for SherdogBen Askren's 8-0 run in Bellator announced him as one of the world's top welterweights.
"We've got some pretty exciting plans in store for Ben, none of which we've announced yet. You don't grow as a company as well as we have without a really specific strategy in place for every major acquisition."
The incentive of signing Askren for One FC applies mainly to Asia. The company streams its events online in the U.S., but due to time differences, even a marquee name like Askren on a live stream is a tough sell.
Likewise, Askren's incentives, beyond immediate financials, are linked to Asia. One FC, although limited in the U.S., is undeniably the biggest MMA promotion in Asia and is currently available, according to Cui, in 1 billion homes worldwide.
That's a significant audience Askren is about to be heavily marketed in, and he's already embracing it. Fighting out of Roufusport in Milwaukee, Wis., Askren has agreed to finish his future training camps at Evolve MMA in Singapore.
It has been a strong start to a relationship Cui hopes will eventually persuade Askren, 29, into remaining under contract with One FC long-term.
Askren's contract does include a champion clause, which calls for an "automatic renewal" if he is a title-holder at the expiration of his deal. Cui declined to offer specific details regarding the clause.
"I would hope any fighter that makes their home in One FC is thinking long-term," Cui said. "He's going to see how huge the opportunity is out here."
Following a free agency period that left "a bitter taste" in Askren's mouth, Cui is already ahead of the biggest competition. While time heals all wounds, Askren said he's unsure of whether he'd ever feel comfortable working for the UFC.
"I forgive Dana for not signing me; it's whatever," Askren said. "He obviously had his reasons. I'm going to forgive and forget. I don't know that I'll ever want to work for him, though."
October, 10, 2013
10/10/13
7:10
AM ET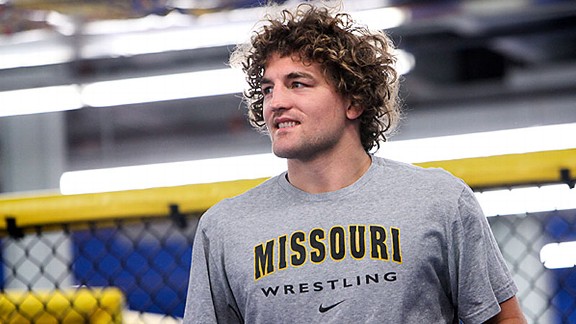 Dave Mandel/Sherdog.comBen Askren is eager to test himself against the best the UFC has to offer (that means you, Georges St-Pierre).
Within the week, Bellator MMA CEO and founder Bjorn Rebney contacted
Ben Askren
, the promotion's free agent welterweight champion, and proposed a scenario the undefeated Olympian couldn't refuse.
"He just called me and said straight up, 'I think you're the best welterweight in the world,'" Askren told ESPN.com on Tuesday. "I thought, OK, where's he going with this?"
Rebney wondered aloud: "How about I let you go free if you fight GSP?"
"

The reason I got into MMA was to see if I could be the best in the world at it. That's just my personality. So, boom, this is my shot to prove I'm No. 1 in the world. I really think I am No. 1 in the world. I don't think there's anyone that can beat me.

"

-- Ben Askren
Askren obviously jumped at the suggestion, which came down to this: Rebney promised to waive Bellator's right to match a Zuffa offer, so long as the first fight of the deal guaranteed a UFC title shot.
There are just a few hurdles to clear, not the least of which is Rebney can't promise that UFC will lift a finger to make anything happen. Eleven months prior to Askren's free agency, UFC president Dana White wrote on Twitter, "When Ambien can't sleep it takes Ben Askren." Not so subtle. And it's not like the 29-year-old curly-haired two-time Dan Hodge Trophy winner from Hartland, Wis., hasn't stirred White's famous ire. He has. Askren is adversarial. He doesn't seem to care if people
care
when he mixes it up. Sometimes that can come with a cost.
"Dana says, 'Don't sing it, bring it.' Sounds good to me," Askren said. "I'll step in the cage any day of the week. Just tell me when. That would be ideal."
This summer when White began fielding questions about UFC's interest in Askren the sharp-tongued promoter no longer referenced sleeping pills. He did insinuate, however, that Askren assembled a 12-0 record against inferior opposition.
"It's going to be tougher to do that here," White said.
Askren is eager to find out if that's true, and Rebney has been quick to advocate for his fighter and promotion.
"I think he wants to prove that Bellator has really good fighters," Askren said of Rebney. "And they do have really good fighters. I literally think I'm the best welterweight. I think I could beat GSP. I think Bjorn really thinks that. Obviously he wouldn't be sending me over to get smashed and make his organization look stupid. Of course, I get a hundred tweets a day telling me how stupid I am for thinking I could compete with GSP. But that's something in my heart I really think I can do.
"The reason I got into MMA was to see if I could be the best in the world at it. That's just my personality. So, boom, this is my shot to prove I'm No. 1 in the world. I really think I am No. 1 in the world. I don't think there's anyone that can beat me. This is what I want. It's what I'm looking for."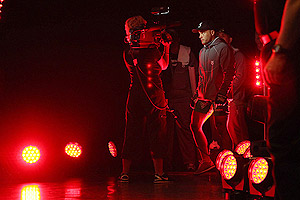 Dave Mandel/SherdogEddie Alvarez was forced to sit on the sidelines for months and endure legal battles after his Bellator contract ended.
According to Askren's contract, Bellator owns the right to match any offer he accepts from another promotion through July 31, 2014. Rebney told ESPN.com in August that if "Ben's going to the UFC, we should speed up that process so he can go fight." Entering the second week of October, despite a window that precluded Bellator's 90-day exclusive negotiating period, little has been accomplished.
Two weeks after Askren bludgeoned Koreshkov, White said the UFC would "talk to Ben." Thus far, Zuffa hasn't moved beyond preliminary discussions with his management, Zinkin Entertainment.
"It didn't really get down to any nitty-gritty details and work on the contract," Askren said.
After an ugly legal squabble over matching rights exposed a lucrative financial offer to former Bellator lightweight champion
Eddie Alvarez
, the terms of which surprised some Octagon-tied fighters, Zuffa remains understandably apprehensive about delving into another situation with its would-be Viacom-owned competitor. It's no surprise, then, that White hasn't given Rebney or "Viacom MMA" the benefit of the doubt.
Said the UFC president prior to a recent event in Indianapolis:
"The guy says, 'Yeah, we're going to let him go. Let's just part ways.' You ain't f---ing parting ways with him. He's got a matching right and all that bulls---. This guy is a f---ing typical boxing piece of s---. Everybody knows the guy is a s---bag.
"We'll see what happens with Ben. First they say they're going to let him go. They're not going to let him go. They'll probably end up suing him too and make him sit out and lose a bunch of money and f--- him in a deal. Bad guys. They're bad guys."
White's words went a long way towards motivating Rebney to conjure up his "deal."
"Here's my message to the UFC," Rebney said. "Stop saying that the best in the world fight in the UFC. And stop saying that our matching rights are stopping you from talking to one of the greatest welterweights in the game. And that's it. It's simple. It's straightforward. There's no back talk. No back track. No game to it. It's as simple as that.
"If you want to say the best fighters in the world fight in your organization and one becomes available and you have the unfettered right to talk to him, pick up the phone and call him. And if you claim our matching rights are so prohibitive -- the exact same matching rights that you have in your agreement -- then give him a title fight out of the box, which is not unreasonable given that he's ranked in the top six in the world, and I'll just walk away from our matching rights. So I'm making it as simple as I can possibly make it for them to live up to what they claim. Go for it. Or don't go for and I'll re-sign him. And if you want to fight the best you can come here to Bellator, train your wrestling like a wild dog, and try to beat Ben Askren."
Askren said he has no reason to distrust Rebney, his promoter since 2010. He then went on to call himself a "pawn."
"I'm not making these deals here," claimed the fighter. "That said, I like the deal that Bjorn is trying to give me.
"And I think on Dana's side, it will work out well. If GSP beats my ass, I think he says, 'See, UFC is much better than Bellator.' I think if I kick GSP's ass, I could be a very good UFC champion. One that sticks around for a while. One that is entertaining to the fans. Because GSP was entertaining, but honestly the last time he had a real finish I was wrestling in the U.S. Open [in 2008]. I hadn't even considered MMA at that point. And his whole shtick. He's quiet. Very little personality. I could put the UFC welterweight division back on the map because no one really, legitimately gave GSP a run for his money."
The notion that UFC needs Askren to put the welterweight division "back on the map" is comedy. The 170-pound division consistently ranks among Zuffa's most bankable weight classes, and sits a pretty penny with the 32-year-old Quebecer at the helm. Much more serious is the idea that Askren's grappling is so good and translates so well to MMA that given the chance he could oust St-Pierre or
Johny Hendricks
.
"Bjorn is saying if they give me a title shot, no matching rights. He's not saying if they give me a contract there's no matching rights. If the UFC says, hey, no title shot, then all this is for nothing. I'd have to go back to the drawing board and talk to Bellator. See what their offer will be. See what's going on. And at that point see what's best for me."
Askren hasn't thought through sitting out the year. He doesn't want to rush to judgment, and will "leave that one open because I'm not sure."
August, 22, 2013
8/22/13
11:37
AM ET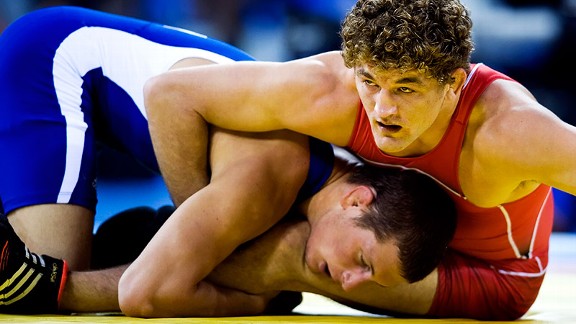 David Eulitt/Kansas City Star/MCTBen Askren transitioned from the 2008 U.S. Olympic team to an unbeaten run as Bellator champion.
CARSON, Calif. -- Drip. Drip.
Red droplets won't stop falling from
Steve Mocco's
nose.
"It's been bleeding for a while," he said, not needing to be asked before saying something. "You just tap it and it starts bleeding."
Drip. Drip.
The pattern held steady during half-minute intervals, and Mocco made proper use of the paper towel that was balled up in his meaty right hand. Moments after his third professional MMA victory, a decision against
Lew Polley
, Mocco smothered a folding chair inside his StubHub Center locker room, nodded, dabbed the drips away, and smiled.
Accomplished wrestlers like the two-time NCAA super-heavyweight champion -- one of seven men that comprised the 2008 Olympic freestyle team -- seem to go about their business as if these type of scenarios are normal. Drip. Drip. It's comfortable. Almost reassuring.
Standing a shade under 6-feet, the 260-pound "Bear" is among four members from the '08 freestyle crew doing well in MMA. Mocco,
Daniel Cormier
,
Ben Askren
and
Henry Cejudo
have a smooth 31-0 combined record.
"We all did what normally you do after wrestling," Cormier said. "Just we fight, too."
Positive results have prompted chatter about their success to "pick up steam," said Cormier, who served as team captain at the Beijing Games. When kidney failure tied to weight-cutting prevented him from competing in consecutive Olympics, Cormier shifted his focus to MMA.
Today he's 12-0, widely considered a top-three heavyweight, and is closing in on a UFC title opportunity.
Prior to this new life, Cormier's old one in Oklahoma was uninspired.
Work and video games occupied much of his time, which wasn't going to cut it after a lifetime pursuing pure competition. Cormier struggled, understandably, and a couple of times had to rely on his close friend and fellow national team wrestler,
Muhammed Lawal
, to help pay the mortgage.
"It was hard," Cormier said. "After retiring from wrestling, I didn't have much."
The sport of mixed martial arts became a legitimate option after Cormier saw how well "King Mo" did while fighting in Japan. "You should do it," Lawal liked to tell him. In fact, Lawal is credited with planting the MMA seed in the minds of the '08 wrestlers. Being repetitive and consistent, like Mocco's drip, drip, apparently worked.
MMA was familiar to the group, of course. They enjoyed discussing the sport, but it certainly didn't consume them during the run to Beijing.
"I don't think it was ever a 'plan,' " Askren said. "Just each of us found our own way to MMA."
Being in the right place at the right time had a lot to do with that.
During the 2004 Olympic cycle, UFC had yet to launch "The Ultimate Fighter" reality show. Four years later, UFC was pulling huge pay-per-view numbers and attracting many of the sport's best fighters because that's where the money was flowing after the demise of Japanese MMA.
It was no coincidence, Askren said, that "you've got the seven best [wrestlers in America], and four of them decide to do MMA."
Currently a free agent after defending the Bellator MMA welterweight belt last month for the fourth time, Askren (12-0) said he'd like to wind up in the Octagon, which would bring him closer to being the No. 1 welterweight in the world.
[+] Enlarge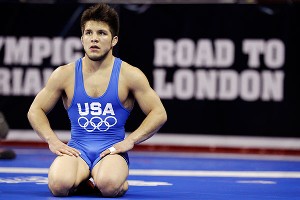 AP Photo/Charlie NeibergallUnbeaten in his first four MMA bouts, 2008 Olympic gold medalist Henry Cejudo is regarded as a top prospect in the flyweight division.
After falling short of qualifying for the 2012 Games, Cejudo and Mocco made their moves and have been busy. Cejudo, a gold medalist in '08, made his MMA debut this spring. He won his first four fights with little problem, and his next contest is expected to be announced on Monday.
Cejudo is regarded as a top prospect in the flyweight division. Mocco, meanwhile, stepped into the cage for the first time last year. Of the four Olympians, he most resembles a work in progress.
"I don't want to compare myself to them yet," Mocco said. "I feel like I have a lot more to prove. They're established, good fighters."
Facing a late replacement during Friday's
Resurrection Fighting Alliance 9
card, Mocco engineered a decision win that didn't please many fans seated in the outdoor venue. Still, he showed up punching, and grappled as he pleased. Mocco and his camp, headed by American Top Team's Ricardo Liborio, sounded satisfied. As satisfied as they can be, at least.
"A lot of people expect too much from Steve," Liborio said. "He's a great name in wrestling. There's a lot of expectations of Steve as a contender, and there's no doubt that he's going to be. We just need more time. That's why he's in RFA now. I think there's enough contenders here, people with quality, that we can achieve our goal to get to the UFC and stay."
Competitors on Mocco's level understand the formula well. Work hard, make the most of what you have, and anything can happen. The heavyweight looked noticeably slower against Polley than he should have. He said he needs to work on resetting after exchanging on the feet. There are many nuances yet to be discovered.
"He'll get the most out of what he got," Liborio said. "He'll find out if he can be UFC champion or not."
"I'd like to think so," Mocco said between drips, "but we'll find out one way or the other."
June, 20, 2013
6/20/13
2:10
PM ET
News stories following Bellator MMA's first event of the summer will focus rightly on
Muhammed Lawal
's vicious knockout of
Seth Petruzelli
and
Renato "Babalu" Sobral
's retirement.
And for that, Bellator and Spike TV should be grateful.
Because without Lawal driving a rivet through Petruzelli's face, or the memories and plaudits inspired by Sobral -- whose decision to lay down his gloves in the center of the cage while kneeling reverentially was lovely -- Wednesday night's fight card came across as all sorts of ugly.
Bellator can represent itself as challenger to the UFC, as a place where competition between fighters is the only thing that matters -- toughest tournament in sports and all -- but that's undercut when guys such as 35-year-old, 5-foot-8, 260-pound
Jeremiah O'Neal
(12-22) are given bouts, and the
Ron Sparks
of the world receive live television slots.
In O'Neal's case, he fought boxing convert Raphael Butler, who went to 6-0 with an early knockout. I failed to see the point. O'Neal won't go anywhere -- he lost to a bunch of names, but mostly at welterweight and middleweight. He entered Bellator off a loss. Worse: O'Neal's last win came in 2011, against 1-3 Kelly Rundle, who turns 51 this August. Prior to that, O'Neal hadn't won since 2007. Want to kill some time? Check out the records of the guys O'Neal actually defeated.
Look, I don't want to tear down O'Neal. It's Bellator that deserves to be embarrassed. I've given them plenty of credit for finding young, fresh talent. For the most part, the promotion's scouting team of Sam Caplan and
Zach Light
do a very good job, but their work can easily get dinged when this kind of matchmaking happens, even on an undercard contest. Butler can't improve as a prospect against a guy like O'Neal, so what's the point? He hits hard -- fine. But we could have seen that just the same if he faced a heavy bag.
As for television, the decision to match
Vitaly Minakov
against Sparks was pretty sad. Minakov (11-0) looks like a legit heavyweight prospect, but no one could know one way or the other after he put away the 38-year-old Sparks in 32 seconds. Thankfully, Minakov faces
Ryan Martinez
on July 31, who at least appears a threat.
Let me leave on an up note. Bellator's card at the end of July near Albuquerque sets up as a terrific night of fights. Lawal meets
Jacob Noe
in the abbreviated 205-pound tournament finals. Minakov is matched with Martinez. Bellator lightweight champ Michael Chandler returns against gritty
David Rickels
. I'm most interested in watching 22-year-old
Andrey Koreshkov
(who is the embodiment of the anti-Jeremiah O'Neal) fight unbeaten American
Ben Askren
.
GSP-Hendricks is a go
The UFC welterweight championship contest between
Georges St-Pierre
and
Johny Hendricks
was made official this week. It will headline what most people will come to call the UFC's 20th anniversary event on Nov. 16, most likely in Las Vegas.
I'll just say this: I don't care that the UFC couldn't pull off an interdivisional mega-fight at Madison Square Garden to mark the occasion. GSP-Hendricks is absolutely fine by me -- no matter the night, regardless of the commemoration.
Why? Easy. Hendricks appears to be the biggest threat to St-Pierre in the welterweight division. And I think the once-beaten southpaw power-puncher pulls off the upset.
Good news, bad news
Bad news first.
[+] Enlarge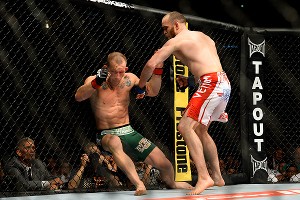 Al Powers for ESPNTJ Grant, right, will get what he deserves: a title bout against Benson Henderson.
Anthony Pettis
needs at least six weeks to recover from an injured meniscus. So he'll miss a featherweight title shot with
Jose Aldo
in early August, and an Aug. 31 lightweight shot in his hometown of Milwaukee against
Benson Henderson
. No young fighter has exhibited more patience than Pettis. (
Ricardo Lamas
might think he's getting stiffed here as well.) But, not to worry, his chance will come. It's inevitable.
Now the good news.
TJ Grant won't get pushed out of a championship spot against Henderson. The 29-year-old Canadian smoked
Gray Maynard
in May to earn the opportunity, and should be the man to face Henderson -- even if some may say it's not nearly as marketable a pay-per-view attraction as a rematch between Henderson and Pettis, Showtime Kick, et al.
Anyhow, like GSP-Hendricks, I'm calling an upset. Grant beats Henderson.
Lombard to 170
There had been calls for
Hector Lombard
to drop 15 pounds and fight at welterweight for as long as the strong Cuban competed in MMA. Yet for seven years, Lombard saw no reason to leave middleweight. He was strong and fast, and won more than enough contests by stoppage to form a convincing argument that 185 was the place to be.
Then he entered the UFC. And a year later, Lombard officially revealed it was time to shed the weight. Losses to
Tim Boetsch
and
Yushin Okami
indicated Lombard wasn't as good as he thought, and larger middleweights who were also viable competitors could stifle his explosion.
What could a 170-pound Lombard do?
Get fans excited, for starters, especially if he carries his power down with him. Lombard posted on Twitter that he wants to fight
Nate Marquardt
, who was also a middleweight convert. That's a nice first fight for him.
The real question is whether Lombard will be able to handle the speed of the welterweight division. For all of the talk of his power, it was Lombard's haste that made him at 185. Absent that advantage and coupled with the realization that he's probably shorter than most welterweights, Lombard will have to make full use of his skills, including a judo game that always seems underutilized when he fights.
Lady Liberty says 'no' to MMA again
Ready for the least shocking news of 2013?
Sheldon Silver, speaker of the New York State Assembly, declined to bring for a vote a bill intended to legalize MMA in the state. That makes Silver 4-0 against MMA legislation, having scuttled the process the past four years.
Because Silver obviously can't watch pro MMA in New York -- the only state in the Union where MMA remains banned -- he might try the Glory event at the Hammerstein Ballroom in New York City on Saturday.
See, kickboxing is legal in New York. Yes, even kickboxing three times on one night -- which is what the winner of Glory's $200,000 prize will be expected to do.
It's insane that New York licenses fighters to kickbox three times in a single evening and prohibits them from competing in MMA at all.
June, 4, 2013
6/04/13
2:30
PM ET

By Chuck Mindenhall
ESPN.com
Archive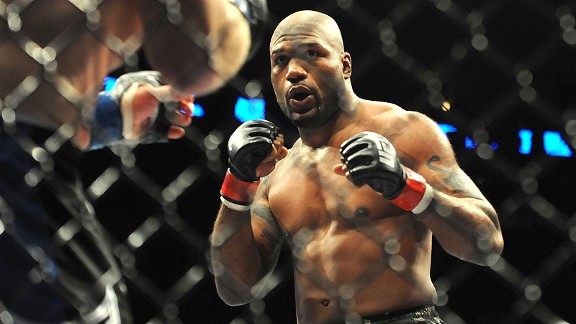 Jim Rinaldi/Icon SMIDespite his best days being behind him, Quinton Jackson's move to Bellator still carries significant weight.
The word "popularity" trumps a word like "retread" six days of the week. It did in the case of
Quinton Jackson
-- the popular, yet polarizing, former UFC champion who just became Bellator's latest acquisition, according to a Spike TV press release. "Rampage" is presumably headed to the so-called "toughest tournament in sports."
And with him comes an ounce of that hard-to-find intrigue.
Bellator will hold a news conference Wednesday in Los Angeles to make the announcement. If a 34-year-old on a three-fight losing streak and with strong associations to a rival league seems like an odd choice for a multiyear contract with Bellator, that's because it is. Traditionally, Bellator has steered clear of picking up the UFC's sloppy seconds, with a few exceptions. Just last week, Bellator inked prospect
Bubba Jenkins
, a collegiate wrestling champion from Arizona State who is 3-0 in MMA. That's a signing that falls more in line with the Bellator ideology of unearthing talent. Landing Jenkins was a major boon.
But Jackson isn't exactly a cast-off either. He was a disgruntled UFC employee who openly battled with Dana White and the UFC over pay, treatment, integrity, the reinvention of B.A. Baracus, fighting boring wrestlers and a descending scale of pettier issues over the past few years. He's not known as an "entertainer" for fighting alone. That's why he fits with Spike, where he can roam into pro wrestling waters under the TNA platform (an idea he's flirted with before) and play a role in the network's reality programming. With "Rampage" comes drama, and in his case, that's interchangeable with "baggage."
You know what else he brings? Star power and accessible validity.
[+] Enlarge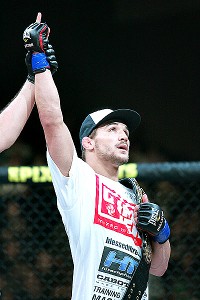 Keith Mills/Sherdog.comFighters like Michael Chandler have made Bellator a legit home for talented mixed martial artists to ply their trade.
After all, as of UFC 135, Jackson was name enough to challenge
Jon Jones
for the UFC's light heavyweight belt. He didn't make good, but the UFC sold more than 500,000 pay-per-views, which was the most since UFC 129 when
Georges St-Pierre
fought
Jake Shields
. It was the most pay-per-views sold for all of the UFC 130s. When he fought
Dan Henderson
on Spike, there were 6 million viewers.
Even in a sport where yesterday is a distant memory, that wasn't so long ago. Yes, the Japan homecoming at UFC 144 against
Ryan Bader
was a disaster, with the missed weight and the swirling chaos of his TRT/groveling over how the UFC had handled him poorly. And yes, his sayonara bout with
Glover Teixeira
wasn't exactly the barn burner he (or we) imagined. Just like
Rashad Evans
, Henderson and anyone who's been in the fight game long enough, he's capable of duds. Ennui is a hard thing to shake.
Yet even with all of that, what's not to like about this signing? It was Josh Koscheck who said that fans can love him or hate him, it doesn't matter, so long as they
care
. Signing "Rampage" will get people to care. And realistically, Bellator could use some love and caring, especially for its tournament structure that stubbornly makes a star of attrition. That concept's not a fit for everyone. Maybe not even for Jackson, who has had trouble with motivation and weight in the past. It's tough to maintain health, weight and mindset through three fights in three months for anybody. But for a millionaire who doesn't particularly need to?
Then again, remember that he made a name in those Pride Grand Prix's back in the early days fighting the likes of Wanderlei Silva, Chuck Liddell and Mauricio Rua. Those yesteryear names now become Attila Vegh and his longtime off-limits rival Muhammed Lawal -- not to mention Emanuel Newton, who knocked "King Mo" out in February with a spinning backfist. There's something about those Memphis "bungalows" that tuned people in, even if they're being flung at the more curious retread cases of Renato "Babalu" Sobral and Vladimir Matyushenko.
There are always exceptions to the exceptions.
The thing is, Bellator hasn't strictly adhered to anything other than its own bracketology. Hard to imagine it giving Jackson special treatment and holding him out of the 205-pound tournament. And the promotion has loosely gone about its business of bringing up the next best names over the past couple of years. It's scored with Michael Chandler,
Ben Askren
,
Pat Curran
,
Eduardo Dantas
and
Eddie Alvarez
(now the subject of a fierce tug-of-war). This is its traditional model, insomuch as tradition exists.
Yet while
Jon Fitch
didn't raise the Bellator eyebrow when the UFC released him with a 14-3-1 record under Zuffa, Jackson -- 7-5 in the UFC -- did. Why is that? Fitch will never be confused with entertainment, that's why. He was never a champion. He doesn't use words like "bungalows," much less throw them. Eyeballs aren't as likely to follow his every move.
Jackson, on the other hand, doesn't feel too much like the UFC's leftovers. Kudos to Bellator for thinking inside the box enough to see it.
May, 15, 2013
5/15/13
4:20
PM ET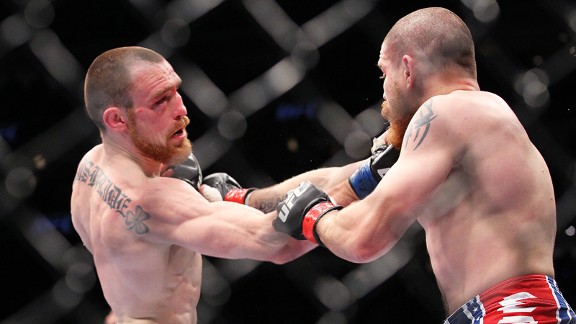 Ed Mulholland for ESPNPat Healy's UFC 159 victory over Jim Miller was overturned after he tested positive for marijuana.
UFC 159
karma, you did it again.
Pat Healy
revealed Tuesday he was popped for pot after dismantling
Jim Miller
in Newark a couple weeks ago. So the one guy who appeared unharmed -- better yet, better off -- following the weirdest Zuffa event since the UFC's debut in Las Vegas in 2001 has crashed back to earth.
This figures.
The submission win, which vaulted Healy into most top-10s at 155, was overturned, and he'll need to forfeit $130,000 in bonuses. Yeah, the same "life-changing" money the 29-year-old mauler talked so blissfully about postfight. Zuffa, it seems, will withhold those bonuses for good.
It's the promoter's decision, which may come across as curious since UFC executive Marc Ratner asked the Nevada State Athletic Commission in March to reconsider meting out hefty punishments in the wake of marijuana cases.
"Right now, I just cannot believe that a performance-enhancing drug and marijuana can be treated the same," Ratner said at the time. "It just doesn't make sense to the world anymore, and it's something that I think has to be brought up."
As is usually the case, UFC is the entity that sets the tone. Rescinding Healy's bonuses for fight and submission of the night certainly sends a clear message -- even if it contradicts what the company's head of regulatory affairs advocated for less than two months ago.
Healy said in a statement that he takes responsibility after making a poor life choice a month before the bout. So karma did its thing with him. What about the rest of us? Are we done? Has penance been paid? Or will the bad mojo surrounding
Jon Jones'
ill-fated booking against
Chael Sonnen
linger?
Hunting for answers
If next weekend's heavyweight title eliminator between former UFC champion
Junior dos Santos
and late bloomer
Mark Hunt
is scrapped, you know what I'm blaming. (Hint: see above.)
[+] Enlarge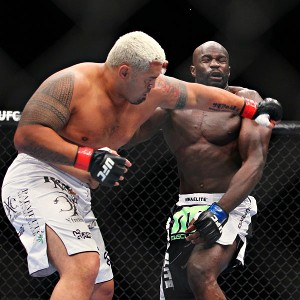 Susumu Nagao for ESPN.comThe UFC believes Mark Hunt will be able to secure a visa in time for his UFC 160 bout with Junior dos Santos.
As of now, though, the UFC says Hunt will secure a visa from New Zealand to the U.S., and will step into the Octagon on May 25 at the MGM Grand Garden Arena. There is no Plan B.
Hunt suggested "some stupid misunderstanding" is keeping the U.S. Consulate from allowing the heavyweight entry into the country. It has been reported that a past legal issue, which Hunt said "happened a long time ago" and "should be cleared up," is responsible for the delay.
Living on the other side of the world, Hunt didn't want to arrive in Las Vegas less than a week from his bout. He's wary because the last time he fought in the desert for K-1, in 2003, he didn't have time to acclimate. Or as Hunt put it during a conference call Tuesday to promote
UFC 160
, "climatize." He said he's frustrated.
"At the end of the day, I want to get out of here and get to the bout with Junior," Hunt said.
UFC director of communications Dave Sholler said the promotion anticipates Hunt "making his way to the U.S. this weekend."
Cejudo will fight
Following up on a story that ran a couple weekends ago, 2008 Olympic wrestling champion
Henry Cejudo
will fight May 18 in an unregulated Gladiators Challenge event outside Sacramento, Calif.
Cejudo's manager, Bill McFarlane, continues to object to the opponent, Miguelito "Darkness" Marti, whose record is unverifiable, and the conduct of the promoter, Tedd Williams.
"It has been almost one month since we asked for validation and it simply is not forthcoming," McFarlane said. "Unfortunately, misrepresentations and misinformation only continues. A Gladiator Challenge representative has acknowledged substantial operational weaknesses, throughout the organization, including inadequate recordkeeping and the urgent need for immediate changes. Again, we have been promised that necessary changes will be made, and are hopeful that they will follow through on their promised changes immediately."
Williams stands by Marti, claiming the unknown would beat Cejudo's previous opponents if he fought them all -- at the same time. It's all a bit ridiculous. Marti has published several videos on YouTube, including a pro wrestling response to my story on the fight.
"So go ahead keep looking at my Facebook. Look me up on Google. You can search the ends of heaven and earth and you won't find out nothing about me," Marti cautioned. "Because you call yourself Henry 'The Messenger' Cejudo, well, I can guarantee you this: When 'Darkness' falls upon you, I'll have you questioning your faith."
Right. So this is happening on Saturday.
Bellator champ wants more drug testing
Bellator welterweight champion
Ben Askren
, a member of the U.S. Olympic wrestling squad that featured Cejudo, took to Twitter over the weekend to mock an article about why fighters competing in his promotion don't fail drug tests.
"Hard to fail a test when you don't take it," Askren wrote. "Only been tested once!"
[+] Enlarge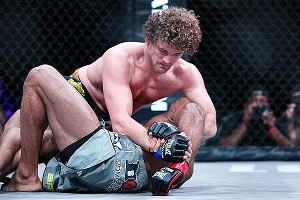 Sherdog.comBen Askren has been outspoken about what he perceives to be a lack of drug testing in Bellator.
That's once in 11 fights (eight of which have come under the Bellator banner).
Askren has long been an outspoken critic of the state of performance-enhancing drug use in mixed martial arts. For his last bout, which happened on unregulated tribal land in Oklahoma, he agreed to a testing program conducted by the Voluntary Anti-Doping Association. He believes the onus is on commissions to handle testing, but relying on that alone leaves gaping holes in how Bellator fighters are tested.
"Testing by state athletic commissions is discretionary by each commission, and Bellator is held to exactly the same standard drug-testing rules and regulations as is the UFC," said the promotion's director of public relations, Anthony Mazzuca. "Bellator conducted 11 events from January through April 2013, and each and every one of those events were fully controlled and regulated ABC-sanctioned events."
Bellator is on shaky ground trying to compare itself with the UFC when it comes to being serious about drug testing. Zuffa has come very far in this department, a major difference between its brand of MMA and everyone else's. If Bellator's relevance continues to expand under parent company Viacom's watch, its drug-testing standards will only come under more scrutiny.
The toll that Bellator's tournament format takes from fighters, with the potential for three bouts in three months, makes it an obvious place where PEDs may come into the picture. There's plenty of room for Bellator to grow here. Good job by Askren, maybe Bellator's best champion, for raising awareness.
April, 2, 2013
4/02/13
11:37
AM ET

By Chuck Mindenhall
ESPN.com
Archive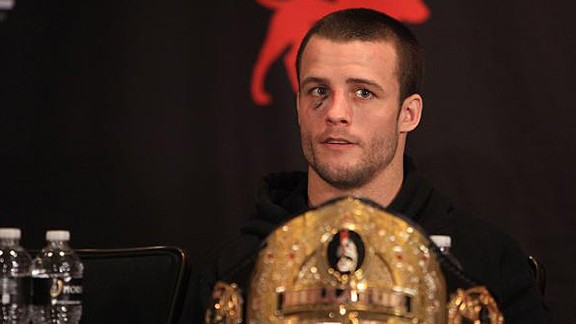 Dave Mandel/Sherdog.comPat Curran recently renegotiated his contract to stay with Bellator for a few more years.
The tournament format that Bellator uses isn't for everyone. But it is for current featherweight champion
Pat Curran
, who navigated fields in two separate weight classes en route to becoming Bellator's 145-pound division champion.
Curran is the prototype for what Bellator is after with its bracketology -- a standout fighter who survived the "toughest tournament in sports" in making a name for himself. He is, by default of the model, the king of attrition. And as he gets set to defend his 145-pound belt for the second time Thursday night against
Shahbulat Shamhalaev
in Atlantic City, Curran has become the face of the promotion.
"I don't mind being the face of Bellator at all," Curran told ESPN.com. "I'm the product of their format. I went through two tournaments, and I'm a big believer in that Bellator tournament format. It's a great way for a fighter to jump levels in his game, become better and make it to a big stage and make a name for himself. That's what I did, and that's what [Michael] Chandler did, and we both capitalized on it."
"

I consider myself to be a counter-striker, too. So it's a very interesting match-up in a way, but we're eventually going to have to engage and I feel like my technical inside game is going to outstrike his.

"

-- Pat Curran on his upcoming fight with Shahbulat Shamhalaev at Bellator 95.
Chandler and Curran -- along with welterweight champion
Ben Askren
and former lightweight champion/free agent
Eddie Alvarez
-- begin to carry something more than titles for the promotion. They carry
value
. People begin to speculate as to how each would fare against the UFC elite. One way to compete with the UFC is to have fighters at the top who look like threats to the UFC champions. Could Askren beat
Georges St-Pierre
? Who knows, but it's a talking point. Parallels are drawn.
That's the rarefied space that the 25-year-old Curran finds himself in today. People begin to wonder how he'd stack up against not just Shamhalaev (of which we'll soon find out), but
Jose Aldo
(inevitably on the other side of the ledger). Being linked to fantasy matchups against one of the game's pound-for-pound bests can't hurt. It means things are on the upswing.
Curran says he respects that, but he's not hearing it.
"I'm really not thinking too much about that," he says. "I made a dedication to Bellator, I re-signed my contract and I know I'm going to be there a while and be part of everything they're doing. Being with Spike is a huge part of that as well. I know Bellator is doing great things where it's still very early in the Bellator stage, and it's going to get better from here on out."
Curran recently renegotiated his contract to earn more money per fight, and he's signed on to be with Bellator for the next "two or three years." He won't be facing Aldo or anybody under the UFC banner for a long time.
Instead the Crystal Lake, Ill., native will help grow and perpetuate the Bellator model. Only, he'll come at it from the pinnacle of that model. After climbing toward Alvarez's belt in the Season 2 lightweight tournament (and losing in the title fight), and then climbing anew in the 2011 Summer Series featherweight tournament (and capturing the title over
Joe Warren
via brutal TKO), he's adjusting to life as the
destination
. From now on, he'll be asked to beat back the survivors of tournaments specifically constructed to take his belt.
In essence, it's Curran's job to present himself as a dead-end street for featherweight traffic. To make whatever momentum comes charging at him from the tournament completely moot.
And that continues with Shamhalaev, the hard-hitting Dagestan fighter who knocked out
Rad Martinez
in February to earn his chance. It'll be Curran's second defense of the year after eking out a split-decision victory over
Patricio Freire
in January.
"You have to respect [Shamhalaev's] power," he says. "His last three fights have all been by knockout. You've got to respect his power in his right hand and his left hand. It's a very interesting style -- he's a counterstriker, but he waits, and he puts 100 percent of his energy into those punches, and he's able to find those openings."
"I consider myself to be a counterstriker, too. So it's a very interesting matchup in a way, but we're eventually going to have to engage and I feel like my technical inside game is going to outstrike his."
We'll find out Thursday, in a fight that is basically a cymbal crash for everything Bellator is about.
January, 24, 2013
1/24/13
11:29
AM ET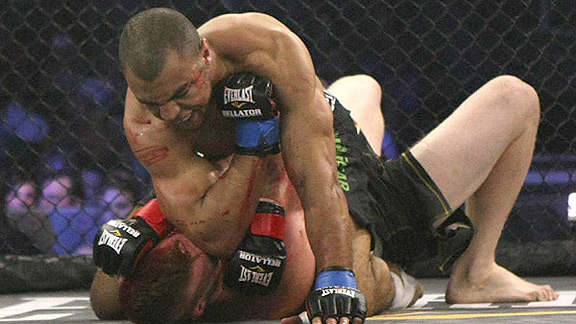 Sherdog.comBellator's Karl Amoussou and brother Bertrand continue their crusade as advocates for French MMA.
PARIS -- Thursday's mixed martial arts class at Lagardère Paris Racing had mercifully concluded. That much is clear after nearly 80 French men and women, crossing paths like waterlogged ants walking a trail, slapped five before dispersing into a damp late-September night.
Over the course of the previous hour,
Bertrand Amoussou
, the man in charge, converted a matted area the size of three side-by-side regulation basketball courts into a steam shower. Amoussou gets credit because the "judo room," located on the second floor of Lagardère's sprawling sports facility and home to several French Olympic champions, was mostly empty until his students showed up. Only eight people attended the lead-in judo session.
This has been typical of the 46-year-old Amoussou's experience at Lagardère, which is why Albert Pernet, a representative for the newly elected French government's ministry of sport, was on hand to bear witness.
This is what he saw: A diverse population of French citizens wearing MMA-branded garb, predominately labeled "UFC" or "Bad Boy," punching and grappling despite the French government and powerful interests throughout the country's entrenched martial arts communities having no palate for the combat sport.
"I confirm we remain totally opposed with a creation of a MMA federation in France," Jean-Pierre Mougin, Secretary General for the French National Olympic Committee, told ESPN.com.
No one wears more hats in French MMA than the Senegalese-born Amoussou. Some may know him as the older brother to mixed martial artist
Karl Amoussou
, who fights Thursday against Bellator welterweight champion
Ben Askren
in Thackerville, Okla. Others will remember him as the first French fighter to win a bout in Pride. He was a medal-winning judoka for France in the 1990 European Championships. He's a magazine publisher (and soon will be again). A broadcaster. An instructor.
Basically, Amoussou is the advocate for French MMA.
While MMA fans and media often look to Dana White and the Ultimate Fighting Championship to break down regulatory boundaries -- White promised again Wednesday that "people over there know" UFC is coming to France -- it's more likely, Amoussou believes, that change will happen from the inside.
"It's very important for the Minister of Sport [Valerie Fourneyron] that there is an evolution," Amoussou said. "That it's not [a situation where] everybody does whatever they want. It's important that we have a structure. I know she doesn't know anything about it, and the only people she talks to are against us. So I want to talk to her, not only about the fights, but the academies and educational programs for MMA. She's going to listen to that."
A couple of weeks ago Amoussou put the finishing touches on a graduated "belt" system for MMA. Among many students, his brother Karl, 27, stands alone. Emerging from a family of martial artists, their strict African father, who was a successful karate stylist, was fond of telling his boys, "I'm going to slap you with my foot." And he would when they got out of line.
Earlier in the day, well before the sauna, Karl, a judo black belt under his brother's care, got a workout in at a converted no-frills gym in northern Paris, where rain pelted its sheet-metal roof. With his title fight against Askren, a highly decorated American amateur wrestler, three and a half months away, Bertrand made sure to watch and instruct while Karl, an ex-undercover cop, moved enough to get a sweat going.
The plan was to be in solid enough shape to make the most of a three week trip to American Top Team in Coconut Creek, Fla. Instead, he spent more than two months preparing with ATT.
[+] Enlarge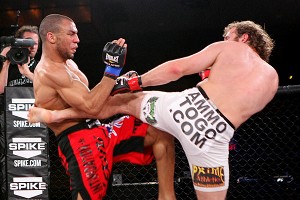 Keith Mills for Sherdog.comKarl Amoussou, left, is confident heading into Thursday's title shot against Bellator welterweight champion Ben Askren.
"It was not an easy decision but the training was so good I thought it would be stupid to go back to France," the welterweight challenger said, "especially with the level of wrestling in the U.S."
For the first time since turning pro -- a decision that was delayed a couple years more than Karl wanted because Bertrand refused to sign off until he was sure his brother was ready -- the Amoussous didn't regularly prep together for a fight. Not unless Skype sessions count.
"It was the first time without my brother, so it was unusual I have to say," Karl said. "But I had very good coaches at ATT. I really had what I needed here to be ready in the best way."
"It was the right time to make the move," Bertrand said. "He's happy. He's confident. I think he's going to put on a great show on Thursday."
Askren (10-0) doesn't buy it. He predicts Amoussou (16-4-2) will be "a lot easier" fight than
Jay Hieron
or
Douglas Lima
, his last two opponents.
"Karl's cardio is crap," Askren said. And the Frenchman's striking is "overrated," too, he said.
"He obviously knows that if he stands with me, he'll sleep," Karl said of the unbeaten wrestler. "It would be really stupid of him to try and stand. So, yeah, he'll try to take me down. I think he will box a bit more than previous fights. I'm just going to destroy him. I will hit him so hard he won't even get close to me.
"I think people are underestimating my judo skills. I'm telling you that he's going to end up on his back. I'm going to take him down. I think he's cocky and arrogant and not very smart. I don't have much to say about him. He's just trying to sell the fight the best way he can, which for me is not the best way to do it. His mouth is going to be shut at the same time as the door to the cage."
Askren, never at a loss for confidence or words, shot back: "I'm 4-0 against American Top Team guys, so I think I'm set."
Bertrand will work his brother's corner Thursday evening with the ATT crew. Then, a couple weeks later for AB Groupe, which broadcasts Bellator alongside other MMA properties on cable television in France, the elder brother expects to dub over French commentary of the fight. As much as it pains Bertrand to say so, victory for his brother probably won't mean much when it comes to getting MMA approved by French authorities.
Said Florent Jeanne, a 24-year-old fight fan who shows up to Lagardère a couple times a week for Bertrand's sauna sessions: "You need to change public opinion by communicating it's a real sport with athletes and morals and respect. People see it as cage fighting. They have a really bad image of the sport as crazy guys going in there to kill each other."
To no one's surprise, that impression populated the faces of the four traditionally dressed Aikido practitioners who cut their way through the humidity.
The mat was theirs.
November, 28, 2012
11/28/12
6:02
AM ET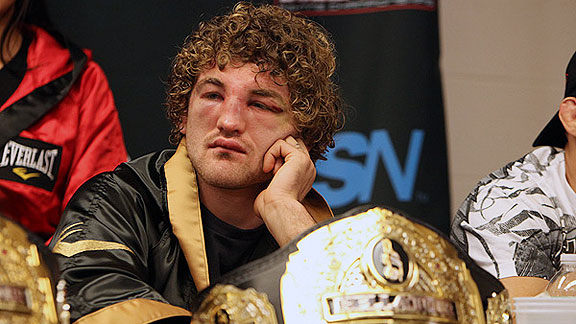 Dave Mandel/Sherdog.comBen Askren, one of the best welterweights in MMA, doesn't know where his future is.
If you're put on hold after dialing Bellator Fighting Championships' office in Newport Beach, Calif., it only takes a second to recognize the supercharged commentary of Sean Wheelock and Jimmy Smith.
Waiting to speak with Bjorn Rebney -- the promotion's promoter -- Wheelock and Smith happened to be screaming over Michael Chandler's epic finish last year of
Eddie Alvarez
, which was perfect, considering what I was calling about Tuesday morning.
Rebney published an open letter on Bellator.com on Monday stating the company's revised position on championship rematches. Essentially: Under the right circumstances, they would promote them.
The obvious place to begin would have been a second tilt between Chandler and Alvarez. Rebney said it's the fight he gets asked about most in airports and arenas during weekly jaunts from show to show.
There's very little doubt in Rebney's mind that "had Chandler-Alvarez happened today, regardless of Ed's situation, I would be on the phone probably four minutes after the fight with Kevin Kay at Spike network saying 'When are we going to do this again?' Because it would have had such a dramatic impact on viewership and fan response."
In reality, he's talking up the rematch that got away. Alvarez is a free agent currently negotiating with the UFC and Rebney sounds accepting of the former champion's likely departure. Still, the outcry to see Alvarez get a chance at avenging his title loss to Chandler, said Rebney, "got the wheels in motion" for change.
"I'm never going to be one that completely plants the flag in the ground and say there's no room for growth, there's no room for deviation," he said. "There's always room to make things better.
"There's always room to make the product better for fans, better for fighters. I think we did that."
Rebney is now promising that if fans call for a rematch, and if there's consensus from Bellator president Tim Danaher and matchmakers Sam Caplan and
Zach Light
, and if Kevin Kay at Spike is interested, then so it shall be. There's also a move down the road to pay-per-view to consider.
"Those are going to be driving concerns," he said.
Less worrying, Rebney noted, was the idea that Alvarez (or any fighter in the same position) could fight for a belt while not being locked up to a deal. If it's worth promoting, he said, they'll do it. And Bellator contracts, considered among MMA's most rigid, would not have to be revised in any way.
"There's just a lot of fights coming up where you just want the option to be able to say, 'That was awesome, you're the champ and you earned your spot. Here, let's do it again,'" Rebney said.
This would appear to be a departure from the concept Rebney put forth in 2009, in which Bellator title shots are earned when a fighter advances through an eight-man qualifying tournament. Rebney said he'd considered the issue for a while and is "at peace with it" because the "decision stays true to who we are and what we're about" and the show maintains a substantial point of difference from other organizations in the sport.
"I think what you're looking at right now is the industry kind of fitting into where the industry will fit for the next five years," Rebney said. "And I think we're heading in a good direction. Any time you've got a huge, powerful, innovative company like Viacom, not just distributing content, but vested, owning a huge piece of the company, and tremendously devoted to its success and brand development, and you've got another major giant out there [Fox] who has made a very large financial commitment to the UFC, who obviously has a vested interest in trying to see that that content does well, I think it's a positive."
During a teleconference Tuesday for UFC's return to Fox on Dec. 8 in Seattle, Eric Shanks, president of Fox Sports Media Group, came off as bullish over the network's partnership with Zuffa heading into 2013.
By no means was this Rebney's most difficult call, but it does indicate that a month before Bellator begins its partnership with Spike that clearing the deck for fan- and television-friendly fights is a big part of the thinking these days.
"No one is talking their way into a world title fight [in Bellator]. Nobody is being groomed a la a boxing format where you get 24 wins against nobodies and get there," he said. "You've got to beat three spectacularly world-class fighters and once you've done it, if you give fans an unbelievable showing, if it's an epic fight, if it's an Alvarez-Chandler type of fight, then it just made sense to me, and I believe we're staying true to who we are. We're not by any stretch of the imagination eliminating the objectivity. We're not eliminating the tournament structure. We're not eliminating the need to earn your shot. But I think it betters who we are."
In the parlance of Bjorn Rebney, "spectacularly world-class fighters"
Lyman Good
and
Andrey Koreshkov
will fight for the welterweight tournament crown Friday at the Soaring Eagle Casino & Resort in Mount Pleasant, Mich. Bellator has roughly 170 fighters under contract as it enters the next phase of its existence, in which Viacom's financial backing and Spike's television platform portend a boost for the promotion.
Good or Koreshkov would fight either titleholder
Ben Askren
or Frenchman
Karl Amoussou
, whomever wins their meeting sometime in January. No date has been announced, though Rebney expects this and other news to be made over the next few weeks.
Rebney said he hopes for three title fights per year at each weight.
"God willing there will be a lot of rematches, because if we're doing a lot of rematches it means we've had a series of epic world title fights," he said. "That's awesome. That's what you want. You want the biggest fights to be the best fights."
August, 30, 2012
8/30/12
5:08
PM ET

By Franklin McNeil
ESPN.com
Archive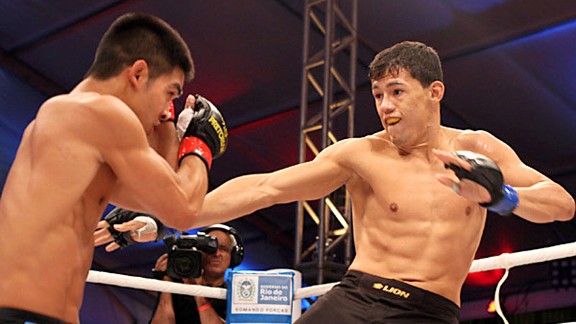 Sherdog.comBantamweight champion Eduardo Dantas, right, says he will think twice before competing outside of the Bellator cage following his first-round knockout loss to Tyson Nam at Shooto Brazil 33.
Finding ways to stay active is one drawback to being a Bellator champion.
It's the reason bantamweight titleholder
Eduardo Dantas
felt compelled to step outside the Bellator cage for an Aug. 25 fight with Tyson Nam at Shooto Brazil 33 in Rio de Janeiro.
A right hand flattened Dantas in the first round.
Fighting outside of Bellator, especially while wearing the promotion's title belt, is something Dantas hopes he never has to do again.
"I was very anxious before the fight," Dantas told ESPN.com. "But I had a lot of confidence in myself. I trapped myself; I got a little anxious and got caught with the right hand. I had a lot riding on this show with friends and family there, and being the Bellator champion. I wanted to do my best in my home country. This made me very anxious before the fight.
"I will certainly think twice about fighting outside of the (Bellator) cage. But I was ready for the fight."
Despite the setback, Dantas remains confident he is a superior fighter to Nam. One way he'd like to prove it is with a rematch.
But if a rematch is to happen, it likely will have to take place inside Bellator. And Dantas has a more pressing matter to address -- defending his title against
Marcos Galvao
.
The two are tentatively scheduled to meet Nov. 2 at Bellator 79 in Rama, Ontario.
"I absolutely want that rematch in the future," said Dantas, who slipped to 14-3. "Tyson is the only name on my mind when I wake up in the morning. I'm going to focus on my Bellator title defense that is coming up. But before I'm done fighting I want to face Tyson again."
Before his recent loss, Dantas was ranked fifth among bantamweights by ESPN.com. He has since dropped to No. 9.
The loss by one of its champions to a fighter not under its banner can't help bolster Bellator's image among fight fans. But CEO Bjorn Rebney isn't losing any sleep over what took place in Brazil. For the time being, he will continue allowing his fighters -- especially champions -- to seek bouts with other promotions.
"In the fight, (Dantas) was dominating and he just got caught," Rebney told ESPN.com. "The fight is kind of self-explanatory: He was in control and got caught. This situation, unto itself, doesn't change my perception of wanting guys to be able to fight very frequently and willingness on our part to have fighters competing in other organizations.
"But it just so happens that with our Spike TV launch in January we're going to have many more tournaments, much more frequency of those tournaments and a greater number of tournaments going on. So our need to accommodate a guy like Dantas will to a large extent be eliminated."
"

Tyson is the only name on my mind when I wake up in the morning. I'm going to focus on my Bellator title defense that is coming up. But before I'm done fighting I want to face Tyson again.

"

-- Bellator bantamweight champion Eduardo Dantas, on his recent knockout loss to Tyson Nam
As for Dantas wanting a Nam rematch, Rebney likes the idea and will do whatever he can to put the fighters in position to make it happen. He's considering making an overture to Nam (12-4) about fighting in Bellator, but there are some things even Rebney can't guarantee.
"We'll have to see what happens with Dantas in terms of his world title fight," Rebney said. "If Dantas is able to retain the world title against Marcos Galvao, then the only way Tyson Nam is going to get a shot at Eduardo Dantas is by winning a tournament. Given the depth of our 135-pound division, that is not an easy calling for anybody. But if Eduardo loses to Marcos, given our structure, it gives us more flexibility of making that rematch.
"When a guy like Tyson performs the way he performed [against Dantas] you have to take a good look at him. Our 135-pound division is deep, but getting a win over our world champion sure is a pretty good calling card for getting in one of those tournaments."
Nam has expressed interest recently in joining UFC. Attempts by ESPN.com to speak with UFC president Dana White have been unsuccessful.
Dantas isn't the first highly touted fighter to suffer a devastating setback, and he surely won't be the last. But anything short of exacting revenge against Nam, and Dantas will find it difficult to recapture his previous standing among bantamweights.
Rebney doesn't share this point of view. In his eyes, Dantas will have his shot at redemption against Galvao.
"He happened to get caught, which can happen to the best," Rebney said. "It's happened to Chuck [Liddell], it's happened to Randy [Couture], everybody gets caught at one point or another during their career. My realization is that he just got caught. It wouldn't have mattered on that night if it was Eduardo Dantas or
Pat Curran
or Michael Chandler or
Ben Askren
or anybody else. He just got caught.
"Perception-wise, Dantas fighting in Bellator on Spike network against Marcos Galvao should be an amazing fight. He's going to answer a lot of those questions and kind of re-establish himself in terms of where he should be."
October, 5, 2011
10/05/11
5:19
AM ET
Two finalists will emerge from the Bellator Fighting Championships Season 5 welterweight tournament at Bellator 53 on Saturday in Miami, Okla. Do they have what it takes to threaten reigning Bellator champion and 2008 Olympian Ben Askren?
More »