September, 1, 2013
Sep 1
1:03
AM ET

By Franklin McNeil
ESPN.com
Archive
MILWAUKEE -- The timing couldn't have been worse for former two-time UFC heavyweight champion
Frank Mir
. He lost to fellow former heavyweight titleholder
Josh Barnett
in the co-main event Saturday night at UFC 164.
It's not just that Mir was the victim of a first-round TKO -- the stoppage was a bit premature. It's that Mir has now lost three in a row, and wasn't competitive in any of those fights.
Making matters more unfortunate for Mir is that the loss comes against a fighter who hadn't competed inside the Octagon since 2002. Barnett is still a good fighter, but other than
Daniel Cormier
, he hadn't faced top-level opposition of late.
This was the type of fight Mir was supposed to win, or at least be competitive in -- he did neither. Barnett punched him, kneed him and pushed him around. At no time in this brief encounter, which came to an end at the 1:56 mark, did Mir pose the slightest threat to Barnett.
Mir was simply outclassed in his third straight fight. And at 34, and showing little sign of improving, his future as a heavyweight to be taken seriously appears to have run its course.
Never in his professional mixed martial arts career had Mir dropped three fights in a row. If ever there was a worse time to experience such a drought, this was it. And at 34 years old, the odds of Mir rebounding from this hole to get back in title contention are slim.
What Mir has to fight for now isn't a title shot; that option isn't reasonable. His goal today is finishing his career on a positive note. It's about getting wins, even if they must come against second-tier fighters.
"

It felt great to get this win here in the UFC. It's been a long time coming.

"

-- Josh Barnett on beating Frank Mir in his return to the UFC.
He may no longer be title-worthy, but Mir has achieved enough inside UFC to retain his spot on the promotion's roster. No one should, for one second, think Mir will be released by UFC. It won't happen and it shouldn't.
But his name should not even be considered for another co-main event as participants are being bantered about by matchmaker Joe Silva. This isn't a knock on Mir, especially when he is down -- it's just facing reality.
Mir looks slow in the cage these days, even with the improved physical conditioning he's been receiving under the guidance of Greg Jackson in Albuquerque, N.M. And Mir deserves credit for taking the extra step to train in Albuqurque, spending weeks away from his family in Las Vegas.
The determination to succeed remains. It's just that Mir is struggling to find a way to do so in today's UFC.
Barnett, on the other hand, shouldn't be pumping his chest too hard. He had the good fortune to catch Mir on the down side of his career. Regardless, competing and winning in the Octagon for the first time in years had Barnett in a jovial mood.
"It felt great to get this win here in the UFC," Barnett said. "It's been a long time coming."
The best time to gauge where Barnett truly stands at this point in his MMA career will be in his next fight. Hopefully, it will be against a fighter on the upswing.
Travis Browne
comes to mind. Byt hat might be stretching it a bit. How about
Ben Rothwell
, who showed tremendous resolve in his come-from-behind, third-round TKO of
Brandon Vera
in an earlier main-card bout.
April, 22, 2012
4/22/12
12:57
AM ET

By Franklin McNeil
ESPN.com
Archive
Jon Jones
retained his light heavyweight title Saturday with a unanimous decision over
Rashad Evans
at UFC 145 in Atlanta.
Evans could never mount a consistent attack and lost by judges' scores of 49-46, 49-46 and 50-45. ESPN.com scored the fight 50-45 for Jones.
The victory ends, or at least tempers, a long-running feud between the former sparring partners.
While Jones (16-1) successfully defended his belt for the third time, he displayed more caution against Evans than in previous title bouts. His cautious approach might be contributed to having faced Evans often in camp.
"I did a lot of things tonight that weren't planned," Jones said. "My striking was looking a little elementary. I didn't want to make mistakes.
"But who I beat was very important to me.
[+] Enlarge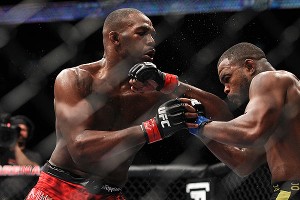 Ed Mulholland for ESPN.comJon Jones' sharp elbow stikes helped slow down Rashad Evans.
"It felt completely different fighting [Evans]. Tonight I threw a lot of elbows. Those are the things you would never do to a training partner."
The elbows, especially in the second round, slowed Evans' attack. They also left swelling above the former light heavyweight champion's right eye.
After suffering the injury, Evans spent much of the fight protecting that right side of his face. Evans also failed to take Jones to the canvas.
The lone time Jones was on his back came in the fifth round when he pulled guard. But that occurred with seconds remaining in the bout.
"He was pretty crafty and pretty tricky," Evans said. "He threw some things he didn't throw in practice, but there were some things he did better in practice than he did tonight."
Evans suffered just the second loss of his career. He is 17-2-1 overall.
MacDonald finished Mills in impressive fashion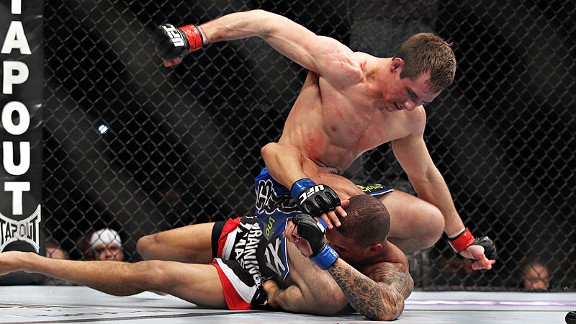 Ed Mulholland for ESPN.comRory MacDonald's ground and pound left its mark on Che Mills.
If
Rory MacDonald
was to be taken seriously as a welterweight contender, he needed to pass a presumed stiff test in Che Mills.
MacDonald passed the test with flying colors.
He dominated Mills in the first round, taking him to the ground quickly and landing hard punches. When the horn sounded to end the round, Mills' face was bruised, cut and bloody.
By the start of the second, there was little doubt MacDonald would come out victorious.
He quickly took Mills back to the ground and again landed punches. Mills was on his back and had no strategy to reverse his misfortune.
And MacDonald (14-1) wasn't about to help him find an answer. Once he got Mills' back, MacDonald aggressively landed punches that forced referee Mario Yamasaki to step in at the 2:20 mark.
"Che was a great opponent," MacDonald said. "I took this fight very serious. I'm very happy with the way the fight went."
Mills fell to 14-5 with one no-contest.
Rothwell stops Schaub by TKO in Round 1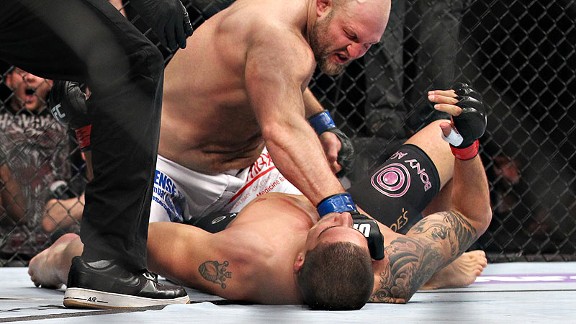 Ed Mulholland for ESPN.comBen Rothwell's power proved the deciding factor against Brendan Schaub.
Brendan Schaub
isn't afraid to exchange punches with the biggest, strongest heavyweights in mixed martial arts. That lack of fear, however, cost him against hard-hitting
Ben Rothwell
.
During a vicious exchange, Rothwell landed a left hook to the head that rendered Schaub unconscious at 1:10 of the first round.
"I worked very, very hard," Rothwell said. "I changed my workout. I'm not backing down. I know my chin can take some shots."
Rothwell improved to 32-8. He is 2-2 inside the Octagon competition.
Schaub, who not long ago was one of the fastest rising heavyweights in the UFC, has dropped two in a row. He is now 8-3 overall.
McDonald knocks out ex-champ Torres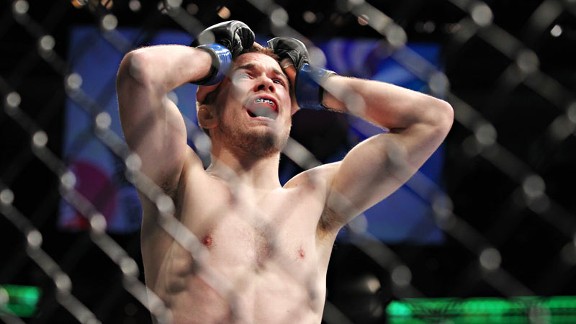 Ed Mulholland for ESPN.comBy knocking out Miguel Torres, Michael McDonald proved he's arrived.
The road back to the top of the bantamweight division became a lot more bumpy for former WEC champion
Miguel Torres
.
Michael McDonald
landed a hard right uppercut in Round 1 that sent Torres to the canvas. Torres was asleep before hitting the ground.
The fight would end at the 3:18 mark, dropping Torres to 40-5.
While Torres' professional record still looks impressive on paper, it's deceiving: Four of his five losses came in Torres' seven most recent fights.
"I was paying attention to his range," McDonald said. "I wanted to make sure he didn't get his jab off."
McDonald improves to 15-1. He has won eight fights in a row.
Hominick drops third fight in a row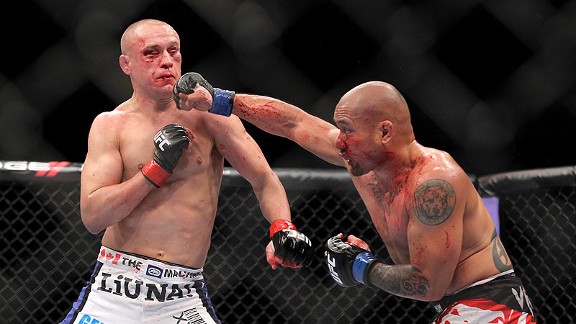 Ed Mulholland for ESPN.comEddie Yagin's aggression made life difficult for Mark Hominick.
Former top featherweight contender
Mark Hominick
continues to struggle to find his groove.
For the second straight fight, Hominick failed to rebound from his UFC 129 unanimous decision loss to champion
Jose Aldo
.
Eddie Yagin registered knockdowns in the first and second rounds to edge Hominick by split decision.
Two judges scored it 29-28 for Yagin, who improved to 16-5-1. The third judge and ESPN.com had Hominick winning 29-28.
Hominick (20-11) ate right hands from Yagin during most of the bout. And in the first two rounds he was dropped by Yagin right hands.
Despite tasting hard right hands, Hominick found his rhythm in the third and punished Yagin with still left jabs and hard right hands.
But that knockdown in the closely contested second round proved too much for Hominick to overcome.
Bocek takes down Alessio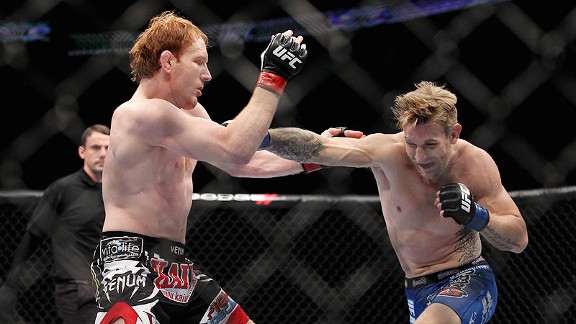 Ed Mulholland for ESPN.comMark Bocek, left, dominated on the feet and on the ground against John Alessio.
Mark Bocek
is one of the most underrated lightweights in UFC. But he might have turned that around with a unanimous decision over veteran John Alessio.
The fight was scored 30-27, 29-28 and 30-27. ESPN.com had Bocek winning 29-28.
Bocek came into the bout as the superior ground fighter and wasted little time proving it. He took Alessio to the ground early in the first round and punished him with hard left elbows.
But while Bocek had the advantage on the ground, Alessio was better standing. And in the second he caught Bocek repeatedly with left-right combinations.
Bocek (11-4) would get Alessio on the ground briefly, but they stood for most of the round.
Alessio, a former welterweight, slips to 34-15.
Browne submits Griggs in first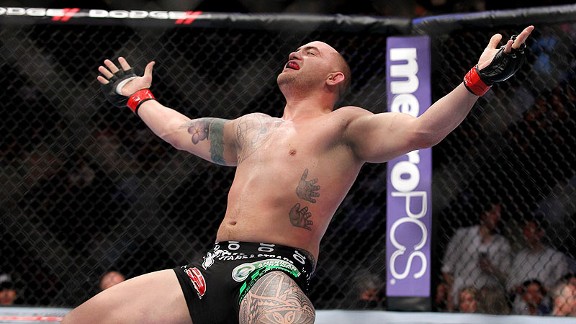 Ed Mulholland for ESPN.com
Taking on hard-hitting
Travis Browne
is proving to be a difficult task.
Chad Griggs
became the latest heavyweight to learn this lesson.
Browne improved to 13-0-1 with a first-round submission of Griggs. The loss was just the second for Griggs as a pro.
Browne entered the fight determined to make a statement. He was disappointed after his most recent outing -- a unanimous decision over
Rob Broughton
.
During that fight at UFC 135 in Denver's high altitude, Browne was sluggish as he gasped for air. But cardio never became a factor for Browne in Atlanta.
He landed a hard left knee that stunned Griggs. Browne than took his opponent to the ground, where he applied an arm triangle that forced Griggs to tap at 2:29.
"I belong here," Browne said. "UFC heavyweights, watch out baby."
Griggs fell to 11-2.
Brown hands Thompson his first pro loss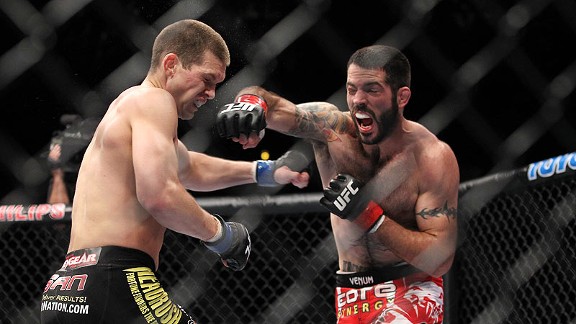 Ed Mulholland for ESPN.comMatt Brown, right, dug down deep to grind down Stephen Thompson.
For the first time in his professional mixed martial arts career, Stephen Thompson suffered a loss.
Veteran
Matt Brown
used his experience and superior ground skills to punish Thompson for three rounds during their welterweight bout.
The judges scored the fight 30-27, 29-27 and 30-27 for Thompson. ESPN.com scored it 30-27 for Brown.
Brown's experience would prove especially beneficial in the second round.
With Thompson finally able to get his striking game untracked, a wobbly Brown (14-11) landed a hard right hand. The punch put Thompson on his back.
On the ground, Brown landed an elbow that opened a cut on Thompson's forehead.
Both fighters were exhausted entering the third, but Brown was able to take Thompson to the ground and punish him.
Brown would get Thompson (6-1) in a mounted triangle, where he began landing several left hands.
Longer Njokuani shuts out Makdessi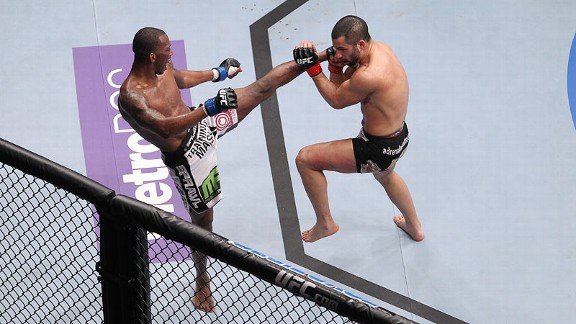 Ed Mulholland for ESPN.comAnthony Njokuani's range proved the difference against John Makdessi.
In a 158-pound catchweight bout,
Anthony Njokuani
landed kicks to the head and body of
John Makdessi
en route to a unanimous decision.
All three judges, as well as ESPN.com, scored the fight 30-27.
Njokuani (15-6, one no contest) stunned Makdessi with a hard left hook on the chin. He would utilize a 7½-inch reach advantage to land most of his strikes and stay out of harm's way.
Makdessi, despite not finding a solution to Njokuani's reach, continued to press the action throughout the fight. But entering the third round his left leg was showing the damage done from absorbing numerous kicks.
Makdessi's left leg was badly bruised.
The fight, originally slated for 155 pounds, became a catchweight bout when Makdessi (9-2) came in two pounds over the lightweight limit during Friday's weigh-ins.
Danzig ignores injured ankle to beat Escudero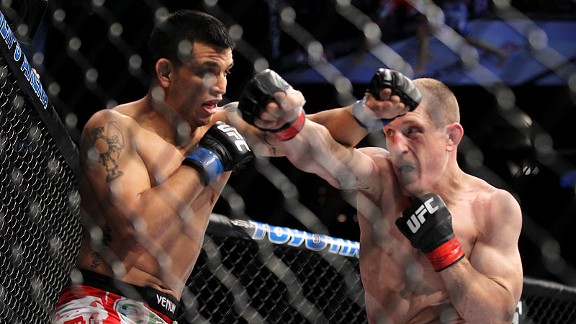 Ed Mulholland for ESPN.comMac Danzig, right, fought through the pain to overcome Efrain Escudero.
In the battle of former TUF winners, lightweight
Mac Danzig
overcame a badly swollen right ankle to earn a unanimous decision over
Efrain Escudero
.
The judges scored the fight 30-27, 30-27 and 29-28. ESPN.com scored the fight 30-27 for Danzig.
Danzig controlled the standup with his jab and an occasional left hook. But Escudero nearly finished him in the first round with a right ankle hook.
Danzig, however, escaped the submission attempt and despite swelling to his ankle fought hard in the second and third rounds.
The damaged ankle did not prevent Danzig from applying pressure on Escudero, who could not find a rhythm in any of the three rounds.
Danzig, the Season 6 "Ultimate Fighter" winner at welterweight, improved to 21-9-1. Escudero, a TUF Season 8 lightweight champion, slipped to 18-5.
Clements punishes Wisniewski with strikes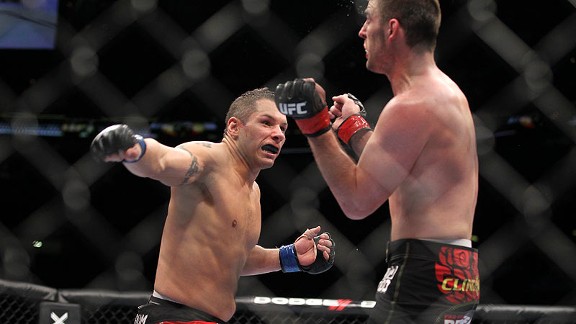 Ed Mulholland for ESPN.comKeith Wisniewski, right, absorbed punishment from all angles against Chris Clements.
Chris Clements landed hard strikes in the second and third rounds to earn a split decision in his UFC debut over fellow welterweight Keith Wisniewski.
Clements persuaded two judges who gave him scores of 29-28 and 30-27. The third judge favored Wisniewski 29-28. ESPN.com scored the fight for Clements 29-28.
After a close first round, in which Clements (11-4) was taken to the ground, he picked up his striking attack in the second and third. He hit Wisniewski with hard punches, elbows and spinning back kicks.
Wisniewski (28-14-1) absorbed the punishment and fought hard, but the accumulation of strikes began to wear him down late in the third round.
Brimage holds off Blanco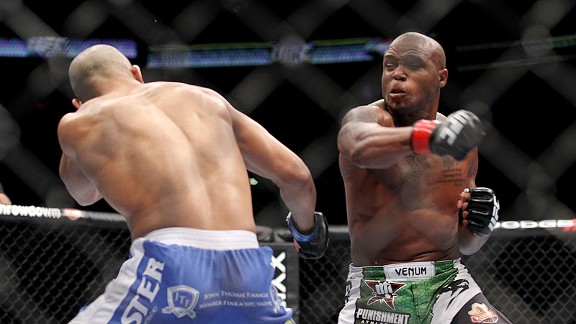 Ed Mulholland for ESPN.comMarcus Brimage's aggression helped power him past Maximo Blanco.
Despite tasting several front kicks in the second round, Marcus Brimage refused to back down in the third and secured a split decision over Maximo Blanco in a featherweight bout.
Two judges scored the fight for Brimage 30-27 and 29-28, while the third had it 29-28 for Blanco. ESPN.com scored it for Brimage 29-28.
Brimage (5-1) was the more aggressive fighter in Round 1, landing hard punches. But after tasting several front kicks on the chin, he fought more cautiously in the second.
Seemingly aware that the third round would likely decide the outcome, Brimage picked up the pace. He remained somewhat cautious of Blanco's kicks, but took the risks and came forward.
Blanco, who made his featherweight debut after competing previously at lightweight, falls to 8-4-1 with one no-contest. He has lost two fights in a row.
April, 6, 2012
4/06/12
11:51
AM ET

By Chuck Mindenhall
ESPN.com
Archive
Another day, another hot urine test, another busted main event ... and, alas, another (potential) domino sequence. So continues life in the mixed martial arts.
This time it's
Alistair Overeem
who raised the red flag, the very same Overeem who eluded such conflict ahead of UFC 141 by simply skipping a mandatory drug test. If nothing else, this is a man who knows how to poke at the chest of scrutiny. Overeem showed up March 27 for the UFC 146 hype conference in Las Vegas apparently unaware that this could be a perfect moment for the Nevada State Athletic Commission to spring a "random" test on him (part of the deal from the
Brock Lesnar
fight fallout). Out of six heavyweights tested, only Overeem's came back positive. His testesterone/epitestosterone registered a 14:1 ratio, more than double the particularly generous threshold in Nevada of 6:1.
So much for the biggest fight of his career. And all that promotional material the UFC was creating, the big pay day, the belt he could have added to his collection? Moot.
As Dana White said upon hearing the news, he doesn't have a plan B. Meaning, at least at the time of this writing, waiting out Overeem's "B" sample becomes the plan B by default. Problem is, those results could take a couple of weeks to get back, and "B" samples rarely contradict "A" samples anyway. But the show must go on. White has said that dos Santos will defend his title at UFC 146 whether it's against Overeem or somebody else.
In other words, it's time to speculate into these somebody else's, and -- just for theatrical value -- assess their chances in carefully considered odds.
Frank Mir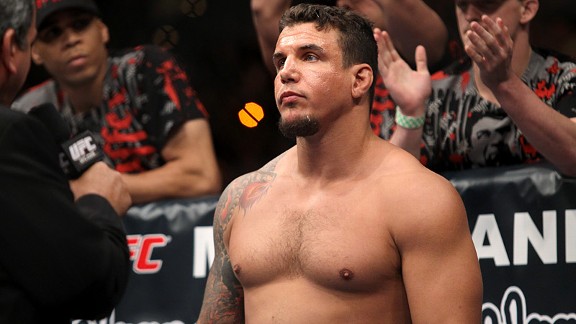 Ed Mulholland for ESPN.comFrank Mir made it clear he'd be willing to challenge for the heavyweight title if need be.
The NSAC's Keith Kizer sent out the mass email at 4:40 p.m. ET with the results of the UFC 146 news conference tests. Twitter went wild. At 6:15 ET, Mir released a statement via email saying, "I would be excited if given the opportunity to compete for the UFC's heavyweight title at UFC 146 if the reports released earlier today regarding Alistair Overeem failing his "A" sample drug test are true." Mir went on to say it's a dream of his to be the first three-time champion. He swooped in quicker on a dangling title shot than he did on Antonio Rodrigo Nogueira's ill-placed limb.
His case:
How many times have we heard Dana White say he admires it when guys step up? That's what Mir's doing. A no-hesitation lobby job, knowing that out of the full panoramic spectrum of heavies he has the best credentials to get the shot, having won three in a row. He also snapped dos Santos' friend Big Nog's arm, which makes him a sort of dark cloud gathering over the champion.
Chances of him getting it:
2-1
Cain Velasquez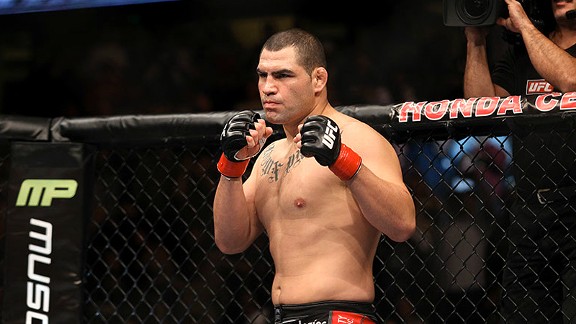 Ed Mulholland for ESPN.comWould a fully healthy Cain Velasquez fare better in a rematch with JDS?
Velasquez had the belt for 13 months, but lost it in the 64th second of his first title defense against dos Santos. How's that for anticlimax? Though a rematch between Velasquez and dos Santos might appear sort of uninspired, the fact is, there were conditions.
His case:
Velasquez was dealing with a bum knee that night in November, but couldn't back out of a fight that was hyped as the biggest thing since Frazier/Ali across FOX platforms. It was a red carpet affair, the long-stemmed aperitif to the seven-year network deal, the bonus bout meant to tempt the semi-curious masses into peeping. Whether coaxed or not, he went through with it, and lost. Everybody knows we didn't see the best Cain Velasquez that night, just as everybody knows we probably would this time through.
Chances of getting it:
3-1
Mark Hunt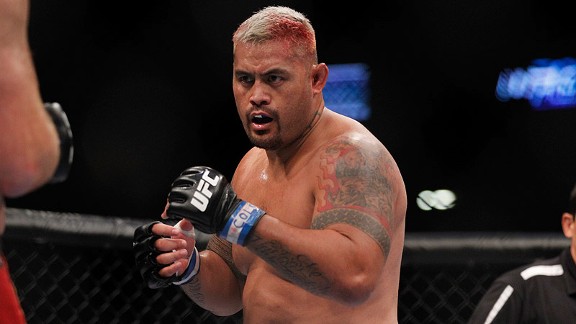 Ross Dettman for ESPN.comBack in the hunt: Could Mark Hunt be in the running for a shot at Junior dos Santos?
It seems ridiculous to even type Mark Hunt in this space, but Hunt is a fan favorite and a surprisingly popular choice for the gig. Have people lost their marbles in wanting to see a resurrected 38-year old New Zealander step in there with the champion? Is this not a meritocracy? The answer is no: This is a pinch. And so long as Hunt is a nice guy, a long-shot Cinderella and a bad basher to boot, he'll get the sentimentalist's vote. We're a nation of softies.
His case:
Hunt was a liability to the UFC when he came over, a barnacle on the Pride purchase. Hunt lost to Sean stinking McCorkle in his Octagon debut, further exacerbating the situation. Then the unthinkable started happening. Hunt knocked out
Chris Tuchscherer
, decisioned
Ben Rothwell
, and then flattened
Cheick Kongo
. Talk about resuscitation! And here we thought we had lost him.
Chances of getting it:
15-1
Dan Henderson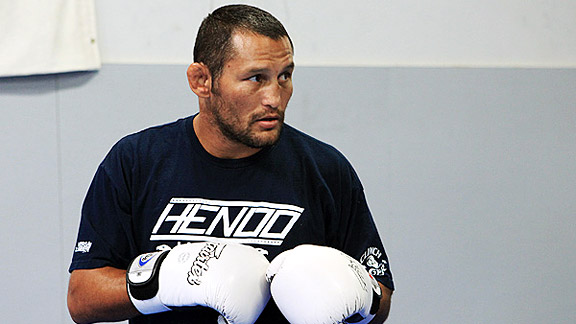 Sherdog.comDan Henderson has never been one to pass on a challenge -- or a big payday.
Henderson as a candidate sort of slowly dawned on people. It went like this -- "Henderson? LOL!" to "isn't he waiting for
Jon Jones
-
Rashad Evans
to play out?" to "you know something, that dude's batty enough to do it" to "Hendo would plant JDS into the soft earth!" The truth is, Henderson has flirted with the idea of fighting at heavyweight -- which he's done before, most recently against
Fedor Emelianenko
in Strikeforce -- and he doesn't concern himself with the usual neuroses of modern day fighters (short notice, size discrepancies, JDS's mangling hooks). Why? You tell Henderson he can't do something, he gets defiant. It's his most admirable trait. And he likes money, which is his more cliché one.
His case:
Besides willingness? He wouldn't have to cut weight. He could still feasibly keep his spot in line at light heavyweight regardless of outcome with the relative meshing of schedules and the dearth of viable contenders behind him. Remember that he fought
Quinton Jackson
(205) and
Anderson Silva
(185) in back-to-back title challenges in 2007-2008.
Chances of getting it:
12-1
Fedor Emelianenko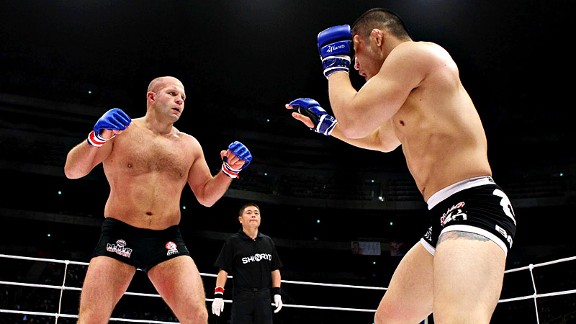 Susumu NagaoFedor might have the same aura he once had, but he still has the legions of fans.
This is more of a fan's choice than a UFC one. Dana White reluctantly gave into the idea of signing Emelianenko a couple of years ago, offered him wheelbarrows of cash that would turn other comparable fighters faces purple with rage, and was rebuffed. White's assessment then -- that Fedor's people were crazy and crooked -- is probably his assessment now. Negotiations between M-1 and the UFC ride along the Cold War divide. But given that White's running refrain has always been to give the people the fights they want to see, you can't just accept it as impossible. Fedor still has his legions. He still sells.
His case:
What, beating
Jeff Monson
over the course of three rounds doesn't say it all? Flattening
Satoshi Ishii
doesn't carry the right momentum? The "Last Emperor" and a million loyalists care what you think. And besides, the idea of Fedor against
Junior dos Santos
has something beyond novelty appeal. In the spirit of a fight, it has actual curiosity.
Chances of getting it:
About the same as the Ukraine opening up Chernobyl as a tourist attraction next week.
November, 5, 2009
11/05/09
3:03
PM ET
It's been more than three years since Mirko "Cro Cop" Filipovic has looked even remotely dangerous, but that isn't preventing the UFC from capitalizing on his foreign-territory fame: The stoic kickboxer looks to have a date with Ben Rothwell in Australia on Feb. 21.
You know how this goes: Filipovic will swear up, down and sideways that he's changed his training, mentality or diet, resulting in a "new" fighter. He will proceed to deflate everyone with a lethargic, ineffectual performance that adds nothing to the heavyweight division or his career. Considering his recent UFC appearances, this is pessimism he's earned.

October, 26, 2009
10/26/09
10:47
AM ET
No amount of complaining, debate or controversy will change the fact that Lyoto Machida entered Staples Center as the light heavyweight champion and exited the same way during Saturday's UFC 104 event. He's 16-0, and only a positive drug test -- unlikely at best -- will change that. It is what it is.
Tweet, tweet
Don't miss a moment of the latest MMA coverage from around the world. Follow us on Twitter and stay informed.
Join »
But the fight result tells an incomplete story: The "unanimous" decision for Machida doesn't apply if you count fan reaction, with many in the media and on the couch believing Mauricio "Shogun" Rua had edged him out. (I had the fight 49-47 for Rua, with a rare-but-allowable 10-10 first round and Rua taking all but the third.) Rua found a home for his kicks to the torso with increasing accuracy; Machida parried and landed with less frequency. Watch the entire fight over without trying to measure strikes and see how often Rua comes forward while Machida steps back. Aggression counts.
There was no "robbery" and Lee Murray was not seen fleeing the arena. Rua may have appeared to look better than he did because we've grown accustomed to Machida operating in complete control. Rua has a right to be upset, though: He should've woken up next to something beautiful and shiny Sunday morning.
Next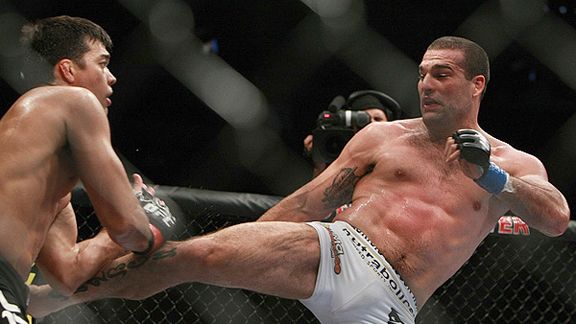 Dave Mandel for Sherdog.com Mauricio Rua's aggressiveness should have counted for more in the judges' eyes.
Next for Machida: Rounds 6-10 with Rua.
Next for Rua: Rounds 6-10 with Machida.
Next for Cain Velasquez: A shot against the Brock Lesnar-Shane Carwin winner on Nov. 21. (If Carwin deserves his bid, so does Velasquez.)
Next for Ben Rothwell: A sponsor other than Extenze, and possibly Antoni Hardonk or Roy Nelson.
Next for Anthony Johnson: Stomach stapling. Paul Daley.
Awards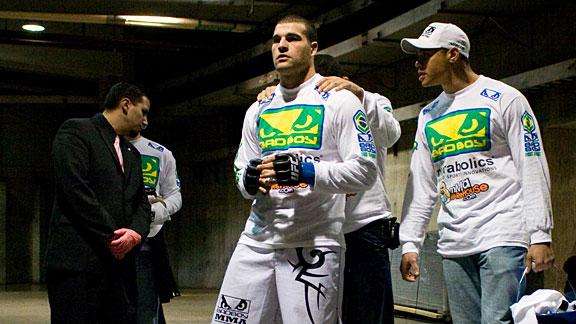 Josh Hedges/Zuffa/UFC "Don't hold out, Mauricio. Show us that airplane move you do when you get hit in the stomach."
The-MRI-fund award: Eric "Red" Schafer, for taking a disturbing number of blows to the head -- and then fighting for 10 more minutes. No more Kazushi Sakuraba footage for you.
The zoom-zoom-airplane award: Mauricio Rua, for getting staggered by Machida and then making the body-language gesture for airplane wings. (It would've been better if he had made the propeller noises.)
The I-don't-care-about-the-camera award: Rua, for looking incredibly morose backstage after the bout, like a title had been stolen from him and an orphanage had just blown up.
The building-cannot-contain-this-much-mediocrity award: To Ashton Kutcher, Demi Moore and David Spade, some kind of unholy trinity responsible for movies I wouldn't watch in solitary confinement.
New questions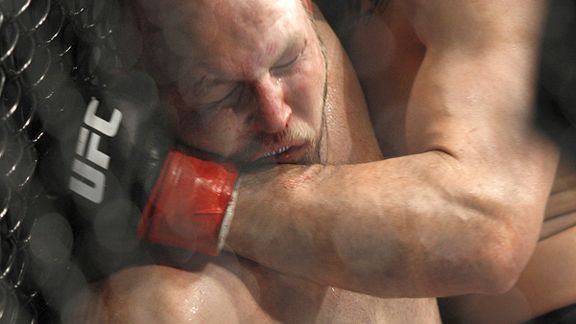 Ed Mulholland for ESPN.com "Your striking is no good here, Ben Rothwell."
Q: Will the UFC get philanthropic about the Machida-Rua rematch?
A: The last time a main event was marred by questionable ruling, Ken Shamrock was forced to get his head thumped by Tito Ortiz a third time -- on free television. If the UFC is looking to tranquilize fans upset by the outcome, airing the rematch on Spike would do it. "Manswers" plugs are a small price to pay for closure.
Q: Do heavyweight strikers have a chance?
A: While a sizable number of athletes in lighter-weight classes can wrestle and kick with near-equal credibility, style versus style is very much a factor in the heavyweight division. Ben Rothwell was bulldozed by Cain Velasquez, a fate shared by Cheick Kongo; two grapplers -- Shane Carwin and Brock Lesnar -- are set to decide the titleholder in November. If heavyweights still operate in one dimension, we generally know what grapplers do with strikers: this division could begin to resemble the NCAA finals, and soon.
Q: Should Anthony Johnson's fight have been canceled?
A: Commissions normally make a one-pound allowance for nontitle affairs; Johnson weighed in at 176 for a 170-pound bout against Yoshiyuki Yoshida, which was a greater differential than it appears. If Johnson couldn't cut six pounds, he was straining his own credibility. Someone should have put him on a scale five minutes before the fight, just to rub it in. Victory via glycogen isn't that impressive.
Q: Does Cain Velasquez have power?
A: Beat a guy bad enough to take his wallet -- if he had one -- and it's still not enough for some observers who criticized Velasquez's inability to deliver definitive loss of consciousness to his opponents. (Ben Rothwell, alarmingly, could still stand up at the time of the stoppage.) A 240-pound man is going to be able to hit and hurt whatever he wants; but Velasquez, still just 7-0, may not have fully adapted to a style yet. Chuck Liddell won three fights in a row by decision before going on an 11-bout T/KO streak.

This and that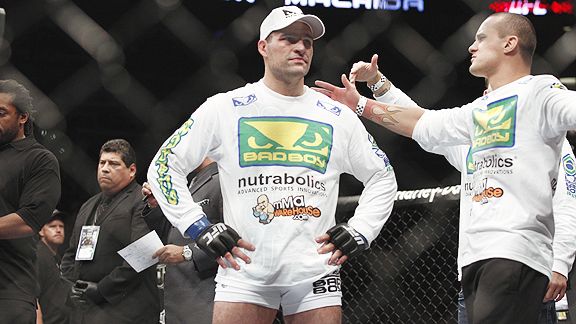 Ed Mullholland for ESPN.comMauricio Rua has no one to blame but himself (and maybe his corner) for losing to Lyoto Machida.
• During the postfight press conference, Mauricio Rua said his team had assured him he was winning the fight and he didn't feel the need to press the action. When you want objective scoring, maybe stay away from your own corner…
• No major media outlet on my radar scored the fight for Machida; athletes Twittering didn't express any support for the champion, either: Frank Trigg and Jorge Gurgel used the word "robbed." Strikeforce lightweight Josh Thomson voiced minority attitude: "Machida won. You have to beat the champ to be the champ." …
• Pat Barry knocked out $120,000 in bonus dough, taking $60,000 each for KO of the night and fight of the night against Antoni Hardonk …
October, 23, 2009
10/23/09
10:41
AM ET
In 2007, when Pride folded into the origami shape for failure, Mauricio "Shogun" Rua took his 16-2 record to the UFC, where he was expected to beat his chest atop a pile of corpses.
Instead, he was thoroughly battered by Forrest Griffin and barely eked out a win against a man 15 years his senior in Mark Coleman. Knocking out Chuck Liddell, the new statistical norm for that fighter, resulted in confidence that the "old 'Shogun'" had returned. It also resulted in a title shot. Not exactly a walk through the gates of fire, but OK.
I remain skeptical, mostly because "old 'Shogun'" is a nightmare of punctuation and I loathe typing it, but also because he has looked good for roughly five minutes of a 35-minute UFC career. Oddsmakers believe he has only a 33 percent chance of defeating Lyoto Machida, whose base style of karate should have given him only a 0.005 percent chance of success in the sport. So maybe odds aren't everything.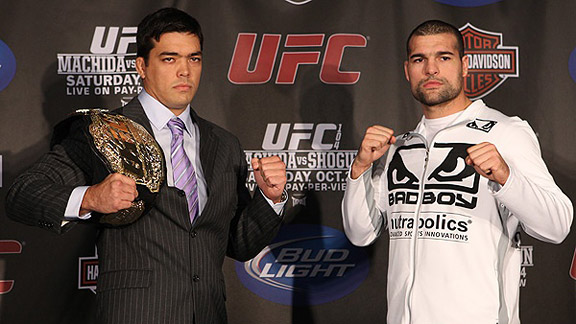 Dave Mendel/Sherdog.comLyoto Machida and Mauricio Rua won't have to look far to find each other Saturday.
What: UFC 104: Machida versus Shogun, an 11-bout card from the Staples Center in Los Angeles
When: Saturday, Oct. 24, at 10 p.m. ET on pay-per-view, with a live preliminary show airing on Spike at 9 p.m. ET.
Why you should care: Because Machida is the closest thing we have to a profound, peerless Martial Artist (capitalization intentional); because whether "Shogun" has found his old form or not, he will make it exciting; because Ben Rothwell is going to force Cain Velasquez to scramble and work like hell to overcome his size; because judo remains an underrepresented style in MMA and Yoshiyuki Yoshida can counter Anthony Johnson's stand-up with the highly technical ploy of dumping him on his head.
Fight of the night: Machida's unblemished record raises stakes for every second he's in the ring; Shogun will stay in his face.
Sleeper fight of the night: Joe Stevenson-Spencer Fisher: Three rounds of Fisher getting scooped up and then working overtime on the feet to compensate.
Pre-emptive complaint: Chael Sonnen-Yushin Okami might be a concentrated effort to keep blood pressure among viewers steady; Okami, talented as he is, makes Ricardo Arona look like Jet Li.
Hype quote of the show: "I just saw what he wrote about me, and I am going to punch him in the face for that, plain and simple." -- Fisher on Stevenson's verbal warfare. At least he's not in Fisher's head.
BAM (Back Against the Mat): UFC 104 Edition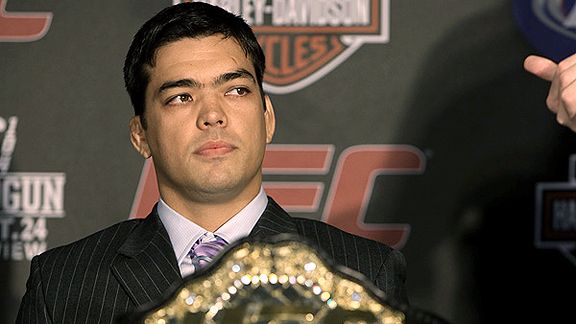 Sherdog.comDefending his title and unblemished record will be added pressure for Lyoto Machida.
Guys with more to lose than just teeth.
Lyoto Machida: The 15-0 record is a pressure cooker -- without the "unbeatable" tag, would Machida's eccentric style be as captivating?
Joe Stevenson: A strong UFC start was sidetracked by the B.J. Penn loss; Stevenson is 2-2 since that bout. To flirt with the top of the ladder again, beating Spencer Fisher isn't optional.
Yushin Okami: On numbers alone, the 7-1 Octagon record should have earned Okami a title shot against Anderson Silva. Beating Chael Sonnen decisively could make him harder to ignore (although both fans and the promotion are doing solid work on that front).
"Saw VI": "Saw V" was the "Au Revoir Les Enfants" of movies featuring fake and displaced intestines. Expectations are high.
Five Questions: UFC 104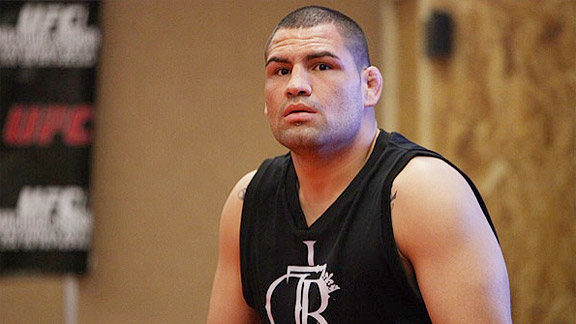 Dave Mandel /Sherdog.comWill Cain Velasquez be biting off more than he can chew when he meets Ben Rothwell?
I don't have the answers. Watch the show.
Q: Is Muay Thai the right answer for Machida?
A: In 15 career fights, the UFC's light heavyweight champion -- or as pronounced by Machida himself, champeeon -- has rarely been tested by a high level of Muay Thai. Thiago Silva has good stand-up, but few wins against top opposition; Sam Greco, virtually a pure kickboxer, took Machida the distance in 2004, but also outweighed him considerably. There's not much precedent to draw on.
Rua is a Muay Thai Tasmanian devil -- all arms and legs. Aggression and accuracy could be a proper solution to Machida's head movement. So could a hammer. Rua can pick only one Saturday.
Q: Does Rua deserve his opportunity at a title?
A: A multiple-time felon of Pride -- suspected in several attacks on mismatched Japanese -- Rua has looked underwhelming in his UFC bid. A knockout over Chuck Liddell was a claimed return to form, but Liddell's descent is a poor marker of recovery. Has the lack of other deserving challengers created a fight that shouldn't really be happening?
Q: Is Cain Velasquez being brought up too quickly?
A: Talk of title shots and gym terrors makes Velasquez sound like a seasoned artist, but he's only six fights into a career that's expecting him to perform as if he's had 20. The inexperience showed against Cheick Kongo, who found his chin on multiple occasions. Ben Rothwell is a big test: hard to handle standing or grounded, and a fighter who has gotten into deep water against Andrei Arlovski and others without wilting early. Velasquez might very well be the next heavyweight champion -- but he could very well lose this fight.
Q: Is Anthony Johnson Georges St. Pierre's next problem?
A: Barren: One way to describe the UFC's welterweight division in the presence of St. Pierre, who has rendered virtually every contender demoralized. That's why fresh talent like Johnson makes for compelling television: Depending whom he fights and how he fights them, he could be shaping up to present problems for the champion -- particularly if he has some answers for the clinch and ties of Judoka Yoshiyuki Yoshida. (Staying upright against GSP improves your night substantially.)
Q: Are Spike's live preliminary broadcasts a risk?
A: Basic cable wafflers might be persuaded to order UFC 104 Saturday based on the quality of the preliminary fights offered during a one-hour special on Spike at 9 p.m. ET: Ryan Bader will take on Eric Schafer, and Antoni Hardonk will face Pat Barry. Good fights sell events, but a stinker -- a statistical possibility if every major event picks up this tactic -- could turn off fans who can't spell "Machida" without cheating.
Red Ink: Machida versus Rua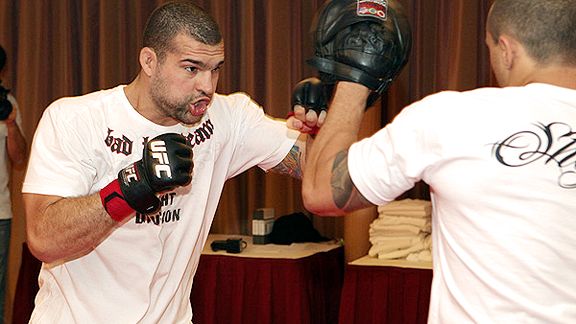 Sherdog.comShould fight fans expect the old Shogun or an old Shogun come Saturday?
Machida fights two wars in Saturday's UFC 104 main event in Los Angeles: the war against Rua, and the war of perception that this Rua might not be the same one we remember.
Rua, once believed to be the most promising 205-pound athlete in the world, has looked human in recent outings against Mark Coleman and Forrest Griffin. He believes -- and fans believe --knee surgeries have corrected his cardio and aggression issues. What they might not correct is his tendency to take a punch in order to give one. In Machida's case, he's not open to a fair trade.
In Rua's favor: Machida's relative inexperience dealing with jiu-jitsu in live competition. Rua is not Rickson Gracie, but he's grades above Tito Ortiz, who sank in a triangle choke on Machida in 2008.
Might look like: Machida versus Thiago Silva, a snub-nosed striker swinging at air while Machida laughs quietly to himself and waits for an opportunity to resurrect 5,000 drafty karate schools around the country.
Third-party investor: Anderson Silva, who might be persuaded to fight Rua if pal Machida comes up short.
Who wins: I would love to be contrary and spin an elaborate scenario that results in Rua winning. But I can't. Someone will figure Machida out eventually, but Rua -- no master of the rigid game plan -- isn't the guy to do it. Machida by TKO.