February, 21, 2013
2/21/13
4:13
PM ET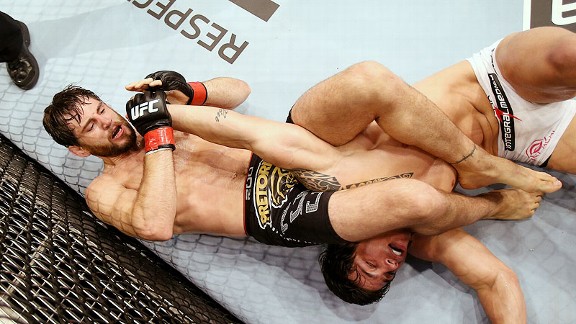 Josh Hedges/Getty ImagesNow with WSOF, Jon Fitch promises to be a more aggressive and exciting fighter.
What does it say when
Jon Fitch
-- one of the winningest welterweights ever to roll off the assembly line -- gets cut by the UFC? Primarily that the UFC doesn't necessarily view winning "by any means" as an avenue for sustained success.
Not in 2013, anyway. Not with television deals and an influx of Strikeforce talent and so many cards bursting at the seams with so many bouts.
Success is multifaceted and involved and actually very simple. The idea is this: Entertain us. Success is powerful fists and hospital visits and charisma and whatever it is
Cub Swanson
does -- all
supported
with a few wins.
Fitch doesn't do pageantry, and he doesn't do brawls. He shows up disheveled and ready to roll. In fact, he became his own verb in his seven years with the UFC. To be "fitched" was a real and particularly unenviable thing for those who signed on to fight him. It was a form of nihilistic wrestling into ground-and-pound. Fitch "fitched" such commodities as
Thiago Alves
,
Ben Saunders
and
Mike Pierce
. He rained ice picks on
Paulo Thiago
's steel chin, before getting classically "out-fitched" by
Demian Maia
.
He has always been about endurance, and that's the problem. Fitch is the dictator with the snarl, the original "grinder."
Chris Wilson
, who knew the score heading into his UFC 82 bout with Fitch, once said to me with a certain kind of sly reverence: "What's he going to do? Summon the wind?" No. Fitch summons something more physical. At his vintage best, he dishes up 15 minutes of utterly hopeless futility.
And that futility, unfortunately, extends to the spectator -- which is why today he's holding a pink slip with a UFC record of 14-3-1. It's not that he's breaking the bank to get $65,000 in show money, or that he had that whole flare-up back in the day with the UFC over video game rights (though these could be factors). It's that he dominates people in forgettable fashion. He shuts down judo players, slick jiu-jitsu artists, dynamic strikers and kickboxers with industrial cold. Now he's gone (as you and I know) because of it, and we're left theorizing if he and
Ben Askren
are destined to nullify each other for five rounds in Bellator.
[+] Enlarge
Gary A. Vasquez/USA TODAY SportsJon Fitch's ho-hum performance against Demian Maia was the last straw for the UFC.
Fitch, along with such veterans as
Vladimir Matyushenko
,
Mike Russow
,
Josh Grispi
,
Che Mills
,
Paul Sass
and others were cut from the UFC in a roster dump.
Jacob Volkmann
was on that list, too, despite winning six of his last eight bouts as a lightweight. His problem? He bears a Fitch-like resemblance to you know who.
Other than Fitch, these cuts aren't so much unexpected as they are declaratory. The message is get busy thrilling, or get busy Bellatoring. Be something that everybody wants to watch, or be someplace else. If you're not captivating, then you're a problem elite. You are Jon Fitch, the perennial contender who of late has ironically A) begun to lose while B) fighting more excitingly.
That's why, all things considered, the timing is a bit strange. Fitch goes 1-2 in his past three fights, and it becomes a good opportunity for the UFC to part ways. But look at those three fights. There was the knockout he received at the hands of
Johny Hendricks
(which was memorable, particularly as Fitch tried to single-leg referee Steve Mazaggatti as he came to). Then there was the
Erick Silva
barnburner in Brazil, where he appeared rejuvenated and determined to put on a show. That won "fight of the night" honors. And finally the Maia bout, which was a letdown. He was outclassed by a Velcro version of his former self. But before that he was 13-1-1, which screams out for the Hall of Fame.
Did he deserve to be cut? No. The spirit of mixed martial arts is (presumably) to present a gamut of styles in the cage, to see whose is best. Fitch has been solid for a long time. In fact, he's been dominant. His style trumps most others. But he's so good at one-sided full-length fights that we have him dialed in as aggravatingly predictable.
Obviously, the UFC is frustrated with him as well, to the point his name has now taken on a new meaning. "Fitch" in adjective form has become just another word for expendable.
March, 31, 2012
3/31/12
11:40
AM ET
UNCASVILLE, Conn. -- Heading into Bellator's welterweight quarterfinals on Saturday, Karl Amoussou's match-up with Chris Lozano looked like the toughest draw of the field. That was one of the reasons it was the main event as the Season 6 tournament got underway.
It also didn't hurt that Amoussou was telling whoever would listen beforehand that he would knock out Lozano.
Things didn't work out that way in the end, but the Frenchman Amoussou (14-4-2) still dusted his hands off early with a rear-naked choke of the "Cleveland Assassin." And ultimately it was a big kick that lowered the boom on Lozano to set up the sequence.
"Of course I'm happy with the submission," Amoussou told ESPN.com afterward. "The important thing for me first is to win the fight, even if it's a decision. It's important to win. Of course, when I finish a fight, it's better. But I made a big knockdown with my high kick and my submission came very easily after that, so, you know, I'll take it. And I'm glad of it."
Amoussou, who up until five months ago was working as an undercover police officer in his native France, was originally slated to face War Machine (formerly Jon Koppenhaver) at Bellator 63. But with Machine having been sentenced to another prison sentence stemming back from an assault charge in 2009, this time in the state of Nevada, Amoussou drew Lozano instead. Lozano has been training at Greg Jackson's in Albuquerque after having been knocked out by Douglas Lima in October in the Season 5 welterweight semifinals.
Whether it was Lozano or War Machine, the "Psycho" was going to talk. Before he and Lozano squared off, the two exchanged words during a heated staredown.
What were they saying?
"Just 'hi, how are you,'" laughed Amoussou. "But seriously, I don't really remember."
And once the fight got started, it didn't take long for Amoussou to settle matters. In fact, similarly to when he fought Jesus Martinez in November in a 175-pound catchweight fight, Amoussou walked away in the same mint condition that he arrived.
[+] Enlarge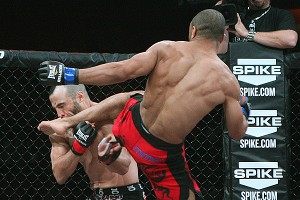 Keith Mills/Sherdog.comKarl Amoussou's high kick spelled the beginning of the end for Chris Lozano.
"I felt great," he said. "I didn't get touched even once in this fight. It was the same in my last fight, so two fights without even getting hit with a punch. I'm showing good things now. People should get ready for the next Bellator champion, and it's going to be me."
That would be novel -- there's never been a French MMA champion in Bellator. And if there is a dark horse in the welterweight tournament, it might be Amoussou. He lost a narrow split decision in his Bellator debut in May 2011 against Sam Avery, but at just 26 years old he's showing a lot of new wrinkles in his game -- especially now that he has switched to fighting full time.
And it's down to a four-man field, featuring UFC veteran Ben Saunders, Bryan Baker and David Rickels. Asked if he had a preference who would be next, Amoussou admitted he didn't care. The reason? He's confident he matches up with anybody they stick in front of him. When Baker strolled by Amoussou in the bowels of the Mohegan Sun sporting a nice suit, a happy Amoussou yelled out to him, "Bryan Baker, you're so handsome."
Baker smiled. Who knows? The former middleweight could be standing opposite Baker in the semis. But on Saturday night in Uncasville, after making quick work of Lozano with nary a scratch, the Frenchman traded in the barbs for some pleasantries. It probably won't last. Whenever his next opponent is announced, Amoussou will be back in the business of forecasting knockouts.
"Tonight I showed my real level and at the same time I can tell you, I didn't show half of my level," Amoussou said. "I have so many things that I can bring. Just be ready for more action next time."
March, 29, 2012
3/29/12
6:09
AM ET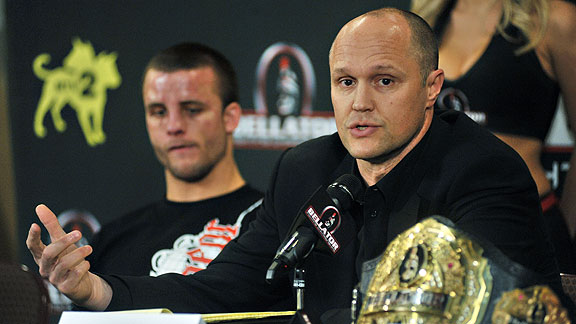 Henry S. Dziekan III/Getty ImagesWhile Zuffa catches its breath, Bjorn Rebney and the boys at Bellator have picked up the slack.
UNCASVILLE, Conn. -- Through the first couple of weeks of Bellator's quarterfinal brackets we've witnessed some peculiar things. There was last week's rarely seen Von Flue choke, courtesy of lightweight Brent Weedman -- and that came on the same night that Lloyd Woodard emerged from the woodwork to upset
Patricky Freire
. The week before that, we saw Brian Rogers down Vitor Vianna with a flying knee from Hades. The thing was executed with such diabolical ease that it almost looked
unspectacular
.
And before that,
Pat Curran
totally anesthetized
Joe Warren
to become the promotion's featherweight champion.
In other words, Bellator has a built up a good head of steam while Zuffa catches its breath. Things continue along this weekend on the Mohegan Reservation, a roped off part of the state of Connecticut where MMA is perfectly legal. This time it's the welterweights, where there's always intrigue to be found regardless of the promotion.
For starters, everybody with Bellator tournament experience in the eight-man field is coming off a brutal loss. Chris Lozano got KO'd by Douglas Lima. Ditto UFC veteran
Ben Saunders
. Bryan Baker was TKO'd by Vianna. There's a lot of gnawing within the guts of the promotion's best-known guys. Meanwhile, David Rickels (3-0 in Bellator) will use his prelim experience and try his luck in the brackets.
As for everybody else? They are all debuting. And of everyone in the field, perhaps none is more interesting than Baker, who has been training at Greg Jackson's and is cutting down to 170 pounds for the first time. He will be fighting Carlos Pereira.
"I was a lighter fighter [at 170]," he said at the open workouts. "I used my speed, and I have power, and so I was able to hold myself as a middleweight. I was able to use my speed with my quickness against heavier opponents. But now it's time for me to be the heavier opponent, to stand in the middle of the cage and not be so worried about trying to move and worry about power. I can really stand the power at welterweight and I can make them fear my length more and just really own the cage."
Each time Baker fights he defies odds, having already battled through leukemia (which is in remission) and a couple of tournaments as an undersized middleweight. Now he's wiser, lighter and in tune with the most essential cliché of them all -- that is, he's taking it one fight at a time.
"I'm not sure who it's quoted by, but my little brother told me, 'it takes skill to want to fight, but it takes character to repeat.' That's pretty much where I'm at. I'm just going to go and win this fight, and it's in my character to be a professional to be where I need to be and continue winning."
Saunders revs up for second run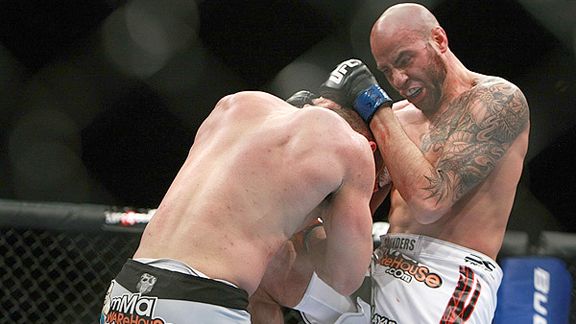 Dave Mandel/SherdogBen Saunders has put his dangerous Muay Thai game to good use in the Bellator cage.
After losing to insistent wrestlers in
Jon Fitch
and
Dennis Hallman
and subsequently getting released by the UFC, Ben Saunders went on a four-fight winning streak. That all ended when Douglas Lima stopped him at Bellator 57 in the welterweight final. Now he's back to square one as he sets for his fight with Raul Amaya, an undefeated fighter (9-0) who has finished everybody he's faced.
Saunders, who has one of the most sadistic Thai clinches in the sport -- one in which he uses all eight limbs gratuitously (as evidenced the last time he fought in Connecticut against Matt Lee) -- says that martial arts is a game of perpetual acquisition. So don't be surprised if he breaks out some wrestling and goes for the takedown against Amaya if it's there, because, hey, this game forces you to evolve.
"I'm going to be improving everyday," he says. "I'm never going to be a master of martial arts. I'll never be a master of my style until I die. There's always going to be something new that I can learn, so I've got to take [my losses] with a grain of salt. You learn more from a loss than you do from a win and it just made me more hungry."
Prindle/Konrad possible for April 13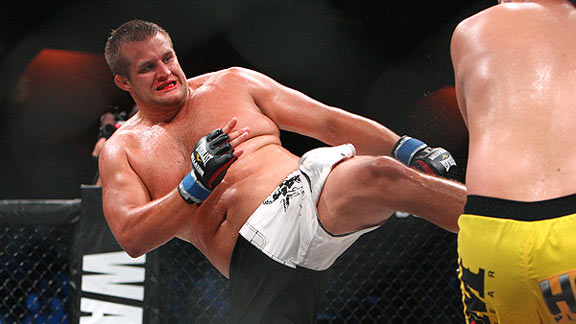 Sherdog.comAfter a series of twists and turns, Cole Konrad is finally closing in on an opponent.
It seems like heavyweight champion
Cole Konrad
has been waiting for resolution in the Eric Prindle/Thiago Santos saga forever. Realistically, it's only been a couple of months, and after many bizarre twists and turns, stubborn weight cuts and flu-like symptoms, it'll be Prindle who gets the nod to challenge Konrad. When is it going down? According to Bellator officials that fight could take place on the April 13 Bellator 65 card in Atlantic City. That's the same night that the company's smallest men -- the bantamweights -- kick off their quarterfinals.
How's that for size discrepancy on a card? Konrad walks around the size of two Marcos Galvao's and change.
Amoussou the former undercover cop
Karl Amoussou was an undercover officer not all that long ago, bringing robbers and drug dealers to justice in his native France. Obviously this would have made for an amusing back-story if he'd gotten his original opponent at Bellator 63, the always colorful War Machine, instead of Chris Lozano. As has been much publicized, Machine was re-incarcerated before making his Bellator debut against Amoussou. This whole "cop versus delinquent" thing that never happened wouldn't have mattered to Amoussou inside the cage, anyway.
"Yeah, I don't care," Amoussou said. "I plan to do a normal fight so what he does outside is his problem, I don't care."
April, 4, 2011
4/04/11
6:58
AM ET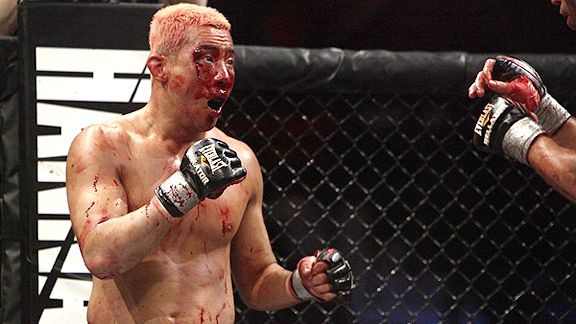 Dave Mandel for Sherdog.comAsk Matt Lee if Ben Saunders can punch, but don't ask if he learned yet how to grapple.

If Ben Saunders could tailor his opponents to approach him like Matt Lee did at Bellator 39 -- or Marcus Davis before him, or Brandon Wolff before him -- he'd be mixed martial arts' biggest star. That's what happens when your Muay Thai comes off like a penitentiary offense and you have nearly 78 inches of compacting arms. Guys come out of fights like the lone survivor does at the end of slasher movies: bloodied, traumatized and fundamentally changed.
But Saunders was "Swicked" long before he was "Fitched." And then Dennis Hallman stole the blueprint. You take Ben Saunders down, you beat Ben Saunders. It's black and white. That's why "Killa B" is now in resurrection mode with Bellator.
For one fight, Saunders looked exactly how you'd expect him to look: Exciting. Problem is that even in Bellator, all roads lead to a grappler -- in this case, Ben Askren, a lanky, super-athletic wrestler who can staple guys to the mat with relative ease. If recent history in MMA has shown us anything it's that smart wrestlers usually neutralize optimistic maulers.
So it wasn't what we saw at Bellator 39 when Saunders beat Matt Lee to the point of a third-round doctor stoppage, it's what we didn't see. Is his wrestling in a better place now than it was a year ago? Enough to compete against Askren? This is the question that his relevancy hinges on.
"If I fight [Askren], I guess we'll see where my wrestling's at," Saunders said after his fight with Lee. "It really comes down to basic fundamentals, just like anything. Striking, jiu-jitsu, whatever. As long as you have basic fundamentals and you're good at it, you can nullify what they're trying to do."
[+] Enlarge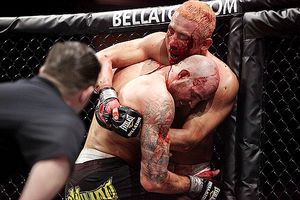 Dave Mandel/Sherdog.comBen Saunders has no issues tearing through opponents when they're standing and obliging.
A fight with Askren isn't imminent, but Saunders says in the seven months since he was cut by the UFC he's gone back to basics while getting more into the spirit of his Jeet Kune Do concepts. One of the main tenants within those concepts is unpredictability. So far in the 26-year-old's early career, he's been anything but. That's why Saunders says he has broken out the virtual singlet and trained wrestling just about every day since losing to Hallman at UFC 117 and, ultimately, losing his spot in the UFC.
"I've been working with my teammate Ralph Acosta nonstop and he's probably one of the most technical wrestlers I've ever seen and worked with," Saunders said. "Visually, and from a third-person view, the passion he has for wrestling is the passion I have for Jeet Kune Do. It's been a great combination.
"A crazy statistic is apparently I have been ranked as high as No. 8 or 9 on the UFC roster of best takedown defense," he said. "That's kind of ironic. But at the end of the day, I've fought some of the best in the world in guys like Jon Fitch. He does what he did to me to everybody. When I make it back to the big show, I'm going to make it back with a bang like I did tonight."
That is likely, if the fighters come at Saunders as Lee did. But in a landscape of top-tier wrestlers and handlers with plenty of tape to go by, chances are opponents are going to demand proof of his work. Saunders likes to fight to audiences' tastes. That is, exciting. Nothing wrong with that. But it remains to be seen if he can do it while thwarting determined wrestlers. Otherwise he'll require fights that fit his style. In other words, predictable.