August, 30, 2012
8/30/12
1:09
PM ET

By Josh Gross
ESPN.com
Archive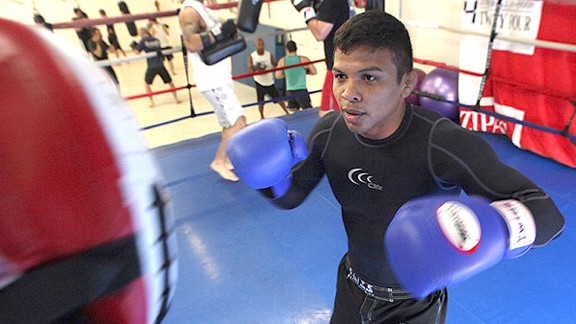 Dave Mandel/Sherdog.comDespite an offer from the UFC, Bibiano Fernandes is moving along his career at his own speed.
Bibiano Fernandes
is inclined to do what's best for him (even if popular opinion is that he's done the opposite) and after hearing his story it's easy to understand why.
Fernandes, a former Brazilian jiu-jitsu world champion and Dream bantamweight grand prix winner, returns to action Friday in the Philippines against Australian Gustavo Falciroli. The contest headlines ONE FC: Pride of a Nation, the fifth event for a promoter that views itself as the emerging force in Asian mixed martial arts.
This is where the 32-year-old Brazilian wants to be, clearly. Fernandes could have been in the UFC. In fact, just two months ago the UFC claimed the top-10 fighter was in their stable. Fernandes, Zuffa said, had a fight at UFC 149. But Fernandes hadn't signed a deal. UFC jumped the gun.
"Everyone got excited about me fighting there," Fernandes said. "People don't know the negotiations. Of course I can go there, but it has to be the right reason.
"The truth is, I made the decision. I made the choice. It's better for me, for my family. I'm already fighting in Asia and have a lot of fans. People know me [in North America] but not as much. Of course I feel it's a good decision -- 100 percent."
Fernandes' life helps explain why.
His mother died when he was 7. Lacking money to take care of his son, Fernandes' father later shipped him from Manaus, Brazil, to the rain forest. He lived simply. Hungry? Time to fish or hunt. Thirsty? Cop a drink from the millions of gallons of fresh water rolling down the river.
"When you're sick, you're sick," he said. "I had malaria there, it was crazy. But life is very peaceful in the jungle. Sometimes when go I back to my city, Manaus, I go there."
Never really knowing his mother. Having been shipped to the jungle by his father. Ahh, of course Fernandes fights. He's angry. He must be.
"Why would I be angry?" he wondered. "My mother passed away, but that's life. I have my life. I had my choice: be angry or enjoy myself. I'm not angry at my father. I'm not angry at anyone. Everything is my choice."
And there it is: Everything is his choice. We should all have Fernandes' sense of free will and determination, even and especially when life's circumstances feel predestined for the worse.
"I didn't have a lot of options," Fernandes said. "My options were to be a good man or a bad man. I said, OK, I want to train and be good. This is inside me. I chose training. I chose discipline. I chose doing good things in my life. That's taken me."
He may have ultimately chosen training, but not until he found it.
When Fernandes was 16, he stared training in the face. Every day. For months, like Charlie pining for a chocolate bar. Then it finally invited him in the door. Fernandes couldn't afford jiu-jitsu classes, but learning is what he wanted. It's what he did gawking at classes from behind a pane-glass window.
A friend was kind enough to pay for a month of lessons. He was in love. And he was good. He tapped out other students like it was nothing. The coach asked Fernandes if he had competition in mind. He did. And he won. But he couldn't afford anything more than he'd already done. Charlie was getting axed from the chocolate factory.
[+] Enlarge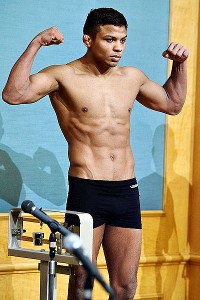 Daniel Herbertson/Sherdog.comBantamweight Bibiano Fernandes headlines the ONE FC: Pride of a Nation card in the Philippines against Gustavo Falciroli.
"I said, 'Listen Coach, I don't have the money anymore. I can't train anymore," Fernandes said. "He told me to come in and clean the dojo. Every day for three years I cleaned the dojo. After classes were over I stayed, cleaned, locked up and gave the key to the coach's mother. Every day for three years. One day my coach said, 'Bibiano, today you don't need to clean the gym anymore. The next boy is coming."
It's among his most important promotions. From 16 to 19, Fernandes lived an almost monastic life dedicated to the soft art of mangling another human.
"I could see everything that would happen," Fernandes said, with a soothsayer's confidence. "I believed I could do it and I did."
He entered MMA in 2004 and jumped in headfirst. Two of his first three fights came against
Urijah Faber
and
Norifumi "Kid" Yamamoto
. He lost both, but he was doing what he wanted. Fernandes won his next seven bouts, stumbled, then took three in a row to capture the Dream bantamweight grand prix at the end of 2011.
"In Brazil people train in lots of sports," he said. "For me sports are big in my life. I wanted to be good at something and I believed I could be good in jiu-jitsu. I dedicated myself and my life to this sport. Training hard, discipline is good."
Fernandes' track in life and the success that sprung from it were more than enough for Zuffa to offer the deal.
"I walk with my foot on the floor," Fernandes said. "I don't fly in the sky. I'm here. I live for this moment. I know my talent. I know I can go fight there."
Yet he chose not to.
"I don't owe anyone anything," he said. "All my life I had a hard time. People can think whatever they think. I have to respect that."
July, 23, 2012
7/23/12
7:05
AM ET

By Chuck Mindenhall
ESPN.com
Archive
Where did UFC 149 go wrong? What was the single, biggest offender?
Oh, where to start. What went on in Calgary was one of those perfect storms.
There was the eccentric that didn't go eccentric (
Brian Ebersole
). There was hype that fizzled before our eyes (
Hector Lombard
). There was a passive observer masquerading as the third man in the cage (Yves Lavigne). There were heavy hands that were never deployed (Shawn Jordan/
Cheick Kongo
). There were gavels that ruled all wrong (
Nick Ring
over
Court McGee
). There was a clear body kick that was mistaken for a groin shot (Josh Rosenthal imagining things with Matt Riddle/Chris Clements).
And there was a perfectly decent main event that suffered the residual wrath.
Urijah Faber
and
Renan Barao
needed to turn the main event into
Dan Henderson
versus
Mauricio Rua
to balance this ledger. As it were, it played out like Urijah Faber versus Renan Barao. The bout was doomed by its predecessors.
But the real problem, of course, was this: UFC 149 was a stretch to believe in to begin with, and it required some faith. Or that should say -- UFC 149 became a stretch to believe in by its fifth and sixth iteration.
The injury bug sapped this thing good and plenty before it got off the ground.
Jose Aldo
,
Antonio Rodrigo Nogueira
,
Michael Bisping
, on down the line.
Bibiano Fernandes
wasn't so much hurt as he was never signed.
Aside from the prelims, the people that the UFC were able to book simply didn't (or couldn't) deliver the goods. Shawn Jordan, the former LSU fullback who had a nice glow to his name coming in, was in a battle of leaning pillars with Cheick Kongo. He's still green and didn't know what to do in the big spot. Lombard was tentative. Ebersole was intending to move to lightweight when he got the call on a few weeks' notice to step in. He did. And he looked like a man who wished he didn't.
Of all the patchwork matches, only Riddle from the main card came correct. His arm-triangle on Chris Clements was cleanly executed viciousness that set a false premise for things to come. The thing that followed was disappointment. Disappointment that Lombard didn't live up to billing. Disappointment that Kongo played clinch. Disappointment that the UFC played fast and loose with people's disposable income.
[+] Enlarge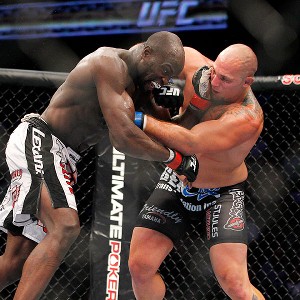 Ric Fogel for ESPN.comHug of war: Cheick Kongo, left, and Shawn Jordan spent more time holding and posing than they did actually fighting.
Even the postfight news conference, where Dana White promised to update us on the bearings of the 185-pound weight class didn't deliver. As for Lombard, who hadn't lost since that
Gegard Mousasi
upkick back in 2006? Nowhere to be found. He wouldn't be made available to scowl at trouble-making media types.
This happens sometimes. Not all cards deliver on the pay portion of the programming. White said it reminded him of UFC 33. Cynics might point to UFC 147. Only difference is, that card was
so
suspect that most people stayed away from shelling out the $50 to watch it. This time, there was an undercurrent of hope that UFC 149 -- for as cobbled and rearranged as it appeared on paper -- could turn into one of those rare gems. You know, one of those cards where White laughs at the people who criticized it beforehand while holding court with the media afterward.
White himself was certain that this card was going to deliver, appearing in Alberta on Thursday as a man who could barely contain his glee. But it couldn't, wouldn't and didn't, which takes turns being nobody's fault with being everybody's fault. When a stinker happens, the people who bought the pay-per-view take it personally, and the crowd on-hand chants "RE-FUND" throughout the main event. The faith of a good product in spite of all the rejiggering came out to $50 and change (more if you ordered in HD). It wasn't what the UFC wanted, nor what the fans wanted.
Everybody is complaining about the same thing from different perspectives.
But we order these fights knowing there's a chance things won't pan out. Look at the response to
Clay Guida
versus
Gray Maynard
on a
free
card. Had that fight been the main event on the UFC 149 PPV, Calgary might have turned into Vancouver after the 2010 Stanley Cup Finals.
It's tricky stuff, this PPV business. The public demands its money's worth. The UFC demands more of its fighters. The commissions demand competence of its referees and judges (or at least should). Everybody demands entertainment. It's a demanding public, and it's a demanding sport, and the UFC is a demanding business.
Yet as we learned on Saturday, demands can be what they want, but there are no guarantees.