October, 27, 2011
10/27/11
12:39
PM ET

By Chad Dundas
ESPN.com
Archive
Las Vegas -- It doesn't look easy, but
Dominick Cruz
can still hold a pen.
Fresh off surgery on the right hand he injured during his bantamweight title defense over
Demetrious Johnson
earlier this month, Cruz is on the mend but still ailing. These days, he's doling out a lot of left-handed handshakes, a lot of left-handed fist-bumps. When he writes his name he's forced to improvise a bit, using a grip with his swollen and discolored right that probably wouldn't win him any penmanship competitions but still gets the job done.
Cruz says it could be anywhere from four to 10 weeks before he's able to punch something again, but the Tucson, Ariz., native now fighting out of San Diego is doing whatever he can to stay active. That means a lot of cardio, rehab and twice-weekly physical therapy sessions that he hopes will speed up the recovery process.
It also means that when Cruz finds himself in Las Vegas for this weekend's UFC 137, he jumps at the chance to attend an out-of-the-way event on Wednesday night, where he and welterweight
Dan Hardy
sign autographs and take pictures with a little more than a hundred local kids and their chaperones at an area Boys and Girls Club.
He does it because while he himself is down at out, Cruz says he wants to do what he can to give back.
"I think this is really important," Cruz says. "Right now, I'm coming off an injury, so rather than being at home, why not come out and help out with the kids and the community? Everybody else works 24/7 and as a fighter, why should I be any different? So this is just a different line of work for me, a way to help the community and a way to do something while I'm on injured reserve."
Few of the fans who attend Saturday night's fight card at Mandalay Bay will venture far enough off the strip to find the Lied Memorial Boys and Girls Club on Vegas' West side. It's a well-hidden, but fairly sprawling facility with gyms and pool tables and a baseball diamond. Volunteers there say the complex gives neighborhood kids a place to go and something to do whenever they need one.
[+] Enlarge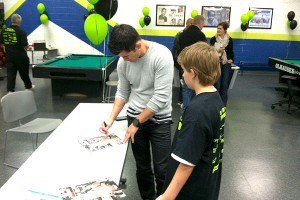 ESPN.comDominick Cruz proved he can dole out more than black eyes by signing autrographs and spreading cheer at the Las Vegas Boys and Girls Club.
According to organizers, Wednesday's "Boys Night Out" event is one of its biggest of the year, where boys who might not otherwise have many positive role models in their lives are paired with local mentors for an evening of special activities. In the spring, they'll do something similar for girls, though tonight has a pretty male-centric vibe.
The SWAT team is here -- complete with a bomb-disarming robot for the kids to inspect -- as is a fire truck and a lineup of hot rods and racecars all parked around the baseball diamond's infield. There are areas for football tossing and soccer dribbling and something called a "sponge race," even if a surprisingly blustery fall evening seems a bit cold for that.
There are also the two UFC fighters, who many of the kids are admittedly becoming familiar with for the first time. Some of the older guys, the mentors -- who fit more neatly into the fight company's targeted 18-34 year-old male demographic -- are the ones who seem more excited to see them at first. Once the word gets out about who Cruz and Hardy are and what they do though, the kids come in droves.
For Cruz, it reminds him a little bit of his own childhood, when he says he spent a lot of afternoons playing basketball at a local Salvation Army after school.
"I never really got to meet a whole lot of pro athletes growing up out there in Tucson ...," he says. "I look at these kids and I remember when I was their age, just running around and how stoked I would have been to see any pro athlete. I would have been in heaven. I try to put myself in their shoes when I come to events like this and just be here for them."
One such youngster sidles up to Cruz midway through the autograph session and timidly asks him for a picture. Before the kid knows what hit him, Cruz pulls him in, throws an arm (his left one, naturally) over his shoulder and smiles for the camera. The kid stands there nearly paralyzed with surprise and awe at the moment.
Afterward, Cruz signs a photo for him and the kid wanders off, dazed, maybe a little confused and grinning ear-to-ear. A minute ago, he may not have known who Dominick Cruz was. Now, he might never forget him.
"It's a good feeling when you see people get hyped up," Cruz says. "Sometimes you forget that you can make somebody's day."
August, 9, 2011
8/09/11
11:09
AM ET
By Gareth Davies
Special to ESPN.com
Archive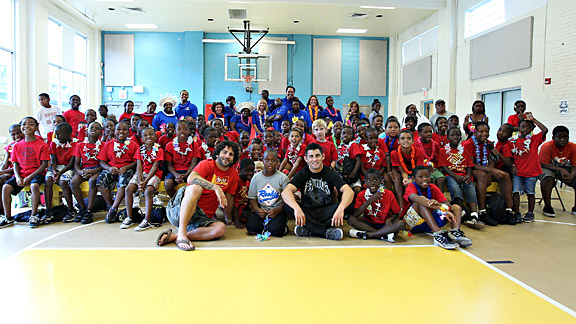 Ed Mulholland for ESPN.comFighting for a cause: Charlie Brenneman and Dominick Cruz performed civic duties while in Philly.
PHILADELPHIA -- Some fights merit greater attention than two men attempting to prove their physical and mental superiority in a combat arena. Victory there is sweet, but transient. Some fights are about life itself.
Just ask anyone from the projects of South Philadelphia.
Dominick Cruz
, the UFC bantamweight champion, and
Charlie Brenneman
, a fast-rising welterweight contender, were chauffeured into Wilson Park Apartments Complex on Friday morning to sample life inside a different cage. They were preaching from the fight gospel, and the message was heard by some 150 teenagers.
[+] Enlarge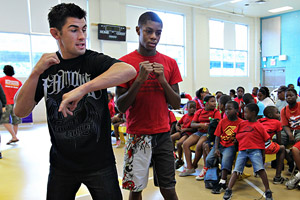 Ed Mulholland for ESPN.comRole with the punches: Kids at the Boys & Girls Club got a lesson in life -- and a quick punching tutorial -- from Dominick Cruz.
There is a shooting in these local-authority housing projects every night. Unemployment is high, hopes are low. Salvation is some way off.
Where MMA at times can be treated like the scruffy cousin of the mainstream sports world, the kids on the block at Wilson Park can identify.
The wider picture to associate with the visit -- which was didactic in the sense that it was to teach that you can be tough, healthy and wise -- is that MMA needs to embed its role with communities, become what the boxing gym once was -- a refuge to change and shape young people's lives which had become twisted and entangled in negative society.
Inside a community room, a fitness center had been set up, and the kids got to work out with
Cain Velasquez
,
Brock Lesnar
and
Georges St. Pierre
on a flat screen. Fun, engaging and geared toward fitness, the workout was followed by a signing session.
Given their penchant for supporting the U.S. military and other charity projects, it makes sense to move the sport into communities which could benefit from it. Civic duties are a win-win, pure and simple.
It was self-evident that the likes of Cruz and Brenneman, who might not be the ideal role models for the kids who sat -- pretty patiently -- listening and asking questions, have the facility to engage with alacrity. Their effect on the real role models -- the 16- and 17-year-old "senior" kids in the project -- is what really counts from this visit.
The summer camp is run by the Boys and Girls Clubs of Philadelphia. Wilson Park is one of 11 units in the city of Philadelphia. The kids who come during the schools' summer break are between 7 and 18 years old.
"These kids are economically distressed, in any and every way you can think of," said Harold Reed, director of the Wilson Park Summer Camp.
Harold, a tall, bright-faced optimist originally from Hawaii, admitted that when he started the camps, he routinely lost his wallet and his phone. Four years on, and he can put a wedge of 20 dollar bills on his desk in his office without nailing them to the table with a claw hammer.
"Sport is a way of teaching young people life skills. The right tools for caring, honesty, trustworthiness -- and perhaps most importantly for these kids -- fairness. Fairness because a lot of these young people don't think that life is fair. We're strict with them. We have to be -- there is a lack of education, lack of jobs ... it's a vicious circle in this community. A lot of these children have good parents, but often those parents can't do that much to help the children."
Cruz and Brenneman advocated a balance between sports and studies.
"School and sport, make sure you do them both ... develop a focus," said Cruz. Brenneman disclosed he had been a Spanish teacher in high school before opening the floor to questions.
[+] Enlarge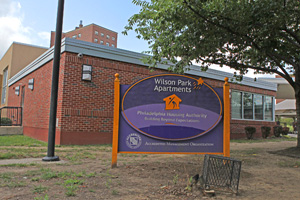 Ed Mulholland for ESPN.comThe Wilson Park Apartments have benefited from Harold Reed's goodwill contributions to the community.
These kids were bright and engaging, but in their body language, you could see they were fighters -- off duty, that is.
"Can you kick people's teeth out?"
"Why did you stop teaching Spanish, what do the kids do now?"
"Do you get afraid being a fighter?"
"How do you compare to Captain America?" Plenty of hilarity.
Reed invited retired nine-time NBA All-Star Dominique Wilkins to the Wilson Park project some time ago. He was a huge hit with the kids, but so too were the fighters. They speak the same language. One of the juniors, Darick Plummer, 11, admits his first love is basketball, but he was impressed with the two UFC fighters. "I thought they'd be mean ... but they were cool."
When the fighters packed up and went home, the older kids had to sustain their mission. You could see there was a respect for the two UFC fighters from the older kids, who will spread the same word in their communities.
"The kids were impressed. You could see that. The fighters presented themselves very well," said Reed.
"It has taken four years to create a culture here, and some of the teens here would be dead now if we weren't doing this. Some of them carry guns to protect themselves. There are warring factions here. This is a sanctuary from those gangs. They cease to be that. Stern but fair ... "
After our time spent in the inner-city projects, in a cab headed toward downtown Philadelphia, Cruz discussed how the visit made him reflect on his own life path. In Tucson, Ariz., he had grown up on the divide, dancing between "the good" and "the bad" sides of town. There are those who have no choice. He'd seen some of them at Wilson Park.
"The greatest lesson in life is realizing that whoever you are fighting, whoever you are up against, the greatest battle is with yourself," Cruz said. "I hope some of the kids in the Wilson Park project get to see that themselves."
We made our excuses and left. But MMA just made a new bunch of friends.