December, 10, 2013
12/10/13
6:23
AM ET

By Brett Okamoto
ESPN.com
Archive
Let me tell you a few things about a UFC crowd.
Guaranteed, if you attend a UFC event, you will, at some point, hear someone yell, "Sweep the leg, Johnny."
It's inevitable. Now that I actually think about it, it's downright stunning how automatic that phrase is at a live UFC show. Every. Single. Time.
If a fighter gets accidentally kicked in the groin, the arena will boo. I've never fully understood if they're booing the guy who threw the kick, the guy who got kicked or just the situation in general. When the replay is shown, they collectively go, "Ohhhhh."
And for the most part, UFC crowds boo flyweight fights. It's a trend that might, hopefully, be dying. A Las Vegas crowd surprised me last month by not booing a flyweight chess match between
Ali Bagautinov
and Timothy Elliott at UFC 167.
It still exists, though. I can distinctly remember the Houston crowd booing
John Dodson
, one of the most electric fighters in the division, at UFC 166 -- and he scored a first-round knockout in that fight. A crowd in Minneapolis booed him last year in a second-round TKO win over
Jussier Formiga
.
And I will never forget the aftermath of the first flyweight title fight in UFC history, which involved the promotion's president, Dana White, standing at the podium during a news conference in Toronto, literally telling potential pay-per-view customers to never purchase his product again if they didn't enjoy it.
[+] Enlarge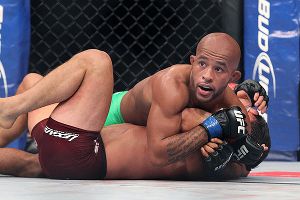 Ed Mulholland for ESPN.comDemetrious Johnson, top, is unapologetic when it comes to his fighting style.
"Let me tell you what," White said, following Demetrious Johnson's decision victory over
Joseph Benavidez
in September 2012. "If you didn't like that flyweight fight, please, I'm begging you, don't ever buy another UFC pay-per-view again."
White, of course, then called the flyweight haters "morons" who "don't like fighting."
Johnson and Benavidez, who meet for a second time this weekend at a UFC on Fox event in Sacramento, Calif., have been asked about a billion times if the boos bother them. Their answer is basically, "not really."
The champion, Johnson, took a defiant stance similar to White's when asked a while back what he would say to persuade a fan to get on board with the division.
"I'm not going to try and sell it. I'm not a mouthpiece," Johnson said. "I'm not going to sell a girl either, like, 'Baby, I'm going to take care of you.' That's not the type of person I am. You don't watch flyweights? Maybe you should watch something else."
Like last weekend's heavyweight fight between
Mark Hunt
and
Antonio Silva
. According to Fightmetric, the two combined to land exactly 200 total strikes in the five-round bout -- 200 heavyweight strikes.
It won Fight of the Night honors in Brisbane, Australia, and has already been slotted in as a surefire fight of the year candidate.
While Johnson (18-2-1) might admire the heart of Silva and Hunt, truth be told, the 27-year-old champion would probably tell you that, ultimately, that fight was awful.
"When I see fighters whose style is just to brawl, fans will say, 'Man, did you see that fight?' I say, 'Yeah, those guys are idiots,'" Johnson said.
Johnson says he "brawled" one time, against
Brad Pickett
at a World Extreme Cagefighting pay-per-view event in April 2010. The reason he did it was because the WEC was offering UFC-like bonus money -- $65,000 for Fight of the Night.
"

When I see fighters whose style is just to brawl, fans will say, Man, did you see that fight? I say, Yeah, those guys are idiots

"

-- Demetrious Johnson, on his style of fighting compared to brawlers
He ended up suffering a unanimous decision loss and went immediately to the hospital. A barnburner lightweight bout between
Leonard Garcia
and
Chan Sung Jung
took Fight of the Night. Johnson made a disclosed amount of $3,000.
"I went to the hospital and heard Chan Sung Jung and Leonard Garcia got Fight of the Night and was like, 'Wow, really?'" Johnson said.
"[Trainer]
Matt Hume
tells me too, let's say I would stand in the pocket with somebody and get hit and think it looks super cool. He'd tell me, 'Actually, that was pretty stupid.'"
Appreciating flyweights probably comes down to knowing what to look for. The transitions are lightning fast. Recognizing a leg kick, throwing a counter right hand, then closing on an ensuing takedown all takes about one second at 125 pounds.
The constant movement with few heavy strikes landed can be tiresome and look repetitive to a UFC crowd, but the way Johnson controlled range against Benavidez in their first fight can be as much, if not more, fun to watch as two guys standing flat-footed in the center of the cage throwing haymakers.
A paying fan at a live sports event can pretty much boo or cheer anything he or she wants to. I agree with that, even if what you want to do is loudly recite lines from "The Karate Kid."
But to those who will overlook the flyweight rematch between Johnson and Benavidez (19-3) due to what they remember as a "boring" first fight, I would only encourage you to look closer at it this time and see if you're missing something.
"Any big guy would love to fight like a small guy," Benavidez says. "They would love to move as fast as we do and throw as much output. You get a big guy who fights like a small guy, and they just whoop everyone's butt."
March, 26, 2013
3/26/13
12:46
PM ET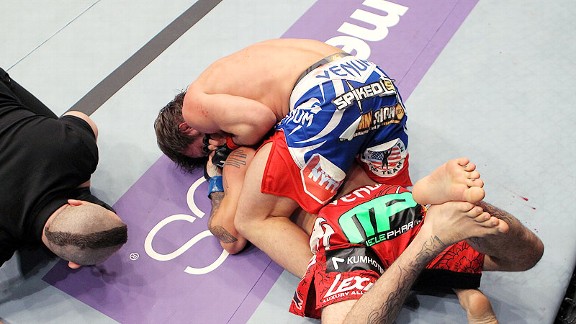 Josh Hedges/Getty ImagesBrad Pickett believes he has the tools to dominate Mike Easton in their bout at UFC on Fuel TV 9.
Dana White has often said that
Brad "One Punch" Pickett
is one of his favorite fighters to watch inside the Octagon due to his ferocious, face-forward style.
The British bantamweight is explosive, athletic and highly skilled with a legion of trilby adorn fans all eager to see the London-born battler engage in the kind of barnburners that have helped make his name. Yet Pickett, 34, knows that in the fight game a truly successful career balances on being able to parlay that excitement and wild reputation into bigger and bigger wins, forcing himself to the top of the 135-pound division and a shot at the title.
It's also about escaping the ever-present pink slip that is currently casting its shadow over the UFC in 2013. In the current climate, the UFC has been making some tough cuts to its roster of athletes -- those with back-to-back losses are often released but, conversely, those who put on a show are regularly given another chance.
"Is there pressure to perform?" Pickett asked, from his American Top Team camp in Florida. "Yes and no. I was shocked that
Paul Sass
and
Terry Etim
got cut but, for me, it is a winning business. You can't lose every fight and be exciting because in the end you will get cut. But on the other hand you can't just win fights by being a blanket because as soon as you do lose, you'll get cut. Knowing that Dana is a fan gives me a little sense of job security but, for myself, I'm a proud person. I'm not in the sport to make up the numbers. I'm here to be relevant. I want to stay in the top 10 and that means winning and winning big.
The reality of job security in the UFC is something that Pickett and his manager, Matt Walton, seem to easily comprehend.
"My view is that when you run a business, the only thing that supports the business is the bottom line," Walton said. "Without revenue even the most brilliant, exciting ideas fail. So for the UFC to continue to grow, it has to make money to be able to not only underpin its business, but to continue to push the boundaries and create further opportunities for itself and the people involved. Undoubtedly, you cannot water down the talent pool, however each and every sportsman or athlete involved needs to recognize that the greater entertainer they are, the more money can be made for the business."
Unsurprisingly, Pickett has always embodied that mix between being a competitor and an entertainer as his manager explains.
"Brad is a natural entertainer, so what you see with Brad is exactly how he is," Walton said. "He supports charities because he wants to, he trains and fights hard because he wants to, he stays faithful to his fiancee because he wants to, he signs autographs and spends time with fans because he wants to. Brad is a genuine guy in everything he does."
Recognizing that it's about paying back the fans and winning big imbues Pickett with an intriguing and exceptional mindset.
"My style tends to be exciting," Pickett said. "You can see that if I get a takedown, I'll look to land big shots and get super aggressive. Sometimes I'll end up getting the finish but if they end up getting back to their feet then OK. So be it. I'm comfortable on my feet and rather than just grinding a round out I do throw caution to the wind, but then you reap the rewards like a fight of the night bonus. The rewards are there in the UFC."
[+] Enlarge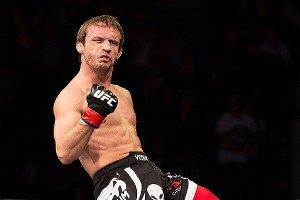 Josh Hedges/Getty ImagesWith the recent job cuts in the UFC, Brad Pickett recognizes his need to win in exciting fashion.
Pickett will take that attitude into the Octagon with him on April 6 in Stockholm against
Mike Easton
at
UFC on Fuel TV 9
in a clash that could have serious consequences for both men.
"[Easton] likes to come forward in his fights and so do I," Pickett said. "So it's going to be about who can impose their will enough to put the other person on the back foot. It's a tricky one, even on the ground. He's a black belt in Jiu-Jitsu but it doesn't really bother me. I'm a black belt in MMA. The thing about Easton is he doesn't pull the trigger. He's got a lot of aggression but he doesn't do much with it. With me, I'll come forward and try to knock your head off."
The fight should prove to be an interesting battle between two aggressive and very different competitors. For Pickett, it's a fight that he clearly wants to dominate.
"I know where I am in the division and I know an impressive win will put me back up there," Pickett said. "You know my style and you know I'll be looking for the finish. I'm not going to predict anything but I think I have more tools than he does to finish the fight."
December, 20, 2012
12/20/12
7:19
AM ET
Brad Pickett predicts Renan Barao will successfully defend his interim bantamweight title against Michael McDonald, although the Brit confesses he would prefer the challenger to triumph.
More »
October, 2, 2012
10/02/12
11:23
AM ET
Brad Pickett
is too respectful to call out future opponents, but the British bantamweight admits he would love a scrap with
Michael McDonald
after landing the Knockout of the Night at UFC on Fuel 5 on Saturday.
More »
April, 13, 2012
4/13/12
11:32
AM ET

By Chuck Mindenhall
ESPN.com
Archive
It's been six weeks between Zuffa events; plenty of time to contemplate
Marlon Sandro
decked out as the Bellator icon. And if there's ever been a six-week span where so much wonderment has gone into the amount of testosterone found in horse filets, I'd like to hear about it.
But beginning Saturday in Stockholm, the UFC gets back to its furious pace. Over the next several weeks, there will be UFCs to keep us busy, all of them stubbornly numbered in pay-per-views, in FOX, FX and Fuel shows -- not to mention the occasional Strikeforce event. As such there will be a lot of debuts from guys like Yoislandy Izquierdo and Sweden's own Magnus Cedenblad. The producers of Starz's Spartacus could never have invented such fitting names for its crop of warriors.
Here's a look at five things to keep an eye out for at UFC on Fuel TV 2, and some storylines that might (or might not) be of immense interest to you.
Gustafsson's handling of the spotlight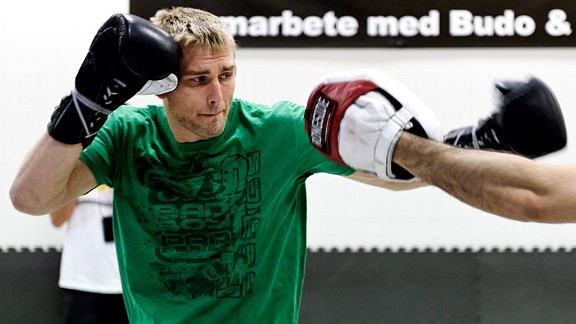 Martin McNeil for ESPN.comCan Alexander Gustafsson handle the pressure and deliver a breakout performance?
It's not only a homecoming for
Alexander Gustafsson
, but it's his first main event on a card specifically designed with him in mind. And it's his first time fighting as a true cusp contender from both a marketing standpoint as well as from the general notion that he's part of what's left out there for
Jon Jones
at 205 pounds. That's a lot of pressure for the 25-year-old from Arboga, Sweden. But it's the kind of pressure that comes with sustained success in a league founded more or less on attrition.
Gustafsson will be fighting
Thiago Silva
, who was originally supposed to be
Antonio Rogerio Nogueira
. Which is the more imposing foe? Probably Silva, who has only lost twice in his career, and each of those were against former champions (
Rashad Evans
and
Lyoto Machida
). Silva would be a huge notch for Gustafsson, enough of one to rev up the title talk. And coming in, it's hard to find much wrong in the Swede's game since losing to
Phil Davis
at UFC 112. It's not that he beat four guys in a row, but he finished them all, twice by TKO (
Vladimir Matyushenko
and
Matt Hamill
), and twice by rear-naked chokes (James Te Huna and
Cyrille Diabate
).
If he adds Silva to that casualty list, it means the "Mauler" has truly arrived.
Silva's potential ring rust and mental state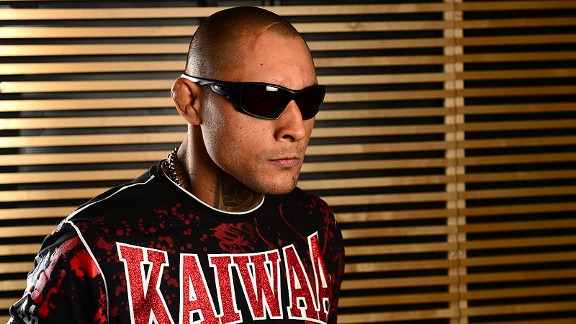 Martin McNeil for ESPN.comThiago Silva has a whole lot of ring rust to shake once he steps into the Octagon.
In a time when commission findings get more headlines than the fighters themselves, we must remember that Thiago Silva was the original bizarre. After his UFC 125 drubbing of
Brandon Vera
, the Nevada State Athletic Commission suspended Silva when it was discovered that his prefight urine sample turned up "inconsistent with human urine." He tried to mask banned substances by submitting urine that he ordered online. This didn't work out. To his credit, Silva admitted right away to his course of folly and took his punishment, which included a yearlong suspension.
Well, it's been 16 months since the Vera fight, and through a beneficial set of circumstances he ends up in a main event. The UFC tried to set up a rematch with Vera. When Vera was a no-go, the UFC tried to stick Silva in there against a tough but not-so-glamorous
Igor Pokrajac
.
Then
they needed a viable opponent for Gustafsson when Lil Nog went down. Enter Silva, who is still a top-10 light heavy in the UFC. Yet you have to wonder if the time away from the cage, the mental taxation, the travel, the fact that he's fighting a rising star in a rising star's homeland, and the oppositional musical chairs will hinder him in some way.
If none of that matters, it means Silva right where he left off before those ongoing back issues led to some monstrously bad decision-making.
Dennis Siver as a featherweight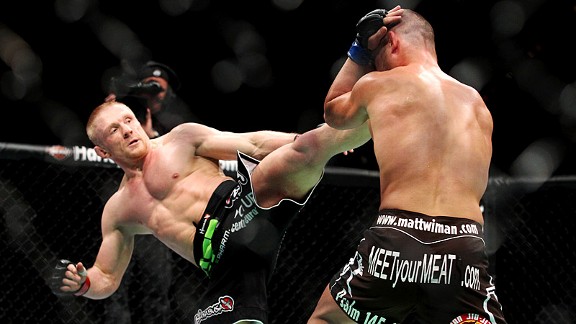 Ed Mulholland for ESPN.comDennis Siver is taking his high-kicking act to featherweight.
He was no slouch as a lightweight, but German fighter Dennis Siver wanted to try his hand as a 145-pounder after losing his footing in the 155-pound title race to
Donald Cerrone
. His first opponent as a feather?
Diego Nunes
. And if you remember, when
Kenny Florian
made his much-ballyhooed drop to 145 pounds, he was greeted by Nunes in his new weight class, too.
As a symbol, Nunes has helped more people lose weight than trainer Mike Dolce.
How will the weight cut play a role for Siver? It remains to be seen, but the kickboxer was knocking off some pretty tough guys as a smallish 155er -- guys like
Matt Wiman
,
Spencer Fisher
and
George Sotiropoulos
. In other words, he's a wily vet.
Brian Stann getting his brawl back on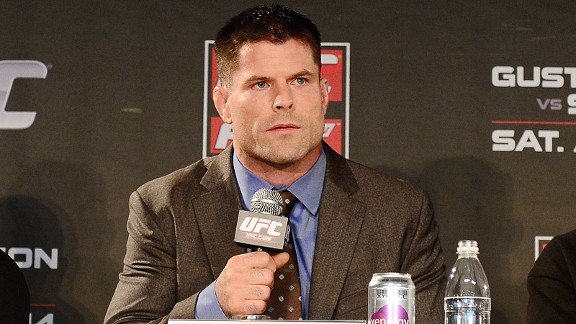 Martin McNeil for ESPN.comNo wrestling necessary: Brian Stann can get back to standing and trading on Saturday.
The bane of Brian Stann's existence so far as a professional mixed martial artist is wrestling. He was dominated on the ground by Phil Davis and, after dropping down to 185 pounds, ran into
Chael Sonnen
at UFC 136 and suffered the same fate. It's been a long six months since then.
Yet lucky for Stann,
Alessio Sakara
-- the free-swinging Legionarius -- would just assume gather up all the singlets and have a bonfire. He was recently outwrestled by
Chris Weidman
, and it left a bad taste in his mouth for no other reason than it wasn't his kind of fight. That is to say, it wasn't a brawl. In fact, going back to his 2006 bout with Drew McFedries, any Sakara fight in which there was a finish has always come by KO or TKO. He was on the wrong end of those nearly as often as he wasn't.
Think this thing is tailor-made for Stann? Could be. But there are plenty of people in Italy thinking the exact same for Sakara.
Damacio Page on the plank
This might be the fight of the night -- two tightly wound bantamweights coming off of losses, each of whom brings it every time. Between
Brad Pickett
and Damacio Page, Page is the one on the slipperier slope, having lost back-to-back fights to
Brian Bowles
and
Demetrious Johnson
. In both of those he was choked out via guillotine.
That's not likely to happen against Pickett, whose nickname is "One Punch." If Page loses here, it'll likely be by decision or because he got caught. With Greg Jackson in his corner and some intangibles (read: survival mode), it might set up a perfect storm to revisit the Page of 2009, the one who fought a grand total of 1 minutes, 20 seconds in finishing off Will Campuzano (via rear-naked choke) and
Marcos Galvao
(via punches).
Either way, this looks like the great unsung fight that could steal the show.
March, 30, 2012
3/30/12
8:50
AM ET
February, 3, 2012
2/03/12
7:12
AM ET
November, 4, 2011
11/04/11
11:38
AM ET
Brad Pickett
insists
Renan Barao
only has to pick up a DVD of the Brit's career highlights to know that he is heading for trouble at UFC 138.
More »
April, 21, 2011
4/21/11
5:41
AM ET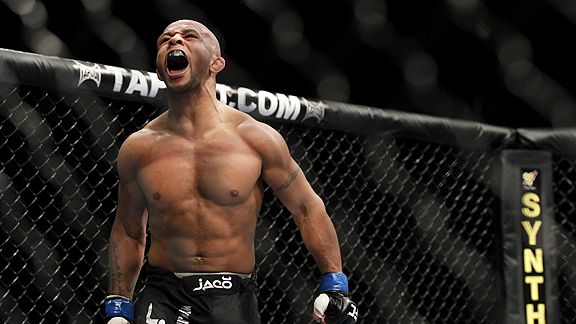 Ric Fogel For ESPN.comDemetrious Johnson steps up in a big way when he faces Miguel Torres at UFC 130.
British bantamweight
Brad Pickett
has suffered an injury and has been forced to withdraw from his UFC 130 bout with
Miguel Torres
. Stepping in to face the former WEC champion in Pickett's stead will be
Demetrious Johnson
, the promotion announced Wednesday evening.
"The fastest man in the division has answered the call, and Demetrious Johnson will move into Pickett's spot to face the former divisional kingpin," said UFC president Dana White. "Both men have verbally agreed to the fight."
Headlined by a lightweight title rematch between reigning champ
Frankie Edgar
and the only man to ever beat him in
Gray Maynard
, UFC 130 goes down May 28 from the MGM Grand Garden Arena in Las Vegas.
Johnson has only tasted defeat once in his career, suffering a 2010 loss to the aforementioned Pickett in the American's WEC debut. Since coming up short on the judges' scorecards against the Brit, "Mighty Mouse" has won three straight, most recently besting
Norifumi Yamamoto
at UFC 126 in February.
Johnson was originally supposed to face surging Brazilian Renan "Barao" at UFC 130, but "Barao" will now square off with a to-be-named opponent at the event.
Once considered the world's top bantamweight, Torres hit a rough patch after defending his WEC title successfully three times. After losing his title to
Brian Bowles
at WEC 42 in 2009, Torres was submitted by
Joseph Benavidez
seven months later. Since that second defeat, the 30-year-old has returned to his winning ways, submitting
Charlie Valencia
at WEC 51 and then outpointing
Antonio Banuelos
at UFC 126.