September, 13, 2012
9/13/12
2:53
PM ET
Putting on fights people want to see sounds easy enough. Mostly because Zuffa has done its job so well as a promoter of mixed martial arts the past decade that the concept of the fight game as a risky proposition (i.e., gamble) was basically forgotten.
Then, UFC 151.
Risks and rewards are numerous in this business. There's never been a promoter capable of flat-out guaranteeing a great fight. That's a perfect setup for failure. All promoters can do is set conditions, make cards, try to fill seats and sell pay-per-views.
And such was the thinking when, out of the rubble of another injury-strewn card,
Anderson Silva
was booked up a weight class against
Stephan Bonnar
at UFC 153. A one-sided beating in the making. A mismatch by any estimation. Yet it was still worth it to Zuffa to put this fight together.
Why? The risk/reward math dictated it's the right play.
Down goes Silva! Down goes Silva! ... that's seismic stuff and really the only fault line worth dwelling on.
"The Spider" hasn't lost inside the Octagon. The odds of him doing so in Rio against a fighter as limited as Bonnar? Well, almost unfathomable. The key word: almost. There are no certainties here, and should the impossible happens there will be repercussions.
If Silva loses, is his legacy smudged like a bug on a previously pristine white wall? Maybe. But that's far less important in the near-term than the potential evaporation of a fight with
Georges St. Pierre
(who has to deal with a much tougher challenge against
Carlos Condit
in November).
Would it go down the drain with a loss? Probably not. UFC will find a way to salvage the contest, unless St. Pierre falters, too. Still, the luster would be off, and perhaps with it a proposed date at Cowboys Stadium.
Silva could have sat on the sidelines, waited until 2013 like he planned, watched GSP-Condit play out and do what's right by him. Instead, he jumped at the chance to be a hero, a noble gesture.
Clearly the risk of taking a fight 20 pounds above his weight class on a month's notice wasn't going to dissuade the Brazilian legend from stepping into the Octagon. He's also not going to dwell on the potential pitfalls -- that's not what a champion does.
The way these things work, though, you almost have to expect Silva (or St. Pierre) to stumble. The fight was talked about for too long. This is the way of the world.
As for Bonnar, the only real risk is looking foolish. He wouldn't be the first. Likely not the last. The American veteran, in this sense, has nothing to lose.
[+] Enlarge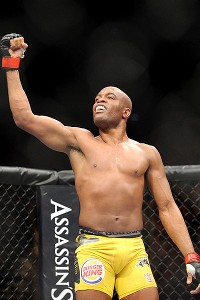 Al Powers for ESPN.comAnderson Silva stepped up to headline UFC 153 on short notice. Embedded in his payday, writes Josh Gross, will be a message to other UFC fighters.
UFC risks little except sniping via the Internet, which happens everyday regardless of what's going on in the news cycle. For them, it seems this was a no-brainer.
Actually, the UFC may have in a 24-hour stretch replaced a great fight between Jose Aldo and Frankie Edgar with a not-so-great fight between Silva and Bonnar, and in the process found a more marketable, sellable contest.
Sad, but probably true.
Any Silva bout in Brazil will be big business, that's just the trajectory of things. Across TV sets in the U.S., he may provide a boon, too, not that you or I would necessarily agree, considering his opponent.
For all of the risks mentioned above, Silva will be the favored son of Dana White and Lorenzo Fertitta for a while. The circumstances are certainly different than what went down with UFC 151, but stepping up and saying yes is all that matters to them.
Jon Jones
refused and drew White's ire. Silva stepped up and earned his praise.
Just watch how these competing notions of the fighter-promoter relationship plays out the next few months.
Fighters tied to UFC will be much more amenable to the "company man" tag, having been reminded the degree to which the UFC will go after even its most important young fighters, after they don't do what's right by the business. Silva will be cared for, no question about that. And embedded in his payday and pampering will be a message to UFC fighters: Do what's right by us and we'll do what's right by you. Chose to be a lone wolf, well, good luck.
Risk. Reward. You choose.
September, 13, 2012
9/13/12
12:07
PM ET
September hasn't been kind to
Jose Aldo
, but things could be worse.
On the first of the month, a day after agreeing to fight
Frankie Edgar
in Rio de Janeiro, the UFC featherweight champion suffered scrapes and a swollen right foot when the motorcycle he operated was TKO'd by a car in Copacabana. He thought he could still fight Oct. 13. His team did too, and so it seemed the 25-year-old Brazilian would get off easy.
But then news came down Wednesday that that his rear leg hadn't improved. He couldn't plant on it, let alone kick. In fact, infection had set in. His ankle was worse than the foot, so he had no choice but to bow out. An unmitigated disaster in the midst of a terrible streak of injuries that propelled the cancellation of UFC 151 and that shuffled fight cards.
Aldo's situation stood out, and not for any good reason. His wasn't the result of a fluky misstep on a mat like
Dan Henderson
. Aldo made a decision to sit on a motorcycle, and the odds caught up to him.
To hear Aldo's trainer and manager tell it, though, the talented kid was fortunate.
"For sure he had a lot of luck in this case," Andre Pederneiras said.
Luck? He put down a bike and suffered an injury that ruined a highly sought-after matchup. How is that lucky? To Pederneiras, the answer is clear: Aldo isn't the next Will Ribeiro.
Four years after suffering debilitating injuries when his motorcycle was crunched on the street, Ribeiro's career as a mixed martial artist is long gone. Aldo's former teammate still fights, but in a much different context. He's confined to his home, a third of his skull gone. The right side of his body is essentially lifeless, so he's in a wheelchair all the time. He experiences minimal feeling and movement. He can't see much of anything.
"I just stay in my house and wait to fix my injuries from the motorcycle accident," Ribeiro said. "My wife is everything for me."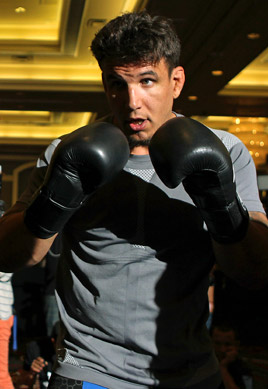 Josh Hedges/Zuffa LLC/Getty ImagesFrank Mir was never the same fighter after injuring himself in a motorcycle accident.
Yes, Pederneiras is correct. Aldo is lucky. So very lucky. No one is bulletproof, not a young warrior king like Aldo, though he'll sometimes carry on like he is. The tale of a stud athlete, a champion fighter, almost always mandates that Teflon sensibility to the day-in, day-out rigors of life.
Untouchable.
Unsinkable.
Unshakeable?
"When I talked with him he said to me, 'I will never drive a motorcycle again. I promise you.' That's what Aldo said," Pederneiras recalled. "But it's like a son, when the son does something wrong and he promises to his father, 'I will never do that again.' If you're asking me if I believe he won't ride again, I need to say to you, I don't know."
Unbelievable -- because Aldo knows Ribeiro; because the high price of messing up on a bike is now a tangible thing; because everything he's so gifted at doing could be gone in a blink.
Beyond Ribeiro, it's not like this sort of thing is unheard of.
Frank Mir
was a once-beaten UFC champion when his life was imperiled following a motorcycle accident. The hours and dedication it took Mir to return to fighting is incredible. The story has been told countless times. Mir's never been the same. Aldo knows this; everyone around the UFC does.
Yet the fighter gets on a bike anyhow.
When Ribeiro first heard the news of Aldo's accident, his immediate thought hung on a sense of sadness that his friend wouldn't get the fight with Edgar like he wanted. It's in these moments where clear differences between normal people and professional fighters are obvious. Oh, Ribeiro mustn't worry; Aldo is the fortunate one, able to do what he loves again. Perhaps with a deeper sense of appreciation next time. And the knowledge that, despite the lofty words of fans and media, he's a man prone to mistakes and their sometimes awful consequences.
March, 24, 2012
3/24/12
7:55
AM ET
No one handled
Anderson Silva
the way
Chael Sonnen
did.
So, heading into their eagerly awaited rematch this summer, conventional wisdom holds the American wrestler again should own large portions of the fight. And, if he simply avoids making one big mistake, Sonnen will become the first man since 2004 to legitimately defeat the reigning UFC champion.
I'm not in that group. In fact, I'd argue the way things are set up, Sonnen seems headed for a big fall in front of tens of thousands of people who surely despise him.
Here are five reasons, one for each enthralling round the middleweights fought in 2010, why "The Spider" will cement his legacy as the best mixed martial artist yet by defeating his nemesis on a grand stage.
The ambush factor
What could Sonnen possibly do to Silva that he didn't two years ago?
[+] Enlarge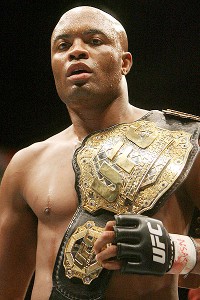 Gabriel Bouys/Getty ImagesOne day, Anderson Silva will leave the cage without his belt. Will that day come against Chael Sonnen?
OK, yes, not tap to a triangle. But in relation to offense and pressure and pace, Sonnen was simply brilliant. Silva, meanwhile, was near his worst and the UFC champion still endured during the final throes of their epic encounter.
The most unique element of the fight was the ambush factor. Sonnen, everyone accepted, was tough. Limited, perhaps, especially compared to Silva's multi-layered game, but he was good at what he did. And then he walked directly at Silva and slammed a punch into the Brazilian's mouth.
No one expected Sonnen would show up to fight in Oakland on Aug. 7, 2010, the way he did.
Silva had not been tested since early 2008, when
Dan Henderson
made him fight for just over a round. Following that it was walkover bouts and embarrassing displays manifesting out of sheer boredom.
Unlike
James Irvin
,
Patrick Cote
,
Thales Leites
,
Forrest Griffin
and
Demian Maia
, Chael Sonnen was not frightened by the site of the man standing in front of him. He started fast, put Silva on the defensive -- a neat trick few -- and rolled like a tank for 20-plus minutes.
Sonnen has no reason to be frightened standing in front of Silva in Rio, but at least the UFC champion knows what's coming this time. Silva understands that Sonnen can box. And Sonnen can take him down. But he also knows that Sonnen's top game, for all the staggering punch-output totals, didn't damage him.
Sonnen's effort in 2010 will bring out Silva's best in 2012. That signals trouble for the challenger.
Silva's health
Silva fights like a poet writes, unless he's hampered by bad ribs. Lest we forget, Silva wasn't near 100 percent heading into the contest in Oakland. Assuming this isn't the case when they meet in Brazil, that's a huge boost to Silva. The man relies on movement. Everything flows though his feet. Take that away from him and he's a shell of himself.
Sonnen clearly deserves credit for his forward momentum throughout the fight, but I'm not buying his ability to do it again against a primed up Spider.
Home cooking
Sometimes it helps, sometimes it hurts.
I'd suggest to you that walking into a stadium holding upwards of 80,000 of his loyal countrymen will be a tremendous motivation for Silva.
What effect will the surroundings hold over Sonnen? I don't know. I hope the challenger isn't spooked by the scene, which could greet him much like Brazil's favelas welcomed BOPE.
Silva has accomplished tremendous things in MMA. Beating his loud rival in a soccer stadium in Rio as his country eagerly watched: that's storybook stuff. I just can't envision it going the other way for him.
Silva is better
That said, It's not like I'm looking through a crystal ball here. Newsflash, I can't tell the future. The closest any of us can get is by peering into the past, and Silva's is a thing of beauty.
In his two fights since struggling against Sonnen, Silva scored one of the most impressive knockouts of his career against
Vitor Belfort
, and absolutely mangled the usually steady
Yushin Okami
. He's as sharp as he ever was.
Sonnen bounced back from the Silva stunner to manhandle
Brian Stann
and, earlier this year, squeak past
Michael Bisping
.
Making arguments like "Silva is better" seems obvious and lazy. But sometimes obvious things need to be highlighted. Quite often, the obvious things tell us most about a person. And yet we tend to gloss over them, searching instead for small details that might or might not matter.
Silva is a better mixed martial artist than Sonnen. It's that simple.
One moment in time
Can Sonnen win when everything is riding on the outcome? We know Silva can. Sonnen, though, has yet to prove he's capable of doing the same.
The 34-year-old Oregonian won many competitions throughout his life -- just not the biggest. One failing of focus, judgement or technique is all it takes to lose at his level. A mistake against Silva when he was otherwise perfect cost Sonnen a UFC championship.
So, will Sonnen fight a mistake-free bout against a man he can't afford to make a mistake against?
I don't think so.
November, 15, 2011
11/15/11
12:49
PM ET

By Chad Dundas
ESPN.com
Archive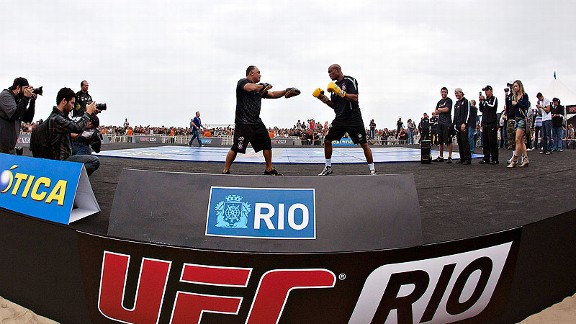 Buda Mendes/Getty ImagesBased on the success of UFC 134, the UFC can't wait to take its act back to Brazil.
The UFC was initially skeptical about taking its brand back to Brazil.
As recently as mid-2010, Dana White wasn't thrilled with the idea, saying the fight promotion would focus its international expansion efforts on potential boom markets like India, China and the Middle East instead. There was even some pie-in-the-sky talk of doing a double-secret show in Afghanistan before the UFC mentioned any serious plans of returning to Brazil for the first time since 1998.
A bit more than a year later, the world looks a whole lot different.
Junior dos Santos' first-round victory over
Cain Velasquez
on Saturday night means three of the UFC's seven champions are now Brazilian and, according to the company's early estimates, as many as 60 million of the new champ's countrymen tuned in to watch him fight.
If true, that number is simply staggering. You don't have to be one of the world's greatest fight promoters to know what to do next, but it doesn't hurt that the UFC has one of them on the payroll, either.
"Brazil is becoming our new Canada," White said at the postfight media conference for UFC on Fox. "We're going to be doing a lot of stuff in Brazil. Brazil is taking off. It's crazy down there how popular this is becoming."
White says the long-rumored Brazilian incarnation of "The Ultimate Fighter" will be forthcoming "immediately" and the company already had its follow up to August's UFC 134 booked, in the form of a quick jump back to Rio de Janeiro on Jan. 14 for UFC 142.
Now it appears those two events will be the first of many happy returns.
There has been talk of doing future shows in 100,000 seat stadiums in Manaus and Sao Paolo and the company recently inked a broadcast contract with Brazil's Rede Globo TV, the fourth-largest commercial public television network in the world. That was the deal that made it possible for those 60 million people to watch dos Santos wrap the UFC title around his waist in the first place.
Another, much smaller indicator of the sport's success in South America's largest country? Brazilian fighters scored big in the UFC's first ever round of Twitter bonuses recently, with
Anderson Silva
,
Paulo Thiago
,
Antonio Rodrigo Nogueira
,
Demian Maia
and
Cristiane Santos
making it a clean sweep in awards for most new followers, both in sheer numbers and by percentage.
[+] Enlarge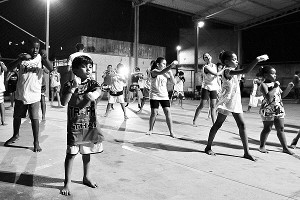 Ed Mulholland for ESPN.comDana White feels the future of the Brazilian fight scene is brighter than its ever been.
"Imagine where we'll be in two years ...," White said. "What we've seen here in the United States and everywhere else that we go is when we take [MMA] to all the different cities around Brazil, it'll just get bigger and bigger and bigger."
The UFC's Brazilian renaissance isn't just financial. The country that gave birth to modern MMA's first champion is asserting itself inside the cage too, not only through fighters like dos Santos and Silva, but with a next wave of young guns like
Jose Aldo
,
Erick Silva
,
Renan Barao
and
Charles Oliveira
.
"There's so much talent coming out of Brazil, it's insane," White said. "We've already done all the leg work for 'The Ultimate Fighter' and I'm telling you guys, wait until you see the talent that comes out of this country over the next two years, it's going to be crazy ... You're going to see more kids training down there for mixed martial arts than soccer down there pretty soon."
Mere hyperbole? Probably. Nonetheless, it appears the UFC may have unexpectedly found a new home away from home.
And it's sure been a long time since anyone with the organization has said a word about China.
November, 13, 2011
11/13/11
2:11
PM ET
Eighteen years ago, a slender Brazilian wearing white gi tied off with a black belt introduced himself, his family and his sport to the world.
Not many people watched on Nov. 12, 1993, as
Royce Gracie
won three times in a matter of hours to capture the Ultimate Fighting Championship's first tournament, but those that did likely chose to do so again. Soon enough, Gracie was the most important name in martial arts and UFC was its hottest commodity.
Inside the cage, Gracie's success dictated that either you learned to fight on the floor, or you simply couldn't fight at all. That hasn't changed. Outside the cage, a growing audience was amazed by the way he could handle himself against brutes. With the advent of weight classes, at least that part of the experience happens to be a relic.
The sport's original, brutal form helped popularize and demonize the UFC. Just four years into it, David "Tank" Abbott, perceived at the time to be the organization's roughest customer, was featured on a smash network sitcom. The fights. The money. The violence. The budding pop culture relevance. All of it led to a place of attention, scrutiny and misunderstanding. Mixed martial arts soon fell on hard times. Sitcom writers stopped adding cameos for cage fighters. And as a fan, you were considered fortunate to own a big-dish satellite. Without one, good luck finding a television broadcast to watch.
Living in a small corner of Brazil, Junior dos Santos was 9 years old when Gracie first schooled tough guys in the art of tapping out. Who could have imagined that two decades later, he'd win the UFC heavyweight title with 60 million of his countrymen watching back home, and many millions more tuning in around the globe to watch him dethrone
Cain Velasquez
.
But that's exactly what happened Saturday when a voting-aged UFC hit the mainstream.
[+] Enlarge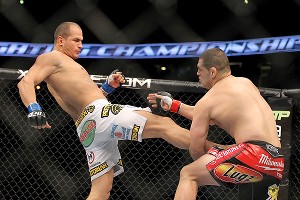 Ed Mulholland for ESPN.comYou can't please everyone: A 64-second knockout was anything but bad for MMA.
For as much as things have changed, and never was that displayed more prominently than Saturday's spectacle on Fox, there's an element to MMA that will remain true for as long as these fights are allowed to continue. The community that exists around MMA willingly operates with a small-time mindset. It's based around insecurity, really. The notion that a 64-second knockout is somehow bad reeks of a mentality that for so long permeated thinking among this sport's inner circles. It's the kind of thought process that prompted workers to step in the Octagon and spray paint over bloodstains prior to the start of the network broadcast on Saturday. It's this idea that while nothing will satisfy the detractors, every effort must be made to try. That the innumerable reasons so many people love the sport aren't good enough for those who don't yet. It's in the unwanted residue of an apology that comes when a kid like
Dustin Poirier
feels as if needing a round and a half to finish
Pablo Garza
with a slick D'Arce choke -- something that only recently came into fighters' collective conscious -- isn't up to par.
Forget for a moment about pleasing others, about tweaking and cajoling to make something that needs neither more "fan friendly." MMA arrived on this stage 18 years after its birth for one reason. The product is appealing. To a large segment of people, it's hard not to watch after they've been exposed.
That's great, worthy of embracing. Instead, people find themselves crazed and questioning whether or not a 64-second knockout during a bout featuring two extremely talented, young heavyweights is bad for the sport. Bad for the sport! You know what's bad for the sport? Acting as if MMA is something it's not. Acting like airing only one fight on network television is somehow a travesty. The hurdles and traps and moats that slowed MMA from meeting its widest possible audience, they don't matter anymore. Truth be told, they haven't mattered for a long time. They stopped nothing. It's been this way for nearly 20 years.
I mention all of this because for perspective sake, they're worth remembering.
It's fun recounting the lean years of the cable television ban. Even better, the disastrous -- so it was labeled at the time -- return to TV when pay-per-view ran long and Tito Ortiz's bout at UFC 33 against
Vladimir Matyushenko
was cut off about halfway through.
Through the ups and downs, there was one constant: pressing forward. That is the direction this sport has headed, even in the darkest of times. Why? Because it engendered passion and emotion. MMA is the definition of an outsider, probably always will be, even as it's allowed to touch mainstream for the first time.
The question Gracie and his family set out to answer in 1993 -- Which style is most effective for winning fights? -- helped spur a revolution in combat sports. That's how dos Santos, who never wrestled a day in his life before trying his hand at mixed martial arts, can stand his ground against a collegiate All-American like Velasquez. Gracie didn't do it like that, but his impact influenced MMA to move from a game of attrition to one of adaptation, and, finally, acceptance.
The latter stage happens to be where the sport exists today. There is an increasing acceptance about MMA. It's covered by major media outlets and compared to other blue chip sports. It's here to stay, even if people remain confused about what it is and why it's reached this measure of popularity. Either they'll come around or they won't. Regardless, it's time to accept MMA for the grown-up sport it is. These things can happen fast, you know. In this case, right before our eyes.
Mixed martial arts.
Take it or leave it.
October, 21, 2011
10/21/11
2:08
PM ET
Three years ago, something broke inside
Paulo Filho
and he hasn't been the same since. The sad and frustrating turn to a highly promising career -- emotional and psychological highs and lows, accusations from his handlers about drug abuse -- have apparently prompted the Brazilian to walk away early from a sport he seemed so perfectly suited for.
From 16-0 and No. 2 in the world at 185 pounds, to 22-4-2 and off the grid, Filho's is a cautionary tale. You think you have the tools to be great, then, rather suddenly, you don't and you aren't. For a 33-year-old man whose in-cage meltdown against
Chael Sonnen
in 2008 publicly signaled that something was very wrong, Filho's pro career is best represented by this question:
What could have been?
In peak form, Filho was a grappling force. If he wanted you on the floor, you went to the floor. If he wanted to hit you, he did. If he wanted to submit you, he probably did that too.
Look no further than the back-to-back fights with Sonnen to get a sense for how quickly things shifted.
[+] Enlarge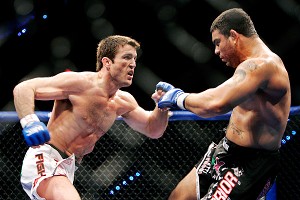 AP Photo/Wilfredo LeeThe wheels really started coming off Paulo Filho's career during a rematch with Chael Sonnen in 2008.
In 2007, Filho made Sonnen scream in pain as he levered an armbar. Eleven months later, Filho listlessly wandered about the cage like a zombie, not fighting, not doing much of anything, essentially handing his World Extreme Cagefighting title over to the wrestler. He failed to make weight by four pounds the day before the rematch. Back in his locker room afterwards, Filho barely acknowledged what had just happened. Not because he was in denial. He really seemed not to know.
After stepping to the top of the division with 16 wins in as many fights, the rematch with Sonnen kicked off a stretch of odd outings. He was released from Zuffa, never to return. Bouts in Japan and Brazil and Australia followed, but he wouldn't get a sniff of the U.S. fight scene again. His performances were mixed. Raw ability brought about wins, yet personal and professional demons made them harder to come by.
Any mention of Filho conjures up images of a powerful fighter. In reality, he's a lost soul, going so far as to get himself a facial tattoo like his hero Mike Tyson. He seemed to be always searching for something, and from the outside we could never get a sense what that was. Even those closest to him can't say for certain. Did he really want to find his way back to the top? They never knew. If that desire still existed, his performances and results suggested otherwise.
[+] Enlarge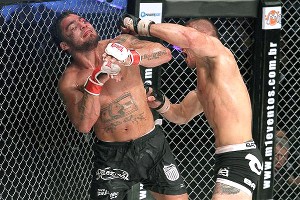 Marcelo Alonso/Sherdog.comTalent alone wasn't enough to get Paulo Filho by later in his career.
The timing of his troubles couldn't have been worse. Filho might have been champion at 185 when Zuffa folded WEC into the UFC. Who's to say what could have happened against
Anderson Silva
? Stylistically, he seemed like he would have been hell to handle for the UFC champion.
This was a fighter with the talent and game to be No. 1. He was never exciting, but that doesn't matter when all you do is win. After that facade was lifted, nothing went right for Filho. As the cautionary tale goes, talent alone isn't nearly enough, especially when stacked against counter forces the likes of which he's required to deal with.
Though it appears to be the case right now, here's hoping Filho's mixed martial arts experience won't define his life.