November, 26, 2011
11/26/11
12:29
PM ET

By Josh Gross
ESPN.com
Archive
The degree to which
Junior dos Santos
will own the heavyweight division is traced directly to this: Can he, when pressed to do so, fight on the floor?
He says he can. People who have trained with the new UFC champion say the same. We just haven't seen it in action because he hasn't found it necessary yet. And based on the way he's talking, it sounds like, regardless of who wins UFC's main event on Dec. 30 (a clash between giants
Brock Lesnar
and
Alistair Overeem
for a title shot against dos Santos), the answer could be revealed very soon.
"I don't want to fight on the ground," dos Santos told ESPN Brasil. "I prefer to fight stand up. I prefer to use my boxing fighting, so that's what I try to do in all my fights. But [in] my next fight, [if] I think I can win the fight on the ground, I will try to do jiu-jitsu with my opponent."
That's an interesting way of phrasing things.
[+] Enlarge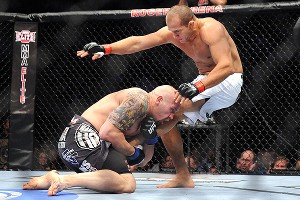 Rod Mar for ESPN.comEven a bona fide wrestler like Shane Carwin found taking down Junior dos Santos to be a daunting task.
It doesn't take a master game planner to recognize Lesnar will try to force dos Santos to his back. So would the 27-year-old Brazilian want to go to the ground against the house-sized wrestler because he envisions it's his best chance to win? Likely not, particularly because he'd probably have to play guard the entire time. The new UFC champion's best path to beating Lesnar is standing and punching the American in the head. Everyone knows that.
So what about his quote?
If dos Santos believes he needs to go to the ground, is that a concession that Overeem, a K-1 champion, is too dangerous to strike with? If so, dos Santos could be sending several messages. This is how I read it. First, his style of fighting is not determined by ego. He clearly wants to stand. It's where he's best. But he's not going out trying to belabor the point. Second, he's content doing what it takes to walk out of the cage victorious, nothing else. That's a promising sign for the talented young champion. Third, dos Santos has always talked about being "ready to fight everywhere." He might just actually mean it.
Again, he'll have to answer this question eventually. If not Lesnar, then someone else because the heavyweight division is teeming with potent ground assaults. Lesnar, for reasons explained above, is the front runner to test dos Santos on the floor. However based upon ESPN.com's heavyweight rankings and deductive reasoning, there are four potential foes not named Lesnar who
could
challenge dos Santos' grappling resolve.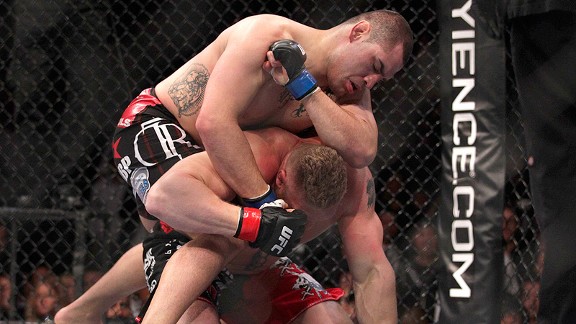 AP Photo/Jae C. HongCain Velasquez never got the chance to show off his ground prowess again Junior dos Santos.
Let's not forget the man dos Santos knocked out in 64 seconds. Velasquez failed to wrestle the Brazilian earlier this month and it cost him dearly. It would be an epic failure if Velasquez stood and traded with dos Santos in the rematch -- you have to figure they'll meet again sometime in 2012. It would be interesting indeed to watch Velasquez challenge dos Santos with a wrestle-first mindset.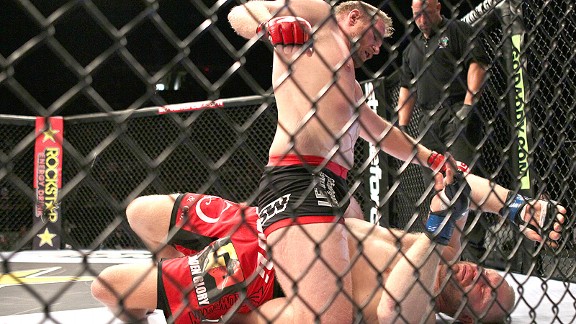 Ross Dettman for ESPN.comJosh Barnett has the style to wreak havoc on the UFC's heavyweight division.
Maybe the most accomplished heavyweight grappler in MMA, Barnett would surely pose major problems for dos Santos on the floor. Unlike Lesnar, Barnett is not a take down-and-hold threat. He's a take down, beat down and submit-if-it's-there kind of threat. If Barnett defeats
Daniel Cormier
and then makes his way into the UFC, neither being guaranteed of course, the man who once held the distinction of being the youngest heavyweight champion in UFC history would jump to the top of the list of the most serious threats to dos Santos's reign.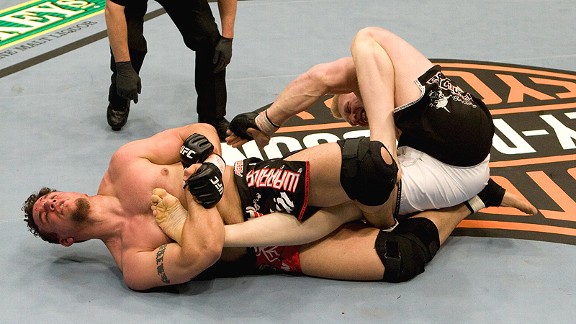 Josh Hedges/Zuffa LLC/Getty ImagesYou don't want to be left out on a limb when dealing with Frank Mir.
Yet another grappler whose speciality is submission rather than position. Mir is not a great wrestler, but if you go to the floor with the guy you're asking for trouble. I don't care how advanced dos Santos's jiu-jitsu game is, he'd need to endure a serious examination against Mir. With Mir fighting dos Santos's mentor,
Antonio Rodrigo Nogueira
, for a second time on Dec. 10 in Toronto, there might just be a great story line built in too. Remember, Mir dismantled Nogueira, who by all accounts wasn't close to 100 percent when they fought in 2008, leading to a second round technical knockout.
Daniel Cormier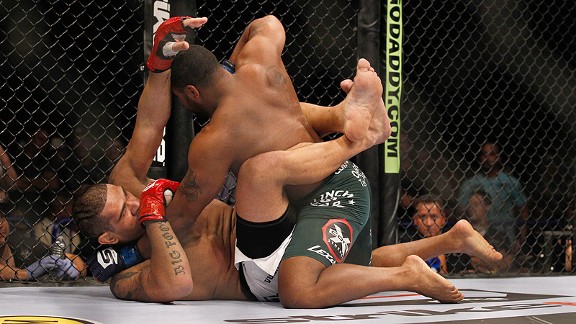 Ross Dettman for ESPN.comTaking down Bigfoot: Daniel Cormier had little trouble with the much larger Antonio Silva.
The darkhorse. Cormier is unbeaten in nine fights. If he manages to defeat Josh Barnett there will be calls for him to fight the best in the division. The former U.S. Olympic wrestling captain seems undersized, but what he lacks in height and weight he makes up for with speed and technique. This is Cain Velasquez's wrestling coach we're talking about. He can put anyone on their back.
September, 30, 2011
9/30/11
1:03
PM ET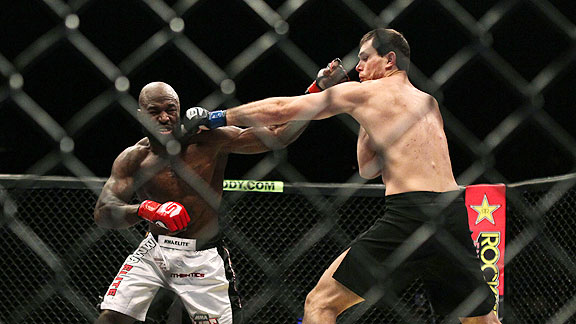 Ross Dettman for ESPN.comMuhammed Lawal, left, dealt a major blow to jiu-jitsu gurus when he upended Roger Gracie.
MMA fighters aren't neglecting their submission skills to please knockout-hungry fans. Rather, the best grapplers in the world can't make their jiu-jitsu work in the cage any longer.
The increasing scarcity of submission finishes has had analysts and observers scratching their heads and asking: "why don't we see more submissions in the MMA big leagues?" The UFC and Strikeforce are home to some of the most talented grapplers on the planet, yet submission rates are plummeting faster than Fabricio Werdum's backside to the canvas.
Brazilian jiu-jitsu was the catalyst that kick-started MMA, the original reason that fighters found it necessary to cross train in multiple disciplines. When wrestlers learned submission holds and kickboxers developed takedown defense, it was because they had to avoid the danger of jiu-jitsu.
Once responsible for the birth of modern MMA, jiu-jitsu now seems little more than an afterthought.
The top grapplers in the world congregated in England this past weekend for the 2011 ADCC Submission Wrestling World Championship. A bi-annual event, it's the most prestigious submission grappling tournament in the world and attracts fighters from across the globe. It was devised and is patroned by sheikhs from oil-rich (and, bizarrely, jiu-jitsu crazy) Abu Dhabi, the capital of UAE.
Of the 100 competitors at this year's tournament, there were more than a few names familiar to MMA fans. Professional MMA fighters such as Dean Lister, Fabricio Werdum, Vinny Magalhaes, Jeff Monson, Rousimar Palhares and more showed that their ability to wrench limbs and crank necks is as sharp as ever.
Even to the untrained eye, the standard of grappling this year was spectacular -- impressive, dynamic stuff -- but it's left fans asking why they can't perform to the same level of success when in the cage.
There is a well-worn, yet very true maxim among MMA fighters: if you punch a black belt in the face enough times, he goes back to being a white belt.
Much like in the late 1990's when kickboxers learned how to sprawl and take out the fearsome wrestlers who were dominating the sport, modern MMA fighters have increased their submission awareness to a level where it has become exceedingly difficult for even the most talented grapplers to grab a submission.
Familiar names find familiar success in ADCC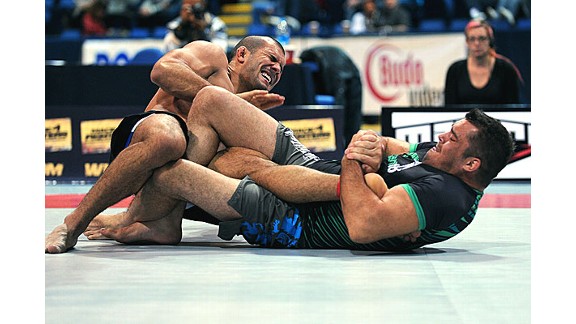 Courtesy of Kuba Sawicki Dean Lister, bottom, has two gold medals under his belt in the ADCC championship.
Of the high-level mixed martial artists who entered the 2011 ADCC tournament, almost all hold black belts in BJJ. And they did very, very well. Dean Lister walked away with a gold medal, as did Vinny Magalhaes. Rousimar Palhares picked up second place in the 88kg category. This goes to show they're among the best grapplers in the world right now. But none are considered particularly spectacular MMA fighters, and all are a long way from a top-10 ranking.
Even former Strikeforce middleweight champion Ronaldo Souza, considered by many to be one of the best pound-for-pound submission specialists in the world, only looks good on the ground against non-grapplers. He struggled with a strong wrestler with good striking in Luke Rockhold, losing his belt in the process.
The current consensus is that the best grappler on the planet is Marcelo Garcia, an affable and curly-haired Brazilian now living in New York City. He took his fourth ADCC world title on Sunday in amazing fashion, practically walking through the competition. But he bombed out atrociously in his sole foray into MMA, a second round TKO loss to an unheralded 10-4 fighter in 2007.
One-trick ponies just aren't cutting it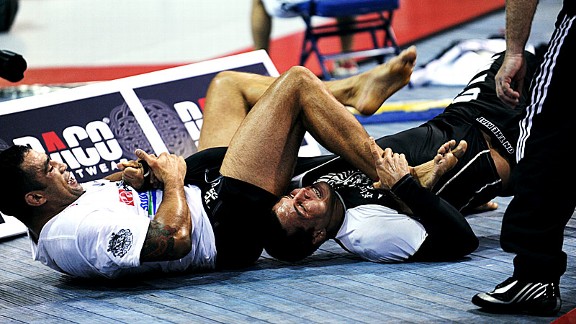 Kuba Sawicky World class grapplers like Fabricio Werdum, left, and Vinny Maghales have had mixed success in MMA.
Werdum, Palhares, Lister ... All amazing grapplers who look pedestrian in the cage. Why?
Because -- as obvious as it sound -- MMA is not grappling. As highly skilled as these fighters are, many of them enter MMA relatively late in their athletic careers. They've usually had a good few years' worth of jiu-jitsu competition under their belt, with the associated wear and tear on the body. Starting an MMA career in their late 20s doesn't leave them much time to develop the skills to hang with even mediocre strikers with half-decent takedown defense.
Case in point: Roger Gracie. He's achieved more in jiu-jitsu than any other man alive, taking home an unprecedented 10 grappling world titles. Yet he had his clock cleaned inside of one round by Muhammed Lawal before executing a single jiu-jitsu move. His awkward stand-up is typical of jiu-jitsu fighters, an affliction that has plagued submission specialists since the very beginning of MMA.
It's not that guys aren't capable of performing jiu-jitsu tactics in an MMA environment; there are simply factors in an MMA fight that prevent this from taking place. There are, of course, the practical limitations of grappling in a cage. Grapplers are used to referees calling a time-out and dragging them back into the center of the mat every few minutes, and lengthy breaks during matches are not uncommon. The transition to getting mercilessly and relentlessly stuck against a wire mesh cage for five long minutes is a harsh one.
But perhaps the most restrictive factor for grapplers in MMA is the gloves. MMA gloves may only weigh between 4-6 ounces, but the layers of gauze and tape underneath the pads make them bulky and cumbersome when jockeying for position. Try slipping your fist into an MMA mitt and then sliding it underneath a chin for a chokehold -- it's harder than it sounds.
When most MMA fighters were still relative novices to the ground game, the gloves weren't an issue. The aforementioned submission wizard Marcelo Garcia is known for his amazing ability to secure chokes from any position, yet he spent an entire round on the back of the very average Korean fighter Dae Won Kim and was unable to find his go-to move. A little submission defense goes a long way in the cage.
The next wave will be more complete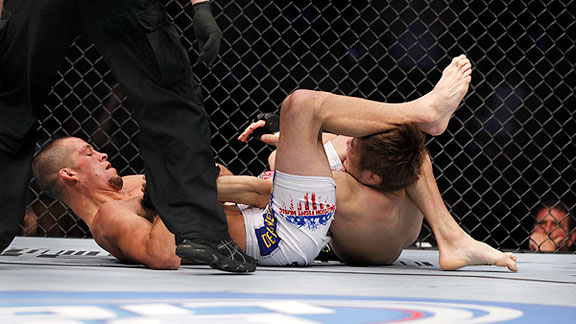 Ross Dettman for ESPN.comNate Diaz is an example of the fresh crop of practicioners breathing new life into jiu-jitsu.
Contrary to what you might think, jiu-jitsu is not done for in MMA. We'll still see plenty of flashy grappling moves in the Octagon and elsewhere -- it'll just not be the elite-level grapplers doing them.
Take a look at some of the young talent in the UFC. 26-year-old Nate Diaz is keeping the Gracie style of jiu-jitsu alive in the Octagon with 10 of his 14 victories by tap out. Former WEC lightweight champ Ben Henderson fought in the recent BJJ World Championships in Los Angeles, placing a respectable third in the brown belt division. And of course Jon Jones, the blueprint for modern mixed martial artists, finished off Quinton Jackson with a classic rear-naked choke.
Even though Fabricio Werdum survived 15 minutes with Alistair Overeem and submitted Fedor Emelianenko, he's very much part of the old school of jiu-jitsu fighters in MMA. Instead, look for the new generation of versatile athletes, the youngsters who started mixing the arts in their teens. With equal parts ability in the stand-up, wrestling and ground games, they have the well-rounded skill sets that will enable them to seamlessly transition from range to range and style to style, but without the years of bad habits fostered by competition in other arts.