April, 21, 2012
4/21/12
6:19
AM ET

By Franklin McNeil
ESPN.com
Archive
In possibly the most important fight of his career, former Bellator lightweight champion
Eddie Alvarez
exacted revenge against
Shinya Aoki
.
Alvarez, who entered the bout with just two fights remaining on his Bellator contract, dropped Aoki with a right hand. But patience has been one of Alvarez's glaring weaknesses.
[+] Enlarge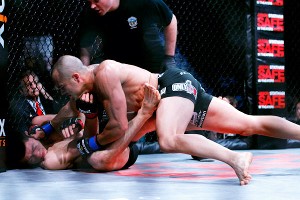 Ric Fogel for ESPN.com A quick assault and a follow-up right hand spelled doom for Shinya Aoki.
That wasn't the case Friday night at I-X Center in Cleveland. Alvarez paused before jumping on the downed Aoki, who saw his seven-fight win streak come to an end.
With the victory behind him, Alvarez turned his attention to Bellator CEO Bjorn Rebney. The two are sure to begin discussing Alvarez's future with the promotion.
"Bjorn Rebney, show me the money," Alvarez said after improving to 23-3.
The win might also help remove some of the pain Alvarez has felt since losing his title to Michael Chandler in November.
"I was in a bad spot the past couple of months," Alvarez said.
For Aoki, finding success in the United States remains elusive. It was his first appearance here since April 2010, when he was on the short end of a unanimous decision to Strikeforce lightweight champion Gilbert Medlendez.
That fight took place in Nashville, Tenn. The rematch with Alvarez was Aoki's third U.S. appearance.
The first outing between Aoki and Alvarez took place on Dec. 31, 2008, in Saitama, Japan.
Aoki is now 30-6 with one no contest.
Spang gives Rogers a taste of his own medicine
Brian Rogers takes pride in knocking out opponents in impressive fashion.
His latest fight, a middleweight tournament semifinal bout, ended similarly. This time, however, Rogers was on the wrong end of a second-round counter left hand from Andreas Spang.
The punch, which put Rogers flat on his back, came at the 3:34 mark.
Rogers nearly finished Spang early in the second round by landing hard right hands. One of the right hands wobbled Spang, but a tired Rogers could not apply the finishing touch.
That allowed Spang (8-1) to clear his head briefly and deliver the fight-ending punch.
"Brian Rogers is an incredible opponent," Spang said. "He caught me with some hard shots.
"My left is my go-to weapon when I am hurt."
Rogers drops to 9-4.
Hard-hitting Falcao gets past Vasilevsky
Not many fighters last three rounds with hard-hitting
Maiquel Falcao
. And with 23 of Falcao's 29 wins coming by knockout, most refuse to stand with him.
But Vyacheslav Vasilevsky was undeterred and for two rounds held his own against Facao. But once the striking dust cleared, all three judges preferred Falcao and awarded him a 29-28 unanimous decision.
With the victory, Falcao moved into the middleweight tournament final.
"I don't want to say too much," Falcao said. "I just want to wait for the finals. I came here to win the title."
One reason Falcao might have opted to say little was the difficulty he experienced standing with Vasilevsky in the opening round. Falcao was dropped by a right early in the first.
He also ate several left-light punch combinations in the second round. Falcao (29-4, one no contest) earned the win with a dominant third round, when he nearly finished the fight with a hard right hand.
Vasilevsky, who entered the bout on a 15-fight win streak, falls to 16-2.
Patient Hawn finishes Woodard in second round
Rick Hawn
refused to allow the aggressive Lloyd Woodard to take him out of his fight plan. Instead, he remained patient and waited for his opportunity to open up.
That opportunity would come 10 seconds into the second round, when an over-aggressive Woodard left himself open. Hawn seized the moment and landed a hard right hand that sent Woodard to the canvas.
He would not get up, sending Hawn into the lightweight tournament final.
"We had a game plan for this guy," said Hawn, who improved to 13-1. "We knew what he was going to do and that's come out strong. I wouldn't get sucked into that."
Woodard falls to 12-2.
Weedman edges Michel by split decision
Brent Weedman believed striking power would serve him well in his lightweight tournament semifinal bout with Thiago Michel.
But in the end, it was actually Weedman's superior size and strength that led him to a split decision victory.
Two judges scored the fight 29-28 for Weedman, while the judge had Michel winning 19-28.
Michel (10-3) got the better of the striking exchanges, but Weedman -- a former welterweight -- was able to get the fight to the ground repeatedly. On the ground, Weedman (20-7-1) controlled the action and landed knees to the body.
March, 29, 2012
3/29/12
6:09
AM ET

By Chuck Mindenhall
ESPN.com
Archive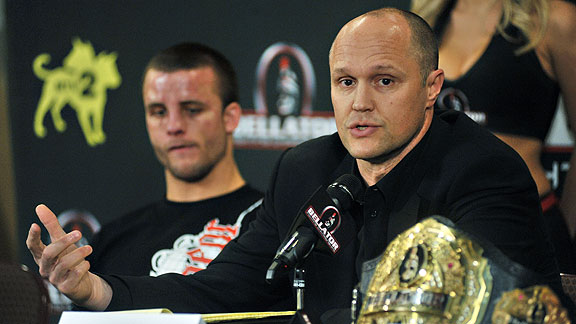 Henry S. Dziekan III/Getty ImagesWhile Zuffa catches its breath, Bjorn Rebney and the boys at Bellator have picked up the slack.
UNCASVILLE, Conn. -- Through the first couple of weeks of Bellator's quarterfinal brackets we've witnessed some peculiar things. There was last week's rarely seen Von Flue choke, courtesy of lightweight Brent Weedman -- and that came on the same night that Lloyd Woodard emerged from the woodwork to upset
Patricky Freire
. The week before that, we saw Brian Rogers down Vitor Vianna with a flying knee from Hades. The thing was executed with such diabolical ease that it almost looked
unspectacular
.
And before that,
Pat Curran
totally anesthetized
Joe Warren
to become the promotion's featherweight champion.
In other words, Bellator has a built up a good head of steam while Zuffa catches its breath. Things continue along this weekend on the Mohegan Reservation, a roped off part of the state of Connecticut where MMA is perfectly legal. This time it's the welterweights, where there's always intrigue to be found regardless of the promotion.
For starters, everybody with Bellator tournament experience in the eight-man field is coming off a brutal loss. Chris Lozano got KO'd by Douglas Lima. Ditto UFC veteran
Ben Saunders
. Bryan Baker was TKO'd by Vianna. There's a lot of gnawing within the guts of the promotion's best-known guys. Meanwhile, David Rickels (3-0 in Bellator) will use his prelim experience and try his luck in the brackets.
As for everybody else? They are all debuting. And of everyone in the field, perhaps none is more interesting than Baker, who has been training at Greg Jackson's and is cutting down to 170 pounds for the first time. He will be fighting Carlos Pereira.
"I was a lighter fighter [at 170]," he said at the open workouts. "I used my speed, and I have power, and so I was able to hold myself as a middleweight. I was able to use my speed with my quickness against heavier opponents. But now it's time for me to be the heavier opponent, to stand in the middle of the cage and not be so worried about trying to move and worry about power. I can really stand the power at welterweight and I can make them fear my length more and just really own the cage."
Each time Baker fights he defies odds, having already battled through leukemia (which is in remission) and a couple of tournaments as an undersized middleweight. Now he's wiser, lighter and in tune with the most essential cliché of them all -- that is, he's taking it one fight at a time.
"I'm not sure who it's quoted by, but my little brother told me, 'it takes skill to want to fight, but it takes character to repeat.' That's pretty much where I'm at. I'm just going to go and win this fight, and it's in my character to be a professional to be where I need to be and continue winning."
Saunders revs up for second run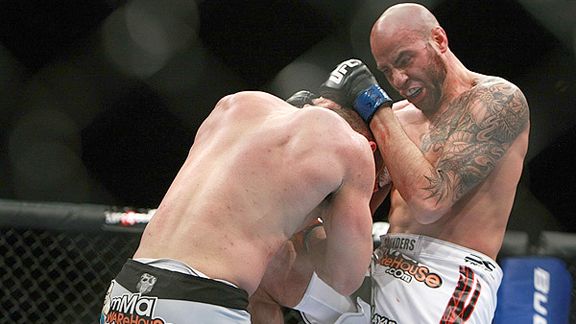 Dave Mandel/SherdogBen Saunders has put his dangerous Muay Thai game to good use in the Bellator cage.
After losing to insistent wrestlers in
Jon Fitch
and
Dennis Hallman
and subsequently getting released by the UFC, Ben Saunders went on a four-fight winning streak. That all ended when Douglas Lima stopped him at Bellator 57 in the welterweight final. Now he's back to square one as he sets for his fight with Raul Amaya, an undefeated fighter (9-0) who has finished everybody he's faced.
Saunders, who has one of the most sadistic Thai clinches in the sport -- one in which he uses all eight limbs gratuitously (as evidenced the last time he fought in Connecticut against Matt Lee) -- says that martial arts is a game of perpetual acquisition. So don't be surprised if he breaks out some wrestling and goes for the takedown against Amaya if it's there, because, hey, this game forces you to evolve.
"I'm going to be improving everyday," he says. "I'm never going to be a master of martial arts. I'll never be a master of my style until I die. There's always going to be something new that I can learn, so I've got to take [my losses] with a grain of salt. You learn more from a loss than you do from a win and it just made me more hungry."
Prindle/Konrad possible for April 13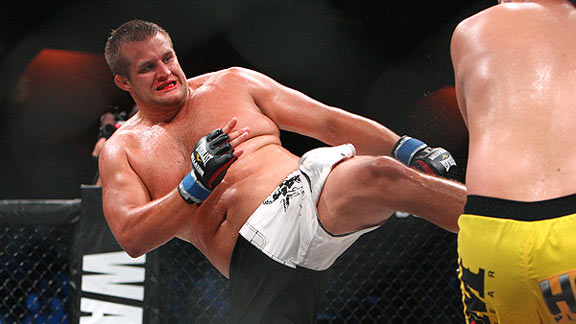 Sherdog.comAfter a series of twists and turns, Cole Konrad is finally closing in on an opponent.
It seems like heavyweight champion
Cole Konrad
has been waiting for resolution in the Eric Prindle/Thiago Santos saga forever. Realistically, it's only been a couple of months, and after many bizarre twists and turns, stubborn weight cuts and flu-like symptoms, it'll be Prindle who gets the nod to challenge Konrad. When is it going down? According to Bellator officials that fight could take place on the April 13 Bellator 65 card in Atlantic City. That's the same night that the company's smallest men -- the bantamweights -- kick off their quarterfinals.
How's that for size discrepancy on a card? Konrad walks around the size of two Marcos Galvao's and change.
Amoussou the former undercover cop
Karl Amoussou was an undercover officer not all that long ago, bringing robbers and drug dealers to justice in his native France. Obviously this would have made for an amusing back-story if he'd gotten his original opponent at Bellator 63, the always colorful War Machine, instead of Chris Lozano. As has been much publicized, Machine was re-incarcerated before making his Bellator debut against Amoussou. This whole "cop versus delinquent" thing that never happened wouldn't have mattered to Amoussou inside the cage, anyway.
"Yeah, I don't care," Amoussou said. "I plan to do a normal fight so what he does outside is his problem, I don't care."