February, 21, 2014
Feb 21
6:24
AM ET
LAS VEGAS -- Almost exactly one year ago, the question regarding Ronda Rousey's star power was whether it was enough to carry a UFC pay-per-view event.
Today, that question has turned into this: Is her star power actually so strong that it could end her fighting career?
Rousey (8-0) will attempt to make her third defense of the 135-pound title against
Sara McMann
(7-0) on Saturday at UFC 170 inside the Mandalay Bay Events Center.
In addition to fighting three times in the previous 12 months, Rousey, 27, has drawn plenty of interest from Hollywood. She's already completed filming roles for "Fast and Furious 7" and "The Expendables 3." She is due back on the movie circuit next month to film an appearance on a movie version of the popular HBO series "Entourage."
During a news conference on Thursday, UFC president Dana White said he does not consider Rousey's acting obligations to be distractions, pointing out that Rousey has remained an active champion.
"What is she juggling?" White said. "[She will] obviously have time off [after UFC 170], but what do you do when you have time off? Some people gain a bunch of weight and they have to go lose it in their next fight."
White did acknowledge that although Rousey is far from the first UFC fighter to appear in films, her earning power is far higher than any he's seen previously.
If that ability to make money in Hollywood
does
eventually pull Rousey away from the cage, White says he'll be happy for her and move on.
"Everybody keeps talking about, 'What if she leaves for Hollywood?'" White said. "What if she leaves for Hollywood? How is that bad for [the UFC]? Is 'The Rock' [Dwayne Johnson] being a huge superstar bad for the WWE?"
White added that the UFC plans to have Rousey fight three times in 2014.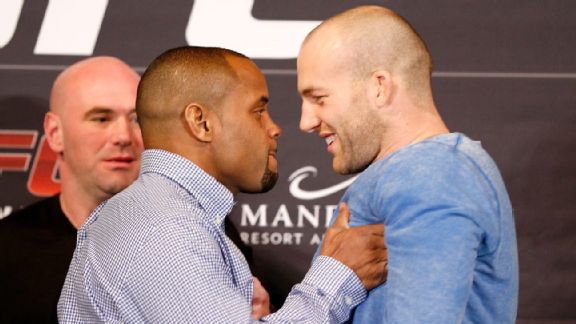 Josh Hedges/Getty ImagesThe UFC 170 co-main event got off to an early start after Daniel Cormier shoved Patrick Cummins.
Prefight scuffles between UFC opponents are rare, but they can happen.
Daniel Cormier
(13-0) shoved Patrick Cummins (4-0) during a stare-down on Thursday, presumably because of Cummins' comments on their history.
The two former amateur wrestlers trained together years ago at the U.S. Olympic Training Center in Colorado Springs, Colo. Cummins, who accepted the fight on short notice after an injury sidelined
Rashad Evans
, claims to have made Cormier cry once at practice.
The UFC has never lost a fight because of an incident at a weigh-in or news conference, but it was easy to read the uneasiness on White's face as the shove happened.
"I don't like it. I don't like when they touch each other before fights," White said.
"The one that scared me the most was
Diego Sanchez
/
Josh Koscheck
[at UFC 69]. Sanchez hit him so hard he almost fell over the scale. The sneakiest one ever was
Anderson Silva
when he hit
Chael Sonnen
[with a shoulder at UFC 148]."
Zingano still No. 1 contender whenever she returns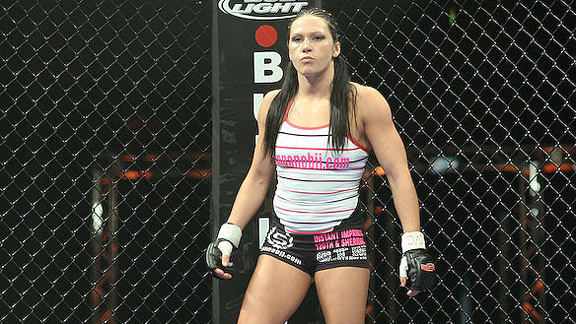 Isaac Hinds According to Dana White, women's contender Cat Zingano is still in line for a crack at the title.
Cat Zingano
remains at the front of the line for the next shot at the UFC women's bantamweight title.
Zingano (8-0) was supposed to coach against Rousey on "The Ultimate Fighter" reality series last year but was forced to withdraw because of a torn ACL. Last month, her husband and coach, Mauricio Zingano, committed suicide in Denver.
White did not know a timetable for her return but said she has not lost her place in the division. Zingano was originally expected to return to training in March.
"Cat Zingano and I have played phone tag, and I owe her a phone call," White said.
"The kitchen sink has been thrown at that poor girl. Losing the opportunity to coach TUF, losing the opportunity to fight for the title, being injured and going through all the emotional crap and then her husband -- you can't even imagine."
February, 10, 2014
Feb 10
6:13
AM ET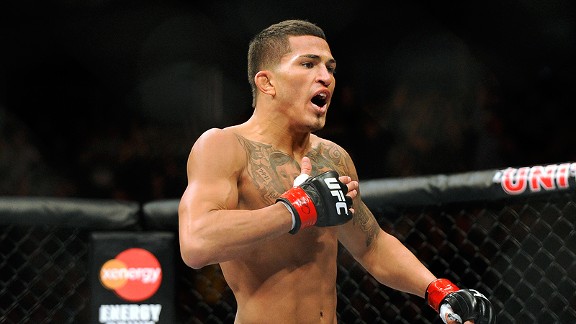 David Banks/USA TODAY SportsBlessing in disguise: An untimely injury might do more good than harm to Anthony Pettis' career.
The silver lining in not getting
Jose Aldo
versus
Anthony Pettis
in 2013: We get it in 2014, instead.
Fate apparently knew what it was doing last summer, when it scrapped a scheduled featherweight title bout between the two in August due to a Pettis injury. As good as that fight would have been
then
, it's matured into a blockbuster event now.
Instead of Pettis temporarily dropping to 145 as a challenger, you have Aldo moving up to make a champion/champion fight. It gives Aldo a chance to chase history, as he would become just the third UFC fighter to win titles in multiple weight classes.
All things considered -- storyline, fighting styles, mainstream appeal -- Aldo versus Pettis is the second-best fight the UFC could promote right now, in my opinion. What's the first? And what other fantasy matchups would I love to see? See below.
(Note: This list includes only fighters currently signed to the UFC.)
10. Junior dos Santos versus Alistair Overeem, heavyweight
From a competitive standpoint, this is probably the weakest option you'll find on this list. They are heavyweights, anything can happen, etc., but it would be real hard to pick against dos Santos in this matchup. There is a history here, though, as you might recall. The two were supposed to fight for the title in May 2012 before Overeem failed a surprise drug test. It's one of those fights that sells itself.
9. John Dodson versus Joseph Benavidez, flyweight
Two of, if not
the
best finishers in the flyweight division. Dodson's lead pipe of a straight left versus Benavidez's club of an overhand right -- and everything else these two do well. This fight would fly under the radar as far as casual fans are concerned, but with
Demetrious Johnson
proving to be so far ahead of the pack, this actually might be the most compelling matchup in the division.
8. Ronda Rousey versus Cat Zingano, female bantamweight
There is no concrete timetable for Zingano's return, but unless the UFC signs Invicta FC featherweight champion
Cris Justino
in her absence, the title shot should be waiting for her. Obviously, Rousey must get by former U.S. Olympic wrestler
Sara McMann
on Feb. 22 first. This fight was (and still is) intriguing due to Zingano's athleticism and finishing ability. Her strength and explosiveness will help in scrambles with Rousey, and she only needs a short window of opportunity to change the course of a fight.
[+] Enlarge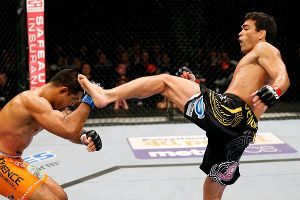 Josh Hedges/Zuffa LLC/Getty ImagesLyoto Machida, right, and his karate style would likely mesh well with the fan-friendly, ultra-aggressive Vitor Belfort.
7. Nick Diaz versus Robbie Lawler, welterweight
The first encounter in 2004 was just perfect. Diaz taunting Lawler to the point referee Steve Mazzagatti tells him, "no more talking." Lawler complaining of a groin kick and Diaz accusing him of faking right in the middle of the fight. The step back counter knockout for Diaz. Little brother Nate Diaz with the bowl-cut, running into the cage afterward. How can anyone
not
want to see this again?
6. Renan Barao versus Dominick Cruz, bantamweight
Sorry, but I can't seem to let this one go. As good as Barao looks right now, is he as good as Cruz was in 2012, when he first went down due to injury? You could argue either side of that. Whenever Cruz comes back, I say make this fight. Why not? He'd almost come in with low expectations on him. Everything to gain, little to lose. A "tuneup" fight would actually probably put him under more pressure.
5. Jon Jones versus Daniel Cormier, light heavyweight
Extremely marketable fight, obviously. I have a suspicion plenty of people will pick Cormier to win this matchup, but realistically, if they had to bet the farm on it, they'd change the pick to Jones. When the chips are down for reals, at 205 pounds, you don't bet against Jones -- even though it would be real tempting to do it with Cormier.
4. Lyoto Machida versus Vitor Belfort, middleweight
Belfort's offense versus Machida's defense is one of the most tantalizing battles we could hope to witness in the UFC this year.
Chris Weidman
is the undisputed king at 185 pounds -- he wears the crown -- but in terms of just a good, old-fashioned, definition of the term "fight," nothing is better at middleweight than Belfort versus Machida.
3. BJ Penn versus Conor McGregor, featherweight
The two losses to
Frankie Edgar
became personal for Penn because he despised the way he performed in them. So even though we can all think of better matchups for him than a third meeting with Edgar, he deserves a chance at that redemption. Win or lose, a matchup against the loud, cocky, talented new kid would be outstanding to watch start to finish and it would generate plenty of interest.
2. Jose Aldo versus Anthony Pettis, lightweight
Already discussed this one. Probably my favorite fight here, stylistically. In addition to having the physical tools to match Aldo (which is quite rare), Pettis has the mentality. He's not a guy who might just "survive" Aldo -- he'll push him, even in the first round. And that's something we all want to see.
1. Jon Jones versus Cain Velasquez, heavyweight
This is it. The No. 1 fight the UFC can promote, currently, post-
Georges St-Pierre
/
Anderson Silva
. No other matchup could generate as much pay-per-view revenue, and with good reason. Jones is the pound-for-pound best, while Velasquez is considered the "baddest man on the planet." Both dominant champs would have to adjust for the other. For Jones, it would be a shot at his GOAT quest -- capturing the most iconic title in mixed martial arts. It's unlikely to happen this year, with Velasquez currently sidelined and Jones focused on light heavyweight, but as long as both keep winning, people will talk and debate this matchup.
June, 24, 2013
6/24/13
12:43
PM ET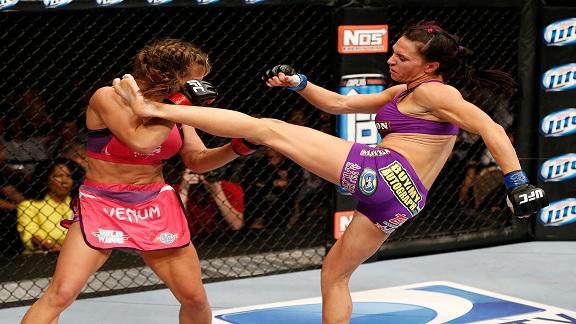 The first adjective
Matt Grice
uses to describe that grueling, split-decision loss to
Dennis Bermudez
on Feb. 23 at UFC 157 in Anaheim, Calif., is "fun." Awesome time.
"One of the most fun fights I've ever been in," Grice said. "Just competing with a person of that caliber. We're all there to test ourselves, and I feel that fight tested me a lot -- my willingness to continue and keep going. To me, that's fun."
ESPN.com's fight of the midyear was a landslide win for Grice and Bermudez. It's a funny thing, "Fight of the nights." Sometimes, stylistically, you can predict them. Oftentimes, however, they appear totally random -- as was the case with Grice and Bermudez.
[+] Enlarge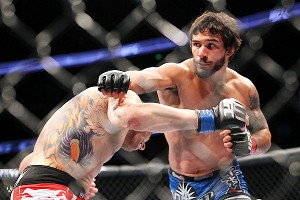 Ed Mulholland for ESPNDennis Bermudez, right, and Matt Grice took turns testing each other's chin for three full rounds.
Grice, for one, has no idea how to describe exactly what happens between two fighters that can turn a technical martial arts contest into a spirited brawl. He does know, however, that physical and mental endurance are involved.
"That definitely wasn't in the game plan, you know?" Grice said. "Take a bunch of punches and give a bunch of punches. You just get in the zone."
Bermudez got full mount on Grice in the first minute of the fight. The two exhausted one another against the fence throughout, fighting for underhooks and throwing knees and punches to the body. It continued like that for the next 14 minutes.
One of the most incredible things about the fight was that both had enough left to stand and trade punches in the final minute. The pace of this featherweight bout was insane from the beginning.
Grice dropped Bermudez with a perfect left hook in the first round.
Bermudez's corner told him, "We need this round, you've got to go for it," as he came off his stool for the final round. Across the Octagon, Grice's corner's last words were, "Don't stop. Don't relax."
"I think more than anything in that third round, it was survival tactic, Grice said. He hurt me right off the bat in that third round. Every time I would recover a little bit, he'd hit me with another one that would put me out. He was in great shape, too, because he threw a lot of punches in that last round."
Grice appeared out on his feet at least three times in the final round.
"I looked up at the clock with 47 seconds left and thought, 'Man, where did the rest of this round go?'" Grice said. "I came off the cage and hit him with a left hand and for the last 30 seconds or so we flurried."
According to FightMetric.com, Bermudez landed 120 total strikes to Grice's 82. It was, by far, the most times either had been hit in a UFC bout.
---
No. 2: Johny Hendricks UD3 Carlos Condit, UFC 158 (March 16).
This was an angry Hendricks. The kind of Hendricks you get when you give away his title shot to a recently suspended welterweight, coming off a loss. Condit wasn't backing down, though. Amazing fight.
No. 3: Wanderlei Silva KO2 Brian Stann, UFC on Fuel 8 (March 2).
Stann may have been able to play this safe and gone after Silva late -- but we'll never know because he chose to do the opposite. One would have thought Stann's chin would have held up better than Silva's, but that wasn't the case, as it was the Axe Murderer left standing after a firefight.
No. 4: Cat Zingano vs. Miesha Tate, TUF 16 Finale (April 13).
Tate will give you a fight. She's relentless and for two rounds, it worked against Cat Zingano. In the third, with a reality show and title shot on the line, Zingano delivered a highlight TKO.
No. 5: Mark Hunt vs. Stefan Struve, UFC on Fuel 8 (March 2).
The weigh-in photo of these two ranks among the most comical in UFC history. The actual fight ranks among the best of the year. For Hunt to get inside that reach, chances were he'd have to absorb a little punishment along the way. That's pretty much what happened, until Hunt delivered the walk-off home run shot.
April, 15, 2013
4/15/13
12:37
PM ET

By Chad Dundas
ESPN.com
Archive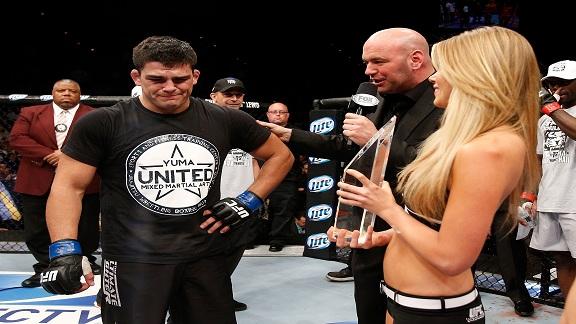 Two new stars were unexpectedly born Saturday night, when
Kelvin Gastelum
and
Cat Zingano
each beat the odds at "The Ultimate Fighter" Season 17 live finale in Las Vegas.
After beginning the season as the show's last pick, Gastelum turned the heavily favored
Uriah Hall
into MMA's latest straw man by upsetting the talented striker via split decision to win the TUF 17 crown. Zingano similarly rocketed out of obscurity and rebounded from a tough first round to TKO
Miesha Tate
in the third, claiming the chance to coach opposite
Ronda Rousey
on Season 18 and eventually challenge for her women's bantamweight title.
As far as plot twists go, these were both better than we might have expected from the UFC's flagging reality show -- a pair of surprise endings that suddenly made the hoary old institution of "The Ultimate Fighter" feel more relevant as it prepares to jump from the FX Network to the fledgling Fox Sports 1.
Credit Zingano as not only the biggest winner but the biggest catalyst for change. A week ago, she might have been an appropriate pick as a
contestant
on TUF's next season, which will jump yet another reality-show shark by having men and women live, competing side by side, when filming begins this summer. Now Zingano will have a full slate of hourlong episodes to introduce herself to the UFC faithful as coach, and she'll do it starring opposite the biggest sensation of women's MMA. Not to mention, if the early returns of her gutsy performance against Tate and exuberant postfight interview are any indication, she stands a decent chance of coming off as the more likable half of this particular coaching tandem.
Zingano's participation will offer a fresh angle to fans, who had already heard Rousey and Tate give each other an earful leading up to their March 2012 Strikeforce title fight. In the same way that the caustic feud between
Quinton Jackson
and
Rashad Evans
made Season 10 of TUF borderline unwatchable, the Rousey-Tate beef was best consumed in smaller quantities. Our brief glimpses of Zingano's personality suggest she might not play the trash-talk game, which portends good things for making Season 18 endurable.
Small victories.
Things turned in the exact opposite direction for Hall, who did as much to derail his own hype this weekend as Zingano did to kick-start hers.
Hall came into his bout with Gastelum as perhaps the most highly touted TUF finalist ever, drawing speculation he'd be an instant title contender in the middleweight division.
Unfortunately for him, that narrative fell flat when the 28-year-old member of Team Tiger Schulmann fought as if he wholeheartedly believed it, eventually conceding the decision to the underdog after a performance during which Hall looked great in flashes but entirely pedestrian the rest of the way.
That's the bad news. The good news is that just like Zingano's win, Hall's loss could ultimately prove to be positive, both for himself and for TUF at large.
Why? Two reasons: First, because Gastelum's victory demonstrated that amid all the babble about Hall, there might actually have been more than one noteworthy fighter on this season's show. If TUF's role in the UFC is to produce new faces for the company to promote, then the live finale worked like a charm. Instead of yielding Hall as the one breakout star we were counting on, TUF 17 gave us two interesting prospects (Hall
and
Gastelum). Make no mistake, that's a win-win.
[+] Enlarge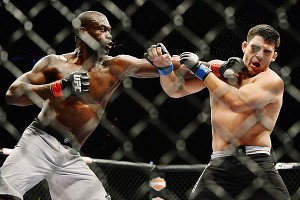 Al Powers for ESPNUriah Hall, left, will get a chance to mature as a fighter-- without the pressure of having to meet or exceed the growing expectations.
Second, as much as we're all mourning the demise of Hall's myth in the aftermath, the stakes here were actually very low for him. Truth is, he didn't lose much over the weekend except for the pressure of being "the next big thing" and the opportunity to get locked into the TUF winner's notorious "six-figure contract." He'll still almost certainly get the chance to be a UFC fighter, and now he'll begin his career in the Octagon under far less scrutiny and likely against far easier competition than if he'd slayed Gastelum in 30 seconds as we all expected.
Think about the alternative for a moment. Pretend Hall blew through Gastelum without breaking a sweat. This morning we'd all be trumpeting him as a contender at 185 pounds and agitating for him to leap into a bout with a top-10 guy. Knowing what we know about him now, how do we think that would've worked out for Hall? Answer: not well.
No, far better for Hall to get the time he needs to mature as a fighter and a competitor.
Over time, if he grows and improves and stops fighting like a man who thinks he can't be beaten, perhaps he can still come to be regarded as TUF 17's greatest talent, in the same way guys like
Kenny Florian
and
Gray Maynard
arguably surpassed the winners of their respective seasons when viewed through the filter of hindsight.
Upsets have long been a mixed bag for "The Ultimate Fighter." In this instance, wins by Zingano and Gastelum made the end of TUF 17 and the beginning of TUF 18 seem simultaneously exciting.
For a show that appears so intent on running itself into the ground, that was a welcome change indeed.
April, 9, 2013
4/09/13
1:00
PM ET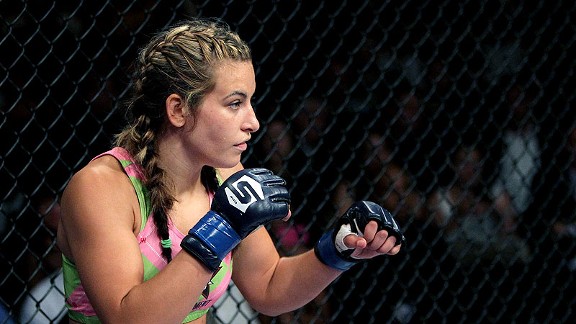 Josh Hedges/Forza LLC/Getty ImagesBefore Miesha Tate can secure a rematch with rival Ronda Rousey, she must get past Cat Zingano.
LAS VEGAS -- Grocery lines can be awkward when you're a female mixed martial artist.
Miesha Tate
, like any UFC fighter, wears the occasional black eye in public. It used to be, in a grocery line, for instance, she would receive a concerned-but-not-sure-how-to-react look from bystanders.
Lately, though, it's more of an I-wonder-if-that-girl-fights-for-a-living look, which is proof (and satisfying proof, at that) to Tate that the presence of women's MMA is growing.
"I've noticed people seem to have the wheels turning now, instead of the worried look I used to get," Tate told ESPN.com. "I think they are starting to think, 'Maybe she's a kickboxer. Maybe she does MMA.'"
"People are starting to wrap their mind around the idea that women do combat sports. It's been kind of cool to see that process."
Tate, who will face
Cat Zingano
in the second-ever UFC female fight at
The Ultimate Fighter Finale
on Saturday, has spent a lifetime experiencing that process.
As a high school freshman in Tacoma, Wash., she joined the boys' wrestling team by "default" because it was one of just two sports offered. A handful of other girls floated on and off the team, but Tate was the only one who stuck with it.
Her current boyfriend, UFC bantamweight
Bryan Caraway
, is widely credited for introducing her to martial arts, but it was actually a persistent neighbor who got Tate to take the first step.
"A neighbor of mine did karate and said, 'Hey, come try this out,'" Tate said. "I had never seen the UFC, and I wasn't interested at first, but she kept being persistent, so finally I went to appease her and learned some jiu-jitsu, and it was awesome."
Fate continued to push Tate toward a career in MMA. She attended her first amateur event as a spectator in 2006, still convinced the striking aspect of the sport wouldn't appeal to her.
By the time that first event was over, Tate was already signed up for her first fight.
"

A lot of people [watching UFC 157] just saw Ronda Rousey, Ronda Rousey, Ronda Rousey, but we haven't had the second UFC fight yet. At this point, people are probably just becoming fans of Ronda but I hope to change that April 13.

"

-- Miesha Tate, on growth of women's MMA entering her UFC debut
"I said, 'This isn't about violence or blood, this is about competition,'" Tate said. "It was really beautiful to me. I could see myself doing it, and lo and behold, the referee got on the microphone and announced an all-female fight card in three weeks.
"I gave him my info, and three weeks later, I was fighting."
Fate, it seems, was also intent on providing Tate with a rival in the form of current UFC champion and U.S. judo Olympian
Ronda Rousey
. The two fought in March 2012 for Tate's Strikeforce title, resulting in a first-round submission win for Rousey.
Rousey has been such an overbearing topic for Tate during interviews, she consciously has started to steer conversations away from her. It's not just that she's sick of talking about Rousey, but she's also eager to show the sport is deeper than one athlete.
"I think [
UFC 157
] came across probably more as a big moment for Ronda Rousey [than women's MMA] because she's really been pushed hard," Tate said. "But people who read into it more than just who's on the poster, I believe it carries that energy of women's MMA as a whole.
"A lot of people just saw Ronda Rousey, Ronda Rousey, Ronda Rousey, but we haven't had the second UFC fight yet. At this point, people are probably just becoming fans of Ronda, but I hope to change that April 13."
April, 9, 2013
4/09/13
12:34
PM ET

By Franklin McNeil
ESPN.com
Archive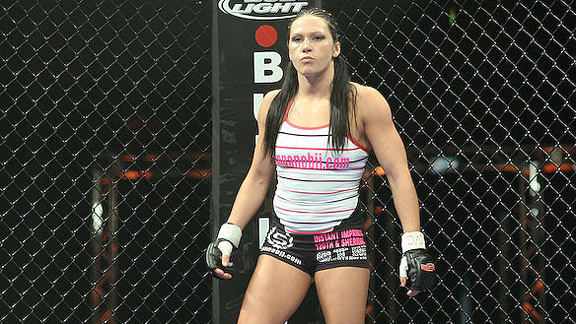 Isaac Hinds According to Dana White, women's contender Cat Zingano is still in line for a crack at the title.
Walking into an arena for the first time as a UFC competitor can be unnerving. No previous event can fully prepare a fighter for what he or she is about to experience.
As the fighter emerges from the locker room, she is greeted by a large, vociferous crowd, of which only a small number of onlookers are aware of her previous MMA accomplishments. All the success that fighter has achieved prior to this moment matters little to the UFC faithful.
The newcomer is viewed as a curiosity, at best, but not a true mixed martial artist until she has chalked up a significant victory inside the Octagon.
So the UFC newbie -- veteran or not, champion elsewhere or not -- is again in a position of proving her worth.
That's not all: There is also the matter of what a victory in a UFC debut can do for that fighter's career, especially from a financial standpoint, including greater endorsements and other high-profile opportunities beyond the MMA world.
UFC is the big time, and success there can result in unimaginable rewards. Now that's pressure -- the kind that can buckle the knees of even the most seasoned fighter.
But there will be no prefight jitters Saturday night for
Cat Zingano
when she makes her UFC debut. Self-doubt has never been an issue for her, and it's not about to arise now. The UFC fight-night environment will differ from any she has experienced, but it won't cause Zingano to suddenly lose her nerve or focus. There is no fear running through her veins. She knows what's at stake Saturday night against
Miesha Tate
and fully embraces the opportunity.
Zingano has worked too hard to get to this point and isn't about to squander it. Besides, she's already had a tiny taste of what it's like inside the arena on fight night during a UFC-promoted event.
"It's exciting to fight in UFC," Zingano told ESPN.com. "I went to watch the
Ronda Rousey
-
Liz Carmouche
fight and got a really good feel for the energy in the arena and how bright and exciting it is. I got to experience that, and I think that's a really good thing.
"Going into UFC is an incredible opportunity. But every fight I go into is just a fight. It's just me versus them, and my will versus their will, and who's going to break and who's going to get their hand raised."
"

Every fight I go into is just a fight. It's just me versus them, and my will versus their will, and who's going to break and who's going to get their hand raised.

"

-- Cat Zingano, on how she is approaching her UFC debut
Zingano vows that she will not be the one to break at the TUF Finale 17 in Las Vegas, where Tate, a former Strikeforce champion, will be standing across from her in a UFC women's bantamweight title eliminator with the winner getting a shot at the champion Rousey.
This being the most important, highest-profile bout of her career won't cause Zingano to break out in a cold sweat or question whether she has bitten off more than she can chew. Zingano approaches this fight the same as any other -- it's her against another fighter who is determined to knock her head off, if necessary, to get a win.
That's the fight game. Zingano has competed seven times professionally. On each occasion, she has walked away unscathed.
There is no reason, in her mind at least, to doubt that Saturday night will be any different -- UFC debut or not. Zingano is foremost a fighter, and the UFC community, especially Tate, is about to find out just how good of a fighter she is.
"Miesha Tate has no area in which I feel she is stronger than me. I'm better than her on the feet, on the ground," Zingano said. "I am very disciplined in my conditioning. I'm very comfortable fighting from any position -- off my back or on top -- my footwork, everything. I'm a few levels above her.
"I have something she's not going to be able to handle in every scenario. I'm very confident in everything that I bring into the cage."
While she has demonstrated above-average fighting techniques in each bout -- submission, knockout and decision wins dot her résumé -- Zingano isn't ready to call herself a full-fledged professional mixed martial artist.
There are still a few more lessons she would like to complete. But as has been the case thus far, Zingano expects to continue receiving high marks from her instructors.
"I'm not going to lie to myself," said Zingano, who is 7-0. "I'm always going to be true to my roots. I'm a wrestler and have been a wrestler since I was 12 years old. That's always in my back pocket. If ever I get into a sticky situation that I'm uncomfortable with, I have [wrestling]. But I'm not satisfied with having just one style, being one-dimensional. I'm a student who wants to learn everything.
"I consider this [period] my college education. These are the years I could have been at a university getting my Ph.D. That means knowing everything about the human body in order to be able to function as a successful [fighter]. I know that I have good skills as far as my ground game, but I want to test myself in uncomfortable situations where I'm not as well-rounded as some of these other girls. If you beat somebody in an area they are good at, that feeling that is irreplaceable."
That could mean besting Tate on the ground. Tate is among the best wrestlers in women's MMA. But Tate also possesses solid submissions and striking.
In many ways, Zingano and Tate are mirror images of each other. The biggest difference is that most MMA fans are familiar with Tate.
But they are about to get a heavy dose of what Zingano can do in the cage. She won't be an unknown entity in UFC circles after Saturday night.