April, 19, 2013
4/19/13
2:17
PM ET
SAN FRANCISCO --
Gilbert Melendez
's long, winding ride to the UFC concludes Saturday, not so far from where it began.
The 31-year-old Californian, a Strikeforce lightweight champion and longtime resident of top-10 lists, enters the Octagon for the first time against
Benson Henderson
-- making him a rare rookie title challenger inside an arena that played host to some of his greatest moments as a professional mixed martial artist. All of this will be taking place an hour's drive from where Melendez was introduced to the sport, on a whim, while wrestling at San Francisco State.
"It doesn't hurt that the Octagon is going to be in the HP Pavilion, where I've been plenty of times," Melendez said. "So in some ways it's unfamiliar but in some ways it's so familiar."
This could very well describe Melendez's presence in MMA since 2002.
Compiling one of the most impressive outside-the-UFC résumés of any fighter in the sport, Melendez (21-2) fought at 143 pounds in Japan at a time when that meant something. Moving up to 155, "El Nino" dominated a strong contingent of contenders in Japan and the U.S. There isn't a man he fought whom he didn't defeat. Yet on the verge of his UFC debut -- a scenario he heavily though begrudgingly campaigned for in recent years -- Melendez is of the opinion that his numerous accomplishments don't matter.
"This is the UFC. I'm 0-0 here," Melendez said. "This is my coming-out party. Am I a certified fighter or not? Am I a joke or not? I could have a bad day and people would still think I'm a joke. I could lose and they'll think I'm a joke. But I have to win.
"I've stepped into rings. I've stepped in places where you can stomp on peoples' faces and knee them in the head [on the floor]. I've been to other countries and other states with different rules. This is a different size cage, different rules, different organization, different title. So, yeah, I'm definitely walking in as a challenger."
The opportunity comes at the right time. Melendez readily admits he reached a plateau in Strikeforce, a promotion that couldn't provide him with the kind of challenges he wanted, especially after Zuffa took control of the company in 2011.
"The politics behind Strikeforce, Showtime and UFC played with his head quite a bit," said Gilbert Melendez Sr., a strong presence since the beginning of his son's career.
Melendez got away with simply showing up in shape because it was his sense he was better than everyone he fought. "It hindered me not because of the talent of the people I fought, but the motivation," he said. So his desire to improve waned as he struggled mentally with not being where he wanted to be. Among other reactions, frustration set in.
"You're Strikeforce champ, you can't be like, 'Hey, I don't want to be here anymore,' " said
Jake Shields
, who introduced Melendez to MMA and was similarly a Strikeforce champion before fleeing for the UFC when his contract was up. "He was getting paid, so he was happy in that sense but you could just see he didn't have any motivation. His training camps were suffering. I could see it."
Rather than improving as a fighter, save taking the time to heal a nagging back injury, Melendez spent his days focused on his personal life, which included a fiancée, Keri Anne Taylor, and a baby girl. Melendez also opened an expansive gym in San Francisco's warehouse district, not far from AT&T Park, where a full training camp was spent preparing for gifted UFC champion "Smooth" Henderson (18-2).
"He's on beast mode. He's ready to go," said
Nate Diaz
, Melendez's teammate and younger brother-in-arms. "I don't think there's anyone better than Gilbert in the lightweight division. This is his time."
Diaz was the last member of Melendez's crew to get a crack at a UFC belt, falling to Henderson on points in December.
"The thing with Gilbert is he really steps his game up for competition," Diaz said. "When he's set to win, he wins. He does even better in fights than he does in training most of the time, and right now he's unstoppable in training. I think Henderson has his hands full."
All told, the
Cesar Gracie
jiu-jitsu team is 0-5 in UFC title contests -- a fact Melendez is keenly aware of but not consumed by. Their experience was built from the ground up, a distinctly Bay Area crew that molded itself into one of MMA's most respected teams. All of that is undeniable and powerful should Melendez choose to call upon on it, though he knows on fight night, it'll be just him and Henderson alone in the Octagon.
"Benson's a mixed martial artist," Melendez said. "A lot of guys are Muay Thai guys that fight MMA. Or wrestlers that fight MMA. He uses all his tools. He's a good striker, good grappler, great submissions -- but he shines when he puts it all together. I'm also that guy, though. I'm not just a striker. I'm not just a wrestler. I'm not just a grappler. I'm an MMA fighter. I think we match up pretty evenly when it comes to that. He has some pretty good kicks but I think my hands are a lot better. Wrestling and grappling will be interesting.
"I've been thinking about this a long time. You want the respect. You want to brand yourself. You want to be be ranked. You want all that, but it's easy to put it aside. It doesn't matter: I got the opportunity."
April, 17, 2013
4/17/13
10:55
AM ET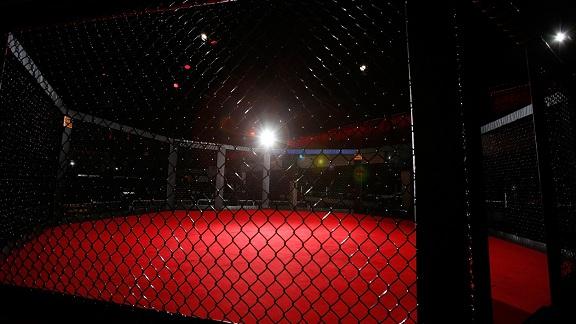 California has long been inundated with mixed martial arts gyms, which isn't the sort of thing that just happens.
The Gracie family settled near Los Angeles in the 1980s, and therefore so did Brazilian jiu-jitsu. After several years, the UFC arose out of an idea centered on marketing and selling what the Gracie family embraced as a value system. This was so successful that competitors flocked to the West Coast with some looking for grappling expertise and others just seeking a fight, of which there were plenty.
Soon the Golden State, particularly its southern half, was regarded as the "Mecca for MMA," especially as events and fighters and camps were covered by a burgeoning press that proliferated on the Internet as the sport struggled to gain traction in more traditional settings.
California approved the first set of codified MMA rules 13 years ago this month. Many of the UFC's early top draws -- from
Royce Gracie
,
Ken Shamrock
and Tank Abbott to
Tito Ortiz
and
Chuck Liddell
-- made their homes there. Anyone who knew anything about MMA is aware of the cultural impact of TapouT, a Southern California-formed company. Most of the MMA fights that took place on Native American lands from 1993 to 2003 were sandwiched between Fresno and the U.S.-Mexico border.
Over the past decade, however, in the wake of regulation and the sport's movement away from underground events, there's been a shift to the North in terms of where the best fighters and camps are located in California.
In 2013, California's world-class training facilities feature some of MMA's best fighters, including seven Northern Californian residents set to enter the Octagon on Saturday in San Jose. And while Southern California continues to hum along, producing a massive amount of talent as it goes, the appearance of vibrant fight teams in the mold of Shamrock's San Diego-based Lion's Den, or Ortiz's crew in Huntington Beach, is more likely a northern phenomenon.
Three major groups have come to represent NorCal MMA:
Cesar Gracie
jiu-jitsu, American Kickboxing Academy and
Urijah Faber
's Ultimate Fitness. Their impact on Saturday's card is undeniable. At the same time, SoCal teams have seemingly fallen apart. Shamrock is almost all but forgotten. Ortiz's crew splintered many times over. There are pockets of consistency, including the Inland Empire which features Millennia jiu-jitsu and Dan Henderson's Team Quest affiliate in Temecula. But it's hard to argue against the reality that the North has taken over the South for the state's MMA supremacy, particularly when it comes to raising homegrown talent.
During Saturday's main event on Fox,
Gilbert Melendez
will attempt to bring home UFC gold to a group of guys who have been together for well over 10 years (a fourth title try in the Octagon for the Cesar Gracie crew in 24 months). The co-feature: AKA's unbeaten rising star
Daniel Cormier
against former UFC heavyweight champion
Frank Mir
. The next chapter in a competitive but mostly friendly rivalry between AKA and Cesar Gracie, camps situated about an hour drive apart, pits
Josh Thomson
and
Nate Diaz
. On the undercard, the Faber-influenced trio of
Chad Mendes
,
Joseph Benavidez
, and
T.J. Dillashaw
will get in some work.
Major Southern California promotions aren't happening like they used to -- a product of saturation, fan complacency and promotional indifference -- so events that mattered in terms of finding talent, say those put on by King of the Cage in the early 2000s, haven't been relevant in years. Meanwhile, NorCal gyms cultivated direct pipelines into Stikeforce or UFC.
The competitive shift from SoCal or NorCal can be traced to several factors, none more noteworthy than the emergence of Strikeforce as a platform for Bay Area fighters.
Big California fight camps once synonymous with Orange County or the Inland Empire haven't been for some time. This seems tied to opportunity more than anything else, yet NorCal fighters like to suggest it has as much to do with their grittiness and determination as it does with promotional platforms. SoCal fighters would disagree, but this is how the guys up North view what's happening in the state.
And results suggest they're on the correct side of things.
March, 13, 2013
3/13/13
7:08
AM ET
Descending into the rabbit hole that is
Nick Diaz
.
Last week's all-time terrific conference call featuring Diaz and UFC welterweight champion
Georges St-Pierre
ahead of Saturday's title fight in Montreal was revealing in many ways.
It opened a window, at least one I hadn't had a chance to peer into before.
I had no sense prior to Diaz's back-and-forth with St-Pierre that the man coveted anything more than good times with his friends, the space to live as he pleased, the chance to be a martial artist, and the opportunity to fight -- because for the past 12 years as a pro he made it a point to express just how little anything else meant to him.
Choose your path. Walk it. What comes, comes. That's what Diaz did.
In some ways that has yielded tremendous success. Take the title shot with St-Pierre. Fans had an expectation to see him fight GSP, and Zuffa is in business to capitalize off of stuff like that. No problem. He may not "deserve it" in the sporting definition of the phrase, not coming off a loss against
Carlos Condit
. And certainly not in place of
Johny Hendricks
. But he scored the fight because he developed a following over the years for exciting action and unpredictability.
Yet, the unpredictability that produced Diaz's counter-culture following also ensured endorsement deals and the like won't come his way. Even if he beats St-Pierre to claim the title, it's hard to imagine that changes. Opportunities in and out of the sport have been limited solely by him. That fact has prompted many of Diaz's fans, other fighters, his promoters and even his closest allies to call into question his ability to think and act in the ways society expects people in his position to think and act. Which is totally fine. Everyone has the right to self-determination. Attitudes, however, have consequences.
"Nobody knows who I am," Diaz lamented during the teleconference. "I mean, I guess, everybody does, but as far as like your mainstream magazines and your Nike, adidas and all your good stuff, I'm left out of that."
Whose fault is that?
I can say I've tried to get some access to him and cover him more closely since joining ESPN, only to be turned down by his trainer
Cesar Gracie
, who said he did so after asking his fighter. Outside of the veteran trainer, who also was highly influential over
Nate Diaz
,
Gilbert Melendez
and
Jake Shields
to name a few, Diaz never had use for handlers, or public relations people, or a social media marketing campaign, or anything that coincides with brand building. And, ironically enough, that became his brand. He only had his hands, which were balled up in fists or assembled in such a way as to send a pointed message.
[+] Enlarge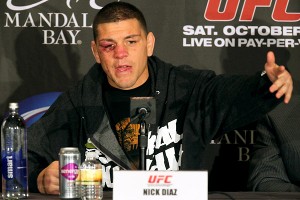 Kari Hubert/Zuffa LLC/Getty ImagesNick Diaz' penchant for rubbing people the wrong way hasn't exactly attracted a legion of sponsors.
Now the man is ogling recognition and red carpets and pampering? Now he wants everything that requires consistently diligent work and, dare I say it, playing the game? I believe that's what he said, though sometimes it can be difficult to decipher, and he's prone to contradictions. Well, that's not how life normally works, especially not when reputations are hardened like bunkers.
"I'd like to be known as someone who kept it real … I just don't like that I'm made out to be this evil person that needs to be down or you know, that needs to be like conquered," Diaz said.
Fair enough. Diaz isn't remotely evil or ill-intentioned. He's said to be a great friend to the people who know him that way. But he has been controversial and, at times, socially odd and a major pain for people who would like to rely on him.
Some fans love Diaz for being this way. His rants against fighters with painted toenails and Las Vegas and the people it attracts are infamous. The fakers, the lowlifes, the people who refuse to remain who they are in the face of celebrity and the like. Those are things he has slammed -- the anti-"fake" part of him he alluded to last week.
Less and less these days people seem willing to sacrifice money, or fame, or celebrity for keeping it real. Diaz was that guy. Perhaps as he approaches 30, that's changing. MMA has come to accept that Diaz doesn't give a damn, mostly because he led us to believe that's how he preferred it.
Last week's window into his soul somehow suggested otherwise.
Nick Diaz, image-conscious kid from the streets of Stockton, Calif. That'll take some getting used to.
December, 6, 2012
12/06/12
6:15
AM ET
By Michael Landigan
ESPN Stats & Information Group
Archive
Fireworks are sure to fly Saturday at KeyArena in Seattle when UFC lightweight champion
Benson Henderson
defends his title against
Nate Diaz
. Here is a look inside the numbers for the UFC on Fox main event:
6 -- Inches in reach advantage for Diaz (76 to 70).
Diaz is 3-0 since dropping back down to 155 pounds, where he has used his reach advantage and unorthodox boxing style to outclass
Takanori Gomi
,
Donald Cerrone
and
Jim Miller
on the feet. After landing only 62 significant strikes combined in back-to-back unanimous decision losses to welterweights Dong Hyun Kim and
Rory MacDonald
, Diaz landed a UFC-record 238 significant strikes in his classic stand-up battle with Cerrone at UFC 141. Henderson hasn't fought with a definitive reach disadvantage since his unanimous decision victory over
Mark Bocek
at UFC 129.
48 -- Percentage of takedowns Henderson has completed, as well as the percentage of takedowns Diaz has defended.
A former two-time NAIA All-American wrestler, Henderson might look for the takedown early if the reach of Diaz becomes a problem. Henderson's preference was to keep the fight standing in his two close decisions over fellow wrestler
Frankie Edgar
, but he completed a combined 10 of 11 takedowns in unanimous decision victories over Bocek and Miller. Diaz does have a history of being controlled on the ground as all five of his UFC losses have come at the hands of high-level grapplers. After being taken down a combined 10 times in losses to Kim and MacDonald, Diaz was put on his back only once in five attempts by Miller.
20 -- Number of submission attempts by Diaz, eighth most in UFC history.
If Henderson does choose to bring the fight to the ground, he must be wary of the high-level Brazilian jiu-jitsu skills of Diaz. Eight of Diaz's 11 UFC wins have come via submission, most of any active UFC fighter. His guillotine finish of Miller at UFC on Fox 3 in May was the first time Miller had been submitted in 25 professional fights. Finishing Henderson will be no easy task, however, as the lightweight champ has not been submitted since his third career fight back in 2007. Henderson has made a habit of escaping deep submission attempts in his rise to prominence but would be wise not to test those Houdini skills against the
Cesar Gracie
black belt.
19:00 -- Henderson's average UFC fight time, longest in UFC history (minimum five fights).
Henderson has been criticized for his inability to finish a UFC opponent, as he has not tasted victory via knockout or submission since catching Cerrone in a guillotine back at WEC 48. The streak figures to be difficult to end against Diaz, whose armbar loss to
Hermes Franca
in 2006 remains the only time he has been finished in 23 professional fights. Both fighters also have never been knocked out in their careers, increasing the probability that, no matter who emerges with the belt, the bout is likely to go distance.
Statistical support provided by FightMetric

April, 30, 2012
4/30/12
5:43
PM ET

By Franklin McNeil
ESPN.com
Archive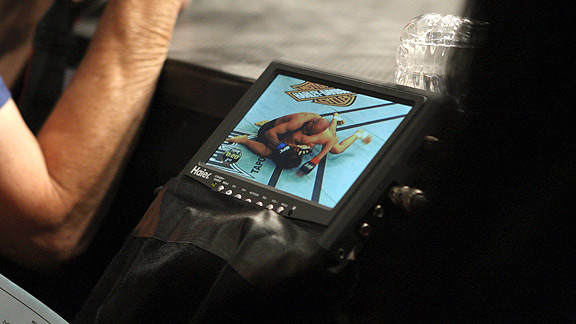 Ed Mulholland/ESPN.comMonitoring the action: Ricardo Almeida's first real test as an MMA judge comes Saturday.
As soon as the judges' scorecards were read,
Ricardo Almeida
knew it was time to end his fighting career.
Almeida still believed he could compete against UFC's top welterweights. What he could no longer do was defeat some of the sport's questionable judging.
Fighting in his home state of New Jersey on March 19, 2011, at UFC 128, Almeida came out on the short end of a unanimous decision to
Mike Pyle
.
"As a fighter, I've been on the wrong end of a couple of bad decisions, fights I thought I'd won but lost," Almeida, who spent most of his mixed martial arts career at middleweight, told ESPN.com. "The one closest to my heart is the last fight in Jersey.
"It was close, but I thought I won that fight."
Rather than be victimized by another "bad" decision, Almeida decided to take off his gloves for good. He might have lost to Pyle, but he wasn't done fighting. Almeida was just getting started.
You know the saying, "if you can't beat 'em, join 'em"? Well, Almeida took that saying to heart and, shortly after his loss to Pyle, became an MMA judge with the New Jersey State Athletic Control Board.
The experience has been satisfying and eye-opening for Almeida, who has a newfound appreciation for some of the obstacles judges must overcome while scoring fights.
"Personally, it's just giving back to a sport that has given a lot to my life," Almeida said. "[NJSACB attorney] Nick Lembo invited me and I've had a great relationship with the New Jersey State Athletic Control Board and I accepted right away.
"What people don't understand is that the view a judge has watching the fight isn't the same view fans have watching on TV. It's hard; it's a different perspective."
A judge's vision can sometimes be obstructed by poles, referees and poor seating angles, which strengthens Almeida's belief that former fighters are best equipped to score today's action.
[+] Enlarge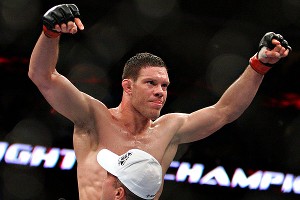 Noah K. Murray/US PresswireRicardo Almeida has seen his fair share of success -- and bad decisions.
"There is always going to be controversy, but the more we can get guys who understand what's going on inside the Octagon, the results are going to be a little more consistent," Almeida said. "Another side of it is that the sport is evolving so quickly that a lot of fans don't even understand the sport now."
For a little more than a year, Almeida has been fine-tuning his skills as a professional MMA judge. On Saturday night he gets to show off what he's learned on the sport's grandest stage --UFC on Fox at the Izod Center in East Rutherford, N.J.
Almeida will score several bouts on that card, including the co-main event which pits welterweight
Johny Hendricks
against
Josh Koscheck
.
His presence as a judge has already garnered support from the fighters.
"He's going to know a little bit more about the sport," Hendricks said during a recent conference call. "He'll know what position really means, and he'll know when a strike actually lands."
Koscheck added: "It's good for the sport. It gets the perspective of a fighter, someone who's been in the Octagon and knows jiu-jitsu and knows wrestling and understands the sport.
"As this sport grows we're going to see more ex-UFC fighters become judges. It's a good start."
This will be the biggest night of Almeida's young career as a judge. While he is judging the fighters' performances, others are sure to judge his.
[+] Enlarge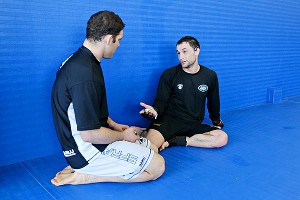 Ed Mulholland for ESPN.comRicardo Almeida has spent time with training with Frankie Edgar -- so don't expect to see him judging a fight involving Edgar.
But with several events under his belt -- among them, Cage Fury Fighting Championships, Ring of Combat and Bellator Fighting Championships -- Judge Almeida is fully prepared for his UFC debut.
"It will be pretty intense, but I will be on my toes with this UFC event, because I know all eyes are going to be on me," Almeida said.
"Yeah, I'm going to be nervous. It'll be like I'm walking into a fight myself. But the spotlight only makes me want to be sharper and do a better job."
In addition to his knowledge of MMA, Almeida also brings his high level of integrity. Some might question if having Almeida judge fights is a conflict of interest. He still runs his gym in Hamilton, N.J., where several high-profile fighters train, including former UFC lightweight champion
Frankie Edgar
.
No worries; Almeida will never be assigned to judge a bout that has a direct impact on one of his fighters.
"Obviously that is not going to happen," Lembo told ESPN.com. "There are disclosure forms and conflict of interest forms that every official has to fill out. If anything, Ricardo has voluntarily disclosed some things that I didn't even think, as the commission attorney, disqualified him.
"That's one of the reasons why he's not on that [
Nate Diaz
-
Jim Miller
] fight. Diaz has a [Cesar] Gracie connection and Miller's side [American Martial Arts] also has a connection to
Renzo Gracie
."
Miller and Diaz are competing in a lightweight bout that could land the winner a shot at the title. Champion Benson Henderson is tentatively slated to face Edgar in a rematch on Aug. 11 at UFC 150. Almeida and Edgar are closely affiliated with Renzo Gracie.
"I don't want to be part of a fight where there is any conflict of interest of any kind," Almeida said. "I've trained with Jim Miller and we're very close with Nate Diaz."
Knowledge, enthusiasm and integrity: Almeida will bring it all with him as a judge Saturday. Besides, he's developed into a solid judge, according to his superiors.
"He's been very good or we wouldn't use him," Lembo said. "We're not using him because he's Ricardo Almeida; that doesn't do use any good.
"We're not in the business of selling tickets or getting media attention; we're in the business of trying to assure the health and safety of the fighters, and provide the best officiating that we can."
February, 6, 2012
2/06/12
4:39
PM ET

By Chuck Mindenhall
ESPN.com
Archive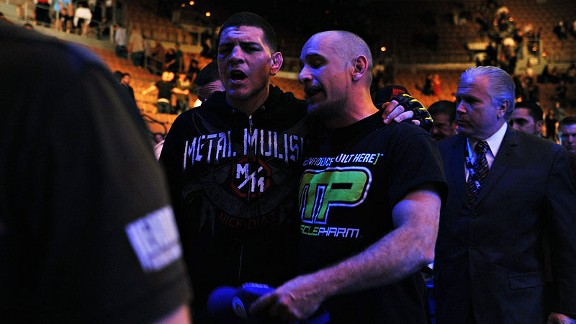 Rod Mar for ESPN.comWalking away: Is it possible we've seen the last of Nick Diaz?
There were those who thought that
Nick Diaz
beat
Carlos Condit
at UFC 143, pointing to his constant pursuit as evidence. Diaz stalked, mocked and talked. He was "Stalkton." He was exactly who we thought he was.
Problem was, Condit wasn't.
Condit went into the nastiest kind of retreat, one that stuck and ducked and moved and circled and landed leg kicks and counter shots with isolated ease. Isolated? Wait -- wasn't Condit supposed to stand in front of Diaz and trade, looking for that big curtain closer? Weren't chins supposed to come into question? Wasn't Condit supposed to be tailor-made for the high-volume striking assault that Diaz is known for?
Condit had a mute button for the volume. He was either brilliant, or he was a high stakes version of Kalib Starnes, depending on your bias. In all circles, it was clear that he consciously avoided a brawl. And this is where feelings got hurt. In the end, Condit wasn't about meeting bloodthirsty expectations so much as winning the fight, and he executed his game plan brilliantly. Good for (or shame on) him. Now he's the interim welterweight champion, and don't expect apologies from Albuquerque.
Yet for all the scorecard dissection that ensued, nobody was as disappointed or disillusioned as Diaz, who sort of retired right after. A totally impromptu retirement -- just a hundred seconds after a stubborn war he could never incite.
"I don't need this s---," he said to Joe Rogan.
He said he'd continue to help train his brother, Nate, but as for him and the whole pack of incompetent judges and all the pressure-filled, bustling hate? Devil take it. He doesn't need the racket.
Which we all of course took with a grain of salt.
Nobody really thinks that the 28-year-old Diaz is walking. He
does
need the racket. All the dude has done since his earliest memories is mean mug whoever gets in his grill, and fight. He went so far as to balance out the street menace early by funneling it into jiu-jitsu in his formative years. These days, he is as much Cesar Gracie as Cesar Gracie. Diaz is known for his fiendish work ethic, and he trains compulsively. It's what he does. It's how he copes, and how he vents. We like it because we see such focused discipline coming out of unknown wilds. Maybe more than anybody, this game is Diaz's lifeblood.
Only it's not a game to Diaz, it's fighting -- and that's why judge's scorecards become absurd to such a literalist.
[+] Enlarge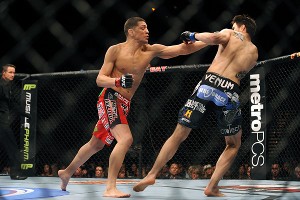 Rod Mar for ESPN.comIt's hard to imagine a competitor like Nick Diaz going out on a loss.
This last distinction is why he'll return to the cage before long. The old Dana White proverb to "never leave it in the hands of the judges" will resonate in him and work as kindling. Losing that way won't sit well in the 209. White senses it, just like you and I. In fact, White was already dangling
Josh Koscheck
out there as a possible next opponent in the postfight news conference. Emotions got the better of Diaz, who has never filtered the urge to say what's on his mind like typical professionals.
It helps that there are possibilities all over the place. Realistically, with
Georges St. Pierre
on the shelf until something like November, a rematch with Condit isn't out of the question. Neither is fighting a
Johny Hendricks
or a
Jon Fitch
or a
Rory MacDonald
to avenge his brother's loss. Or maybe
Jake Ellenberger
, who would love nothing better than to stand and trade heat with Diaz. How about rematch with
Diego Sanchez
, who knows the buttons to push to get Diaz's chest puffing back out?
There will be suitors, some of them equipped with the kinds of mouths that will get to Diaz.
But that's all window dressing. The thing is, Diaz doesn't have it in him to quit, and there's still too much left unresolved and just too many reasons for him to walk away.
And for those who have paid attention to Diaz's competitiveness over the years, the biggest might be this -- he simply can't.
February, 3, 2012
2/03/12
7:07
AM ET

By Brett Okamoto
ESPN.com
Archive
LAS VEGAS -- It's a simple question with a potentially very complex answer: Is
Nick Diaz
crazy?
The UFC welterweight must be hearing from select groups of fans that he is -- and one can see how the rumor started. He has skipped news conferences in the past. His own trainer, Cesar Gracie, once informed UFC president Dana White that Diaz snuck out of the window in his house just to escape the situation.
He's known for giving awkward, at times off-topic interviews. Apparently, despite being pulled from a main event last year after he was deemed too unreliable by UFC brass, he still managed to miss three flights to Las Vegas for this weekend's fight, according to White.
To Diaz, however, he's not crazy -- the situation is. He's here to fight. What's crazy is before he has to fight, he has to sit at a table and answer questions from media. He has to get in the same room as his opponent and take pictures with him. He has to sit in front of a camera and try to figure out exactly what the UFC wants him to say.
"I'm just being realistic," Diaz said. "People want to say, 'Oh, Nick Diaz is crazy.' I'm like, hey bro, what you see is what you get. I'm not out here trying to put on an act like I'm crazy.
"In my mind, [other fighters] are the ones who are crazy. They're the ones putting on an act, doing what they're told in front of the camera. The camera gives them a line and they say it 10 times. They turn these guys into robots. I'm not going to be that guy."
[+] Enlarge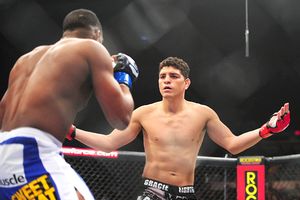 Mark Rebilas for ESPN.comPublic speaking has never been Nick Diaz's forte.
During the UFC 143 prefight news conference Thursday, a fan in the audience asked Diaz what he meant when he said you need to love mixed martial arts so much, you hate it during a promotional video.
Diaz, seeming disinterested in the question, stared ahead for a few moments before answering, 'That pretty much says it all, what I said is what I meant."
It wasn't exactly a memorable moment; however, the UFC President felt it illustrates why Diaz is viewed the way he is. More so than any fighter in the promotion, Diaz is a guy who doesn't want to talk about what he does, even with a fan.
"This kid is fascinating," White said. "You ask him a question he knows the answer to, 'but f--- you. Figure the f---ing answer out yourself. That's how he thinks. 'I don't give a s--- what you think. I'm here to fight. It's almost like he even hates [the UFC]."
While Diaz believes he's the most 'real' fighter in the UFC, a potential opponent of his tends to disagree. For welterweight champion
Georges St. Pierre
, Diaz isn't real and he isn't crazy.
He's putting on an act, trying to intimidate.
"Nick is not crazy," St. Pierre said. "Nick is a very smart guy. He hast to intimidate people. He's like a school bully. I remember people bullying me in school; they tried to make me believe they killed people.
"I don't buy this thing that he's crazy."
White on Overeem: 'I don't think he's in that much trouble'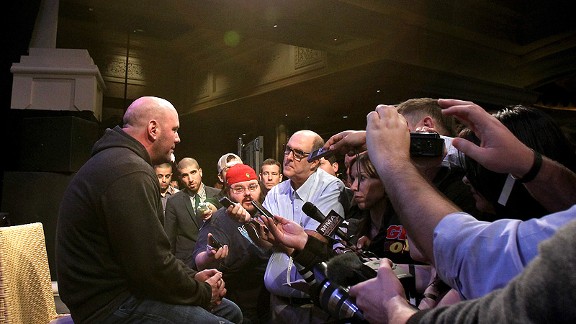 Josh Hedges/Zuffa LLC/Getty ImagesDana White feels Alistair Overeem will still be able to challenge for the UFC heavyweight title.
News broke this week that top heavyweight contender
Alistair Overeem
has been charged with misdemeanor battery, stemming from an incident in a Las Vegas nightclub.
Overeem, who defeated
Brock Lesnar
at UFC 141 in Las Vegas on Dec. 31, was not arrested during the incident but faces a maximum penalty of six months in country jail for allegedly shoving a woman.
The UFC president said Thursday he does not believe the issue will affect Overeem long-term and does not anticipate it interfering with pairing the Dutch fighter against champion
Junior dos Santos
as planned.
"He had to use the restroom, this is my knowledge of what happened," White said. "Security was going to take him but he said, 'I don't need security.' Sure enough, he goes over there and his side of the story is some lady started yelling and swinging at him.
"I don't think he's in that much trouble. This isn't a situation where he beat somebody up."
Hendo waiting on title shot, unclear if Diaz/Condit winner will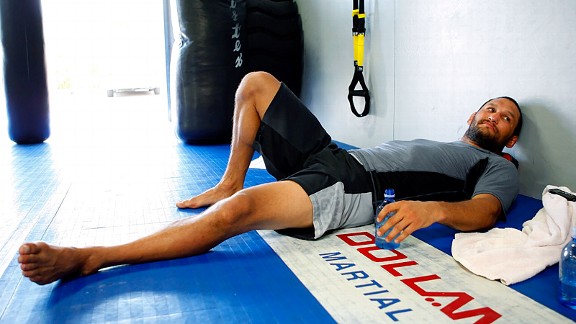 Jody Gomez for ESPN.comLying in wait: There won't be any "stay busy" bouts for 205-pound contender Dan Henderson.
It appears
Dan Henderson
is content on waiting to face the winner of a light heavyweight title fight between
Jon Jones
and
Rashad Evans
in April rather than fight in the meantime.
"Dan Henderson is in a position now where it looks like he wants to wait for Jon Jones," White said. "We'll see what happens with this Rashad fight."
The 41-year-old fighter made a successful return to the UFC from Strikeforce in November, outlasting
Mauricio Rua
in a five-round decision, which many felt was the fight of the year.
While that situation has cleared up, it's currently unknown whether the winner of Saturday's interim welterweight championship between Nick Diaz and
Carlos Condit
would defend that belt or wait for the return of Georges St. Pierre.
St. Pierre is currently ahead of schedule after undergoing knee surgery and expects a return to the Octagon in November.
"It depends on what happens [Saturday]," White said. "Which guy wins, how he comes out of the fight, how he feels after, does he want to wait -- there are so many different factors, so who knows?"
October, 27, 2011
10/27/11
10:44
AM ET

By Franklin McNeil
ESPN.com
Archive
The past few months have been very difficult for
Jake Shields
.
His father, Jack Shields, passed away in August and a couple of weeks later he lost for the second time in a row.
Jake Ellenberger
needed less than a minute to stop him during their Sept. 17 bout.
Shields had never experienced a two-fight skid in his pro mixed martial arts career and he intends to end the streak in his next bout. If he has his way, that will likely happen in February 2012. And when Shields steps back in the Octagon, he'll definitely have a point to prove.
"I've started to train hard again this week," Shields told ESPN.com. "And I look to come back better than I've ever been.
"I want to show that I am a much better fighter than I've shown in UFC. I really want to prove that in my next fight. It doesn't matter who I fight. I will fight anybody they want me to fight."
The emotional pains of losing his father still linger, but Shields is improving each day. Support from family and friends have been extremely helpful.
But Jack Shields was more than a father; he was a close friend, a trainer and manager. If Jake Shields is to ever achieve his goal of becoming UFC welterweight champion, someone needed to step and fill part of the void created when his father passed away.
While his dad played a key role in training camp, the rest of Shields' team remains intact. Cesar Gracie continues to oversee prefight preparation and develop game plans. Strikeforce lightweight champion
Gilbert Melendez
and the Diaz brothers -- Nate and Nick -- are still his key training partners.
Training was never a concern for Shields (26-6-1); that part of his fighting career was already in good hands. It's the other area his father oversaw, management, which had him up at nights.
It might not seem like a big deal to those on the outside, but these days, professional fighters are very careful when it comes to selecting a manager. Shields knew there was no one he could trust like his father, but after a month of searching, he decided to put his career in the hands of Glenn Robinson and Authentic Sports Management.
"It feels like a trusting, good family environment here," Shields said. "And they cover all aspects of management.
"No one can replace my dad, that's a bond you can only have with your dad. But I wanted someone who feels like family, and that's how it feels with Glenn."
September, 10, 2011
9/10/11
11:40
AM ET

By Chad Dundas
ESPN.com
Archive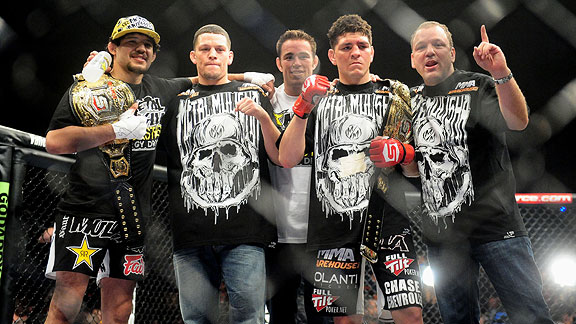 Mark J. Rebilas for ESPN.comTeam Diaz have been through some good times, and some not so good times.
Safe to say, Cesar Gracie earned his money this week.
Heaven only knows what the past few days have been like for Gracie, let alone the past 11 years.
As the longtime coach and manager of one of MMA's most unmanageable fighters, he sounded like he'd finally had enough on Wednesday when he had to admit that after no-showing back-to-back news conferences,
Nick Diaz
got
what he deserved in getting booted out of the biggest fight of his life
against welterweight champion
Georges St. Pierre
at UFC 137.
Certainly he couldn't have been totally shocked. Gracie has mentored Diaz since he was 16, after all. If anyone knows what's brewing inside the talented but troubled fighter's head from one moment to the next, it's got to be him. Yet even after all the incidents of the past -- the positive drug tests and hospital brawls and televised gang beatdowns--– Gracie seemed particularly discouraged after this latest and gravest turn of events.
Yes, he said, he understood the UFC's position. No, he said, he didn't know where Diaz was. Yes, maybe he was finally,
finally
ready to admit that his star pupil has some problems. That maybe the kid should seek professional help.
That was two days ago. Fast forward to Friday and, through surely no small amount of finagling by Gracie, Diaz is back. Back in the UFC. Back on the same card even, now scheduled to fight B.J. Penn on Oct. 29 in the co-main event of the pay-per-view he was originally supposed to headline.
Unbelievable? Insane? Bizarre? You betcha. For an MMA coach? Just another day at the office.
"You mean this crazy rollercoaster that we as coaches ride every day?" a chuckling Trevor Wittman tells ESPN.com when asked about the Diaz situation. "Yeah."
Trainers and managers are perhaps the fight game's most important and least heralded brotherhood. Spend a few minutes talking to any of them -- the Wittmans, Bob Cooks or Greg Jacksons of the world -- and you invariably come away struck by how reasonable they all seem. How unflappable. How
normal
.
Then you consider their charges. Even in the strange, catch-all of professional athletics, the average MMA fighter undoubtedly falls on the more unreliable end of the spectrum. Just as Gracie has done with Diaz, a trainer can work with a particular fighter for his entire adult life. He can put in countless hours, innumerable training sessions and dozens of fights to prepare him in every conceivable physical way for the biggest moment of his career.
Then the guy doesn't make weight. He doesn't fill out his paperwork. He doesn't get on an airplane or, as the case may be this time, three airplanes. Suddenly, all that work seems like it was for naught.
"It is what it is," says Cook, also laughing. "There is a reason why these fighters are driven to step in the cage and challenge themselves. It's my belief that not just your average Joe wants to do that. You've got to have something special in you -- or something special missing, one of the two."
Guys like Cook and Wittman ought to know. They run two of the nation's top MMA gyms -- Wittman at Grudge Training Center in Colorado, Cook with American Kickboxing Academy in San Jose. Both have trained world champions in boxing and/or MMA. Both have lent guys money, let guys live at their houses, loaned them cars or whatever else they needed to survive the months and years leading up to their "big break." They've also both had the bottom unexpectedly yanked out from under them when they least expected it, just as Gracie did this week.
"You work with fighters and you put your time and effort into these guys and you love them like they're your kids," Wittman says. "We kind of take this role of being somewhat of a father figure. [Trainers] take these guys under their wing, they give them all their time, they drive them around, they help them with their outside lives, you put a lot of time into these guys and, when someone makes a decision like [Diaz], it all comes back on you."
What a strange and maddening thing it must be to be the man behind the man. When a fighter is winning, it's typically all about him.
My God, his striking looks great!
, the guys on TV say.
He's really worked hard!
the journalists write.
What a warrior!
When things go wrong? The same fighter had a bad game plan. He looked over-trained or under-trained or he got bad advice from his corner.
What he needs to do
, we all say,
is find a new camp
.
"There's the saying, 'You can lead the horse to water, but you can't make him drink ...,'" Cook says. "All you can do is voice your opinion of what the right decisions are. Sometimes the fighters will agree with you, sometimes they won't. Hopefully they can have enough respect or wisdom or faith to just go with it and do what's in their best interests."
You look at a situation like the one Gracie found himself in this week and you wonder how it could all possibly be worth it. Considering the innumerable ways a fighter can screw up, it's actually surprising it doesn't happen more often. Why put up with the headaches? The answer, the trainers say to a man, is that they really can't help themselves. Most them are former fighters themselves and the fight game has seeped into their blood. They probably couldn't quit it if they tried.
"It doesn't matter how many times I get hurt or fighters step away from me or whatever it is," Wittman says. "I love to see guys earn world championships. I love it. To be able to see a guy get to the highest level of the game and get that belt put around his waist, I mean, those are the moments I'll never forget. Those are the moments I'll take to the grave with me."
Those are the good times. On Wednesday? That was the bad.
All those hours. All that blood, sweat and tears and then your guy misses his flight. He gets cut. He faces what is probably the darkest day of his life. People spend 48 solid hours mocking him, mocking you and mocking your methods on the Internet. The boss is livid, saying your guy will never work in this town again. You know what you do then? You do the only thing you can do. You do exactly what Gracie did this week.
You do whatever you have to do to get him back in.
April, 26, 2011
4/26/11
8:56
AM ET
By Sherdog.com
ESPN.com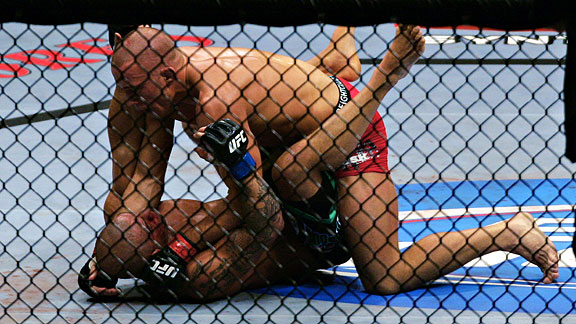 Cliff Welch/Icon SMI Can Georges St. Pierre do this to Jake Shields? Cesar Gracie doesn't think so.
Georges St. Pierre
has shown a variety of skills in his domination of the UFC welterweight division, but his ability to take down opponents and control them has perhaps been the most overwhelming part of his game.
Cesar Gracie does not think St. Pierre can control UFC 129 title challenger
Jake Shields
, though.
More »
April, 20, 2011
4/20/11
9:03
AM ET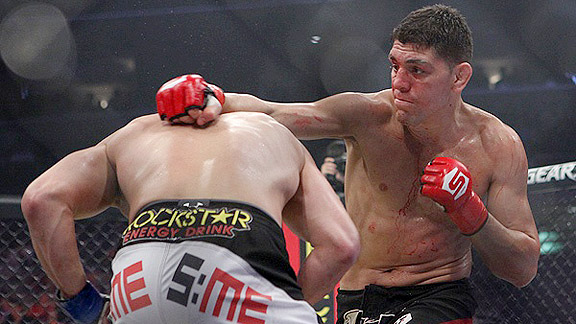 Dave Mandel/Sherdog.comScott Coker is keen on pitting Nick Diaz against up-and-comer Tyron Woodley.
Since stopping
Paul Daley
on April 9 in an entertaining Strikeforce welterweight title defense,
Nick Diaz
has sounded more interested in boxing than fighting MMA.
His trainer, Cesar Gracie, has even mentioned first Fernando Vargas and most recently Jeff Lacy as possible.
Diaz has complained publicly about his pay. He's also given his opinion that there's a lack of quality opponents for him in Strikeforce and he's expressed uncertainty whether he has a future in MMA.
Coker pointed to
Tyron Woodley
as a worthy challenger. A two-time All-American wrestler at the University of Missouri, he is 6-0 in Strikeforce.
"Tyron Woodley has been bugging me all weekend," Coker said. "Nick doesn't feel like he has anybody left to fight, but 'T-Wood' is a guy that's getting better and better. I think Nick fighting 'T-Wood' is probably his best wrestling test to date. I don't think Nick's fought a wrestler that has better skills in wrestling than Tyron. That's a fight we're definitely looking at."