September, 24, 2012
9/24/12
5:19
AM ET

By Josh Gross
ESPN.com
Archive
In all sorts of ways,
Jon Jones
has grown up in front of us the last two years. And considering the UFC light heavyweight champion is just 25, there will be plenty of blooming left to do.
That said, if the trajectory of 2011 and 2012 holds an indication of what's to come, Jones oozes importance.
On Saturday, "Bones" proved he's more than a great athlete, he's a true fighter. Old-school; new-school -- it's the same DNA in the end.
The lanky New Yorker learned a few things against
Vitor Belfort
, who's as good a person to take lessons from as anyone. For one thing, Belfort made Jones familiar with the sharp discomfort of a hyperextended joint. The champ confirmed to everyone that despite feeling this, regardless of cartilage in his right elbow snapping, crackling and popping, he wasn't going to tap. There have been many defended armbars over the years. Jones' wasn't a particularly pretty escape, but that doesn't matter. This was his first true moment of in-Octagon adversity. During the time he stood over Belfort, his long limb stretched beyond 180 degrees, Jones wasn't motivated by self-preservation. That's the salient point. He was willing to let it break. It's a sadistic truth that truly great fighters need quality coursing through their veins.
So it's clear: Jones has every intangible. There's nothing you'd want to see in a fighter that he can't call upon. And then there's the stuff only he can do like he does, those awkward odd-angled kicks that really seem to hurt, for example. Most fighters keep distance in two ranges. Jones has at least three, making him much more difficult to decipher. The mid-range work with elbows opens up an entirely new set of problems for opponents, and Jones adroitly made them a staple of his game.
Though Belfort's lightning strike may suggest otherwise, it's unlikely, as Jones' trainer Greg Jackson has long said, that his toughest tests will come in the cage. And that's not because he's running out of opponents. Light heavyweight is an active and exciting class. Potential suitors linger at heavyweight with Messrs.
Junior dos Santos
,
Cain Velasquez
,
Alistair Overeem
and
Fabricio Werdum
. Bottom line: There will be plenty of guys who put Jones through his paces over the next decade.
[+] Enlarge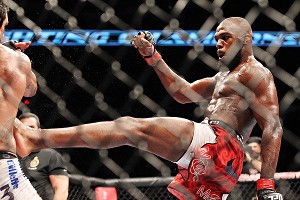 Ed Mulholland for ESPN.comNo one questions the talent, but does Jon Jones have the legs to stick around years from now?
Still, if the past few months is predictive, Jackson called it correctly. The DWI. The cancellation of UFC 151 and all that that entailed, including tricky navigation around a war of words with UFC president Dana White. The failure to appease some fans, who seem eager to dislike a guy who smiles way more than he scowls. A major sponsorship with Nike, the first of its kind for a fighter in the UFC. These sorts of things can weigh heavy on the head of a young king. Yet they didn't appear to hurt him this week, particularly not on fight night when he walked to the cage to Bob Marley's "Could You Be Loved?" and memorably retained the title.
If Jones wasn't sure of his ability to handle multiple stresses, including some he brought upon himself, he has a good read on it after UFC 152. Yep, Jones is maturing in front of our eyes. Growing comfortable in his own skin. Growing as a mixed martial artist. So it feels safe to suggest that he's nowhere near as dangerous as he will be two years from now. And if that's the case, then he's nowhere near as rich or famous or popular or affected as he could very well become.
A great fall (or two or three) is probably required for Jones not to find where he seems destined to go. Not an unheard-of scenario for a man of his talent. Individual sports like MMA are fertile ground for highest of the highs and lowest of the lows. Jones is more familiar with highs at this point, but that's today. Tomorrow is a Bentley wrapped around a utility pole.
Jones has graduated from the school of the come-up. He's here now. Established. On top. Better positioned for a lifetime of success than any UFC champion before him. He'll take what's his or he won't. One way or the other, though, the current UFC light heavyweight champion will be remembered.
Jones faces a long road ahead in MMA and life, which sounds odd considering how far he's already come. But it's nonetheless true, verifiable by the wisdom he recently gained and the many volumes yet to be learned. What will Jones be like at 27? At 33? Could he lose interest in this sport, a victim of his own success? Will a kid come along, beat him and change the paradigm? Will he dominate until he walks away for good?
I suppose it's not quite right to say that Jones has displayed every trait expected of great fighters. Longevity. He hasn't shown that one yet. So time will tell with this talent, still very much the future.
July, 6, 2012
7/06/12
11:12
AM ET

By Josh Gross
ESPN.com
Archive
Months removed from his third loss in 17 fights,
Anderson Silva
stepped into a cage with
Jorge Rivera
in London. This was spring 2005, more than a year prior to the lanky Brazilian middleweight entering the UFC and embarking on the longest title reign in the organization's 19-year history.
Rivera, a recently retired slugger from Framingham, Mass., knew, like most everyone else at the time, that Silva was a raptor. But Silva was also far from perfect. After lifting his record to 11-1 and winning a respected championship at 170 pounds, Silva was submitted twice in 18 months under improbable circumstances.
First it was a triangle choke against undersized underdog Daiju Takase. Then came arguably the greatest submission the sport has produced: Ryo Chonan's flying scissor heel hook (as stunning to watch as it sounds).
Coming off the Chonan shocker, Silva certainly wasn't thought of as the best mixed martial artist in the game, not as he is today. Still, middleweights including Rivera took heed of Silva's impressive sparring exploits in Brazil. They also saw enough of Silva in action to realize the depth and threat of his potential.
"I knew he was great," said Rivera, whose confirmation was punctuated in the middle of the second round by laser-guided concussive knees and punches. "I just wanted to see where I stood against a guy at his level. It was a very humbling experience."
Indeed, since stopping Rivera, now an MMA analyst for ESPN, Silva has been nothing short of brilliant. There's that bogus disqualification against
Yushin Okami
in Hawaii, but remove it from the ledger and Silva, 37, has won 17 straight (including revenge over Okami last August -- one of 15 memorable stoppages during that stretch, eight in less than a round).
Numbers frame Silva's dominance, but they don't explain what makes him special. To get a glimpse, just watch him at work. Silva doesn't merely employ quality footwork, he dances. "A ballet of violence," coined UFC color commentator Joe Rogan during an interview with ESPN in 2008. He isn't just accurate. He's a Ranger sniper who moving backward can snap out the fabled jab that ended Forrest Griffin's night. Or, without tipping it off for one millisecond, slam a front kick off Vitor Belfort's chin.
He dances and, never to be overlooked, prances on the faces of his UFC challengers.
The middleweight division became so simple for Silva that it was ridiculed for a lack of depth and quality. That's not fair, sighed
Rich Franklin
(twice),
Nate Marquardt
,
Dan Henderson
,
Chael Sonnen
and Belfort. And it's also not true. But such was the state of things until Sonnen pushed Silva to the limit in 2010.
Saturday in Las Vegas, Silva (31-4) meets the man for whom he holds no love. He has come to detest Sonnen, the acerbic American who
nearly
beat him, then acted as if he had, among other equally annoying transgressions. That makes sense because there are only two opinions to be had when it comes to Sonnen. Love him; hate him. Silva loudly sides with the latter, but he can't deny Sonnen is the best thing that could have happened to his outstanding career.
Silva finally found an antagonist destined to draw out his best.
[+] Enlarge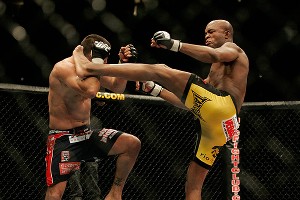 Ric Fogel for EsPN.comWins over the likes of Dan Henderson, left, have already secured Anderson Silva's legacy.
"I don't think we've seen all this man's skills yet," Rivera suggested.
Helping to smooth out consecutive sloppy, odd and disinterested title defenses, Sonnen's challenge prompted Silva to dramatically seal a miracle finish with a technique he told his camp before the fight he would use. That's legendary stuff. Sonnen dominated Silva to the point where there won't be any questions to ask about the Brazilian's championship spirit. Sonnen brought more than enough promotion for the both of them, something Silva never excelled at. And, germane to Saturday's rematch, the challenger's haranguing pushed Silva in a way that surprised even the people closest around him.
A ninja is as angry as he's ever been and, because confident killers rarely show their hand, it's all so very interesting. Will the elegant southpaw counter-fighter reboot long-forgotten Chute Boxe programming and make like a predator drone? "I would love to see a guy who's really agitated looking to take someone's head off," Rivera said of the champion. "I want to see what he looks like."
For as much as Silva's already done, handling Sonnen within ballistic range of the DEFCON 1 he promised could top an amazing list of finishes.
But say it's all a trap? Sonnen sucks Silva into overaggressiveness, a mistake and bad position. Chael Sonnen, UFC champion? If that happens, Silva's legacy atop the sport as one of its truly special combatants won't change. His run, now official, is saved in the record book. One way or another, it's going to end. That's inevitable. So is the utterance of Anderson Silva among MMA's all-time best.
June, 17, 2012
6/17/12
8:46
AM ET

By Chad Dundas
ESPN.com
Archive
It's pretty out of character for the UFC's happy-go-lucky heavyweight champion to start making demands.
I guess when even
Junior dos Santos
stops smiling, you know you've got a problem.
To date, dos Santos' public image has been built on his blistering boxing skills and the childlike sense of wonder that seems to have stuck with the 27-year-old Brazilian nicknamed "Cigano" (or "gypsy," in his native Portuguese) through nine straight wins inside the Octagon.
As a child, when other kids in his neighborhood were turning to gangs and drugs, dos Santos sold ice cream on the street to earn extra money for his family, we were told in the first "UFC Primetime" TV special to spotlight him. When he learned how many millions of people in his home country reportedly watched him knock out
Cain Velasquez
to win the UFC title last November, dos Santos' responded like a grade schooler whose winning science project had just landed him in the local paper.
"Whoa," he exclaimed. "I'm famous!"
If dos Santos didn't seem like his optimistic, lighthearted self this week while suggesting to
ESPN Brazil
that
MMA needs ongoing and widespread blood testing
to stamp out the scourge of performance enhancing drugs, you couldn't blame him.
Dos Santos has unwittingly been cast into the middle of two of the UFC's most recent drug scandals. His proposed title defense against
Alistair Overeem
fell apart in April when a surprise drug test caught Overeem with off-the-charts levels of testosterone. Instead, dos Santos fought and easily defeated
Frank Mir
at UFC 146, only to later learn that Mir too was taking testosterone, after receiving a therapeutic use exemption for hormone replacement therapy from the Nevada State Athletic Commission.
[+] Enlarge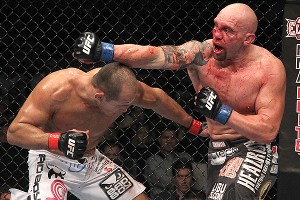 Donald Miralle/Getty ImagesJunior dos Santos, left, took out one heavyweight bigger than the next on his road to the top.
It bears mention that two fights before
that,
dos Santos defeated
Shane Carwin
, who in 2010 saw his name included on a list released by federal prosecutors of athletes who allegedly patronized an online pharmacy indicted for selling mail order steroids.
If you were Junior dos Santos, you might feel like the only clean fighter in the heavyweight division right now.
This week he took action, implying he won't sign to face Overeem in the future unless the former Strikeforce champion agrees to increased screening, including blood tests leading up to the fight.
"I think we both need to do that," dos Santos said. "I want a clean fight and he needs to prove he is not under any kind of substances ... When you have a fight with two 'clean' fighters, you will know after the fight who is the real champion. A guy who uses doping is a fake fighter."
Good for dos Santos for taking this step. No, better yet,
great
for him.
Fighters are putting their lives on the line each time they step into the Octagon to square off with the world's best trained and most successful unarmed combatants. Dos Santos routinely faces the biggest and strongest of those opponents, and he has a right to know beyond a reasonable doubt that the men he's fighting with his bare (or barely covered) hands aren't souped-up on chemical enhancements.
For the rest of us, PEDs in MMA may be be a complicated issue fraught with moral and ethical conundrums, but for JDS it's a cut and dried personal safety issue. If he doesn't feel the current testing is adequate, then he's well within his bounds to call for more. He is, after all, the industry's salable product. Without him, there is no show.
Frankly, more high-profile fighters ought to follow dos Santos' lead and go on record with similar requests. It'd be great, in fact, to see a significant collection of the sport's top stars all sign up for testing through the Voluntary Anti-Doping Association, and say they weren't going to fight anybody who didn't.
Short of comprehensive, company-wide testing from the UFC itself, it might be the best (read: only?) way to truly clean up this sport.