July, 2, 2013
7/02/13
11:25
AM ET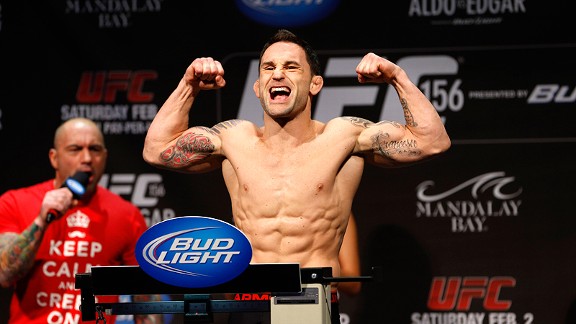 Ric Fogel for ESPNFormer UFC lightweight champion Frankie Edgar is hoping to snap a current three-fight losing skid.
It is being said that this is do-or-die time for
Frankie Edgar
, a must-win situation for his mixed martial arts career. Edgar, however, would beg to differ -- somewhat.
Currently riding a three-fight losing skid (all title bouts), Edgar is in serious need of a win. He will seek to right the ship Saturday night against crafty
Charles Oliveira
at UFC 162 in Las Vegas.
Is Edgar in a must-win situation? Sure. Is there weight on his shoulders? Yes. Is he feeling the pressure? No doubt. It all adds up to a sense of urgency.
But this sense of urgency is no different than what Edgar experiences before every bout. There was a sense of urgency on July 10, 2005, when he made his professional debut during an Underground Combat League fight in the Bronx, N.Y.
It was no different when Edgar faced
Hermes Franca
on July 19, 2008, at UFC Fight Night 14. Edgar stepped into the cage that evening for the first time with a blemish on his record --
Gray Maynard
outmuscled him three months earlier en route to a unanimous decision.
[+] Enlarge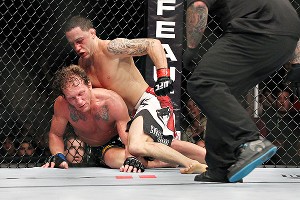 Ed Mulholland for ESPN.comThe last time Frankie Edgar had his hand raised was on Oct. 8, 2011 after pummeling Gray Maynard.
Then there were the title bouts: two wins against legendary
BJ Penn
, a draw with and knockout of Maynard, and the current losing streak -- two very close lightweight affairs against
Benson Henderson
and one, the most recent setback, to featherweight champion
Jose Aldo
.
Whether a title is on the line or not, the sense of urgency Edgar feels remains the same.
This prefight adrenaline rush comes from Edgar's unwavering desire to become or remain a champion. And the only way to achieve this goal is to win the fight immediately in front of him. Nothing else -- what took place before or what might happen afterward -- matters.
"Your next fight is always the most important, so for me everything is on the line," Edgar told ESPN.com. "I'm very competitive and I want to win no matter what's on the line.
"The fight's on the line and that's just as important to me as a title. I want to win this fight just as much as I want to win a title."
Expect Edgar (15-4-1) to perform at his usual high level: precision striking, pinpoint takedowns, nonstop head movement and solid footwork. A three-fight losing skid has done nothing to diminish Edgar's confidence, skills or work ethic.
This training camp has been as smooth as any before it. Edgar is feeling great heading into fight week. And with this camp being his second for a 145-pound contest, the weight cut proved easier – not that Edgar expressed having too much trouble making weight for his initial featherweight bout against Aldo.
"I'm a little more familiar on how to get my body down to featherweight," Edgar said. "But I'm not cutting much weight at all.
"It doesn't feel much different fighting at featherweight than it did at lightweight. I'm just a little stricter about what I'm putting in my body. Being it's my second time doing this makes it a little easier."
"

He's a dangerous opponent, long, rangy, with a diverse striking game and slick, slick submission game. There are no easy fights in UFC and I'm prepared [for Saturday].

"

-- Frankie Edgar, on his UFC 162 opponent Charles Oliveira
Edgar was a diminutive lightweight; he's an average-sized featherweight. Which begs the question, is a bantamweight title shot in his future? Edgar isn't ready to make any promises, nor will he rule anything out. The same goes for a return to lightweight.
Edgar is keeping all options on the table. The only nonnegotiable issue is becoming champion again. It's his driving force, the thing that prevents him from taking this nontitle bout Saturday night lightly, the reason Oliveira (16-3) will get the best Edgar imaginable.
Oliveira has won only two of his six most recent fights. His name won't be found on any top-10 featherweight lists. But the former lightweight, who failed to make weight in his most recent fight, is a skilled fighter.
"He's a dangerous opponent, long, rangy, with a diverse striking game and slick, slick submission game," Edgar said of Oliveira. "There are no easy fights in UFC and I'm prepared.
"I've fought the best in my last seven fights, they were all title fights. I will be ready for Charles."
A victory will shut the door on the most difficult stretch of Edgar's professional career to date. It also could open the discussion about a possible rematch with Aldo.
[+] Enlarge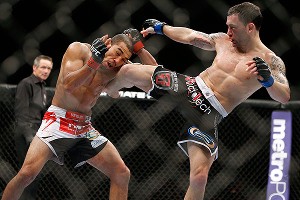 Ric Fogel for ESPNFrankie Edgar, right, isn't ruling out a rematch with Jose Aldo -- or even a possible move down to bantamweight.
Edgar, who is ranked 10th among all mixed martial artists by ESPN.com, suffered a unanimous decision loss Feb. 2 to Aldo at UFC 156. But Edgar gave the No. 4-ranked fighter all he could handle during the encounter. Nearly every round was closely contested.
Aldo has expressed interest in moving to lightweight after his Aug. 3 title defense against
Chan Sung Jung
at UFC 163 in Rio de Janeiro. Nothing is definitive at this time, but it appears Aldo is on his way out the featherweight door.
A rematch with Aldo isn't currently at the top of Edgar's priority list -- Oliveira occupies that spot, but it's somewhere in the back of his mind. Whether Aldo competes at featherweight or lightweight, it doesn't matter to Edgar, as long as a title is on the line.
"My goal is always to be the champion," Edgar said. "I really haven't thought about what might happen in this division or the lightweight division as things change. I'm just worried about getting back to my winning ways and put myself in position to fight for a title.
"I'd love to fight Aldo again for the title, but we'll see what happens."
March, 30, 2013
3/30/13
11:27
AM ET

By Josh Gross
ESPN.com
Archive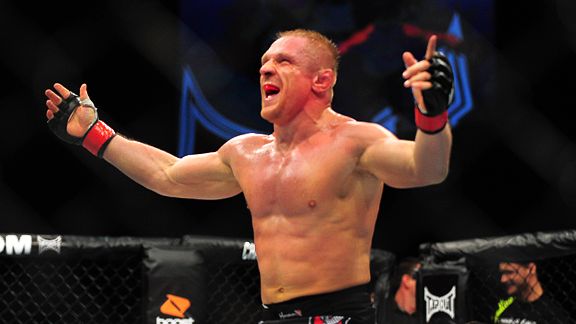 Martin McNeil for ESPN.comDennis Siver could become the next contender to the 145-pound title with a win against Cub Swanson.
This year's UFC over Independence Day weekend in Las Vegas is, as they tend to be, loaded.
If the lineup holds, a tremendous middleweight championship fight between
Anderson Silva
and
Chris Weidman
should get an energy-building lead-in with three important featherweight contests, and a clash at 185 between
Mark Munoz
and
Tim Boetsch
.
UFC officials on Thursday announced the addition of two compelling and important fights at 145 to go with an equally important and compelling clash between
Chan Sung Jung
and
Ricardo Lamas
.
Former lightweight champion
Frankie Edgar
makes his second appearance at 145 against slick Brazilian
Charles Oliveira
. And
Dennis Siver
reboots a contest with
Cub Swanson
, which was originally scheduled for Feb. until Siver pulled out of the bout with an injury. Swanson, instead, handled
Dustin Poirier
to win a unanimous decision in London.
The next featherweight contender will certainly emerge after July 6, which means about a month of waiting to see what happens between champion
Jose Aldo
and lightweight convert
Anthony Pettis
in Rio de Janeiro.
Who gets the call? That's difficult.
We can rule out the winner between Edgar-Oliveira. "The Answer" has lost three in a row, albeit title fights to Aldo and
Benson Henderson
twice. And Oliveira is returning from a first-round knockout to Swanson.
So that leaves four.
Siver's unbeaten since moving to 145 two fights ago, out-pointing
Diego Nunes
and
Nam Phan
. A win over Swanson would send a sincere message about his intentions.
Riding high, Swanson has won four straight against
George Roop
,
Ross Pearson
, Oliveira and Poirier. Adding Siver to that list would be impressive.
Jung's taken three straight against
Leonard Garcia
,
Mark Hominick
and Dustin Poirier. Putting Lamas in that cast sends a clear signal the fan favorite "Korean Zombie" is ready for a title shot.
Lamas, meanwhile, steps in on a four-fight win streak, toppling
Matt Grice
, Swanson,
Hatsu Hioki
and
Erik Koch
. A fifth over Jung makes him the top contender in my book.
Guillard in no man's land
What's to become of
Melvin Guillard
?
The inconsistent lightweight announced on Twitter this week that he was leaving Florida-based Blackzilians to return to Greg Jackson's camp in New Mexico. But there's a snag. The Jackson crew was unaware of Guillard's pending return since two months ago, MMAjunkie.com reported this week, gym leaders voted that they didn't want him around after he angered them with comments after moving to Blackzilians in 2009. Add to that the report that Guillard, 29, faces two assault charges from separate incidents in Albuquerque in 2010.
[+] Enlarge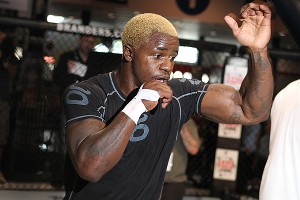 Ed Mulholland for ESPN.comUnwelcome: Melvin Guillard won't be allowed back to Greg Jackson's facilities.
While he's still represented by Authentic Sports Management, which cobbled together the Blackzilian squad, he won't be trained by the camp that features
Rashad Evans
,
Vitor Belfort
,
Alistair Overeem
,
Anthony Johnson
,
Eddie Alvarez
and a host of others.
"Melvin said he felt it was time for him to go back to Jackson's," ASM founder Glenn Robinson told SI.com "We only want what's best for Melvin, so I spoke to the coaches, and they agreed it was a good chance for him to make a change that he probably needed. We support the decision."
Absent safe harbor in New Mexico, it's unclear where Guillard (30-12-2) will receive the training he needs. He's lost four of five fights in the UFC, and was finished in three of them by
Donald Cerrone
,
Jim Miller
and
Joe Lauzon
.
Je ne parle pas Francais
In the wake of the weigh-in mess in Montreal, Association of Boxing Commission president Tim Lueckenhoff told ESPN.com he asked the Régie des alcools, des courses et des jeux, also known as the Quebec Boxing Commission, for a copy of their rules to "verify if .9 [pounds] is allowed over the contract weight."
Lueckenhoff, who serves as the head of the Missouri Office of Athletics, received a copy of Quebec's rules, but he still couldn't find an answer.
"They sent me their rules in French, which did not help much," Lueckenhoff said Friday. After following up, the commission claimed "their rule was not specifically clear on whether .9 could be allowed or not."
"I'm certain in the future," he said, "they will have a legal opinion on the allowance of .9 on title fights."
Incidentally, in Missouri, fighters in title bouts aren't allowed to weigh-in above their contract weight, as they aren't virtually everywhere else.
Prior to receiving Quebec's rules, Lueckenhoff said he told the commission to also provide them to the media if able. Otherwise, release the details of what happened leading up to the weigh-in for UFC 158 between
Georges St-Pierre
and
Nick Diaz
, "and if a mistake was made, admit it. Make sure it does not happen again, and move on."
A spokesperson for the Quebec Boxing Commission did not reply to ESPN.com when asked about Lueckenhoff's comments.
WSOF waiting on title fights
Don't expect to see any "world title" fights from the World Series of Fighting in the near future. I always shrug my shoulders and make face when promoters, big and small, use the phrase. There aren't any "world titles" in MMA, only promotional belts, though if you happen to be in the UFC most fans and media won't see a difference. But in Bellator and anywhere else, no, it's not a world title no matter how many times you say it is.
"A title fight has to mean something to the promotion," Ali Abdel-Aziz told MMAFighting.com on Wednesday. The promotion's senior executive vice president and matchmaker, who like RFA president Ed Soares is also a manager of fighters, including Frankie Edgar, said WSOF "will make sure that when they get title shots they will have earned it."
Don't misunderstand, title fights will come. They'll surely be billed as "world titles" just the same as everyone else. But it's smart to delay, wait for fighters to emerge from the fray, for prospects to mature before going there. So kudos to WSOF, just two shows into its venture, for realizing that throwing belts on the line isn't the smartest way to go at the moment.
February, 12, 2013
2/12/13
12:45
PM ET
Dennis Siver
and
Dustin Poirier
are nothing alike. Siver is shaped like a fire hydrant with spring-loaded legs; Poirier is sleek and aerodynamic.
Cub Swanson
understands these obvious differences better than anybody right about now. He first had Siver in his sights for Saturday's fight in London. Then Siver got injured and morphed into Poirier, which required Swanson to reconfigure his settings on the fly.
[+] Enlarge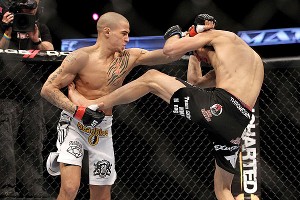 Ed Mulholland for ESPN.comDustin Poirier, left, presents an entirely different type of challenge than was originally planned for Cub Swanson.
Yet if anybody's been through the fight game's most active pun of "rolling with the punches," it's Swanson. He's had fights tailored, altered and scotched as much as the next guy.
"I had just gotten back from Albuquerque training with Greg Jackson and Mike Winkeljohn, and they said, 'OK, this is the way we're going to fight this fight [with Siver], these are the things we like,'" Swanson told ESPN.com. "Then I get back my gym in California [Tru MMA], and I get on the same page with my boxing coach and
then
they go 'Siver's out, here's a new guy.'
"The other guy [Siver] was a short, stocky, standard fighter, and the new guy [Poirier] is a tall, lanky southpaw. I just kind of laughed. I had a feeling something was going to happen, so I said, let's do it. I was excited because I like fighting guys who are a little bit different every time, and I feel like it shows depth in my game."
The Poirier-Swanson co-main event at UFC on Fuel TV 7 looks good on paper. Poirier rebounded from his loss to
Chan Sung Jung
in a No. 1 contender spot by choking out
Jonathan Brookins
in December. Swanson is coming off of a knockout victory over
Charles Oliveira
at UFC 152, which will always be remembered for Oliveira's delayed shutdown process after absorbing a couple of body shots and then the big overhand.
In fact, it was the third knockout win in a row for Swanson, who re-emerged in 2012 as a contender at 145 pounds. Just like that, there's power in his game again.
"I thought about dropping down to 135, started dieting down, but I didn't feel very good and started to get weak," Swanson says. "I decided to give weightlifting and strength training another shot. The first few times I tried lifting weights I didn't like the way I felt, and we finally developed a way of working out where I wouldn't lose my speed.
"I walk around about 175-180 pounds, and get up to about 185. I was 185 when I got the phone call for this fight. I put on a lot of size, and I don't feel like I've lost any of my speed. I have my accuracy and my speed and finally have some power behind it. I'm not worried about breaking my hands anymore. It's all coming together."
Suddenly the featherweight division -- which has always been a popular destination for resurrectionists and transplants such as
Frankie Edgar
,
Clay Guida
and
Nik Lentz
-- is strong. So strong, in fact, that the "Korean Zombie" and
Ricardo Lamas
are waiting on title shots while
Jose Aldo
defends his belt in August against
Anthony Pettis
. Figure in
Chad Mendes
and up-and-comers such as Poirier and Swanson, and 145 begins to look like one of the deeper divisions in the UFC.
So where would a win stack Swanson in the grand scheme of things?
"I know I'm right up there," he says. "I'm not afraid of anybody. I have a pretty good record and my losses are to the top guys. I want to get back in that mix, and be mentioned in the top featherweights. As far as title fight talk, I just want to be mentioned -- I don't really care about it right now, I'm just enjoying the ride and enjoying winning fights."
Swanson refers to his rough patch between 2009 and 2011 as "growing pains," mixed with a little bad luck. In that stretch he went 2-3, with losses to Jose Aldo, Chad Mendes and Ricardo Lamas. In other words, he lost to the division's elite. At some point, he says, "I'd love to get those losses back," but heading into Saturday's fight there's a renaissance going on with Swanson. It's in his voice. It's a kind of emphasis that comes with experience and prioritizing. What it says is that wins and losses and pecking orders are all fun conversations.
But his emphasis is on remembering why he's in the fight game to begin with.
"I'm finally enjoying what I do," he says. "I don't do a whole lot of interviews usually. I just like training hard, fighting, and getting back to my normal life."
And the wiser Swanson feels he's looking at his past when he sizes up Poirier.
"I think he's a tough kid," he says. "He's gotten this far off of being well-conditioned, having a lot of heart and being well-rounded. He kind of reminds me of myself a couple of years ago. I just don't feel like he's turned that corner yet and I feel very good about this fight.
"I feel like he plays into my style very well and it's going to make for a good fight."
December, 31, 2011
12/31/11
2:57
AM ET
LAS VEGAS -- The volume in which
Donald Cerrone
fought in 2011 couldn't catch up to the volume of jabs coming at him as the year closed out. Cerrone looked to become the first fighter to win five fights in a calendar year in the UFC since
Roger Huerta
in 2007 when he fought
Nate Diaz
at UFC 141.
Didn't happen, as Diaz outboxed Cerrone through three rounds en route to a unanimous decision (30-27 twice, 29-28).
In a year where he was perpetually thrust onto cards, on short notice and with full training camps, against familiar foes and stand-ins, Cerrone insisted that he didn't overextend himself in 2011. In fact, "Cowboy" made it clear he's willing to fight as often as he's needed.
"No, a lot of people were saying that, like I took too many fights -- no I didn't," he said at the postfight newser. "Sometimes you show up, sometimes you don't. I felt flatfooted -- I'm not making any excuses. [Diaz] went out there and was better than me, and that's all there is to it. I'll take 20 fights next year, I don't care. Some days you show up, some days you don't. And like I said, the dude's a warrior."
Cerrone, who was on edge heading into the fight as the feud between him and Diaz escalated throughout the week, rushed in from the bell, looking to settle things as quickly as he did
Charles Oliveira
and
Dennis Siver
in his previous bouts (each first-round finishes).
But it was evident early on that Diaz was ready for the onslaught, as the Stockton, Calif., native began landing his trademark jabs in volume and using his reach to mix in some combinations. Diaz strafed him from a distance at will, and, though Diaz had his legs kicked out from under him on numerous occasions, Cerrone never followed him to the ground. Instead, Cerrone opted to cooperate with Diaz on the feet.
Why?
"I wanted to stand, I wanted to play," he said. "And I got outboxed. I talked a lot of s---, and the bigger, badder dog showed up tonight. My hat's off to [Diaz], and it was a good fight. And I'd do it again. That's the one promise I make every fight, [that I'll fight] to the end every time."
In other words, Cerrone doesn't have any regrets for either fighting too often in 2011 or for his approach heading in to UFC 141. There was a lot of talk that, should he get by Diaz, he might be next in line for a shot at the lightweight title against the winner of Benson Henderson/
Frankie Edgar
. But that was mostly media fodder; Cerrone just wants to fight. Even if the guy he's fighting mirrors his moving-forward approach and keeps bringing it for three rounds.
"It's awesome," Cerrone said of fighting the aggressive Diaz. "It's what I like to do, and to have it done to me ... that's what makes fights, right? That to me was fun. That was a good time. I mean, we're standing there and throwing and that's what everybody likes to see. So I'm glad I didn't quit, I'm glad he didn't quit ... What else can you ask us to do? I think I gave you everything I had."
He did, and 2011 was a memorable run. And hey, going 4-1 in a calendar year is nothing to hang your head about.
December, 6, 2011
12/06/11
8:50
PM ET
Efrain Escudero
returns to the Octagon on Dec. 30 to face
Jacob Volkmann
in a UFC 141 lightweight preliminary bout.
UFC officials confirmed the fight with ESPN.com on Tuesday.
Escudero replaces
T.J. Grant
, who suffered an injury that forced him to withdraw from the bout. The nature of Grant's injury has not yet been revealed.
Escudero, "The Ultimate Fighter" Season 8 lightweight winner, was released by UFC in September 2010 after a submission loss to
Charles Oliveira
. Before that fight, Escudero weighed in three pounds above the required limit and sacrificed 20 percent of his purse.
Since his release, Escudero has won five of his six fights for an overall record of 18-3.
Volkmann (13-2) has won all four of his fights since debuting at 155 pounds in March 2010. He began his professional MMA career at welterweight.
UFC 141 will be held at MGM Grand Garden Arena in Las Vegas. Former UFC heavyweight champion
Brock Lesnar
takes on former Strikeforce titleholder
Alistair Overeem
in the main event.
The Lesnar-Overeem winner gets a shot at current heavyweight champion
Junior dos Santos
.
August, 14, 2011
8/14/11
8:28
AM ET

By Chad Dundas
ESPN.com
Archive
MILWAUKEE -- With their customary open workouts a little more "open" even than usual, the main card fighters from this weekend's UFC Live 5 show did their best to entertain fans who showed up to watch them "train."
Open workouts are almost entirely ceremonial affairs, with most fighters barely breaking a sweat as they cruise through 15-30 minute sessions designed just to let the media (and in this case, the masses) get a look at them. Two days before Sunday night's fights, a couple hundred people filed through the Harley Davidson Museum's "Rumble Room" -- a large exhibition and performance center with 30-foot, floor-to-ceiling windows and carpet like the acoustic wrap on the outside of audio speakers -- during the hour and a half long performance. It was only right the people of Milwaukee got a little something extra.
Brazilian lightweight phenom
Charles Oliveira
greeted fans with a bow and mustered the English to make the announcement, "Hello, Milwaukee. Thank you for coming. I love you all," before popping the crowd with some slick jiu-jitsu demonstrations with his training partner/interpreter.
Ben Henderson
lectured the audience on the importance of stretching before a workout, then took a couple questions from fans while skipping rope for 10-15 minutes.
Dan Hardy
did a few jumping, spinning kicks, a little bit of tai chi and even showed off how serious he is about his wrestling these days with a few comically slow double leg shots.
Afterward, he sat cross-legged on the mat -- stretching, ostensibly -- and shouted his own questions at the crowd.
"Who's your pick for the fight?" Hardy asked. "I don't mind if you pick against me, I won't be offended. I'm on the fence about it myself."
Chris Lytle
may have stolen the show however, when he obliged requests from fans to do a cartwheel and then a hands-free back flip. Lytle stuck the landing, but then hobbled around the workout mats pretending like he'd twisted an ankle and might be out of Sunday night's main event fight against Hardy.
"Nobody do that again, please," shouted UFC live event coordinator Burt Watson, who walked through the room clutching his chest at the horror of even thinking about it.
Hardy not your average fighter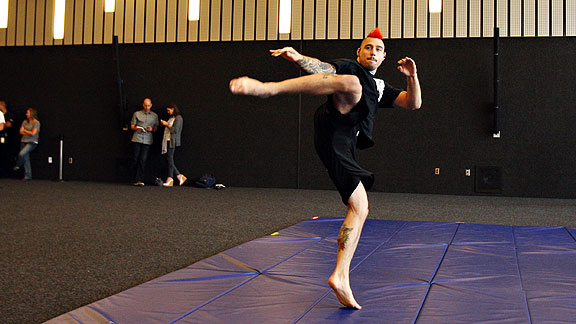 Josh Hedges/Getty ImagesDan Hardy took an unusual road to get to where he's at in the UFC.
Despite an 0-3 record in his last trio of appearances in the Octagon, Hardy has arguably garnered the most attention from fans and media this week leading up to his main event fight against Lytle.
With his trademark Mohawk dyed day-glo orange, Hardy has pontificated during the last few days on everything from his own current rough skid in the cage to his philosophies on the meaning of mixed martial arts to the rioting that currently grips parts of his native England, all the while exhibiting a kind of levelheadedness and cool that seems hard to come by in fight circles. If not for the occasional sly asides about how badly he plans to beat up Lytle this weekend, you might even begin to wonder what a smart and thoroughly unassuming dude like Hardy is doing in this sport, anyway.
At least some of that can be explained by his background. Unlike a lot of fighters, Hardy came to the UFC not from a highly regarded jiu-jitsu camp or an elite NCAA wrestling factory, but from art school. In fact, Hardy had almost completed his degree in art and design at Nottingham Trent University when he decided to leave school behind to indulge his first love -- punching people in the face.
"It kind of got to the stage where I'd done two years of the course, I was headed into the final year and I was spending a lot more time in the gym than I was in the studio ...," Hardy told ESPN.com. "But I did sculpture, I did installations and live performance, even painting and photography and sound work. I tried a little bit of everything while I was there. I still take a lot of photographs and I carry a sketch book around with me a lot of the time, so I'm still scribbling and drawing and stuff. It's definitely something that I'll get back into, but right now I'd need to be in a completely different place mentally to be an artist. Right now, I need to be an athlete."
No study sessions for Cerrone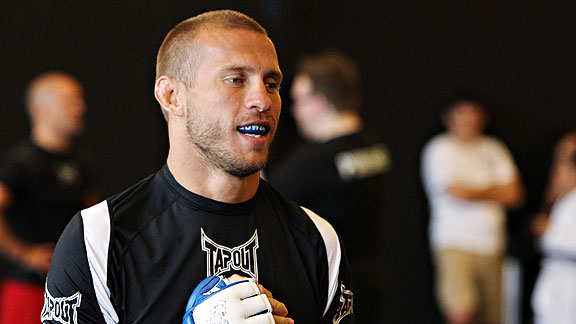 Josh Hedges/Getty ImagesCrash course: Donald Cerrone will get to know Charles Oliveira on Sunday.
Don't expect
Donald Cerrone
to come out with a unique, well-tailored game plan for opponent Oliveira this Sunday. After both guys accepted this fight as short-notice injury replacements, Cerrone admitted Friday he hasn't watched any tape on Oliveira. In fact, Cerrone said he never watches film on his opponents. Citing his self-described "busy life" running the ranch he recently bought in the Albuquerque area, Cerrone said he prefers to focus on his own talents and leaves the meticulous tedium of stop, fast-forward, rewind to his coaches at Greg Jackson's MMA.
"I don't watch any footage on the people [I'm going to fight]. I just don't care," Cerrone said. "I know [Oliveira is] 14-1. I don't know how he kicks, how he throws, I don't know anything about him … Zero interest. My game plan is just to go out there and let it go, do what I do and I'm not worried about what he's going to do."
Cerrone said the one time he made an exception to this rule was after his particularly tough loss in a lightweight title match at WEC 48. It sounds as if he did it just to torture himself.
"The only time I watched tape was after Ben Henderson choked me out," he said. "I went home and watched me sitting there like an idiot. That's about it."
Lytle serious about politics
The long-time UFC welterweight contender turns 37 years old next week, but even though he admitted on Friday he's feeling his age -- "Shoot, I feel like I'm 46," Lytle said -- he doesn't view his budding political career as the end of his fighting days. He recently announced he's considering running for the state house as a Republican back home in Indiana, but dismissed any notion that it means he'll call it quits in the UFC. He just said the current political climate demands he get involved right now.
"It's definitely not an exit strategy," he told ESPN. "It's something I've felt kind of passionately about for a while now. I've been in some political circles for awhile and people have been encouraging me to run. If I wait any longer, the way things are going it'll be too late."
Miller celebrates birth of son … with facial hair?
It's no accident
Jim Miller
has been sporting a shaggy fu manchu around Milwaukee this week. The goatee wasn't brought on a bout of laziness or as some way to psyche himself up for his upcoming fight against Henderson either, Miller said. Instead, Miller and his wife are expecting their second child soon and he explained facial hair is his traditional way of welcoming new additions to the family.
"I'm having a little boy in September and his first name is going to be Wyatt, so I wanted to greet him with a nice, Wyatt Earp curled mustache when he came into the world," Miller said. "For my daughter, I grew a nice thick beard … and then once she was born, I shaved it into a celebration mustache. I had this huge, thick, big red mustache. It was pretty bad."
Here's hoping the "celebration mustache" becomes the next big thing in child rearing.
August, 13, 2011
8/13/11
2:36
PM ET
Since coming up short in a WEC title fight against
Ben Henderson
in April 2010,
Donald Cerrone
has won four straight, including two finishes in the UFC.
If he beats Brazilian prospect
Charles Oliveira
this weekend in their UFC on Versus main card fight in Milwaukee, it would mark five wins in 16 months. That's not just a nice run. That's the makings of a potential title run.
Yes?
"No. Hell no," Cerrone said. "I'm so far away from a title run. That doesn't even matter to me. I'll keep fighting in the middle. I'll stay at the bottom. I don't care."
At 28, Cerrone (15-3) has taken on a mindset seen more often in fighters reaching the twilights of their career. He doesn't seem all that interested in belts or even winning streaks. He just wants good fights.
"Go in there and fight like you got nothing to lose," said Cerrone, on what his career is about. "That's what people want to see."
He shakes his head when the topic of his last performance comes up -- a unanimous decision win over
Vagner Rocha
at UFC 131. To many, it was a solid fight for "Cowboy," who landed so many leg kicks Rocha basically quit by the end of the fight.
For plenty of UFC fighters, a standup fight and a mark in the win column would be more than enough to call it a good day. Cerrone, though, said it was "terrible."
"The last fight, all I did was kick," he said. "I didn't punch. I wanted to, but I couldn't do it. I had him backing up and I just didn't do it. You can't just kick someone. It's not just a kicking game."
It's that attitude that has him asking the UFC for a fight against
Cole Miller
, who fights T.J. O'Brien on Sunday's card. As far as rankings go, Miller wouldn't do much to raise Cerrone's status in the division. He's 2-2 in his last four fights and is coming off a loss to
Matt Wiman
.
What Miller does bring, though, is a long-standing rivalry with Cerrone dating back to 2008. And clearly, that means more to him right now than rankings.
"He better not get his a-- kicked (Sunday)," Cerrone said. "And I've told him many times I can fight harder p----- off than he can scared so he better buckle up."
It isn't surprising Cerrone prefers fights like one against Miller to the kind that would move him more towards a title. A self-proclaimed "slow starter," Cerrone's three professional losses have all come with a title on the line.
His best performance, on the other hand, came in a highly emotional fight against another rival in
Jamie Varner
last September. Majority of observers would agree, that's the best version we've ever seen of him.
Cerrone knows that and says he's consciously working to be that fighter, mentally, in all his fights. He perfects that, and he might find himself on a title run whether he planned to or not.
"I try to get my mind in the same mindset I had for Varner," Cerrone said. "When I fought Varner, it didn't matter what he did. He wasn't going to beat me. I was coming out and I was going to win. I get myself in that mindset, no one can touch me."
June, 28, 2011
6/28/11
7:36
PM ET
Questionable and at times maddening officiating was on display at UFC Live 4 on Sunday in Pittsburgh, as two officials routinely interjected themselves into bouts. The time has come to end such practices, writes Jason Probst.
More »
June, 27, 2011
6/27/11
8:21
PM ET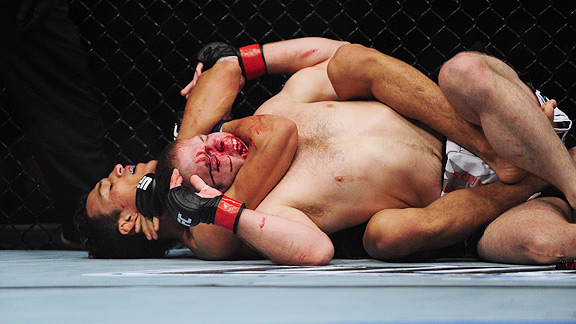 Martin McNeil for ESPN.comIt's a wrap: Charles Oliveira's jiu-jitsu skills came in handy against Nik Lentz.
Lightweight prospect Charles Oliveira earned "Fight of the night" honors at Sunday's UFC Live 4, but there's a good chance his submission win over Nik Lentz may not stand.
After a blistering first frame which saw both men nearly finish, the Brazilian struck a kneeling Lentz with a clearly illegal knee to the face before submitting him with a second-round rear-naked choke. UFC President Dana White wrote on Twitter immediately afterward that the Pennsylvania State Athletic Commission would review the tape and possibly reverse the result to a no-contest.
Speaking Monday with Sherdog.com, "Charles do Bronx" apologized for the foul and guaranteed that it was never his intention to cheat, especially in a fight that he felt he was already in control of.
"He wasn't knocked out by the knee," Oliveira told Sherdog.com. "He got hit, but kept fighting, grabbed my legs, and only after the second knee landed did he let me climb on his back to submit him. The move was in the heat of the fight. I didn't intend to use it to my advantage. I was winning the second round the same way I won the first. I'm confident the commission won't declare it a no-contest. It was a mistake on the referee's part. The result is in their hands, but, for now, I'm the winner, and I'm OK with that."
Following Sunday's bout at Consol Energy Center in Pittsburgh, the 21-year-old Paulistano paid a visit to Lentz in the hospital, where the American reportedly underwent surgery to repair a broken orbital bone caused by the illegal knee. Afterward, Oliveira spoke with UFC Matchmaker Joe Silva, who praised his performance against the previously Octagon-unbeaten "Carny."
"Joe Silva said I was brilliant," Oliveira revealed. "He said for the UFC, I was the winner, but the Pennsylvania commission opted to review the tape. I'm frustrated, because that moment took the luster off my performance and turned the attention to something else."
Oliveira, who trains under Brazilian vale tudo legend Jorge Patino "Macaco," attributed his strong performance to the hard work he put in following his first career loss to Jim Miller in December.
"Only I know how hard I trained. I left my family, my girlfriend, and the people I love in Brazil to train in the United States with 'Macaco' five or six times a day," said Oliveira. "I practiced everything, from my BJJ to wrestling, judo and muay Thai. I rested only two days after my loss to Jim Miller. I'm happy with my performance, but sad because I couldn't dedicate this victory to the Brazilian people the way I wanted."
For now, Oliveira can only wait and hope for a decision in his favor by the PSAC. However, he also has eyes on a new fight, one that he believes could put him closer to the top of the UFC's deep 155-pound division.
"I'm not far from a title shot," Oliveira asserted. "I think if I had defeated Jim Miller, I'd be really close to it, but I'm not in a hurry. I think I'm in the right weight class, fighting well, and the crowd and UFC executives like my fighting style, and it will happen someday. I'm working hard not only during training, but also studying English to talk to the crowd and respond by myself during interviews. Maybe if I win two or three more fights, I can get a title shot."
The PSAC is expected to make a ruling on the outcome later this week.
June, 27, 2011
6/27/11
11:15
AM ET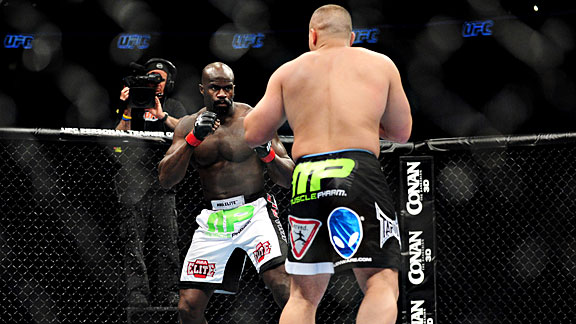 Martin McNeil for ESPN.comCheick Kongo's battle back from the brink helped him earn a "KO of the night" bonus.
PITTSBURGH -- Once again UFC picks itself off the mat and scores a knockout.
Rarely does the promotion put as much stock in one fight as it did for UFC on Versus 4 on Sunday night at Consol Energy Center.
Arguably the most important fighter on the card was former middleweight contender
Nate Marquardt
, who was scheduled to make his UFC welterweight debut against
Rick Story
. But Marquardt failed his prefight medical examination and was not cleared to participate on the card by the Pennsylvania State Athletic Commission.
That forced UFC president Dana White to look elsewhere for a main event. In stepped heavyweights
Cheick Kongo
and
Pat Barry
. The heavy hitters entered the cage promising to inflict bodily harm on one another and they delivered on their promises to throw power shots. Kongo would stop Barry at 2:39 of the opening round to earn "Knockout of the night" honors.
An aggressive
Joe Lauzon
needed less than a round to grab "Submission of the Night," applying a kimura on fellow lightweight
Curt Warburton
at the 1:58 mark.
"Fight of the Night" went to lightweights
Charles Oliveira
and
Nik Lentz
. The win went to Oliveira, who finished the contest with a rear-naked choke at 1:48 of Round 2. Oliveira's win might not stand, however, as the Pennsylvania State Athletic Commission plans to review the fight after it appeared that Oliveira landed an illegal knee moments before putting the finishing touch on Lenz.
Kongo, Lauzon, Oliveira and Lenz each walked away with an additional $50,000 for their performances.
Overall, it was a decent night for UFC. The announced attendance was 7,792, while the gate generated $562,310.
As for Marquardt, his future as a mixed martial artist is in limbo.
"He's on indefinite suspension," PSAC executive director Greg Sirb told ESPN.com. "And that will apply throughout the country.
"He cannot fight until he gives us medical clearance for his medical records. When the clearance comes in we will take him off suspension. And it is a medical issue."
Sirb would not reveal the nature of Marquardt's medical condition.
June, 26, 2011
6/26/11
9:03
AM ET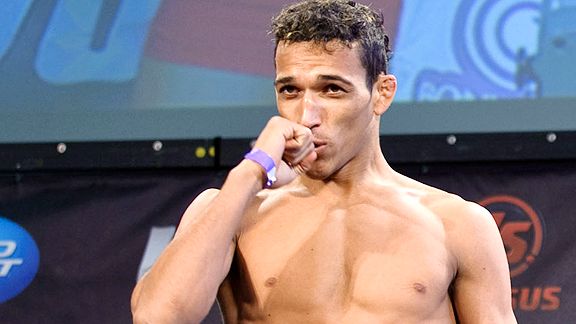 Martin McNeil for ESPN.comWild thing: The future size of Charles Oliveira's animal collection hinges on his success Sunday.
PITTSBURGH -- Charles Oliveira is an interesting dude, and part of that is because he's a very young dude.
At 20 years old, he came into a truckload of money by that age bracket's standards -- winning "Submission of the night" against Darren Elkins in September, pocketing $40,000 on the spot -- and he went on a bit of a spree.
What'd he buy, you ask? The standard things of youth: a fish aquarium, some calopsita birds, a couple of parrots (with particularly vertical crests), a dog, and an assortment of other small animals for around the house.
"This is true," he said through his interpreter Jorge Patino. "It's a zoo at home, and I love animals. When I got some money, when the UFC paid me, I had dreams. My mom and dad gave me everything they could in Brazil (growing up). But some things I could buy, and I bought stuff for fishing; a remote control car. Little kids stuff, but it made me feel good because I am 50 percent kid and 50 percent man."
Oliveira is now 21 years old and owns a 14-1 record after his setback loss to Jim Miller at UFC 124. As a Brazilian jiu-jitsu wunderkind, he was an unlikely candidate to fall for only the eighth kneebar in UFC history that night -- but fights have a funny way of playing out. Had he beaten Miller, he'd likely be considered a top 10 lightweight with designs on being the UFC's youngest champion. As is, he's fighting on tonight's prelims against Nik Lentz at UFC Live on Versus 4 with designs on being the UFC's youngest champion.
That little fork in the road didn't do much to damper those aspirations.
"I never give up," he told ESPN.com a few hours before yesterday's weigh-ins. "It's better that the loss happened now, than in a title belt fight. Because now, I get the focus again and can keep it going my way, and I'll never lose my focus anymore.
"After I lost I felt bad because I lost my game plan. But two weeks after that I started training again, getting focused and I just began looked forward to my next victory and my next fight. But the problem with Jim Miller is I forgot my strategy. I wanted to finish the fight fast and he's strong, and he put me down -- I made a mistake, and that's the problem."
Against Lentz he might be going against the promotion's most underrated fighter. In six fights, he is officially undefeated with one draw (though the Tyson Griffin decision remains mighty iffy). In other words, he's not exactly a can that the UFC has lined up for Oliveira to regain his footing -- Lentz is a very real threat to send him into an early career tailspin.
Which is why he's looking to trade making mistakes for exploiting them.
"I have to recognize that each fight is different," he said. "I watched a lot of videos with Lentz, and I saw little mistakes. And I'll work to take advantage of those mistakes."
It'd be another solid notch on Oliveira's belt to score big against Lentz. If he wins another bonus? There's talk of fishing tackle to catch those elusive wild tucanare and baiacu down in Brazil. But you know what? As a young eccentric sportsman, he would never bring harm to those little fishies.
"I catch a lot," he says. "But I don't kill them, I catch and release. I love animals."