April, 19, 2012
4/19/12
5:09
AM ET

By Chuck Mindenhall
ESPN.com
Archive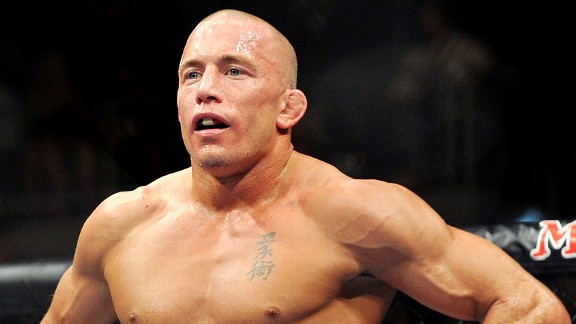 Jon Kopaloff/Getty ImagesLook out, GSP: One of your teammates might be hot on your heels.
This Saturday's main event between
Jon Jones
and
Rashad Evans
is the cautionary tale of what becomes of elite teammates who coexist in the same weight class.
It's fitting for this card, because you know who looks a lot like the Jon Jones of two years ago?
Rory MacDonald
-- the guy who is being showcased in the co-main event at UFC 145 against Che Mills. Why a showcase? Because it's an honest-looking challenge in a fight everybody expects the upstart to win. Just like when Jones fought guys like
Brandon Vera
and
Vladimir Matyushenko
. These fights happened right after Jones relocated from an anonymous upstate New York gym to Greg Jackson's contender's den in Albuquerque, N.M.
That was around the time he began training with Evans, who started off as his mentor -- the big brother who had a hand in molding raw talent. Even with Jones' radar going off, it didn't seem like Jones was coming for Evans' legacy at the time -- at least,
not to them
. To us, it always appeared different.
You see where things ended up.
Another win narrows MacDonald's path to the top. The top is the determined goal for a young fighter who wants to rewrite history at 170 pounds. That means the top will also present itself as a crossroads, because
Georges St. Pierre
-- a training partner that MacDonald calls his mentor -- currently occupies that rarified space. MacDonald moved across country, from British Columbia to French Quebec, to train with St. Pierre.
Since then he's won a pair in a row, including a one-sided drubbing of
Nate Diaz
. To be the best, you learn from the best.
Problem is, there can be only one best.
When I spoke to MacDonald for a piece in ESPN the Magazine last month, he laid it out.
"There's no question that I'm going to be champion; it's about when," he said. "And that's not my only goal in this sport. First, I'm going to get that done, but you guys will see in the future, I'm going to accomplish things that nobody else has done in this sport. I have a long career ahead of me; I just have to stay smart."
Right now, MacDonald and St. Pierre are leaving such eventualities to blow around in the abstract. That's fine. There are a million scenarios that could prevent a GSP/MacDonald encounter down the road. MacDonald, only 22, could slip along the way -- or move up in weight. Ditto St. Pierre, who has flirted with middleweight. St. Pierre could retire, or never recover from that knee injury. He could even lose to Condit.
Easier to imagine? He just keeps being GSP, the dominating force who is forever vigilant of complacency -- the last of his known vulnerabilities (thanks to
Matt Serra
).
But MacDonald is coming. If he beats Mills (and does so impressively), he'll be a consensus top-10 welterweight. From there, all rungs take him a little bit closer to detachment. There's a reason it's lonely at the top.
"At the moment, you know, Georges is a friend of mind, and we train at the same gym with the same trainers with the same regiment," he said in the Magazine interview. "Georges has looked out for me for the last year and been a good friend, and I have to respect that. I just never say never, but Georges is a friend of mine, and it's something I can't answer right now. I don't foresee it."
Neither did Jones see the clash on the horizon with Evans. Not seeing it doesn't mean it's not on course to happen, it just means it's preferable not to look.
In a year or two, it could be MacDonald in the headlining spot fighting for the belt. His potential is great enough that it doesn't seem far-fetched in the slightest. If and when the time comes, to achieve what he's after, the man standing in front of him can't matter.
December, 24, 2011
12/24/11
9:45
AM ET

By Franklin McNeil
ESPN.com
Archive
Two more welterweight fights have been slated for UFC 143 on Feb. 4 in Las Vegas, the promotion announced on Thursday.
Veteran
Matt Brown
has verbally agreed to face Chris Cope, while Justin Edwards will tangle with Mike Stumpf. Each fight is expected to appear on the preliminary portion of UFC 143's card.
All four fighters will look to rebound from recent losses, and each man's performance could determine whether he remains on UFC's roster.
Brown (12-11) has struggled to find any consistency in the past year. He has dropped four of his five most recent fights, including a second-round submission loss to Seth Baczynski on Nov. 19 at UFC 139.
Cope (5-2) was the victim of a first-round TKO to Che Mills on Nov. 5. He is 1-1 inside the Octagon.
Edwards (7-2) has come up short in two of his three UFC appearances. John Maguire bested him by unanimous decision on Nov. 5 in Birmingham, England, at UFC 138.
In his UFC debut on Sept. 17, Stumpf was submitted in the first round by TJ Waldburger. But Stumpf (11-3) took that fight just six days before the scheduled event.
Former Strikeforce welterweight champion
Nick Diaz
faces ex-WEC titleholder
Carlos Condit
in the UFC 143 main event. They will compete for the UFC interim 170-pound belt.
Former No. 1 welterweight contender
Josh Koscheck
will face hard-hitting
Mike Pierce
on the co-feature. UFC 143 will be held at Mandalay Bay Events Center.