September, 29, 2014
Sep 29
9:03
AM ET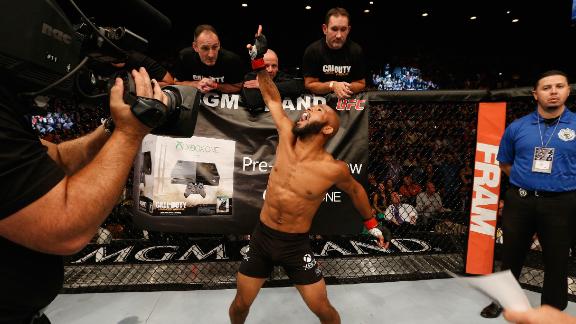 LAS VEGAS -- Between the comebacks of
Dominick Cruz
and
Cat Zingano
to the continuing emergence of
Conor McGregor
,
Demetrious Johnson
's fifth title defense seemed like a UFC 178 afterthought.
Really, it was probably destined for that. The fight only headlined UFC 178 because
Jon Jones
withdrew from a mega-fight against
Daniel Cormier
due to injury. Johnson was an absurd 16-to-1 betting favorite over
Chris Cariaso
, the highest in UFC title fight history. His win over Cariaso felt like a foregone conclusion.
Something very special is happening in the 125-pound division, though. And before we go any further, this isn't one of the many "Why you should pay attention to the flyweight division" articles, of which there have been many since the UFC debuted the weight class in 2012. This article is about Johnson, the quest for perfection in mixed martial arts and how close he already is to claiming it.
[+] Enlarge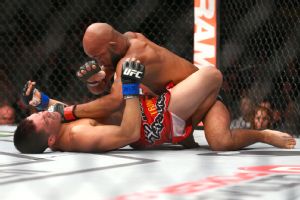 Ed Mulholland for ESPNDemetrious Johnson, top, has set his sights on becoming the best in MMA history.
Johnson (21-2-1) has now finished three of his last four opponents -- and the one he didn't finish was later found to have been on performance-enhancing drugs. Through five title defenses, he's outlanded his opponents 361-135 in total strikes and finished 18 takedowns, while giving up four. During this stretch, he's won 13 of the 15 rounds judges have filed scores on.
"Any criticism of Demetrious is not valid," said Matt Hume, Johnson's head trainer. "He finished
John Moraga
with an armbar from his back. Moraga is a collegiate wrestler with a great ground game. Then he fights
Joseph Benavidez
, a knockout artist, and DJ goes and knocks him out. Then he out-conditions
Ali Bagautinov
, a guy who was on PEDs for the fight. He wins every round. So, I just don't see any criticisms being valid."
Not that there is much criticism of Johnson these days, but at the same time, there doesn't seem to be a lot of attention on him, either.
At the UFC 178 postfight news conference on Saturday, featherweight contender McGregor fielded dozens of questions, donned in a custom "elephant trunk suit," as only he could put it.
At one point, he spoke about how nice a UFC title would look in front of him. Meanwhile, Johnson sat 10 feet to his right with the belt alongside. He was asked one question, as the card's main event.
Here is the unfortunate truth about Johnson: His greatness might be acknowledged but few seem to want to revel in it. A first-round knockout by Johnson isn't going to set the world on fire. We know it won't. He did it against Benavidez, in Benavidez's hometown, in December -- and there was no fire.
That lack of fire is clearly not affecting Johnson's performances, though. It was obvious he came well-prepared against Cariaso, who, respectfully, was way out of his league. In stark contrast to McGregor's ivory threads, Cariaso wore a suit to fight week that appeared three sizes to big for him. In his prefight video package, where he's supposed to talk about winning the fight, he provided a generic one-liner -- unconvincingly.
Johnson didn't train for Cariaso; he trained to fight a perfect fight. Like McGregor refers to his opponents as basically faceless stepping-stones to something greater, Johnson treats his opponents the same.
"For me, I always try to go out and put on a perfect fight," Johnson said. "That's a challenge in itself. Just because a lot of people didn't give Chris Cariaso recognition, I trained like he was the best fighter in the world. For me, there are always challenges out there, and that's for me to be a perfect mixed martial artist."
Perfection can only go unnoticed for so long. According to Hume, there is a long-term plan for Johnson. It includes an eventual move back to bantamweight (where he once fought for the title) and ends with him being considered the greatest fighter of all time. That's the team's goal, and it realizes it's a long-term one --- which is maybe why it seems OK for now being in the shadow of attractions like McGregor.
"I always have a game plan and goals in the back of my mind," Hume said. "When he got in the UFC, the goal was to make him the best fighter in the history of mixed martial arts. It would have sounded super arrogant to say that back then, but now it doesn't. We want to do some more damage at flyweight and secure that legacy.
"We've got our eyes on Dominick Cruz as he makes his comeback. That's a fight [Johnson] lost and it would be great to see him again. After DJ cements what we want at flyweight, though, we will definitely go for bantamweight and take on whoever is there. Of course, those kinds of things are in the back of our minds. Just like him being where he is now was on the backs of our minds years ago."
September, 16, 2014
Sep 16
6:37
AM ET
Joseph Benavidez
would love to believe 9-1 betting underdog
Chris Cariaso
has a chance to dethrone
Demetrious Johnson
at UFC 178 next weekend.
Oh man, would he love to believe that.
Benavidez (20-4) is in one of the more unfortunate spots in mixed martial arts. He is arguably the No. 2 fighter of his division, but he's lost twice to the man (Johnson) ahead of him -- in September 2012 and last December.
To get back to a UFC title opportunity, Benavidez needs one of two things to happen: A long, impressive win streak (his guess is it would need to reach four in a row) or a Johnson loss. He's operating under the assumption it will have to be the first option.
"It's funny," Benavidez told ESPN.com. "I'm not really wishing for [Johnson] to lose and I don't necessarily get excited when he fights because as of late, honestly, I know he's going to win. They get announced and I go, 'Oh. Another title defense.'
[+] Enlarge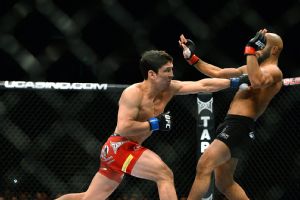 Al Powers for ESPNJoseph Benavidez, right, realizes he'll need to pull off another win streak if he's to earn a third title shot.
"I guess I just don't see another threat out there besides me and [John] Dodson and I had my chance to beat him. Every time he has a fight, I'm usually just, like, 'Damn. I messed this up. That should be my title defense.'"
Unfortunately for Benavidez, this is actually the second time in his career he has been in this position. Prior to the UFC's addition of a 125-pound weight class, he fought former bantamweight champion
Dominick Cruz
twice in the now-defunct WEC.
Like Johnson, Cruz defeated Benavidez both times and went on to hold the title until the UFC stripped him of it earlier this year due to injury. After losing to Cruz the second time in August 2011, Benavidez sort of wandered at bantamweight. He fought just three times in the next 19 months with no real rhyme or reason to the matchmaking.
The flyweight division finally debuted in early 2012.
A little more than two years later and Benavidez is in a similar spot. No fights seem to make sense. He hasn't fought since he submitted
Tim Elliott
at UFC 172 in April, even though he has been healthy and asked for a fight.
A UFC pay-per-view event came and went in Benavidez's hometown of Sacramento in August, but he didn't make the card. The UFC couldn't find the right opponent.
"I know I'm in an odd position," Benavidez said. "I think I'm the next best guy in the division after Demetrious, but I can't fight him. And on the other side, we're short on flyweight contenders and the UFC doesn't want me knocking off the few we have."
Benavidez might be forced into waiting for fights longer than usual, but the UFC actually has booked him two meaningful ones since the loss to Johnson in December.
Elliott (10-5-1) was on the fringe of a top-10 ranking when Benavidez tapped him in the first-round and anyone who follows the sport knows his next assignment,
Dustin Ortiz
on Nov. 22, is a legitimate test as well.
Ortiz (14-3) is 3-1 in the UFC and arguably should have been declared the winner of a split-decision loss to
John Moraga
in January.
"It's awesome that hard-core fans know how tough [Ortiz] is," Benavidez said. "I have to beat him in a way that makes a statement. We've seen him fight top-level guys, so I think there's something to gain in this fight.
"See the competition he's fought and how those fights went -- and now compare that to how my fight will go with him. There is pressure on me to beat him worse than anyone else has."
Ortiz, in fact, has never been finished in his professional career. If Benavidez can be the first to do so, he will have helped his cause in regards to a third UFC title shot. If he had to guess, no one else is going to help him with it.
July, 23, 2013
7/23/13
2:08
PM ET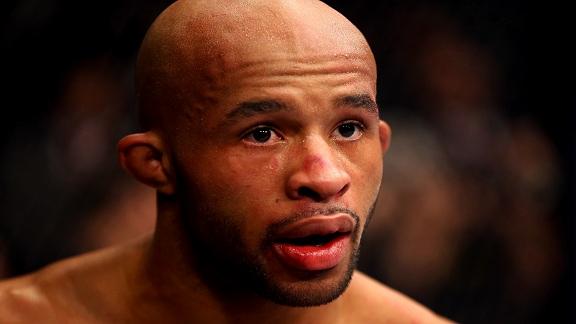 John Moraga
didn't get into mixed martial arts for fame and quite frankly, he really didn't get into it to satisfy any real hunger for competition, either.
Moraga started training to fight in 2009 with one thing in mind: Money.
"I didn't get into this sport to be on posters or be a household name," Moraga told ESPN.com. "Money. Let my kids grow up with everything I didn't have."
That's not to say Moraga (13-1), who faces
Demetrious Johnson
for the UFC flyweight title this weekend at a UFC on Fox event in Seattle, doesn't enjoy what he does. A former collegiate wrestler, Moraga is a lifetime competitor.
But the reason he trains multiple times a day and makes sacrifices in his lifestyle so he can weigh 125 pounds before a fight is to provide for his two sons.
"When my girlfriend got pregnant, that's when I decided to get in the gym and see what I could make of it," he said. "There wasn't much opportunity when I started, but I had faith that I would have an opportunity to make a living out of it. It's worked out."
Money has been a major talking point in the UFC in 2013, with several former and current fighters publicly criticizing the promotion's current pay structure.
Moraga is an interesting case study in the discussion. Since signing with the UFC in mid-2012, the 29-year-old has fought twice, both times on the undercard.
His most recent performance, a submission win over
Chris Cariaso
at UFC 155 in December, was the opening fight of the event. Most of the Las Vegas crowd didn't show up to see it. The UFC paid Moraga a salary of $22,000, according to Nevada.
Had Moraga lost, he would have made just $11,000. Half of the salary came from a win bonus, which is included in the majority of UFC contracts. Also, he would have been 1-1 in the UFC. Fighters who fall to 1-2 are routinely cut from the UFC roster.
That may seem, in Moraga's word, "cutthroat" -- but so far, he has made the UFC pay system work for him. Shortly after his first UFC win, a first-round knockout over
Ulysses Gomez
, the company sent him a discretionary bonus in the mail.
When he submitted Cariaso at UFC 155, Moraga also was the recipient of a $65,000 "Submission of the Night" bonus. Just two fights into his deal, he's in a position to win a UFC belt and possibly headline a pay-per-view event in the future.
Moraga's view on UFC pay is that the company forces him to earn his money. If he performs to its expectations, they take care of him.
"I feel the UFC wants exciting fighters. If you go out and put on an exciting fight, if you put enough effort out there, then they'll take care of you," he said. "I think they let their fighters earn their money, and I'm cool with that."
Moraga is in a terrific spot now, but acknowledges things could have gone south just as easily.
[+] Enlarge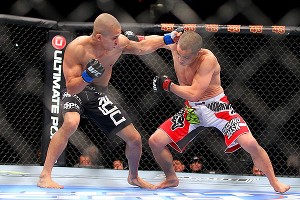 Ed Mulholland for ESPN.comJohn Moraga, left, got a submission win over Chris Cariaso in his most recent fight.
In that UFC debut, the one where he knocked out Gomez and was awarded an extra check, Moraga was originally scheduled to fight
Ian McCall
. McCall, ranked the No. 3 flyweight in the world at the time, withdrew with injury.
Moraga's guaranteed paycheck for that debut was only $9,000, with a $9,000 win bonus. Obviously, he would have gone into the bout against McCall with confidence, but it clearly would have been a much tougher fight than the one he ended up with.
Prior to McCall's injury, Moraga was looking at a situation in which he was scheduled to face the No. 3 fighter in his division, potentially for a mere $9,000 -- and on top of that, a potential loss in his promotional debut.
"It's definitely a gamble," Moraga said of being an undercard fighter. "That's what we sign up for. But that's how I saw it. I saw [my undercard fights] as a little amount of money to get me on my feet and I saw it as an opportunity.
"I was supposed to fight Ian McCall. That's a little different than your average UFC debut. At the same time, I knew I just had to prove myself."
Moraga admits to not knowing "what the UFC makes" per event or "how much it costs to keep business going."
Those two issues have long been arguing points in the UFC fighter pay discussion. Disgruntled fighters have complained about UFC revenue split, as the company refuses to release figures to the media on the subject. The UFC responds that it absorbs its own production costs and spends millions of dollars on advertising and promoting the sport, which opens sponsorship opportunities for its fighters.
From a personal sense, Moraga doesn't have the time to inmmerse himself in that discussion. In his mind, if he continues to perform and fight in an entertaining style, the money will come.
That's far more than he can say regarding other times in his career. When Moraga first started off, he says his pay was based on the number of tickets he was able to sell to friends and family, many of whom didn't have the funds to help him out.
"I made like, ticket-sale money," Moraga said. "Selling tickets was hard. Everyone I know is from the hood. They were like, '30 dollars? Tell me how it went, player.'
"I think the most I was ever paid for one of my fights [before the UFC] was $1,000, maybe $1,200. Before that, it was $400 here, $600 there."
Moraga was also involved in the well-known Nemesis Fighting MMA promotion, which produced bounced checks to fighters after an event in 2010.
Moraga suffered the only loss of his pro career at that event to fellow UFC flyweight
John Dodson
, but was supposed to collect his largest payday. He collected nothing.
"I didn't get paid for that fight," Moraga said. "It was supposed to be online PPV. It ended up being a total scam of a show."
Of course, Moraga has no concern of that happening in the UFC and now, as was the case when he first started training, he's optimistic regarding his financial future.
Regarding his upcoming fight against Johnson, Moraga says he views it as life and death. In his mind, it may be his only chance ever at real, life-changing money.
In the current UFC pay structure, that mindset probably has a lot to do with Moraga's success so far.
"I take it as survival," Moraga said. "I see it as my one chance. That's how I have to see it. Who knows what can happen? I might never get this chance again if I don't make the most of it."
September, 19, 2012
9/19/12
1:05
PM ET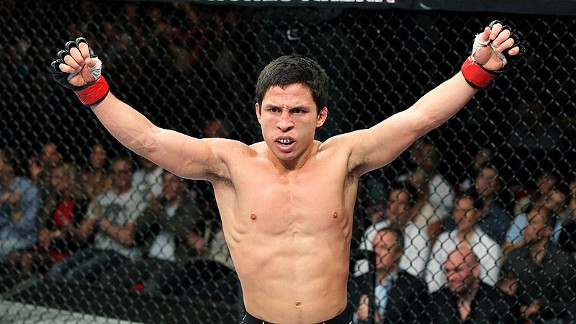 Josh Hedges/Zuffa LLC/Getty ImagesStrong and fearless, Joseph Benavidez takes aim at becoming the UFC's first flyweight champion.
The UFC will crown its first flyweight champion this week at UFC 152, making now the perfect time to rank who's who at 125.
Top-ranked
Joseph Benavidez
and
Demetrious Johnson
likely need no introduction by now, as they're set for the UFC 152 co-main event on Saturday in Toronto, but the rest of the names on this list might.
The flyweight division doesn't carry the most recognizable names in the UFC yet, but let us assure you that its Top 10 features loads of talent.
Here's a closer look at how ESPN.com staff members, including Chad Dundas, Josh Gross, Franklin McNeil and Chuck Mindenhall, see the division.
[+] Enlarge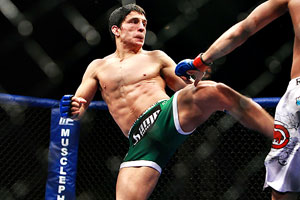 Dave Mandel for Sherdog.comOne of the most complete fighters in mixed martial arts, Joseph Benavidez gets an opportunity to compete in his natural weight class.
No. 1 Joseph Benavidez (16-2)
There's only been one mountain Benavidez hasn't been able to climb, and that's UFC bantamweight champ
Dominick Cruz
. Benavidez has two losses in six years, both to Cruz, and both very close. Now he's at his natural weight class and is the near-consensus pick to reign over the division. Wondering what he does well? Everything. He's one of the most composed fighters in the UFC, and his game has no holes. In fact, he's the only flyweight you'll find in the pound-for-pound rankings at ESPN.com.
McNeil:
The flyweight division's most fearless fighter also happens to be its most aggressive.
Mindenhall:
The division was created for him to dominate. With his diversity and strength, he will do just that.
No. 2 Demetrious Johnson (15-2-1)
Meet the fastest fighter in the UFC. Johnson's speed is one of the most talked-about advantages in the sport. Add in the fact he's also extremely technical, and it's almost not fair. Maybe the only way to slow him down is to keep him on the ground, which no one seems capable of doing. Even when Johnson gets put on his back, he's usually to his feet before judges even notice. And by the way, at 26, he probably hasn't hit his peak yet.
Dundas:
I'll consider it an upset if Johnson beats Benavidez, but not much of one.
Mindenhall:
The second McCall fight showed that Matt Hume's guy isn't all flash and thunder, but that he's a smart fighter who can execute tactically under pressure.
[+] Enlarge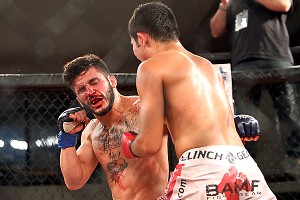 Jeff Sherwood for Sherdog.comIf there is such a thing as enjoying being hit, Ian McCall, left, proudly fits the description.
No. 3 Ian McCall (11-3-1)
McCall won't match the speed of his fellow flyweights, but he makes up for it with size and wrestling ability. He's a fighter's fighter -- the guy in the division (always seems like there's at least one) who seems to genuinely enjoy getting hit. McCall can be a bit of a slow starter, but he turns into a monster as a fight goes on. No one on this list is more influenced by the crowd, and his outright crazy side has a visible effect on some opponents over 15 minutes. He's had a bumpy road outside the cage, which could very well end up being the one thing that holds him back. In the cage, his ground-striking, takedown defense and boxing make him tough to deal with.
Dundas:
McCall spent 17 days in jail in August after his arrest for driving with a suspended license. If he can keep it between the lines, he's a potential champion.
Gross:
McCall may be his own worst enemy, and with competiveness brewing at 125, he won't do well in the long run fighting himself and the competition.
No. 4 Jussier da Silva (14-1)
The perception is da Silva poses no threat on his feet, but that's inaccurate. No, "Formiga" is no knockout threat, but watch him transition to an opponent's back without even needing a full takedown and you'll see what we're talking about. Ultimately, da Silva does need to improve his hands if he wants to topple the best, but his submission skills alone warrant this spot on the rankings. If the well-rounded UFC opposition can keep him on the outside, he's in trouble. But give Da Silva an opening to get where he wants and the Brazilian will be super-glued to your back. His only loss came at the hands of the man ranked right above him on this list.
McNeil:
That high-profile loss to McCall last year still haunts Formiga.
Mindenhall:
We know he can finish, but the question is, how does he handle the step up in competition?
[+] Enlarge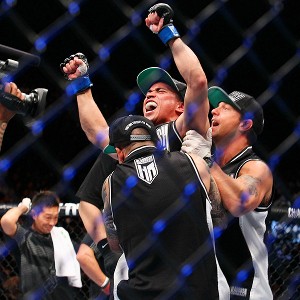 Susumu Nagao for ESPN.comWith the title path more open, striker Chris Cariaso looks to make an immediate impact at 125 pounds.
No. 5 Chris Cariaso (14-3)
Cariaso represents one of those situations where he really didn't
need
to drop a weight class, but the title path is more open at 125. He'll throw kicks to the leg and body like they're jabs, and he has good defensive instincts on his feet. He likes to counter with the right hand, which won't cause much damage on its own, but he lands it often and it's a rhythm disrupter to opponents. Only two submission wins in his career, so he's not known for his grappling, but this guy can be sneaky-good off his back. If you fall asleep in his guard, he'll take advantage of it.
Dundas:
Losses to
Michael MacDonald
and
Renan Barao
are nothing for Cariaso to hang his head about.
Gross:
Fighting at flyweight provides new life for Cariaso, who will never go down without a fight.
No. 6 John Dodson (13-5)
The hyperactive Dodson has said he'd like to win titles at 125, 135 and 145 at some point. Those aspirations might seem a little high, but 125 is certainly within his reach. He sets a pace that can wear out an in-shape flyweight (not easy to do), and he packs more power in his standup than you'd think by looking at him. His takedowns are actually incredibly explosive, but they often go overlooked because he rarely does much with them. Mostly, it feels like Dodson looks at them as a way to score a few points before getting back to business on his feet. He's fun to watch and has so much experience fighting talented, bigger opposition.
Gross:
The potential is there, no doubt about that, but it takes more than that to assert yourself in a weight class.
Mindenhall:
He was the smiling fink of the TUF 14 house. His height is a liability, but the dude's a rare combination of acrobatics and mean.
[+] Enlarge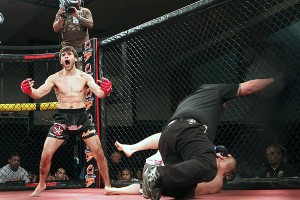 Jeff Sherwood/Sherdog.comDarrell Montague is not with UFC ... for now. But don't be surprised if you see him fighting very soon.
No. 7 Darrell Montague (11-2)
The only name on this list not currently contracted by the UFC, but it's likely only a matter of time before the 24-year-old hits the Octagon. He's been a menace in the flyweight proving grounds that is Tachi Palace Fights, with one signature loss you know he'd like back against McCall in 2011. A southpaw, Montague likes to take the center of the cage and stalk his prey. He trusts his hands and that makes him fun to watch. Good counterpunches and a high comfort level in stringing together combinations as opposed to single power shots. You will see Montague knockout highlights inevitably pop up in years to come.
Dundas:
He figured to be among the first crop of flyweights snapped up by the UFC until the loss to McCall. Back on track with two wins, it likely won't be long until he's bound for the Octagon.
Gross:
This confident kid will get his shot at the big time someday soon.
No. 8 John Moraga (11-1)
A lot to like about this dark horse in the flyweight division. Moraga isn't going to bounce around the cage like a Demetious Johnson, but he's got speed where you want it -- in his hands. This guy can unleash punches opponents never see coming and his power is undeniable. No glaring holes to speak of, and keep an eye out for a strong guillotine, much like the one we've come to learn his teammate
Ben Henderson
possesses.
McNeil:
Despite showing off his striking prowess against
Ulysses Gomez
in August, UFC fans will soon learn that Moraga has solid submission skills.
Mindenhall:
Great submissions, and he has been packing a better punch since losing to Dodson back in 2010. Verdict's still out on how he stacks up with the top guys.
[+] Enlarge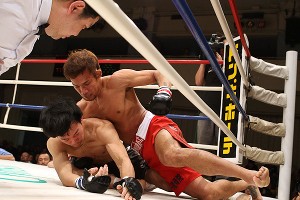 Taro Irei/Sherdog.comExpectations are high in the UFC for Yasuhiro Urushitani, right, despite a tough Octagon debut.
No. 9 Yasuhiro Urushitani (19-5-6)
Urushitani didn't exactly sparkle in his UFC debut, but he gets a semi-free pass for that loss, considering it was against Benavidez. That said, expectations are high for the Japanese fighter early, so a strong sophomore performance in the UFC is key. Urushitani is known for his counter striking, but he's actually capable of moving forward when his confidence is high. He's got a nice straight left he'll throw down the pipe, but watch that left hand when it's not being used. Urushitani tends to keep his hands around his waist and rely on elusiveness to avoid strikes. Sometimes it works and sets him up beautifully for counterstrikes. Other times, well, he wakes up to the sounds of a fired-up Benavidez running around him.
Gross:
A veteran of the division, he failed to do much against Benavidez, further cementing the weak reputation of Japanese fighters in the Octagon.
McNeil:
He's a much better fighter than the guy who appeared lost in his Octagon debut against Benavidez.
No. 10 Louis Gaudinot (6-2)
What a difference 10 pounds can make. Any fighter on this list likely knows that feeling from competing at 135, but Gaudinot might know it best. His particular style just doesn't bode well against bigger guys -- but it should be darned effective on smaller ones. Gaudinot is not fleet of foot. He's got a flat stance, and he's unafraid to sit in the pocket. At 135, walking down bigger guys just wasn't going to get him to the top. At 125, the green-haired Gaudinot is going to be an imposing figure. He'll take one to land one, and if he can catch up with the speed of the other flyweights and work a takedown here and there, his tenacity and bullish attitude will win fights. A Gaudinot-McCall fight would produce fireworks.
Dundas:
Had the heart but not the size to be UFC bantamweight champion. His high-octane style likely makes him a matchmaker's favorite.
Gross:
If you can get past the green hair, you'll see a hard-nosed powerhouse benefiting from fighting at his natural weight.