February, 26, 2014
Feb 26
1:24
PM ET

By Brett Okamoto
ESPN.com
Archive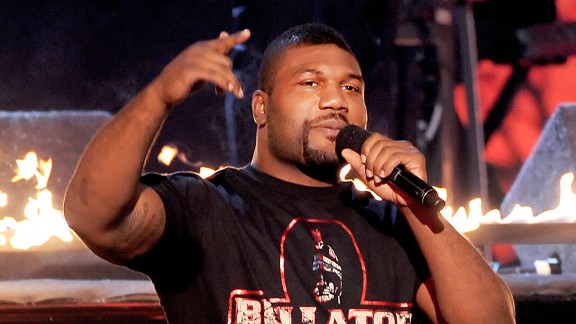 Kevin Winter/Getty Images for Spike TVSinging its praises: Quinton Jackson is happy at his new home with MMA promotion Bellator.
Quinton Jackson
isn't about to promise he'll fight three times this year -- something he hasn't done since 2007 -- but he doesn't frown upon the idea.
Jackson (33-11) will make his first appearance of 2014 against
Christian M'Pumbu
at Bellator 110 on Friday in Uncasville, Conn. The card will be televised on Spike TV.
The bout is part of a four-man light heavyweight tournament, which also includes former Strikeforce champion
Muhammed Lawal
and
Mikhail Zayats
. With a win on Friday, Jackson is expecting a somewhat quick turnaround to the tournament final.
Jackson, 35, hasn't fought three times in one year since a monster campaign in 2007, when he defeated
Marvin Eastman
,
Chuck Liddell
and
Dan Henderson
, unifying the Pride middleweight and UFC light heavyweight titles in the process.
"These days, I do whatever I want," Jackson told ESPN.com. "I don't do stuff because people bully me or make me do it contractually.
"If I want to fight three times, I will. I know for sure I'm fighting two times pretty soon. I could fight four times this year. When I was in Pride, I fought six times. If I'm healthy and I want to do it, then I'll do it."
The biggest problem, as it has been for Jackson, could be avoiding long breaks from the gym in between fights. He admits it's still a challenge to work out on a regular basis, especially when a fight isn't booked.
"In my old age, I should get smarter and train year-round," Jackson said. "This is not my hobby. A lot of people are fan-boys who do it year-round. No disrespect, but that's not me. It's hard for me to get out of my house and train twice a day."
With his tournament semifinal bout days away, "Rampage" Jackson talked about his upcoming opponent, a knockout win over
Joey Beltran
in November and some of the bigger headlines currently dominating mixed martial arts.
ESPN:
You were thrilled with the restoration of your knees heading into your previous fight. How have they held up since?
Jackson:
You know, one of my cars is a stick shift and when I change the gears, my knees bothered me. I stopped driving that car and my knees immediately felt a lot better. I thought something was wrong with them, but it was driving that car. It was one of my favorite cars, a Dodge Challenger, but I think I'm going to have to sell it.
ESPN:
You earned your first knockout since 2008 in that fight against Joey Beltran [at Bellator 108]. Was it a satisfying win for you?
Jackson:
I could just say this: It's no secret Beltran took the fight on short notice and he's never been in the cage with a person like me. He was swinging, even though he did push me up against the cage and kneed me in my bad knee. I can understand that, though. He wanted to win. Beltran is a very hard guy to knock out. I showed people I still have thunder in my hands. It's hard -- any time you are an athlete and you try to explain to a non-athlete why you can't do everything the way you used to because of injuries, they think you're making excuses. No, I'm trying to explain why I'm not the same as I used to be.
ESPN:
Before the fight, Beltran promised to stand in the pocket and give you a brawl, but you could tell he had more of a strategy once it started. Did you expect that?
Jackson:
A lot of people don't understand, I'm one of the few fighters left. I'm a dying breed. I go out there and try to fight. I wasn't surprised when he did that. People have a little cowardice in them. There's always a chance I could knock them out and people worry about that. They go out there and do what they've got to do to survive. And win. America is all about the win. It's not about the show anymore. I don't agree with that way of thinking.
[+] Enlarge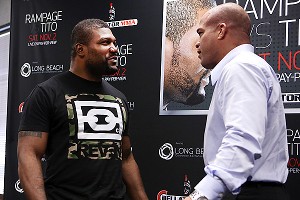 Dave Mandel/Sherdog.comQuinton Jackson, left, admits he's no longer interested in a fight with Tito Ortiz.
ESPN:
Originally, when you signed with Bellator, you were supposed to fight
Tito Ortiz
. After he was injured and the fight fell apart, you said you had no interest in putting that fight back together. How come?
Jackson:
He has a real serious injury. Me and Tito are cool. We're not besties or anything, but he has a neck injury. I don't want to be held accountable for hurting Tito because I know for a fact I got Tito's number. I really can hurt Tito if I want to, so it's probably best if that fight doesn't happen.
ESPN:
Is that your way of saying he probably needs to retire?
Jackson:
I'm not saying that. I would like to see Tito fight somebody else -- see how he do. See that he's OK and in good enough shape to fight. Then I'd be interested in fighting him again. I'm not going to say he needs to retire. Tito might have fight left in him. He's had bad luck with injuries. Every athlete goes through that.
ESPN:
Are you excited to be in this Bellator tournament, working towards a belt? Or does that part of the game not mean as much to you now?
Jackson:
I don't focus on what people say. People don't know me and they don't know what motivates me. I'm looking forward to getting in the cage and fighting. I'll do anything I have to do to win this fight. Honestly, the belt is not my motivation, but I'm in this tournament. My motivation is to be the best I can be. I'm not looking to lose.
ESPN:
What was your take on the
Gilbert Melendez
situation -- him agreeing to terms with Bellator, and the UFC deciding to match the contract?
Jackson:
Bellator is growing rapidly. If Bellator keeps making decisions and doing the stuff they are doing, I see a lot of fighters trying to get out of their contract and come to Bellator -- just based on sponsorships alone. Right now, the UFC was smart in matching Bellator's offer. I guarantee you Melendez would have been happier here in Bellator. He's a great fighter. I wish he could have been over here.
May, 21, 2011
5/21/11
11:28
PM ET
By Brian Knapp/Sherdog.com
ESPN.com
Archive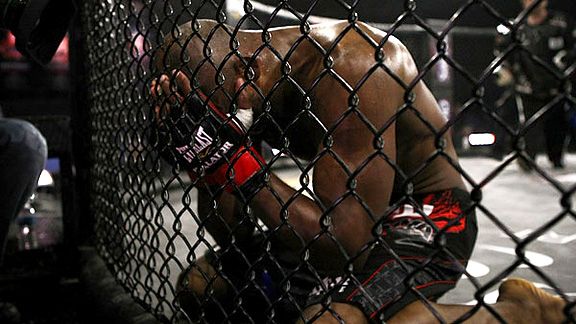 Keith Mills for Sherdog.comPrayers answered: Christian M'Pumbu's dreams came true when he lifted the Bellator title.
African-born Frenchman Christian M'Pumbu stands alone atop the Bellator Fighting Championships light heavyweight mountain.
M'Pumbu stopped former two-division Rage in the Cage titleholder Rich Hale on third-round strikes in the Season 4 light heavyweight tournament final at Bellator 45 on Saturday at the L'Auberge du Lac Casino and Resort in Lake Charles, La. Finished for the first time in more than four years, Hale met his demise 4:17 into Round 3.
M'Pumbu nearly finished it inside the first five minutes, when he planted Hale on his back with a stinging left hook. He followed up with a standing-to-ground right hand and threatened with a brabo choke, but Hale survived to see a second round. There, the Arizonan backed up a more passive M'Pumbu with jabs, leg kicks and occasional kicks to the body.
Hale had the momentum, as the fight spilled into the third round. However, with roughly two minutes to go in the period, M'Pumbu raised his aggression level. He landed a blistering right hand that sent Hale crashing to the canvas once again, the finish in sight. After hesitating briefly, M'Pumbu pounced and showered his foe with right hands and hammerfists. Referee Jason Herzog gave Hale every opportunity to answer; he did not.
As with his semifinal victory over Tim Carpenter in April, M'Pumbu was reduced to tears.
"I can't help but cry," he said, moments after becoming Bellator's first 205-pound champion. "I do everything I do for my kids. It's good to know all those years of hard work are going to pay off."
'Pitbull' outpoints Straus, clinches title shot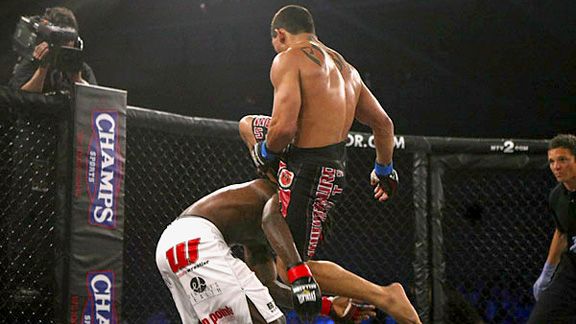 Keith Mills for Sherdog.com A leg up: Patricio Freire's acrobatics helped him earn another shot at Joe Warren's title.
A cleaner, more-aggressive offensive approach carried the once-beaten Patricio Freire to a unanimous decision over Daniel Straus in the Bellator Season 4 featherweight tournament final. Scores were 29-28, 30-27 and 30-27 for "Pitbull", who will challenge reigning 145-pound champion Joe Warren later this year.
The 23-year-old Freire landed the strikes of consequence throughout the 15-minute encounter and all but shut down Straus' high-octane, wrestling-centric attack. The match was marked by spits of action and extended periods of relative inactivity. Freire utilized a strong clinch game, knees to the body in close quarters and punishing low kicks when the two separated.
Straus was ineffective from the outside, often ceding to the superior striker. Freire attempted to bait him into moving forward late in the third round, as he attempted to put an exclamation point on his 17th victory in 18 professional appearances. The two tournament finalists finished their engagement in the clinch, from which Straus executed a suplex that was more primal than technical. By then, he had already lost the fight on the scorecards.
"There were lots of things going on in my mind," said Freire, "but the primary thing was the victory and [getting] a shot at a belt for the first time in my career."
The win sets up Freire for his long-desired rematch with Warren, the man who handed him his only career defeat in a split decision 11 months ago.
"I'm going to be a champion," the Brazilian said. "I'm going to take his belt."
Blood-soaked Alvey edges Amoussou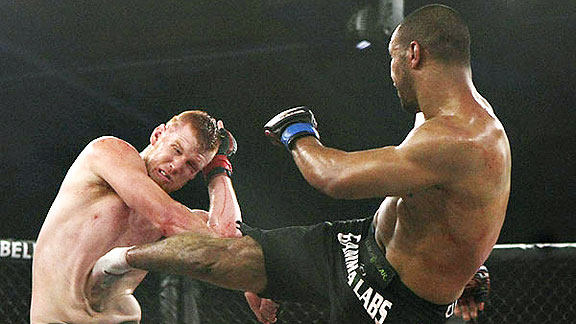 Keith Mills for Sherdog.com Gut check: Sam Alvey, left, had to dig deep and suck it up before getting past Karl Amoussou.
In one of Bellator's bloodiest battles to date, promotional newcomer Sam Alvey stunned Strikeforce veteran Karl Amoussou and notched a narrow split decision victory in their Season 5 middleweight tournament qualifier. All three cageside judges scored it 29-28, two of them in Alvey's favor.
Early on, it did not look good for Alvey. Amoussou attacked with kicks to the head body and legs, scored with a textbook judo throw and transitioned immediately to mount. From there, he unleashed a series of sharp elbows and opened a pair of cuts on Alvey's head -- one near the brow, the other on the scalp. Blood flowed freely, but Alvey did not fold. Amoussou tried for an ill-advised armbar from high mount, allowing Alvey to escape and turn into top position. By the time the frame was finished, Amoussou's entire torso was covered in his opponent's blood.
"I've never bled in a fight before," said Alvey, who will carry a four-fight winning streak into his next appearance. "It's a little disturbing."
Amoussou's pace slowed noticeably in round two, as he let Alvey climb back into the fight. The 25-year-old Waterford, Wis., native capitalized. He often countered the incoming Frenchman with sweeping hooks, and though few of them landed flush, they were enough of a deterrent to keep Amoussou at bay. Alvey closed the stronger of the two in the third round, as he answered an attempted trip with a takedown and unleashed some wild, flailing ground-and-pound in the final seconds.