January, 14, 2014
Jan 14
11:06
AM ET

By Brett Okamoto
ESPN.com
Archive
A midweek UFC card is on tap for Wednesday, pitting middleweight contender
Luke Rockhold
against
Constantinos Philippou
in Duluth, Ga. Here's how it breaks down.
Rockhold (10-2) versus Philippou (12-3), middleweight
Here's something you never want to see take place in the corner of a UFC fighter you picked to lose/bet money against.
Trainer Firas Zahabi walks in from the corner of the screen and says: "If you fight intelligently, this is easy. Do the exact same thing."
Oh no. That scene probably makes most of you think about
Georges St-Pierre
, but it actually came from a middleweight fight between
Francis Carmont
and Philippou at UFC 165, where Carmont cruised to a decision win in.
We've reached an unfortunate conclusion in the career of Philippou, who briefly fought in the professional boxing ring before transitioning to MMA in 2008: He can't wrestle.
His takedown defense through seven UFC fights is 73 percent, which doesn't sound bad, but that number is deceiving. He was outwrestled badly in his Octagon debut against
Nick Catone
, in March 2011. He lost that fight via decision.
Tim Boetsch
put him on his back in the first round of a fight at UFC 155 in December 2012. Boetsch broke his hand in that round and was unable to do much of anything the rest of the fight. Philippou took advantage and finished it in the third.
Then the Carmont fight. That's enough of a sample size to assume that Rockhold, who can wrestle, is going to own Philippou on the ground on Wednesday.
Philippou is good enough with his hands that he'll force other strikers into trying to take him down -- meaning guys who don't usually wrestle are forced to try it. That has contributed to his percentage when it comes to takedown defense.
The big question, which we pretty much know the answer to already, is can Philippou keep it on the feet? In a five-rounder? If you're delusional and say yes, you still have to ask whether he can beat Rockhold on his feet -- which is another no.
Rockhold by submission in the second round.
Brad Tavares (11-1) versus Lorenz Larkin (14-1), middleweight
Tavares is a classic example of a guy who won't beat himself. He's going to come in shape. He's not easy to hurt. Won't take many crazy risks.
If he can put Larkin on his back, he should do it. He doesn't necessarily have to do it to win the fight, but if you can put Larkin on his back, you put Larkin on his back. He can't spend too much time trying for it, though. If it's not happening, abandon it.
This is because Larkin has great balance and he's not a guy you want to try and hold up against the fence and neutralize. In those clinches, he'll build toward the right opportunity and unleash these quick inside flurries.
Tavares really isn't a clinch fighter, anyway. He likes to keep opponents on the end of his very straight, accurate punches. He can be somewhat predictable, but he's fine with that. He'll throw with volume and he'll walk forward throughout a fight.
Two things: I think Larkin targets the lead leg of Tavares with kicks -- and I don't think Tavares is quick enough to avoid that. He'll attempt the lesser of two evils and try to work inside, but get outpointed in the process.
Larkin by decision.
August, 14, 2013
8/14/13
1:33
PM ET

By Brett Okamoto
ESPN.com
Archive
UFC Fight Night 26
suffers from the same ailment nearly every UFC card will suffer from the rest of the year: It's not
UFC 168
… or
167
… or
166
.
Chris Weidman
versus
Anderson Silva
is a fighting fan's Christmas.
Georges St-Pierre
versus
Johny Hendricks
is Thanksgiving. And
Cain Velasquez
versus
Junior dos Santos
III will feel like a second birthday to us all this year.
Chael Sonnen
versus
Mauricio Rua
this weekend at TD Garden in Boston sort of feels like Flag Day in comparison.
But that said, there's a lot to like about Flag Day. Top to bottom, this is one of the stronger UFC cards fans will witness this year. Some events are structured around one fight and one fight only. Boston, on the other hand, features plenty to watch for.
FIVE STORYLINES
The legend of Conor McGregor
We are all getting way too carried away about McGregor -- but it's impossible not to. Simplest way to put it: When McGregor fights, you want to watch, and when he talks, you want to listen. It's not just that he's entertaining; he has this contagious passion about what he does. During a recent visit to Las Vegas, McGregor said he was so excited he stayed up shadowboxing in his hotel room until 5 a.m. He's in a hurry to be at the top, and
Max Holloway
wants to slow him down.
The curious case of Uriah Hall
You hear all the time how important the mental aspect is in martial arts. Hall has shown he has the physical tools, and on the surface, nothing seems out of sorts for him mentally. But that loss to
Kelvin Gastelum
in
The Ultimate Fighter Finale
was awkward. His team said he liked Gastelum too much to hurt him. Many of those watching called it cockiness. Neither is really an acceptable excuse for a fighter as talented as Hall. Expectations are high for him against
John Howard
.
The resurgence of Mike Brown
Brown hasn't really been under the spotlight for years, but for longtime martial arts observers he'll always be a name that jumps off the page. Two wins over
Urijah Faber
in the WEC put him on the map, but truth is Brown was just one of those guys who was always fun to watch. Something went wrong along the way, and the now 37-year-old endured a 2-4 stretch amid rumors of distractions in his personal life. He's back on a two-fight win streak coming into this fight against
Steve Siler
.
[+] Enlarge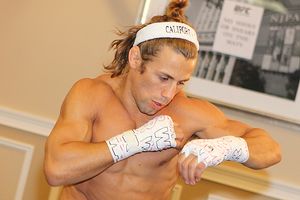 Ed Mulholland for ESPN.comAny loss at this point for MMA veteran Urijah Faber would be considered a major setback.
The quiet contenders
Since 2011,
Matt Brown
and
Mike Pyle
are a combined 11-2 in the Octagon, yet you won't find them on any top 10 welterweight rankings. Neither is willing to make a big point of that publicly, but there's no question both are getting a little anxious. After his last win, Brown said, "Just because a bunch of media people don't believe I'm good enough for a title shot doesn't mean it's true." Pyle, winner of four in a row, is itching to sign a fight against a top-10 opponent.
That Faber guy is back again
You can almost see the bile form in Faber's throat when forced to answer the same questions over and over leading up to these nontitle fights. "How much you got left in the tank, champ?" "Getting close to another title shot, Urijah, what's that feel like?" "Is the belt still the goal, buddy?" We should all come to this understanding that Faber feels great, he's excited to fight, and he wants a title shot, but the UFC won't give him one yet so he needs to keep winning. This fight against
Yuri Alcantara
might not feel big, but it's big for Faber. Any loss is a major setback.
FIVE QUESTIONS
What does Alistair Overeem look like?
He was Superman against
Brock Lesnar
and Clark Kent against
Antonio Silva
. No stranger to performance-enhancing drug accusations, Overeem is in a critical spot. He didn't look the same in February, his first appearance since producing a high testosterone-to-epitestosterone ratio in Nevada last year. He told ESPN.com he would never apply for testosterone-replacement therapy, despite tests that showed low levels after his last fight. There are a lot of variables floating around. Can Overeem be Superman again in the midst of them?
[+] Enlarge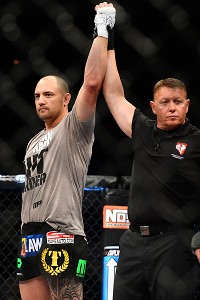 Al Powers for ESPNIf Travis Browne can pass a difficult test against Alistair Overeem, he could be the biggest winner of the night.
Is Travis Browne for real?
Browne passes the eye test. He moves. He has heavyweight knockout power. His grappling is underrated. He seems like he's in shape, and his only loss came after his hamstring busted in the opening minute of a fight. Overeem -- whether he's at his best or not -- is going to test him, though. If Browne is spectacular, he could be the biggest winner of the entire night.
Is 'Shogun' still elite?
Rua is slowing down. It never really felt as though he was going to lose to
Brandon Vera
last August, but we were sort of expecting a windmill dunk and got a weak layup instead. Then in December, it seemed like he was operating on fumes against a physical
Alexander Gustafsson
. Three of the last five men Shogun has defeated are now retired. How worried should we be about this?
Is the self-proclaimed 'Gangster' going to lose three in a row?
Whether you like Sonnen or not, this is a man who does not avoid tough fights. He has gone from Silva to
Jon Jones
to a light heavyweight contest against a former champion in Rua. Sonnen is undersized for this division -- a fact made obvious by his decision to return to middleweight regardless of what happens in Boston. Sonnen can survive a loss if it comes to it, but a proposed fight against
Vitor Belfort
can't.
Is Michael McDonald the third-best bantamweight in the world?
Both ESPN.com and UFC rankings still have McDonald trailing Faber. Both fight on this Boston card. No doubt, a certain contingent of MMA fans would rank McDonald ahead of Faber heading into this weekend, but it's close. If the 22-year-old runs through
Brad Pickett
, it will be difficult not to bump him up.
WHO'S ON THE HOT SEAT?
Michael Johnson
[+] Enlarge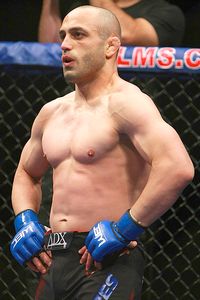 Dave Mandel of Sherdog.comManny Gamburyan is in need of a victory just as bad as Saturday's opponent and former TUF teammate Cole Miller.
The once promising career of a TUF runner-up has hit a major crossroads. Johnson looked like a tough matchup after disposing of
Shane Roller
and
Tony Ferguson
, but he was nearly knocked out by
Danny Castillo
before suffering back-to-back losses. He's still not out of his league against
Joe Lauzon
-- at least we think.
Manny Gamburyan
Seems like a lifetime ago that Gamburyan fought his way to a WEC title shot against
Jose Aldo
. Fighting Gamburyan is like fighting an angry fire hydrant; he's compact and seemingly made of metal. He also has a long history with the UFC, although a 1-3 record in his last four fights is tough to look past.
Cole Miller
Might as well discuss Gamburyan's opponent as well. These two know each other well from their days on the TUF 5 reality set on Team
Jens Pulver
. Now, Miller needs a win just as badly as his former teammate, having gone 1-2 since his drop to featherweight last year.
WHY YOU SHOULD CARE
Because there's still more to 2013 than a middleweight rematch, even though it doesn't feel like it sometimes … because over the course of his career, Shogun is 6-for-6 when it comes to knocking out opponents following a loss … because two of the most explosive heavyweights are incredibly hungry going into the same fight … because Brown and Pyle are fighting each other with the exact same chip on their respective shoulders … because McGregor might be the most fun athlete the UFC has on its roster.
October, 27, 2011
10/27/11
4:47
PM ET

By Chuck Mindenhall
ESPN.com
Archive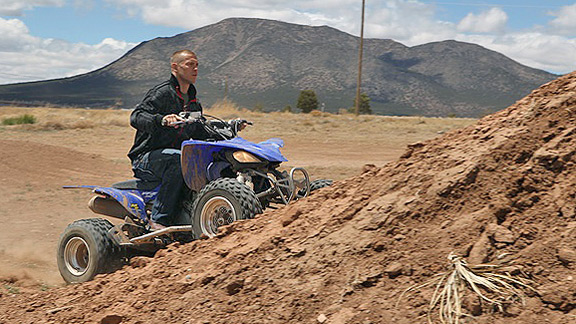 Dave Mandel/Sherdog.comNext stop: featherweight? Donald Cerrone says he has a bit of business to attend to there.
Donald Cerrone
knows what he's doing, and this is just one of those situations where a five-fight winning streak and this weekend's catapult bout to the lightweight title picture adds up to
Nam Phan
. It's almost a cliché at this point -- all roads lead to Nam Phan, one of the game's notorious heels.
This last part is obviously a lie (Phan isn't a notorious anything) -- but the first part? The first part appears to be a confounding truth.
Cerrone is a unique fighter, and if there's an added wrinkle in his game heading into this weekend's fight against
Dennis Siver
it appears to be vendettas. Phan recently decisioned Cerrone's teammate/ranch hand
Leonard Garcia
in a rematch at UFC 136. This didn't stick in Cowboy's craw so much as Phan's comments that Greg Jackson and the coaching staff out in Albuquerque were not working things correctly.
Now Cerrone is telling the media ahead of his UFC 137 fight with Siver -- who is built like a Russian accordion and has won four in a row of his own -- that he will drop to featherweight to fight Phan when this thing's over. Not maybe, but
will
drop down, according to an interview with MMA Weekly. While there, he'll test the waters for what might be a quick climb toward
Jose Aldo
. The Aldo carrot acts as media filler for now, something to hitch a story to.
[+] Enlarge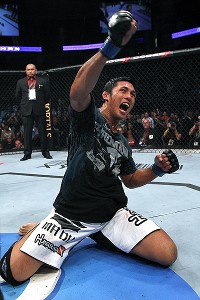 Nick Laham/Zuffa LLC/Getty ImagesNam Phan's actions and comments aren't sitting well with Donald Cerrone.
That's because Cowboy, who deals best in short-term situations, says what he really wants is to bring that Phan to justice, that kid that walks out to Foster the People and goes about opining on stuff he just don't know about.
Cole Miller
, who has been angling for a fight with Cerrone himself, might want to take notes. Phan hit a nerve, and this has a "meet me at the flagpole after school" vibe where Cerrone wants to offer physical proof of what's being taught at Jackson's.
Right. But Phan? What would be the point? When did changing his mind become such a priority?
If Cerrone goes down to featherweight and smashes Phan, this will teach somebody a lesson (that he's better and more disciplined than Garcia maybe) and do nothing otherwise. He'd be a vast favorite. It's easier to believe that Cerrone is ultimately contemplating going down to 145 pounds for a run at Aldo's belt, because making a cameo appearance for these expressed purposes just seems cruel and unusual.
And then again, to believe that, we'd be ignoring logic. In going to featherweight in pursuit of Aldo's belt he'd be leaving a division where he's already installed as a contender to Edgar's. Maybe Siver renders the whole thing moot, but at this point, Cowboy clearly isn't interested in traditional motivations (like titles) so much as changing fool notions. He's gone 0-3 in title shots in the past, and his standing in all these theoretical rankings is a mess he doesn't need.
It's a maverick attitude that is both fun and confusing to linear tastes. Think Edgar should feel the threat coming up the rungs? No, not with a loud mouth in Orange County out there making the wrong kind of noise.
That's what you've got to love about Cerrone; his is Old West reckoning. Fights are personal.
June, 24, 2011
6/24/11
8:52
AM ET

By Chuck Mindenhall
ESPN.com
Archive
If it looked like the rejuvenated
Matt Wiman
could have went 10 rounds against
Cole Miller
in January's UFC "Fight for the Troops," well, then the picture clearly expressed a thousand words.
Before his camp heading into that fight, Wiman relocated from San Francisco -- where he trained with "Skrap Pack" members
Jake Shields
and
Gilbert Melendez
-- for something as conceptual as elevation and as novel as change. He ended up in Colorado, to train with the likes of little-known MMA entities Tyler Toner and Alvin Robinson at East Brazilian Jiu-Jitsu in suburban Arvada. He came out in Fort Hood, Texas for Miller like a wrecking ball, and he appeared just as fresh in the final minute as he was at the opening bell.
"I didn't feel tired in the [Miller] fight because I think I'd been in top position -- that, and training at altitude maybe helped a bit," Wiman told ESPN.com. "But I really think it was that I didn't get put in bad positions as much as he did. If I'm carrying his weight and getting more damage, it's going to wear me out, pushing him away and constantly taking damage. So I think that's why I looked so in shape. That and obviously I trained really hard and tried to be prepared for anything."
That win made it three in a row for the "Ultimate Fighter 5" member Wiman who, believe it or not, could begin popping up in 155-pound top-10 conversation if he duplicates the performance against
Dennis Siver
at UFC 132 in Las Vegas.
In mirroring fashion, Siver has also compiled a three-fight winning streak of his own after (somewhat improbably) thwarting George Sotiropolous at UFC 127 in his native Australia. Before the fight took place, Wiman put a call in to UFC matchmaker Joe Silva to request the winner, knowing full well that getting Sotiropoulos was a long shot. If he'd won that would have been eight in a row and title contention.
But if Siver sprung the upset? Hey, Wiman had himself an opponent. And that's exactly what happened.
"I'm really looking forward to fighting Siver," he said. "I was super impressed with his fight against Sotiropolous. He looked spectacular. He didn't seem to tire very much. He stuck with the gameplan and executed it perfectly. His stand-up looked insane. His wrestling defense looked awesome. So, yeah, that's the guy you want to fight.
"I think stylistically I match-up against him well. He's a tough guy. He's the guy to beat right now. He really is coming into his own where I think he's the best fighter he's ever been and I think I'm the best fighter I've ever been. I think it's going to be a great fight."
Given Wiman's trajectory, it has the makings. His three recent wins versus Miller,
Mac Danzig
and Shane Nelson have been decisive, and the two losses before that -- against
Sam Stout
and
Jim Miller
-- were good enough to win "Fight of the night" bonuses. In other words, Wiman brings it. Every time.
"I guess if you're going to lose the best way to go out is fight of the night versus just going out there and getting finished."