January, 19, 2015
Jan 19
6:08
PM ET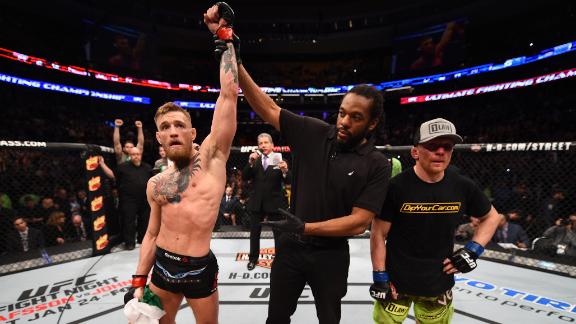 BOSTON -- Irish featherweight
Conor McGregor
will not fight
Jose Aldo
for the UFC title on Dublin soil -- but he could defend it there someday.
McGregor (17-2) is expected to challenge Aldo (25-1) for the featherweight title at UFC 187 on May 23 in Las Vegas. The promotion had reserved that date at 80,000-plus-seat Croke Park in Dublin, but logistics ultimately prevented the venue from hosting the title fight.
Among the reasons UFC will not visit Croke Park in May is that the company was unable to obtain the proper permits to start the fight in the early morning in Dublin.
The promotion alters the local start time of many international shows to allow them to air in prime time in the U.S. A UFC on Fox card next weekend in Stockholm will start at 2 a.m. local time.
UFC CEO Lorenzo Fertitta told ESPN.com that he remains optimistic the Dublin City Council might allow such an event in the future. If not, Fertitta said the UFC could explore other options.
"If Conor wins the title, we will bring him back there for a pay-per-view or maybe on Fox," Fertitta said. "We're not constrained as much at that point. But for this fight [Aldo vs. McGregor] -- believe me, as much as we wanted to go break that record over there and do 80,000 people, which there's no doubt in my mind we would do -- we just felt this fight would do better in Vegas."
McGregor has long expressed a dream of fighting for a UFC title in an Irish stadium such as Croke Park, which was built in 1884 and hosted a Muhammad Ali boxing match in July 1972.
Hosting pay-per-view events in international markets represents a major challenge for combat sports in general. UFC president Dana White estimated a 20 to 30 percent drop in buy rate when cards travel overseas.
He also said that, even with a massive Irish audience at Croke Park, UFC would profit more in Las Vegas due to overhead costs.
"At 91,000 [people] there, you actually do a bigger gate in Las Vegas," White said. "When you're in a stadium that big, you have big production costs you have to pay. Big screens. We'd definitely have to build something over the Octagon, because it will rain."
McGregor, 26, headlined a UFC Fight Night event at Dublin's O2 Arena on July 19. The sellout event drew an attendance of 9,500 for a live gate of $1.4 million U.S.
January, 17, 2015
Jan 17
9:30
PM ET
By Michael Huang
ESPN.com
Archive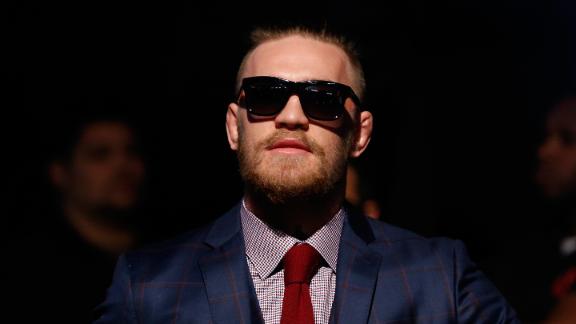 To say
Conor McGregor
was born to fight might actually be an understatement.
Fighters will tell you they "live and breathe" mixed martial arts, that it's their way of life, or it determines their sense of purpose or personal identity. For McGregor, MMA certainly is all of that, but it also feeds his cerebral and inquisitive nature.
"I've been doing this since I was born," he said. "It has been in me, naturally, to want to fight."
At an early age, fighting intrigued him -- not because he was getting picked on or he was picking on anyone or anything cliché such as that. Rather, he'd ruminate over his movements and strategy; he'd dissect and break down even the smallest playground fight during a game of soccer.
"I remember I head-locked a guy on the field. It was like a judo attack -- I tried to lock up the head and the arm. I think I was 6 or 7," McGregor said. "That was a little go-to move back in the day. I probably flinched and tried to grab my opponent's head and get him to the ground, like most beginners."
Indeed, if you've got a "go-to move" by age 7, you're probably destined to be a fighter.
"Yeah, you hear that story all the time that someone was getting picked on," he said. "I didn't, but where I grew up, fights would happen. Most young boys, wherever they grow up on planet Earth, when they're growing up they get into fights. I was no different.
"No one was picking on me; I was picking on nobody. But I was just a little more curious about fighting than other kids. Other kids you'd see get wrestling and fighting, then two seconds later it's out of their brain and they're back playing together. But me, it wouldn't be out of my brain. I'd be sitting there and thinking, 'I should have moved that way. I should have done this or that.' That just fed and built my curiosity into fighting."
McGregor says by the time he was eight, he started training to be a fighter, but not in the traditional sense of training. He said before he ever stepped foot in a gym, he had already been training in his mind.
"You don't need to have gone to a gym for it to be the specific day you started your training," McGregor said. "Probably from that very day on the soccer field, I was always thinking to myself, 'What should I have done? What way should I have moved to fight that guy? So should I have executed something else there?' But I think around 8 years of age, I really got serious thinking about fighting all the time, self-defense."
Now, as McGregor approaches
Dennis Siver
, his opponent at UFC Fight Night on Sunday in Boston, and as the all the momentum builds behind his growing popularity, he isn't getting caught up in it all.
Siver doesn't scare him, nor does UFC featherweight champ
Jose Aldo
.
"I don't feel intimidated by anybody, and I've never really have felt intimidated by anybody," McGregor said. "We all breathe the same air here. I do not feel intimidated by nobody."
But don't mistake his confidence as arrogance. He knows this is all he has ever wanted to do, and his mind is completely focused on the fight.
"I'm in this bubble, trying to perfect my movements to become more free, more fluid," McGregor said. "It's embedded in my head. I'm not thinking of anything else."
McGregor brings his serenity to the Octagon too. Other fighters lock in with intensity or anger and emotion. Not McGregor.
"You always hear about a guy's speed, power, toughness. What you don't hear is calmness, the ability to be calm," McGregor said. "The perfect fighter must be calm in situations. Calm under fire. It's a pressure bubble in that Octagon when you hear nothing but the roar of the crowd.
"You must find comfort in those situation -- not fear or panic. It's not all about power or speed. It's about being calm. Your mind has to be 100 percent free and clear. You have to trust that what you are doing is correct."
If McGregor can find that happy place Sunday night, his path should be clear: a shot at Aldo and the UFC featherweight title.
October, 14, 2014
10/14/14
10:49
AM ET
Frankie Edgar
has no illusions about the fight business he's a part of.
Edgar (17-4-1) fights
Cub Swanson
in a five-round UFC main event on Nov. 22 in Austin, Texas. On paper, it looks like a clear No. 1 contender fight. Edgar has won his last two fights; Swanson (21-5) has won six in a row. Each is universally ranked inside the top five of the 145-pound division.
But in an interview with UFC.com earlier this month, company president Dana White suggested that if champion
Jose Aldo
defeats
Chad Mendes
at UFC 179 next week in Rio de Janeiro, the No. 1 contender spot could go to Irish sensation
Conor McGregor
.
McGregor (16-2) is ranked below Edgar and Swanson, but Aldo has prior wins over the two already (in 2013 and 2009, respectively). Also, and this part is important, McGregor is an emerging star at the box office.
[+] Enlarge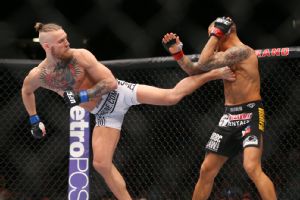 Ed Mulholland for ESPNConor McGregor, left, could leapfrog Frankie Edgar in the race to a featherweight title shot.
When asked for his reaction to McGregor potentially skipping ahead of him, Edgar said it's not like he didn't see it coming.
"It doesn't surprise me," Edgar told ESPN.com. "As a promoter, it's probably the smart thing to do. He's got a lot of buzz going. Why have him lose before they can make money on that fight?
"Of course, I'll be upset if that happens. I'm sure Cub will be upset. But that's the nature of this game. I do want to fight for the title after I beat Cub, but if I have to fight somebody else, what am I going to do? I can't sit around and feel sorry for myself. I have to go to work and get it done."
On McGregor's abilities, Edgar said: "I think he's talented.
Dustin Poirier
is not an easy fight. I think there is still some unknown with him. I'd like to see him deal with a wrestler, but he's had an answer for everything so far. Maybe he's the next
Anderson Silva
, who knows? But I know I match up well against him."
For the record, no decision has been made regarding a No. 1 featherweight contender, although McGregor is scheduled to appear at the UFC 179 title fight in person -- an ominous sign for Edgar and Swanson.
When asked to defend the logic behind McGregor potentially leapfrogging the Edgar-Swanson winner, White reiterated that both had lost to Aldo previously and added that Edgar has been in many title fights in the past.
"

I do want to fight for the title after I beat Cub Swanson, but if I have to fight somebody else, what am I going to do? I can't sit around and feel sorry for myself. I have to go to work and get it done.

"

-- Frankie Edgar, on the possibility that a win over Swanson won't land him a featherweight title shot
"What I said in that interview is that everyone in the top five has already lost to Aldo -- and Frankie Edgar has gotten a lot of title fights, you know what I mean?"
Although Edgar, 32, can wrap his head around the idea of promoting McGregor, he does take issue with the second part of White's statement.
Edgar has been involved in seven UFC title fights, but believes he's done more than enough to earn all of them.
The fact he's been in title fights previously, shouldn't work against his chances of getting there again.
"That doesn't make much sense," Edgar said. "I've fought in a lot of title fights because I was the champion. At one point, they gave me a bunch of rematches so I was granted a rematch when I lost the belt to Ben [Henderson]. I was going to save a card for them against Aldo by taking a fight on six weeks' notice. He got injured and they kept that fight together.
"I think I've earned every single one of them, and I think I performed in every single one of them."
One of those performances was a losing effort against Aldo (24-1) at UFC 156 in February 2013. Edgar came up short in the five-round bout but arguably gave the Brazilian his toughest fight thus far in the UFC.
Edgar says he'd love to be the one to finally dethrone Aldo, who is a staple on the pound-for-pound list and hasn't lost since 2005.
But he thinks Mendes (16-1), who also has a loss to Aldo (first-round knockout in 2012), could beat him to it.
"If Aldo beats Mendes, I think Conor will get Aldo," Edgar said. "But there's no guarantee Aldo will beat Mendes.
"I think the first time they fought, Mendes was a little reluctant. I think if he goes in there like he has during this streak he's been on, he could be a nightmare for Aldo. It's a tough fight to pick, but if I'm going to pick anybody, I'll pick Mendes."
October, 1, 2014
10/01/14
6:22
AM ET
Rick Story
was pretty stoked when he got the call to headline his first UFC event.
He wasn't crazy about it being in Stockholm because, in his words, traveling for a fight "always sucks." But for a main event, for the first time in his six-year UFC career? Done.
Then he got to thinking: Why him?
Story, 30, is 4-5 in his past nine fights. He's not highly ranked or even on a winning streak. That's when it dawned on him the UFC might be sending him half a world away to basically be dinner for an Icelandic welterweight prospect by the name of
Gunnar Nelson
.
"I was kind of surprised when I got the main event," Story told ESPN.com. "And then I sat and thought about it and realized Gunnar is from over there. They are trying to see if he's ready for a step up in competition. I kind of felt like, maybe I'm the sacrificial lamb for Gunnar to catapult himself into the top 10."
Nelson (13-0-1), despite praising Story's hard-nosed fighting style, acknowledged this weekend's fight at Ericsson Globe Arena represents a chance to prove himself over a well-tested opponent.
"

I was kind of surprised when I got the main event. And then I sat and thought about it and realized Gunnar is from [the Nordic region]. They are trying to see if he's ready for a step up in competition. I kind of felt like, maybe I'm the sacrificial lamb for Gunnar to catapult himself into the top 10.

"

-- Rick Story, on what he feels is a steppingstone status for Gunnar Nelson in Sweden
"The opportunity here is to fight Rick Story, who is very experienced and has fought a lot of tough guys," Nelson said. "Going against him is an opportunity to grow and also get my name out there. Climb the ladder faster. Get up there and get more money."
Story (17-8) says he isn't letting this realization, true or not, ruin his Scandinavian trip.
A 16-fight veteran of the Octagon, Story understands where he is in the 170-pound landscape. He is one of only two men to have ever gotten the better of current UFC champion
Johny Hendricks
, but that December 2010 win feels like it was light years ago. For the past four years, he's been a .500 fighter.
This year, however, Story made a major career change. He severed all ties with longtime coach Pat White and joined The MMA Lab in Glendale, Arizona. The move was desperately needed, as Story says he and White had not seen eye-to-eye for years. The only reason he stuck with him as long as he did, Story said, was financial.
"Honestly, I outgrew him a long time ago, but I was part-owner of a business with him and I had invested quite a bit," Story said.
Story is currently trying to recoup money he says he lent to White for a fitness center in Vancouver, Washington. The legal process could drag on for an extended period of time, but Story says all contact between him and White is now made through lawyers.
It actually took his girlfriend and her mother to persuade Story to break ties with White, whom he began training with at the age of 22.
"My girlfriend and her mother are involved with psychology and they printed out a list of symptoms of psychological abuse," Story said. "I ran down the list and I was experiencing them from Pat. While I was reading it, I was like, 'I'm not a punk. I can't stay with this, now that I know it's going on.'"
[+] Enlarge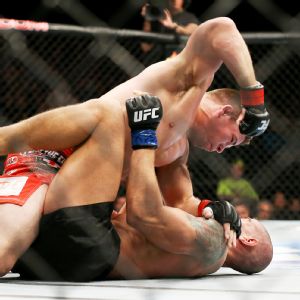 Ed Mulholland for ESPNRick Story, top, feels reinvigorated following a change in training camp.
Story, who was in title contention in 2011 due to a six-fight win streak, says the move to The MMA Lab has reinvigorated his career and given him confidence against opponents such as the undefeated Nelson, who trains out of Iceland and SBG Ireland, alongside featherweight phenom
Conor McGregor
.
"The biggest change is that I actually go into practice excited," Story said. "For a long time I hated going to practice because I didn't want to be around Pat and I knew we were doing stupid things in the camp. It's really a great thing to be away from him and, hopefully, consistency comes back for me."
Last weekend, American Top Team product
Dustin Poirier
was in a situation similar to Story -- as he represented what many felt to be the first real test of McGregor's career at UFC 178. McGregor passed with flying colors, knocking out Poirier inside the first round.
Story admits he watched the fight with vested interest and was impressed with McGregor's fluidity, something he expects to see in his fight against Nelson.
He understands the role he might be in -- sent to Sweden to build up the résumé of a younger, more promising prospect. Obviously, he has other thoughts for his first main event.
"As long as I can keep a pace up on him and make him work hard to try and take me down multiple times," Story said. "That's definitely going to take a toll on him.
"I'm pretty strong. Having to deal with my strength is going to wear him out. Granted, I'm sure he's comfortable grappling with bigger, stronger people. But at the same time, when those people are hitting you back, it's [a different story]."
September, 23, 2014
9/23/14
11:22
AM ET
LAS VEGAS -- Outspoken UFC featherweight
Conor McGregor
has always looked at Brazilian camp Nova Uniao as nothing to fear when it comes to his title aspirations.
In addition to that now, however, he says he's starting to see outright weakness.
McGregor (15-2) has plenty to deal with outside of Nova Uniao, as he will face highly ranked
Dustin Poirier
this weekend at UFC 178. The 26-year-old Irishman has never backed down from sharing his thoughts on future opponents, however.
And one potential opponent would obviously include UFC champion
Jose Aldo
, who will seek his seventh title defense next month against
Chad Mendes
at UFC 179. The UFC has already invited McGregor to attend the Brazilian event.
When asked to give his thoughts on the Aldo-Mendes fight, McGregor waffled in his pick, but said the Nova Uniao camp, which houses Aldo and former bantamweight champion
Renan Barao
, is perhaps not at the top of its game heading into the fight.
Aldo (24-1) was forced to postpone the title fight against Mendes in August because of a neck injury. Later that month, Barao (32-2) pulled out of a title rematch against
TJ Dillashaw
at UFC 177, when he fainted trying to make weight the day before.
"I like the mental side of combat sports -- of anything, really," McGregor said. "That win over Barao with TJ Dillashaw changes the shift in things. That's a factor. Then you've got the fact Barao missed weight.
"There are definitely problems in that camp. They've been complaining about money and then injuries back and forth. I feel a weakness in the mind frame of these people, which can go up and down sometimes, so you never know."
[+] Enlarge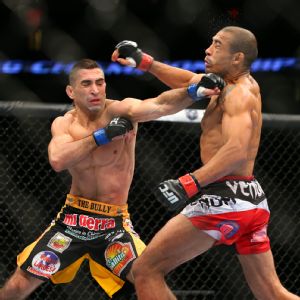 Ed Mulholland for ESPNIs Jose Aldo, right, in a weak state of mind going into his rematch with Chad Mendes? The outspoken Conor McGregor feels so.
McGregor went on to say Aldo still might have a mental advantage over Mendes, as a previous meeting between the two ended in a knockout win for Aldo. He made one thing about the fight abundantly clear, however.
"Ultimately, I don't give a s---," McGregor said. "I'll whoop both of them."
Aldo, 28, signed with the now-defunct WEC organization in 2008 and captured the title within 17 months -- finishing six consecutive fights in the process.
Since then, five of his eight five-round fights, all of which he has won, have gone the distance -- a statistic that has drawn some criticism from UFC president Dana White.
McGregor, as he often does, has an opinion on the matter.
"So many mixed martial artists get into this situation where they stay the same," he said. "They get to a level and then it's 'maintain.' Spar hard and stay fit, but you're not really growing to that next level.
"You're putting your body through hell and your skill level is remaining the same. And eventually, through battles in the gym and battles in the Octagon, it starts to take a toll, and that is what I believe has happened [to Aldo]."
McGregor said none of these observations have to do with an attempt to try and get under the Brazilian fan base -- a marketing strategy other fighters have employed.
"Brazil is a phenomenal country," McGregor said. "I've always dreamed about going to Brazil. Look, I'm pinching myself every day. This is phenomenal for me, and I'm having fun along the way.
"I know I might rub people the wrong way, but I'm just a kid living my dream, so it is what it is. I'm enjoying my life."
September, 22, 2014
9/22/14
6:32
AM ET
LAS VEGAS -- For one half of the equation, the
Conor McGregor
-
Dustin Poirier
fight at UFC 178 was made over a fine Irish whiskey at the Four Seasons in Dublin.
Immediately after McGregor (15-2) starched
Diego Brandao
in front of a rabid, sold-out Irish crowd at O2 Arena, he, UFC president Dana White and billionaire UFC CEO Lorenzo Fertitta retired for the night at the five-star hotel.
The subject of McGregor's next conquest was broached. Poirier, September and Las Vegas were agreed upon. Splendid. Hear, hear.
For the other half of the equation, it was decidedly less glamorous.
Now, there is no doubt Poirier (16-3) is a very willing participant in this week's fight between him and McGregor at UFC 178. This is a fight he asked for via the magic of Twitter, from his couch at his South Florida home, the day of McGregor's last fight.
This is a no-brainer fight for all involved: McGregor, Poirier, the UFC. It's interesting, though, how the matchup might feel as though it has become two-against-one if you're Poirier.
Last week, McGregor flew to Las Vegas, home of the UFC headquarters, to acclimate to the time change and arid weather. He was set up in the presidential suite of the Red Rock Hotel and Casino, which is owned and operated by the Fertitta family.
[+] Enlarge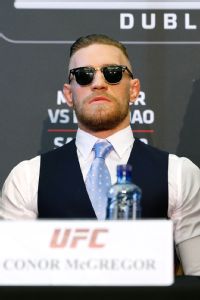 Josh Hedges/Zuffa LLC/Getty ImagesDespite having spent less time in the Octagon than Dustin Poirier, it's Conor McGregor who has been stealing the spotlight ahead of their showdown.
Safely said, there are worse accommodations to prepare one's body for a cage fight.
"You walk into this presidential suite and the marble floors are warm," McGregor said. "Have you ever walked on marble in bare feet? It feels phenomenal."
If Poirier has never felt the clean feel of a warm marble floor, it's unlikely to happen this week. He will share a standard room at the MGM Grand Hotel and Casino with his two cornermen, who will rotate using the spare bed and a cot.
Not that this is a bad setup, but it's not a presidential suite. Poirier has fought 10 times for the UFC, dating back to 2011. He has been involved in two "Fight of the Nights" and is technically ranked higher than McGregor heading into the bout.
Unlike McGregor, however, he has never toasted whiskey with White or Fertitta. He has never stood in Fertitta's office and been custom-fitted for a suit or watched live UFC fights from a suite with White (as McgGregor did last week).
"I shake their hands at weigh-ins," said Poirier, on his experience with UFC brass. "I talked to Dana a little after my last fight and that's it."
Poirier, 25, understands this is all business (as does McGregor, by the way). He gets what McGregor represents -- in fact, it's why he asked to fight him.
"I know they really like this guy," he said. "They see huge potential to make money and break into Irish money. The guy sells fights and people want to hear him talk. It is nothing personal. It's business."
The one aspect of the McGregor-UFC "bromance" he has taken issue with is the fact that last Friday, McGregor said he received an invitation to attend the upcoming featherweight championship fight between
Jose Aldo
and
Chad Mendes
next month in Brazil.
McGregor has already said he's ready and willing to fight that weekend if anything happens to Aldo or Mendes. When asked if he's studying Portuguese, he said kings don't need to talk. He'll just wave.
"

I do take that as disrespectful. I'm going to go and beat him up, and then what? He's going to Brazil to watch the fight with a busted eye?

"

-- Dustin Poirier, on the UFC extending an invitation to view the next featherweight title match to Conor McGregor -- and not Poirier
Poirier, as you might have guessed, has not received an invitation to the fight (at least as of last weekend). There are a few ways one could interpret that. One seems more obvious than the others: There is an assumption being made by the UFC that McGregor will win this weekend.
"If the UFC did tell him that and they are looking past me, they're going to have their plans spoiled," Poirier said. "That kind of ruffles my feathers. I've been in this game a long time and I've fought to where I'm at. I didn't talk my way here like he has.
"I do take that as disrespectful. I'm going to go and beat him up, and then what? He's going to Brazil to watch the fight with a busted eye?"
There's nothing wrong with the UFC showing one of its emerging stars love. And in McGregor's mind, it's a very fragile thing. Something that must be earned constantly.
"These people are changing my life," he said. "I am grateful every single day for what these people have done for me and what that has done is spurred me on every day to prove my worth to them.
"I think what can happen is people get too comfortable and consider themself part of the furniture. Then they start showing up a little less. That isn't me. I'm well aware this is a business and it can be cruel. I show up here to conduct business."
On Sunday, Poirier (maybe from his couch again) sent a tweet to White and Fertitta. Who knows? Maybe McGregor was nearby and they read it together. Basically, the message was: I'm here to conduct business, too.
"Don't go all in on this clown," Poirier wrote. "I'm coming to destroy. The truth will be told Saturday."
August, 6, 2014
8/06/14
12:50
PM ET
UFC featherweight
Conor McGregor
tends to target opponents with his words before targeting them with punches -- and with Dustin Poirier, he's aiming for the chin.
During a UFC Q&A in Los Angeles on Tuesday, McGregor (15-2) repeatedly spoke of Poirier's inability to take a punch, although Poirier, 25, has never been knocked out.
The two will meet in a high-profile 145-pound contest at
UFC 178
on Sept. 27 in Las Vegas. McGregor has predicted a first-round knockout.
"All you've got to do is look at Dustin's last couple fights," McGregor said. "In his last contest [against
Akira Corassani
] he fought a [UFC reality show] reject. Nobody gave a s--- and he got wobbled 40 times. His chin is deteriorating.
"Every single contest he [gets knocked down]. A gust of wind and he does the chicken dance. Coming up against me, that's not going to be good. I'm going to crack him with a jab and he's going to wobble. It's going to be a first-round knockout, mark my words."
As fight fans have witnessed early in McGregor's UFC career, he can be persuasive. At one point during Tuesday's session, which both fighters were present for, he even had Poirier admitting he was right in some respects.
Poirier (16-3) was briefly dropped in each of his previous two fights -- against Corassani and
Diego Brandao
. He was never in danger of being finished, however, and eventually won both fights via knockout.
"Diego got me off-balance," Poirier admitted to McGregor. "Akira got me with a good shot, I'll be honest. But this fight, I'm going to be cool, calm and calculated, and I'm going to take you out."
McGregor is on an 11-fight win streak. He is 3-0 in the Octagon, with two knockouts. In his only fight to go the distance, against
Max Holloway
last August, he tore his ACL and was forced to sit out for nearly a year.
[+] Enlarge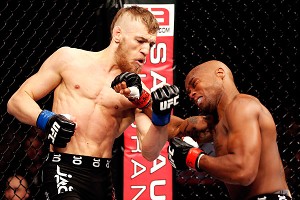 Josh Hedges/Zuffa LLC/Zuffa LLC/Getty ImagesUnbeaten in the UFC, featherweight Conor McGregor predicts an early knockout against Dustin Poirier at UFC 178 on Sept. 27 in Las Vegas.
He returned to the cage last month to headline a
UFC Fight Night event
in his native Dublin, Ireland. The event sold out within hours. McGregor, after predicting a first-round finish, took out Brandao via TKO in a little more than four minutes.
"[Poirier's] weakness is obviously his chin," McGregor said. "Don't get me wrong. I like the kid. He's a quiet, little hillbilly from the back of nowhere. I'm sure he grew up in the circus or the fair. His cousin is probably named 'Cletus' or something.
"He's a nice kid, but his chin is going to be cracked and it's going to be cracked early. I don't hit like these [other] people. He says I don't have experience at this level. He's main-evented one UFC event and lost. I main-evented my hometown and it was one of the best UFC events in history and I stopped the guy in one round."
Poirier, who fights out of Lafayette, Louisiana, told ESPN.com he's not getting too caught up in McGregor's pre-fight criticisms.
"Whatever he says or does or thinks doesn't affect me," Poirier said. "This talk has nothing to do with what's going to happen in the fight, and I believe that. There's nothing to be won over here, this is just press."
July, 31, 2014
7/31/14
7:20
AM ET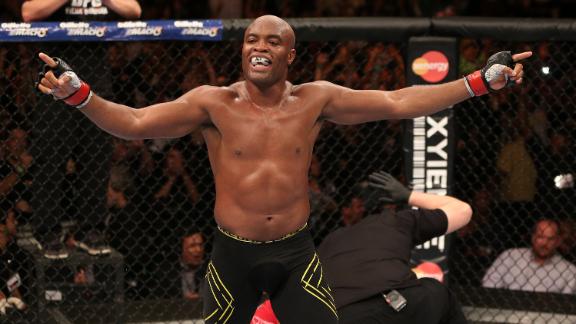 The
Anderson Silva
-
Nick Diaz
"superfight" is 185 days away.
That should be enough time to determine whether we're actually going to call it a "superfight" to begin with. We've spent years talking about potential superfights in the UFC, but did we ever actually define what they were? We didn't, did we?
Whatever: Superfight status or not, Silva versus Diaz is something you want to watch if you're a fight fan. Their personalities go a long way in that, but it's also a fight that just feels
different
.
At a time when the UFC sometimes airs two cards in one day,
different
is welcomed.
It's definitely not your average UFC pay-per-view main event. There is no title involved, nor are there any recent wins involved. Both are 0-2 in their respective last two fights.
But this is a matchup that doesn't really care. The stakes feel high, although they're hard to define. Maybe superfights don't need UFC titles involved.
In the spirit of this matchup, here are five non-title "superfights" we could all get into. Will any actually happen? Probably not. But that's actually fitting. If there is one attribute about a "superfight" we know of, it's that they rarely come together.
No. 5 -- Nate Diaz versus Matt Brown, welterweight
Right? I mean, right? What if the UFC had announced, "Diaz versus Brown," and when you got to the fight poster it was a picture of Nate? How many pieces would your mind blow into? After Brown lost to Lawler, there was no better opponent for him than Diaz, but he was destined for Silva. How about his younger brother fight Brown instead? We already admitted none of these fights are likely going to happen, but now that this one is out there, I really want it.
No. 4 -- Glover Teixeira versus Junior dos Santos, heavyweight
So many bungalows would be thrown. Both guys don't go down easy, but they put guys down easily. The exchanges would be nuts. If one of them switched gears and went for a takedown, it would be Teixeira -- but him taking dos Santos down is doubtful. So, what we're looking at here is a guaranteed stand-up between JdS and Teixeira. Let that marinate for a minute.
No. 3 -- Urijah Faber versus Frankie Edgar, featherweight
Bump Faber back up to featherweight (although a teammate fight between him and Dillashaw would be a good time, too). This one writes itself. The prefight barbs would be as cordial as it gets, but the skill level in the cage would be off the charts. I'd rather see this fight over Faber vs.
Masanori Kanehara
.
No. 2 -- Anthony Johnson versus Alistair Overeem, heavyweight
Former teammates -- sort of. No one at the Blackzilians camp seems too broken up about Overeem's decision to bail earlier this year. Johnson said he has no "beef" with Overeem but claims he was never part of the team. This all sounds like something we could exploit and magnify by placing the two in the same room with cameras and microphones for several weeks.
No. 1 -- Conor McGregor versus Donald Cerrone, lightweight
In Dublin. Cerrone would somehow commandeer a Bud Light party submarine for him and his buddies so he could still make a "road trip" out of it. Would Cerrone smile at the weigh-in and carry that carefree aura we've seen lately? Or might this kind of moment bring out the Cerrone that screamed expletives after knocking out
Charles Oliveira
in 2011 or who ran over
Jamie Varner
in a grudge match in 2010? Both of these guys are down to fight whomever, whenever. McGregor is a big 145.
July, 17, 2014
7/17/14
11:22
AM ET
It's been stated numerous times in 2014 that the UFC has a star problem on its hands.
Proven, sellable, marquee names such as
Georges St-Pierre
,
Anderson Silva
,
Nick Diaz
and
Chael Sonnen
might combine for zero total UFC appearances this year.
Replacements exist in
Jon Jones
,
Chris Weidman
and
Ronda Rousey
, however none of them have reached the level of the names mentioned. Regardless of what's behind it, the end result is that the UFC seems to be struggling to create modern star power.
The exception to this is
Conor McGregor
.
McGregor (14-2) will headline his first UFC event Saturday, as he takes on
Diego Brandao
at O2 Arena in McGregor's native Dublin, Ireland. It is only McGregor's third fight in the UFC and first in nearly a year, but his box-office appeal is unmistakable.
The UFC Fight Night event sold out within hours of tickets going on sale. Part of that can be attributed to the area's general interest in the UFC brand, but not all of it. The last time UFC visited Dublin in January 2009, the event sold out in weeks. Not hours.
"

I don't really pay attention to it, but all I know is when they put me on the headline, it's the fastest sellout in UFC history. When they put me on the headline of a fight, there are tickets for the weigh-in.

"

-- Connor McGregor, on his ability to move tickets
Attendance is so strong this time around, the UFC issued tickets for Friday's weigh-in, an initiative the promotion has rarely had to do.
"I don't really pay attention to it, but all I know is when they put me on the headline, it's the fastest sellout in UFC history," McGregor told ESPN.com. "When they put me on the headline of a fight, there are tickets for the weigh-in.
"How many times have there been tickets for a weigh-in, you know what I mean?"
McGregor still has a long way to go in terms of establishing himself as a legitimate UFC title threat or a draw on pay-per-view, but he's filled with potential to be both. Even his opponent this weekend can't dispute that.
[+] Enlarge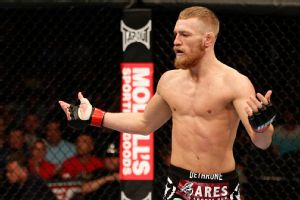 Josh Hedges/Getty ImagesSelf-promotional machine Conor McGregor has rubbed some fighters the wrong way with his abrasive style.
"Just the way he dresses even, I love it," Brandao said. "Classy. It's amazing. The way he talks and goes on about guy, moving his hands around and touching his beard -- he looks like a movie superstar to me."
The 26-year-old Irishman is not the first fighter to wear a suit to a press conference, (although, McGregor does wear them rather cleanly). Nor is he the first UFC athlete to toss out a sound byte (although, again, his are usually top-shelf stuff).
The disdain McGregor has expressed publicly for other fighters in the division has placed him on an island early in his UFC career. When recently asked if he felt the 145-pound division has changed in the last 12 months, which he sat out because of knee injury, McGregor responded, "They sucked then, and they suck now."
Too few fighters appreciate the power a microphone provides in terms of building a career, but at the same time, if a few quotable lines were all it took to create a star, the UFC would have plenty of them.
McGregor's appeal goes well beyond that. To say it doesn't is an oversight.
When the UFC visited Dublin in 2009, McGregor was 20. The year prior, he made his professional mixed martial arts debut, but he wouldn't end up fighting at all in 2009. He suffered a few minor injuries, but mostly, he was figuring out what to do in life.
The storybook version of events says that McGregor, while attending UFC 93 at O2 Arena, told his coach he would headline the next UFC card that went to Dublin. More accurately, that card had an impact on McGregor, but it wasn't life-changing.
"Of course, UFC 93 spurred me on, but even then, I didn't know," McGregor said. "I was a young kid. No Irish man had ever done anything like this before. The dream wasn't really attainable at that point because it wasn't really there."
Regardless of whether he could become rich and famous from it, though, McGregor liked to fight. Then one day, McGregor loved to fight. Eventually, McGregor had to fight.
"I don't know when it clicked for me," McGregor said. "It just became an obsession. It was an addiction. I'm an addict for this. I can't do anything else."
When McGregor underwent surgery on a torn ACL in September, he was bedridden for five to seven days in Orange County, California. The only time he would get up was to go to the bathroom several times a day.
"There was a counter on the way to the bathroom, and I used to lean over it and do clap pushups," McGregor said. "They weren't full pushups, but I'd do a lot of them to just, I don't know, get rid of energy. I like to move. Movement is good for the mind."
He says he constantly shadowboxes throughout the day, regardless of the setting. As he puts it, "I side kick every wall I walk by."
In competition, McGregor regularly talks to his opponents and claps at them during exchanges. Sometimes, it "clouds an opponent's judgment," but McGregor says that's not why he does it. It's natural.
"I never worked on it or nothing," McGregor said. "It's just the way it is in the gym, and I think that translates into competition. If I was to do it another way and be too emotional, it could go bad for me. It just happens naturally, I don't force it."
McGregor expects to win the UFC featherweight title this year, although that seems impossible given the schedule. Current champion
Jose Aldo
is injured, but he is expected to defend his belt against
Chad Mendes
sometime around October.
Featherweight contender
Cub Swanson
will attend Saturday's fight, leading many to think he might face the winner. McGregor is on record as saying Swanson is "old."
Despite never facing a ranked opponent in the UFC, McGregor says his gut tells him the title is within reach by the start of 2015. It's an unrealistic goal, but maybe that further illustrates why McGregor is the UFC's best shot at a new star this year.
"I have a clear, clear vision of me winning the belt by the end of the year," McGregor said. "It seems to be this very clear picture I have, and I'm not going against it. So, I believe I will be the world champion by the end of the year.
February, 10, 2014
2/10/14
6:13
AM ET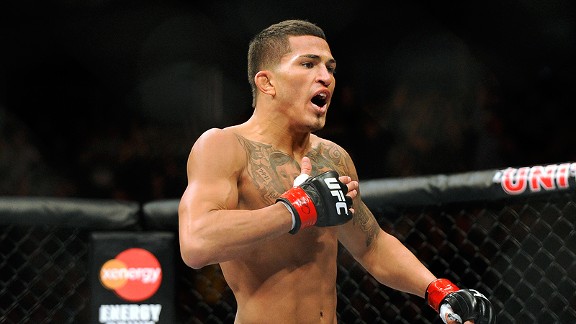 David Banks/USA TODAY SportsBlessing in disguise: An untimely injury might do more good than harm to Anthony Pettis' career.
The silver lining in not getting
Jose Aldo
versus
Anthony Pettis
in 2013: We get it in 2014, instead.
Fate apparently knew what it was doing last summer, when it scrapped a scheduled featherweight title bout between the two in August due to a Pettis injury. As good as that fight would have been
then
, it's matured into a blockbuster event now.
Instead of Pettis temporarily dropping to 145 as a challenger, you have Aldo moving up to make a champion/champion fight. It gives Aldo a chance to chase history, as he would become just the third UFC fighter to win titles in multiple weight classes.
All things considered -- storyline, fighting styles, mainstream appeal -- Aldo versus Pettis is the second-best fight the UFC could promote right now, in my opinion. What's the first? And what other fantasy matchups would I love to see? See below.
(Note: This list includes only fighters currently signed to the UFC.)
10. Junior dos Santos versus Alistair Overeem, heavyweight
From a competitive standpoint, this is probably the weakest option you'll find on this list. They are heavyweights, anything can happen, etc., but it would be real hard to pick against dos Santos in this matchup. There is a history here, though, as you might recall. The two were supposed to fight for the title in May 2012 before Overeem failed a surprise drug test. It's one of those fights that sells itself.
9. John Dodson versus Joseph Benavidez, flyweight
Two of, if not
the
best finishers in the flyweight division. Dodson's lead pipe of a straight left versus Benavidez's club of an overhand right -- and everything else these two do well. This fight would fly under the radar as far as casual fans are concerned, but with
Demetrious Johnson
proving to be so far ahead of the pack, this actually might be the most compelling matchup in the division.
8. Ronda Rousey versus Cat Zingano, female bantamweight
There is no concrete timetable for Zingano's return, but unless the UFC signs Invicta FC featherweight champion
Cris Justino
in her absence, the title shot should be waiting for her. Obviously, Rousey must get by former U.S. Olympic wrestler
Sara McMann
on Feb. 22 first. This fight was (and still is) intriguing due to Zingano's athleticism and finishing ability. Her strength and explosiveness will help in scrambles with Rousey, and she only needs a short window of opportunity to change the course of a fight.
[+] Enlarge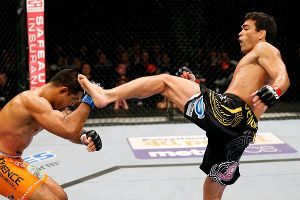 Josh Hedges/Zuffa LLC/Getty ImagesLyoto Machida, right, and his karate style would likely mesh well with the fan-friendly, ultra-aggressive Vitor Belfort.
7. Nick Diaz versus Robbie Lawler, welterweight
The first encounter in 2004 was just perfect. Diaz taunting Lawler to the point referee Steve Mazzagatti tells him, "no more talking." Lawler complaining of a groin kick and Diaz accusing him of faking right in the middle of the fight. The step back counter knockout for Diaz. Little brother Nate Diaz with the bowl-cut, running into the cage afterward. How can anyone
not
want to see this again?
6. Renan Barao versus Dominick Cruz, bantamweight
Sorry, but I can't seem to let this one go. As good as Barao looks right now, is he as good as Cruz was in 2012, when he first went down due to injury? You could argue either side of that. Whenever Cruz comes back, I say make this fight. Why not? He'd almost come in with low expectations on him. Everything to gain, little to lose. A "tuneup" fight would actually probably put him under more pressure.
5. Jon Jones versus Daniel Cormier, light heavyweight
Extremely marketable fight, obviously. I have a suspicion plenty of people will pick Cormier to win this matchup, but realistically, if they had to bet the farm on it, they'd change the pick to Jones. When the chips are down for reals, at 205 pounds, you don't bet against Jones -- even though it would be real tempting to do it with Cormier.
4. Lyoto Machida versus Vitor Belfort, middleweight
Belfort's offense versus Machida's defense is one of the most tantalizing battles we could hope to witness in the UFC this year.
Chris Weidman
is the undisputed king at 185 pounds -- he wears the crown -- but in terms of just a good, old-fashioned, definition of the term "fight," nothing is better at middleweight than Belfort versus Machida.
3. BJ Penn versus Conor McGregor, featherweight
The two losses to
Frankie Edgar
became personal for Penn because he despised the way he performed in them. So even though we can all think of better matchups for him than a third meeting with Edgar, he deserves a chance at that redemption. Win or lose, a matchup against the loud, cocky, talented new kid would be outstanding to watch start to finish and it would generate plenty of interest.
2. Jose Aldo versus Anthony Pettis, lightweight
Already discussed this one. Probably my favorite fight here, stylistically. In addition to having the physical tools to match Aldo (which is quite rare), Pettis has the mentality. He's not a guy who might just "survive" Aldo -- he'll push him, even in the first round. And that's something we all want to see.
1. Jon Jones versus Cain Velasquez, heavyweight
This is it. The No. 1 fight the UFC can promote, currently, post-
Georges St-Pierre
/
Anderson Silva
. No other matchup could generate as much pay-per-view revenue, and with good reason. Jones is the pound-for-pound best, while Velasquez is considered the "baddest man on the planet." Both dominant champs would have to adjust for the other. For Jones, it would be a shot at his GOAT quest -- capturing the most iconic title in mixed martial arts. It's unlikely to happen this year, with Velasquez currently sidelined and Jones focused on light heavyweight, but as long as both keep winning, people will talk and debate this matchup.
August, 14, 2013
8/14/13
1:33
PM ET
UFC Fight Night 26
suffers from the same ailment nearly every UFC card will suffer from the rest of the year: It's not
UFC 168
… or
167
… or
166
.
Chris Weidman
versus
Anderson Silva
is a fighting fan's Christmas.
Georges St-Pierre
versus
Johny Hendricks
is Thanksgiving. And
Cain Velasquez
versus
Junior dos Santos
III will feel like a second birthday to us all this year.
Chael Sonnen
versus
Mauricio Rua
this weekend at TD Garden in Boston sort of feels like Flag Day in comparison.
But that said, there's a lot to like about Flag Day. Top to bottom, this is one of the stronger UFC cards fans will witness this year. Some events are structured around one fight and one fight only. Boston, on the other hand, features plenty to watch for.
FIVE STORYLINES
The legend of Conor McGregor
We are all getting way too carried away about McGregor -- but it's impossible not to. Simplest way to put it: When McGregor fights, you want to watch, and when he talks, you want to listen. It's not just that he's entertaining; he has this contagious passion about what he does. During a recent visit to Las Vegas, McGregor said he was so excited he stayed up shadowboxing in his hotel room until 5 a.m. He's in a hurry to be at the top, and
Max Holloway
wants to slow him down.
The curious case of Uriah Hall
You hear all the time how important the mental aspect is in martial arts. Hall has shown he has the physical tools, and on the surface, nothing seems out of sorts for him mentally. But that loss to
Kelvin Gastelum
in
The Ultimate Fighter Finale
was awkward. His team said he liked Gastelum too much to hurt him. Many of those watching called it cockiness. Neither is really an acceptable excuse for a fighter as talented as Hall. Expectations are high for him against
John Howard
.
The resurgence of Mike Brown
Brown hasn't really been under the spotlight for years, but for longtime martial arts observers he'll always be a name that jumps off the page. Two wins over
Urijah Faber
in the WEC put him on the map, but truth is Brown was just one of those guys who was always fun to watch. Something went wrong along the way, and the now 37-year-old endured a 2-4 stretch amid rumors of distractions in his personal life. He's back on a two-fight win streak coming into this fight against
Steve Siler
.
[+] Enlarge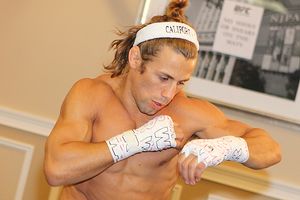 Ed Mulholland for ESPN.comAny loss at this point for MMA veteran Urijah Faber would be considered a major setback.
The quiet contenders
Since 2011,
Matt Brown
and
Mike Pyle
are a combined 11-2 in the Octagon, yet you won't find them on any top 10 welterweight rankings. Neither is willing to make a big point of that publicly, but there's no question both are getting a little anxious. After his last win, Brown said, "Just because a bunch of media people don't believe I'm good enough for a title shot doesn't mean it's true." Pyle, winner of four in a row, is itching to sign a fight against a top-10 opponent.
That Faber guy is back again
You can almost see the bile form in Faber's throat when forced to answer the same questions over and over leading up to these nontitle fights. "How much you got left in the tank, champ?" "Getting close to another title shot, Urijah, what's that feel like?" "Is the belt still the goal, buddy?" We should all come to this understanding that Faber feels great, he's excited to fight, and he wants a title shot, but the UFC won't give him one yet so he needs to keep winning. This fight against
Yuri Alcantara
might not feel big, but it's big for Faber. Any loss is a major setback.
FIVE QUESTIONS
What does Alistair Overeem look like?
He was Superman against
Brock Lesnar
and Clark Kent against
Antonio Silva
. No stranger to performance-enhancing drug accusations, Overeem is in a critical spot. He didn't look the same in February, his first appearance since producing a high testosterone-to-epitestosterone ratio in Nevada last year. He told ESPN.com he would never apply for testosterone-replacement therapy, despite tests that showed low levels after his last fight. There are a lot of variables floating around. Can Overeem be Superman again in the midst of them?
[+] Enlarge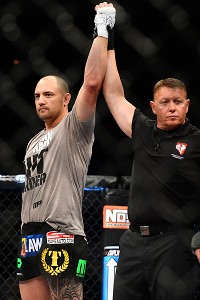 Al Powers for ESPNIf Travis Browne can pass a difficult test against Alistair Overeem, he could be the biggest winner of the night.
Is Travis Browne for real?
Browne passes the eye test. He moves. He has heavyweight knockout power. His grappling is underrated. He seems like he's in shape, and his only loss came after his hamstring busted in the opening minute of a fight. Overeem -- whether he's at his best or not -- is going to test him, though. If Browne is spectacular, he could be the biggest winner of the entire night.
Is 'Shogun' still elite?
Rua is slowing down. It never really felt as though he was going to lose to
Brandon Vera
last August, but we were sort of expecting a windmill dunk and got a weak layup instead. Then in December, it seemed like he was operating on fumes against a physical
Alexander Gustafsson
. Three of the last five men Shogun has defeated are now retired. How worried should we be about this?
Is the self-proclaimed 'Gangster' going to lose three in a row?
Whether you like Sonnen or not, this is a man who does not avoid tough fights. He has gone from Silva to
Jon Jones
to a light heavyweight contest against a former champion in Rua. Sonnen is undersized for this division -- a fact made obvious by his decision to return to middleweight regardless of what happens in Boston. Sonnen can survive a loss if it comes to it, but a proposed fight against
Vitor Belfort
can't.
Is Michael McDonald the third-best bantamweight in the world?
Both ESPN.com and UFC rankings still have McDonald trailing Faber. Both fight on this Boston card. No doubt, a certain contingent of MMA fans would rank McDonald ahead of Faber heading into this weekend, but it's close. If the 22-year-old runs through
Brad Pickett
, it will be difficult not to bump him up.
WHO'S ON THE HOT SEAT?
Michael Johnson
[+] Enlarge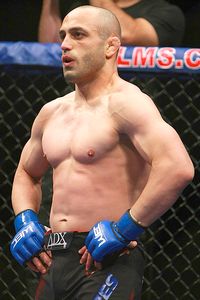 Dave Mandel of Sherdog.comManny Gamburyan is in need of a victory just as bad as Saturday's opponent and former TUF teammate Cole Miller.
The once promising career of a TUF runner-up has hit a major crossroads. Johnson looked like a tough matchup after disposing of
Shane Roller
and
Tony Ferguson
, but he was nearly knocked out by
Danny Castillo
before suffering back-to-back losses. He's still not out of his league against
Joe Lauzon
-- at least we think.
Manny Gamburyan
Seems like a lifetime ago that Gamburyan fought his way to a WEC title shot against
Jose Aldo
. Fighting Gamburyan is like fighting an angry fire hydrant; he's compact and seemingly made of metal. He also has a long history with the UFC, although a 1-3 record in his last four fights is tough to look past.
Cole Miller
Might as well discuss Gamburyan's opponent as well. These two know each other well from their days on the TUF 5 reality set on Team
Jens Pulver
. Now, Miller needs a win just as badly as his former teammate, having gone 1-2 since his drop to featherweight last year.
WHY YOU SHOULD CARE
Because there's still more to 2013 than a middleweight rematch, even though it doesn't feel like it sometimes … because over the course of his career, Shogun is 6-for-6 when it comes to knocking out opponents following a loss … because two of the most explosive heavyweights are incredibly hungry going into the same fight … because Brown and Pyle are fighting each other with the exact same chip on their respective shoulders … because McGregor might be the most fun athlete the UFC has on its roster.
April, 8, 2013
4/08/13
7:09
AM ET
UFC president Dana White will move quickly to get
Conor McGregor
in front of a free-to-air American audience, revealing he will likely place him on the UFC Boston card, set for Aug. 17.
More »