July, 11, 2014
Jul 11
9:30
PM ET
Invicta Fighting Championships featherweight champion
Cris "Cyborg" Justino
plans to make her 135-pound debut in December, according to her lawyer George Prajin.
Justino (12-1) has long said she would cut to bantamweight by the end of this year, but originally claimed she would fight one more time at featherweight. She has not competed in mixed martial arts since July 2013.
[+] Enlarge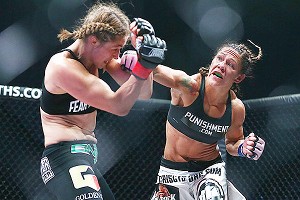 Dave Mandel/Sherdog.comCris "Cyborg" Justino is committed to dropping down in weight in order to make a fight against UFC bantamweight champion Ronda Rousey.
On Thursday, Invicta FC announced a live event on Sept. 6 in Kansas City, Mo. Justino was expected to fight on that card, but decided that doing so might compromise her ability to make 135 pounds by December.
Justino is committed to making the weight to book a potential fight against UFC bantamweight champion
Ronda Rousey
in early 2015.
"We anticipated fighting three times this year in MMA and now she hasn't fought in almost a year," Prajin said. "We really had to think about it. If she fought in September, it was going to be hard to get down to 135 by December.
"If we're going to do this, we need to do it now. We don't know how long Ronda is going to be in the sport. She might pack up tomorrow and go do movies. Cris wants this fight. She doesn't want to miss the opportunity."
Prajin said the team has enlisted "weight cutting guru" Tony Aponte to help Justino make 135 pounds. The Brazilian currently struggles to make 145 pounds.
According to Prajin, Justino is walking "a little heavy" right now, due to not having a fight booked. She competed in a professional muay Thai bout in March, which she lost via unanimous decision to Jorina Baars.
"She was doing really well and then with the unknown of when she was going to fight, she kind of slacked off a little bit. We hired Tony Aponte, who has helped people cut weight for a long time."
Justino is planning a multi-week trip to Thailand in the coming month to train her muay Thai skills. Invicta FC has not yet announced a December card, but Prajin said that timetable is fairly reliable.
"That's pretty solid," Prajin said. "I don't know the exact date but we're assuming Ronda will be fighting around that time. Cris will fight on Fight Pass one or two weeks prior."
March, 31, 2014
Mar 31
9:20
AM ET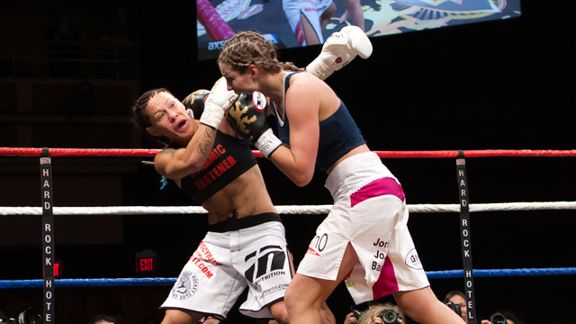 Lion Fight PromotionsCris Justino, facing, met her match on Friday -- albeit in a sport other than mixed martial arts.
LAS VEGAS -- It felt like the best (and equally, the worst) time to ask
Cris Justino
a million-dollar question.
On Thursday, "Cyborg" sat in a chair inside her guest room on the fifth floor of the Hard Rock Hotel and Casino. The thermostat was cranked to 85 degrees, the highest it would go, and she had three layers of clothing on.
Justino looked tired but hopeful. She had just finished an hourlong weight cut and (fingers crossed) weighed 145 pounds on the dot. An electronic scale in the bathroom confirmed this hope moments later.
The cut, for a Muay Thai title bout at Lion Fight Promotions the following day, was one of the best of Justino's career. She woke up light on the day of the weigh-in, 148 pounds. She never cried once during the final cut, which she's been known to do.
Even a good cut is still a difficult one for Justino, though. She leaned on her friend and former manager
Tito Ortiz
at the weigh-in until it was her turn to step on the scale and, immediately afterward, had an IV line inserted to help her rehydrate.
In the final seconds of that weight cut in her hotel room, right when she hit 145 pounds, I asked Justino a question that is currently a big one in mixed martial arts.
"Can you really weigh 10 pounds less than you weigh right now?"
There is one marquee fight for Justino in 2014, and it's against UFC bantamweight champion
Ronda Rousey
. The two have gone back and forth in headlines for years, and a matchup between them would draw big business for the UFC.
The main reason the fight hasn't happened yet is weight. Rousey has settled into the 135-pound division, and the UFC has said it won't book her to a catchweight. Justino, who walks around at 170 pounds, has had difficulty cutting to 145 before.
One year ago, Justino and Ortiz, her manager at the time, declined a multifight deal with the UFC based on financial reasons and the fact that it was "impossible" for her to compete at bantamweight. The UFC does not promote a 145-pound division.
"

It's a year later, and I guess all the things Ronda [Rousey] has said about her, all the things [UFC president] Dana White has said about her, it hurt her feelings. Hearing all that makes a person want to make it possible.

"

-- Tito Ortiz, on Cris Justino's motivation to cut weight
This year, however, Justino has stated she intends to be at 135 pounds by summer. Concerns about her health still exist, but she is willing to remain at the weight for three fights: Once to prove she can do it and then two Rousey fights. Two fights because she wants to beat her twice, leaving no doubt who is the best.
"It's a year later, and I guess all the things Ronda has said about her, all the things [UFC president] Dana White has said about her, it hurt her feelings," Ortiz told ESPN.com. "Hearing all that makes a person want to make it possible.
"If she thinks she can get down there, we'll try. We'll make that push. But for this [145-pound Muay Thai fight] she had no carbs. She didn't lift any weights. She was still walking around at 159 pounds. She's still having trouble. Yes, it was easier this time, but she's still making that 15-pound cut the week of the fight."
What Ortiz is saying is that Justino committing to 135 pounds is one thing. Her actually
weighing
it is another.
Her stable of coaches is willing to try anything it takes to get her there, and they are supremely confident she would handle Rousey easily (early knockout predictions were made) -- but all of them have reservations about the cut.
"She walks around at 170 pounds with a six-pack," said Andy Schnadig, Justino's strength and conditioning coach. "You start getting to 160, and you can see the veins in her abdominals. To get to 135 she's going to have to lose lean muscle tissue.
"I don't think going to 135 pounds is really good for her, but she kind of has to do it to prove her point."
In addition to general health concerns, no one knows how Justino will perform with 10 pounds less muscle on her frame. One of the identifying characteristics of the Brazilian's success has been her physical strength.
Schnadig said it is difficult to predict where on the body Justino will lose muscle mass and even more difficult to predict what effect it will have on her performance.
"Where it's going to come off is genetics," Schnadig said. "We can't spot reduce and say she has really strong hips, so we can afford to lose muscle in her glutes. It's going to come off where it comes off.
"I don't know if she'll lose some of that incredible power she has in her hips or not. You've seen her fight. She's a killer. She'll still have that aggression, but everything from basically her bottom rib to her knees is so strong. If she loses that muscle tissue, maybe she doesn't have that anymore."
For now, Justino and her camp are putting those concerns aside and taking it day by day. She came in to last week's cut light partially because of an extensive roadwork program, which saw her run eight to 10 miles per day.
Schnadig would prefer to move away from that schedule, as he said long runs can encourage the body to carry fat as a fuel source. He said 70 percent of Justino's future weight loss will be tied to significantly altering her diet.
[+] Enlarge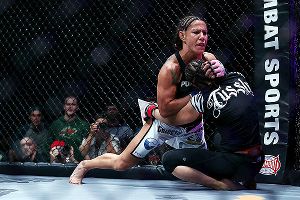 Dave Mandel/Sherdog.comCris Justino hopes an altered diet will help her make a cut down to 135 pounds.
The plan is for her to defend her Invicta FC featherweight title in either April or May and then fight for the all-female promotion's bantamweight title by summer.
Justino lost to Jorina Baars via unanimous decision at the Lion Fight kickboxing event Friday, but that result has no effect on the rest of her year in MMA, according to manager George Prajin.
"She's a little disappointed, of course, but it doesn't change anything in our plans," Prajin told ESPN.com. "Our goal is still get to 135 by summer and fight Ronda Rousey in the fall if the UFC is willing to step up.
"I don't see how this fight or this loss puts Cris back at all in the MMA world or makes people want to see the [Rousey] fight less. Rousey is out making movies while Cris is taking on the best fighters in the world in other sports."
If a fight between Rousey and Justino doesn't happen in the UFC, it won't be due to Justino's loss. And likely, it won't be due to Justino's friendly relationship with Ortiz, who has a rocky history with the UFC.
"It doesn't matter at all whether Tito is managing somebody or not," UFC co-owner Lorenzo Fertitta told ESPN.com. "That might affect whether or not the fighter makes good decisions or not, but it wouldn't affect whether or not we'd sign them. I have no ill will towards Tito. I don't care."
If the fight doesn't happen, it will be because either Justino can't make the weight or the UFC decides it can't contract her at 135 pounds if she intends to fight at the weight only twice in the Octagon.
The first problem is the one Justino has control over, and she's working on it. She smiled when asked about weighing 135 pounds last week. Still weak from the cut and the fact that she had consumed 8 ounces of water in the last 48 hours, she kept her answer short.
"This time, it does not feel impossible," Justino said. "In December, I put it in my head that nothing is impossible. I've put it in my head that I can. I can."
March, 3, 2014
Mar 3
11:22
AM ET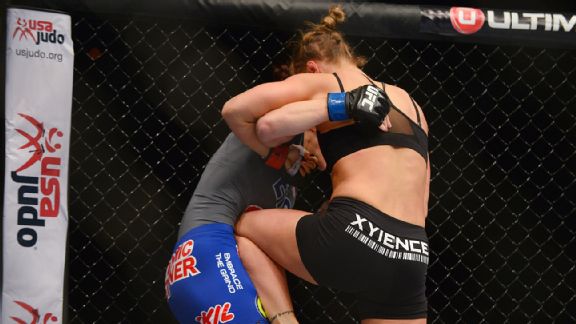 Al Powers for ESPNBody of work: Ronda Rousey's rib-tattling knee helped dispatch yet another UFC opponent.
Some 15 minutes after leaving the Octagon at UFC 170 in Las Vegas,
Ronda Rousey
ran into UFC president Dana White backstage.
They were each in the midst of a lightning round of on-camera interviews, which is standard procedure these days following every UFC pay-per-view event. Rousey gave her patented, "aw shucks" smile while White commented on the fight.
The first thing he addressed, beyond an obvious congratulation, was the end of the fight. For those who didn't see it, Rousey defended her UFC bantamweight title over
Sara McMann
via TKO in the first round. The finish came quickly, when Rousey caught McMann with a knee to the liver.
McMann doubled over and referee
Herb Dean
immediately stepped in. Milliseconds later, however, McMann stood back up, looking mostly recovered. It prompted an immediate reaction from fans and media alike that the fight was stopped early.
White, who has seen his share of liver kick/punch/knee knockouts wanted Rousey to know he felt the stoppage was justified. Plenty disagree, he said, but they don't know what liver shots feel like.
I snapped a photo of the encounter between Rousey and White and posted it to Twitter, along with a brief description of what they were saying. The overwhelming reaction I got: Of course White is happy, he
needs
Rousey to win. She is the most protected fighter in mixed martial arts.
This idea that Rousey is being protected of a difficult fight has started to grow legs. It's something that can happen in combat sports. Champs duck challengers. Promoters pad their fighters' resumes -- groom them, if you will.
Is it happening with Rousey and the UFC, though? The answer is "no."
First, the UFC doesn't have a history of "protecting" its champions. There are probably some individual cases we could argue about, but overall, the company isn't known for that habit.
[+] Enlarge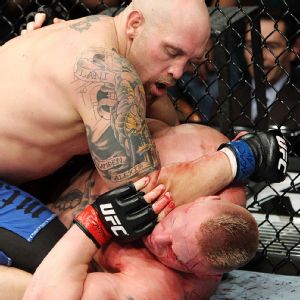 Josh Hedges/Getty ImagesNo gimmes here: Brock Lesnar, bottom, took the path of most resistance throughout his career.
The best example of this is
Brock Lesnar
. Lesnar, a gift sent from the heavens. A pre-packaged heavyweight star with a perfect pay-per-view personality and a giant sword tattooed to his chest.
If there was ever a commodity the UFC should have kept entirely away from the wolves, it was Lesnar. They didn't, though. He won the heavyweight title in 2008. His first defense was against a guy who had already beaten him in
Frank Mir
. Then he fought an undefeated, terrifying
Shane Carwin
, followed by the meat grinder that is known as
Cain Velasquez
. Then
Alistair Overeem
, who if you recall, fled the country when he was asked to provide a random drug test prior to the bout.
In short, the UFC doesn't have a history of feeding champions easy fights.
Forget all that, though. The strongest arguments against the UFC protecting Rousey lie in the details of her first year as its champion.
Many point to White's dismissive attitude of a potential fight between Rousey and Cristiane Justino, aka "Cyborg," as evidence he's shielding her from a potential loss. If it were that black and white, they might have a point -- but it's not.
White tried to sign Justino to a unique contract last year, which would have kept her under Zuffa rights but allow her to stay busy in Invicta FC. According to White, Zuffa would have paid Justino's fight purses even when she fought in Invicta.
What purpose did the UFC have for offering a deal like that? Simple: White knows how big a fight between Rousey and Justino would be. One year ago, he was willing to pay money just to keep the possibility of that fight alive.
Justino, at the advice of her manager
Tito Ortiz
, declined the offer and signed exclusively with Invicta. Not necessarily a bad move by the way, as we don't know all the details of the UFC deal, in terms of finances and pay-per-view incentives.
But then one year later, White is asked about Justino (who picked his archenemy to be her manager and already turned down a UFC contract offer once) while he's promoting a fight between Rousey and McMann. His response -- ranting about Justino's drug suspension in 2011 and overall irrelevance -- was predictable.
It's very likely the UFC will try to make the Rousey-Justino fight happen. Whether or not it does happen relies on a lot of factors. I'm not throwing down a blanket defense of White here; but I'm saying in this situation, he's done what any promoter would do.
He's tried to direct attention toward fights that can exist in the UFC, while dismissing one that, right now, can't.
Meanwhile, Rousey has fought the best the promotion has had to offer.
Liz Carmouche
might not have been an obvious choice as her first opponent, but history was being made and Carmouche had a good story. She fit the role.
Rousey's next fight was supposed to be against
Cat Zingano
, who many think could give her a serious challenge. The fight didn't happen due to injury and Zingano was replaced with
Miesha Tate
, who nearly beat her when they fought in April.
And last weekend, there was McMann. The fight was a blowout, but no one really knew that would be the case. I predicted Rousey to win by first-round armbar, but even so, I figured McMann would make it more difficult than she did.
There is no current bantamweight out there in the UFC who Rousey should have fought already and hasn't. She's expected to fight Zingano next, which is the most dangerous fight available. Who has she been protected from?
If the Justino fight happens, it should happen at bantamweight. There is no sense in the UFC having Rousey fight higher than 135 pounds if they don't even have a 145-pound weight class.
If Rousey beats Zingano, Justino proves she can drop to 135 pounds and the UFC is still claiming that fight is irrelevant -- then you can say Rousey is being protected. Until then, I think she's just so good, she's making it seem that way.
July, 28, 2013
7/28/13
1:32
AM ET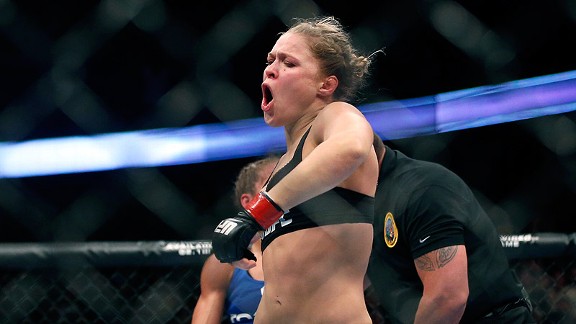 AP Photo/Jae C. HongRonda Rousey doesn't think about Cris Justino, but she's ready for the challenge.
SEATTLE -- An acting role in the Hollywood movie "Expendables 3" is definitely on
Ronda Rousey
's radar. A rematch with
Miesha Tate
at UFC 168 is, too.
Newly crowned 145-pound Invicta champion
Cris Justino
, aka "Cyborg," yeah, she's also on Rousey's radar -- but just barely, she says.
"I mean yeah, she's always on my radar," said Rousey at this weekend's UFC event. "But I have a really, really full plate and she has nothing to worry about but me."
Rousey (7-0) downplayed questions regarding a future fight against Justino, saying if Justino wants it, "she needs to get off her a-- and try to make (it) happen."
Justino returned from a one-year drug suspension in April and recently claimed the inaugural 145-pound Invicta title in a TKO win over
Marloes Coenen
.
She was stripped of the Strikeforce featherweight title following a positive drug test in December 2010. She was expected to still fight in the UFC when the suspension was up, but instead requested her release from the promotion.
Justino (12-1) has constantly said she is unable to physically cut to 135 pounds. Her management has cited that as the primary reason behind her UFC departure.
Rousey was clearly aware of Justino's recent win over Coenen, but didn't seem overly impressed. She also reiterated she has more important things on her mind.
"I have a lot of things going on," Rousey said. "She's fighting random chicks. I mean, Marloes -- it took her longer and more energy to beat Marloes than it took Miesha (in July 2011).
"It's only the MMA diehards that want to see that fight. I have so many things going on. If she really wants to make that fight happen, I'm here."
UFC president Dana White told reporters he has had no recent contact with Justino or her manager, former UFC light heavyweight
Tito Ortiz
.
"I have not heard from her manager," White said. "I have not seen any press conferences. So, I don't know. I don't know what's going on with Cyborg."
July, 12, 2013
7/12/13
1:33
PM ET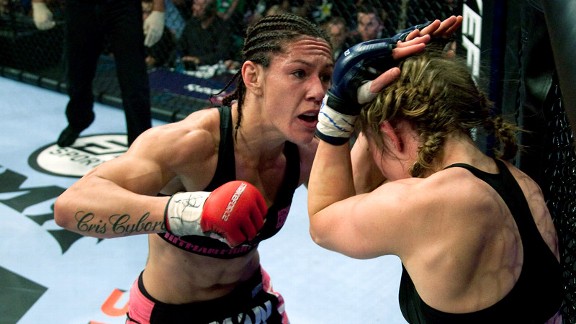 Esther Lin/Forza LLC/Getty ImagesMarloes Coenen, right, wants nothing more than to avenge her loss to Cris Justino.
In January 2010,
Marloes Coenen
went into a featherweight bout against
Cris Justino
(then Cris Santos) convinced that her opponent was using illegal supplements.
A positive drug test by Justino nearly two years later in California did little to change Coenen's mind. Thing is, though, she doesn't care.
"When I was fighting her, I expected her to be on something," Coenen told ESPN.com. "I know how I look and how hard I train and I know how she looks. But it's up to the media and the fans to judge her. I'm not going to do that."
No one can be certain whether Justino (11-1) benefited from any illegal substance leading to her third-round TKO win against Coenen -- except for Justino herself.
What we do know, for certain, is the former Strikeforce champion tested positive for stanozolol metabolites following a 16-second knockout over
Hiroko Yamanaka
on Dec. 17, 2011, in San Diego.
Justino claimed innocence, pointing to a diet pill given to her by a teammate as the source of the positive test. Despite her stance that she ingested the steroid unknowingly, the California commission suspended Justino for one year.
As Coenen (21-5) prepares to meet Justino for a second time in the main event of this weekend's Invicta FC 6 event in Kansas City, isn't she angry with her? Based on the belief Justino was cheating the first time they fought?
"Of course it makes you mad," Coenen said. "The thing is, if you lose, you shouldn't come up with excuses. It doesn't matter how good your excuse is. You can't say, 'Oh I lost, but she's on steroids.' Well then don't step in the cage, you know?
"If someone makes a mistake, you should give them a second chance -- and that's what I'm giving her right now."
Justino returned from suspension at Invicta FC 5 in April, finishing
Fiona Muxlow
in the first round via TKO. The inaugural Invicta 145-pound title will be on the line in her rematch against Coenen, but she still considers herself a champion, having never suffered a loss as the Strikeforce titleholder.
The one-year suspension and the negative connotations that come with a failed drug test, however, have been hard on the 27-year-old.
[+] Enlarge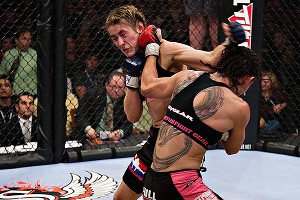 Esther Lin/Getty ImagesCris Justino's power was a big surprise for Marloes Coenen in their first fight in 2010.
Ultimately, she says she's been able to turn it into a positive for her career. In addition to finding out who her "real" friends were during the difficult time, she says she's done seminars in Brazil to discourage kids from using performance-enhancing drugs.
"Bad things happen in your life but you learn something," Justino said. "I learned a lot of things. I learned who my friends were -- who the good people behind me are.
"I have 1,000 kids training MMA in Brazil. Me and the other partners opened a big place in Brazil. I want to show the kids this sport can change your life and you can't use drugs for training."
The rematch will mark Invicta's debut on cable and satellite pay-per-view. It's the second time Coenen is set to headline a card for the promotion. She defeated
Romy Ruyssen
in the inaugural event in April 2012.
Coenen admits she'd like to avenge every loss of her career (she has actually avenged one) and is confident in her ability to make adjustments against Justino.
In the first meeting, Coenen says, she was caught off guard by the punching power of Justino. Way off guard.
"I don't remember that much about the fight," Coenen said. "The only thing I basically remember was that I had never been hit that hard in my life before.
"I didn't have a good strength program for that fight. She really outpowered me with her strength. This time I did a really good strength and conditioning program. I will have to actually cut weight now. I know what's headed toward me."
Justino, who has never been involved in a rematch, says she's held high respect for Coenen ever since their first bout, mostly because she is the only opponent ever to strongly request a second fight.
"She said it right after the fight," Justino said. "I saw her in the lobby at the hotel and she told me -- she's very friendly, very nice girl -- she wanted to fight me again. She said, 'Before I retire, I will find you again.' She is a true fighter."