Mixed Martial Arts:

Cyborg
April, 6, 2013
Apr 6
2:28
PM ET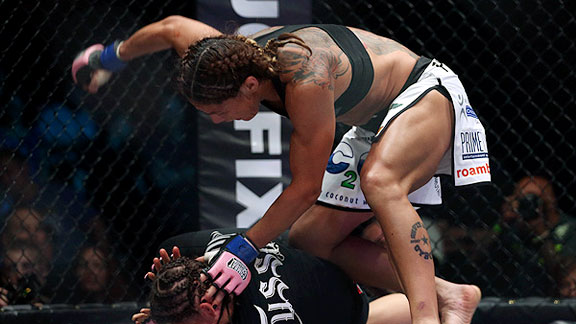 Dave Mandel/Sherdog.comHow long before Cristiane Santos grows bored -- or, even worse, loses -- while with Invicta FC?
Cristiane "Cyborg" Santos
needed to accomplish two things on Friday at Invicta FC: defeat
Fiona Muxlow
and look like a reasonable facsimile of her old self while doing it.
Not necessarily in that order. At least not in terms of degree of difficulty.
The victory was vital, I suppose, but it was also never really in doubt. In practice, the fight turned out to be as lopsided as it looked on paper, which is to say the win was so one-sided that it was almost completely hollow for the former Strikeforce women's featherweight champion.
Santos dropped Muxlow with her first punch, a straight right that put the replacement fighter, who took the bout on 17 days' notice, skittering into the frenzied survival mode we so commonly see in Santos' opponents. The rest was essentially cleanup. It took referee
John McCarthy
3 minutes, 46 seconds to decide he'd seen enough, but each tick of the clock after that initial salvo felt more gratuitous than the previous. By the time the end came for Muxlow, she was backed up against the cage accepting a series of increasingly inevitable knees and punches and the overriding feeling that swept over us all when Big John stepped in was one of relief for her.
For Santos, we felt only a vague sense of confirmation. Yep, she's still Cyborg.
Proving that Santos is still the most bloodcurdling figure in women's MMA was the really essential thing here, because, after nearly 16 months of inactivity owed to a yearlong suspension for a positive steroid test, there were questions about whether she would show up in Kansas City looking as ripped, as relentless and altogether frightening as before. More to the point, because Cyborg still being leaps and bounds ahead of the competition is an integral part of manager Tito Ortiz's plan to run the longest of long bombs on the UFC.
When Santos and Ortiz very publicly balked at the chance to cut to 135 pounds for an immediate shot at
Ronda Rousey
's bantamweight title back in February, instead opting for a much slower burn in Invicta, it prompted copious industry-wide head-scratching. One of those heads belonged to UFC President Dana White, who alternated between describing the Santos-Ortiz negotiating style as "wacky" and "goofy" and then proclaimed Cyborg "pretty much irrelevant" when talks finally appeared to fall apart for good.
Ortiz claims Santos needs a multifight run in Invicta to gradually shed the pounds necessary to safely make the cut to 135. Maybe that's true, but the perils of this route are obvious. What if something goes wrong, we all asked when the deal was announced. What if she emerges in the Invicta cage looking like something less than the terrifying knockout artist who cut a swath through women's MMA during seven fights from 2008-11? What if she -- choke, sputter, gasp -- loses?
"She ain't gonna lose …,"
an ever-confident Ortiz told MMAJunkie.com's Ben Fowlkes
when he put voice to these concerns at the time. "You ever sparred with Cris? You ever tried to wrestle with her? Ever watched her wrestle, watched her spar? Have you ever watched her fight?"
Yeah, well, point taken. Never did Ortiz's long-term plan for Santos' career feel like less of a gamble than while we were watching her brutalize Muxlow. Granted, the 35-year-old Australian's prospects were doomed from the moment she agreed to sub in for the injured
Ediane Gomes
last month, but it must have been reassuring for Ortiz & Co. to get proof that Cyborg can still deal with an overmatched opponent with the kind of extreme prejudice we saw from her against the likes of
Jan Finney
and
Hiroko Yamanaka
near the end of her Strikeforce run.
[+] Enlarge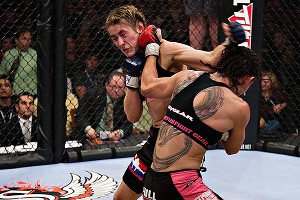 Esther Lin/Getty ImagesA rematch with Marloes Coenen, facing, should shed more light on where Cristiane Santos stands in her return to the cage.
While not a particularly instructive affair, we're now told the victory sets Santos up for an Invicta 145-pound title bout with
Marloes Coenen
later this year. Coenen will no doubt be a far more dangerous opponent, albeit one Santos already defeated back in January 2010 and one who had been competing at bantamweight prior to debuting in Invicta. If Cyborg wins that, she'll have a shiny new belt to match Rousey's, and it'll start to feel more and more like Ortiz's gamble might just pay off after all, giving Santos time to drop the weight while only stoking the fires of interest in a Rousey bout.
Still, let's not kid ourselves here. Santos and Ortiz are taking tremendous risks each time Santos steps into the Invicta cage. They are still involved in the kind of clunky, long-range scheme that very seldom pays off in a sport this unpredictable.
If you strip away the veneer of dominance and the fearsome power, Cyborg has exactly one thing going for her right now: There are only two real stars in the landscape of female MMA, and, as of this weekend, she's still one of them. Rousey and the UFC need her (and by extension, Ortiz) as much as the fighter and manager need the fight promotion and its golden girl. Rousey versus Santos is the one truly marketable superfight in women's fighting at the moment, and no matter how big the honchos at the UFC talk, they'll still be interested in it if and when Santos decides she's ready.
But that delicate balance of power evaporates immediately should Cyborg make a misstep in Invicta. All it takes is one lucky punch or a momentary mental lapse on the ground and, suddenly, she's not the perfect foil for Rousey's good looks and slick submission game anymore. Suddenly, she's just a former champion with a positive steroid test and a reputation for difficult negotiations.
If we've learned anything from MMA, it's that the thing that "ain't gonna" happen, often does, and, afterward, the people who wind up on the short end wish they'd grabbed the brass ring when they had the chance -- instead of putting it off for another day.
February, 18, 2013
Feb 18
6:22
AM ET

By Josh Gross
ESPN.com
Archive
Here's some stuff to consider about
Cristiane "Cyborg" Santos
heading to Invicta FC instead of meeting
Ronda Rousey
in the UFC that makes it OK right now to shrug your shoulders.
Did Santos, her management, Rousey, Invicta FC or Zuffa come out looking great? Did any of them blow it? The answer is a big, fat meh. Winners. Losers. The line's a blur with this one. Despite a lot of not getting what was wanted most, in certain ways everyone came out ahead.
The only thing we know for sure is this episode has added texture and dimension to a fight that will happen if everyone is as good and smart as they think they are.
How they win ...
Zuffa: The UFC holds rights to Rousey, so they're way ahead of the game. They stuck to their guns on keeping one weight division, which is the smart move as new fans are indoctrinated into the ways of women's mixed martial arts. Again, they've refused to let a fighter dictate terms and get away with it. The absence of Cyborg shouldn't hurt too much because 135 features several appealing contenders.
Santos: After a year away from the cage because of steroids, Cyborg has a fight again. She'll compete for a promotion that quickly earned a reputation as the home for women's MMA. She'll face a legitimate challenger at 145 in
Ediane Gomes
. She won't have to kill herself to make 135 pounds, which she could if she had to, but only at a cost. Another year of destroying women would lather up fans for a fight against Rousey, boosting her leverage heading into another round of contract talks with Zuffa.
Rousey: If it comes together, Rousey-Cyborg has the makings of the biggest money fight in female combat sports history. This chapter does nothing but add to that. It's all part of the story and, hey, now it has gotten personal. Right? Rousey is a clear winner if she holds up her end of the bargain and gets that payday.
Primetime 360:
Tito Ortiz
and two attorneys are trying their hand at the management business. The Cyborg episode landed them press. If their female star remains clean and beats up the competition, the "flexibility" they said they opted for could pay off a year from now.
Invicta FC: The female-focused promotion landed Cyborg to a three-bout contract. Duh. So long as Invicta didn't do something foolish with the money or terms (and there's no reason to suspect they did), it's a no-brainer. Press interest will hit a new high for Invicta this April.
How they lose ...
Zuffa: Dana White said he didn't understand why UFC's offer to pay Santos to fight in Invicta was turned down when she ended up with the same promotion for less money. Santos said she didn't want to sign the eight-fight contract Zuffa offered. And so Zuffa loses if Cyborg puts herself in the best possible position. That's not so terrible. Zuffa still stands to make big money on this deal whenever it happens. Zuffa, too, loses if it continues to play up the narrative that Cyborg is running from Rousey.
Santos: She drops one of her next three fights in Invicta. That would be bad.
Rousey: Rousey has her mountaintop to defend. So long as she's the top female bantamweight in MMA, there's not much downside to seeing Cyborg compete outside of the Octagon. Fights will arise, money will be made, her fame will continue to grow. There is the chance, however, that if she's unable to fight Cyborg, Rousey can't take the title of the sport's best female fighter. And that's worth something.
Primetime 360: Cyborg loses. Zuffa decides it doesn't like how Ortiz and his team do business.
Invicta FC: Pay-per-view numbers are lower than expected. Cyborg falls on her face in the cage or screws up another steroid test. All the usual pitfalls.
Where it stands ...
Zuffa: Business as usual. They're invested in Rousey. If she should falter, though, it will be interesting to see what that does to UFC's interest in Cyborg.
Santos: She'll have to do what she has done and keep hurting women in the cage. Cyborg is lined up for big things if it plays out this way. She's taking a potentially riskier route to her goal, but the benefits could be greater.
Rousey: Let's check back on the 23rd.
Primetime 360: Ortiz's group also has wrestler
Bubba Jenkins
under contract, with a promise to focus on brand building and contractual protections. It was refreshing to hear a management group openly discuss the inner workings of contract negotiations. Hopefully that continues.
Invicta FC: As of right now, they're not a "feeder organization," per Dana White. The Cyborg signing isn't quite
Fedor Emelianenko
to Strikeforce, but it's a major moment for the young promotion.
February, 10, 2013
Feb 10
1:24
PM ET

By Franklin McNeil
ESPN.com
Archive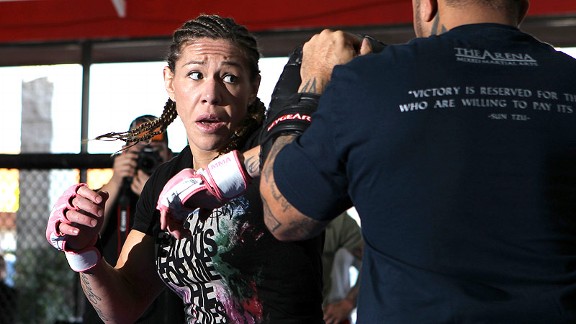 Josh Hedges/Zuffa LLC/Getty ImagesCristiane "Cyborg" Santos is training hard for her debut with Invicta FC.
Don't expect to satisfy that craving you have for a super fight between UFC bantamweight champion
Ronda Rousey
and former Strikeforce featherweight titleholder
Cristiane Santos
.
"Cyborg" Santos' manager, former UFC light heavyweight champion
Tito Ortiz
, said Friday that his client has requested her release from UFC.
"Right now we're actually waiting for UFC to release her," Ortiz said during an appearance on "Inside MMA."
"[UFC] gave an offer; I went to Cyborg and she didn't want to do it, so we asked for her release. Since they're not having a 145-pound weight class, what else can they do?"
Ortiz claims that UFC will release Santos, but the promotion has yet to publicly reveal its decision on the matter. During her time as Strikeforce featherweight champion, Santos was regarded as the world's best female mixed martial artist. Her bout with fan favorite
Gina Carano
in August 2009 for the inaugural Strikeforce women's featherweight title was the most anticipated fight in women's mixed martial arts history. Santos defeated Carano by first-round TKO.
She would successfully defend the 145-pound belt three times, but after her final defense against
Hiroko Yamanaka
on Dec. 17, 2011, Santos tested positive for a banned substance. Santos, who beat Yamanaka by first-round TKO, was suspended by the California State Athletic Commission for one year.
While Santos was sidelined, Rousey was supplanting her as the best female fighter on the planet. Strikeforce was also in the process of going out of business.
After Strikeforce's final event on Jan. 12, all of its fighter contracts were picked up by UFC -- including Santos' contract. UFC, under the Zuffa regime, had never promoted a women's bout. But the promotion opted to create a women's bantamweight division, based primarily on the growing popularity of Rousey, who is 6-0 as a professional. Rousey is scheduled to defend her title on Feb. 23 against
Liz Carmouche
at UFC 157 in Anaheim, Calif.
[+] Enlarge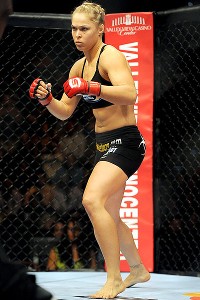 Jayne Kamin-Oncea/US PresswireRonda Rousey seems uninterested in fighting Cris Santos at any weight other than bantamweight.
With Rousey expected to survive Carmouche, UFC president Dana White has talked openly of a potential high-profile fight between his bantamweight champion and Santos. But Santos has repeatedly balked at the idea of dropping 10 pounds to face Rousey. The UFC does not have a featherweight division or any other weight class for women, besides bantamweight.
And White has stated a fight between Rousey and Santos must be for the 135-pound title; he isn't interested in a catch-weight bout. But during a UFC 156 prefight Q&A session with media members on Jan. 31, White softened his stance on the issue.
"It's not a title fight," White said. "If that's what [Santos] is willing to do, go to 140, let Ronda defend her title a few times and see if Ronda wants to go to 140.
"If I know Ronda, she probably will anyway. Let's see what happens."
It's been more than a week since White made that comment, but Santos has yet to be convinced that a 140-pound fight with Rousey is in the cards anytime soon. So she wants out of UFC.
"For her to get down to 135 pounds is physically impossible," Ortiz said. "For a man, it's different because we have a lot more water weight to take off.
"For Cris Cyborg to get down to that weight, she's going to be 3 to 4 percent body fat. She wants to start a family later on, she wants to have kids."
March, 29, 2012
3/29/12
2:14
PM ET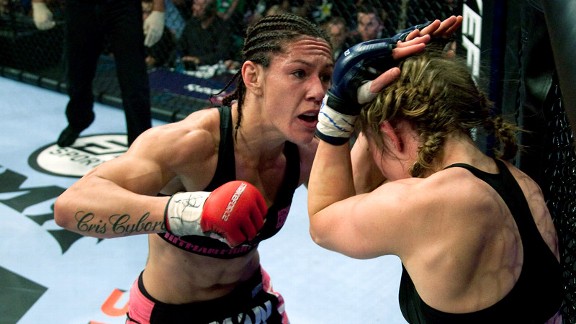 Esther Lin/Forza LLC/Getty ImagesCristiane Santos is predictably following in the excuse-laden footsteps of other PED luminaries.
The unknown persons responsible for encouraging
Cristiane Santos
to take steroids have been eliminated.
That's her word: "eliminated."
This according to the former Strikeforce women's featherweight champion herself
in a video statement
released this week, roughly 10 days before she'll appeal a one-year suspension for a positive drug test after her Dec. 17 win over Hiroko Yamanaka at an event in San Diego.
As mea culpa videos go, this one is actually pretty good. A genuinely remorseful-sounding Cyborg acknowledges her mistake, says she knows it is her responsibility to monitor the supplements she takes during training and references the hit to her reputation in the wake of the positive test.
Her words are obviously scripted, but don't come off overly rehearsed. She doesn't read from a prepared statement; at least, not one we can see. In any case, she speaks for a little less than three minutes and since it's all in Portuguese with English subtitles, it ultimately might be difficult for non-speakers of that language to gauge her sincerity.
[+] Enlarge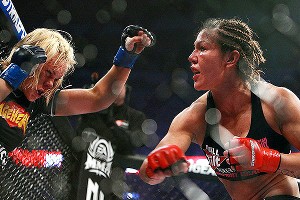 Dave Mandel/Sherdog.comCristiane Santos is proving to be more adept at defending herself in the cage than arguing her case.
Even if the video itself is well done though, the content essentially falls back on the same familiar and well-worn tropes we've been hearing since Major League Baseball's steroid scandal put performance enhancing drugs front and center more than a half decade ago.
Santos says she has never
knowingly
used steroids and points to her track record of passing commission administered drug tests as proof.
Sounds familiar, right?
She blames an unidentified member of her camp for supplying her with a substance "that was supposed to help [her] lose weight" and appears as surprised as everyone else that she came back positive for "steroid metabolites" consistent with stanozolol, a drug linked to some of professional sports' highest profile PED scandals.
"I have eliminated certain people from my training camp," Santos says. "I am taking monthly drug tests at the same laboratory that the [California State Athletic Commission] uses to show that I do not take steroids."
As explanations like this so often do, things take on an unmistakable cloak and dagger vibe. Hard not to, with verbiage like that.
Is Santos being honest? In 2012 it doesn't really matter, as very few people will believe her, no matter what.
The unnamed traitor in Cyborg's camp now joins Alex Rodriguez's conniving cousin, Manny Ramirez's prescription-happy doctor and Barry Bonds' "flaxseed oil" peddling trainer, Greg Anderson, on the list of people who have allegedly tricked unsuspecting pro athletes into taking performance enhancing drugs.
For years, in fact, we've heard wild tales of shadowy, mostly anonymous third parties scoring totally unknown and unrequested "supplements" for their talented friends and family members. Whether consciously or not, the athletes in these situations paint themselves as naive and trusting patsies who simply wash down or inject whatever they're given without ever thinking to ask what it is or to wonder if there might later be a problem.
Of course, this line of defense leaves only two options: Either the athlete is lying or the athlete is not the sharpest knife in the drawer.
Just in case it's the latter -- just in case Santos is telling the truth -- here is a training tip for all you professional athletes out there, from a guy who earns his living pushing keys and making phone calls and who, just a week shy of turning 34, feels like he could really use a Manny Ramirez-style doctor's note right about now: If someone you're later not willing to name provides you with a mysterious substance they claim will magically cure what ails you, don't take it.
And if you do take it, don't bother trying to explain -- or appealing your steroid suspension.
January, 8, 2012
1/08/12
8:57
AM ET

By Josh Gross
ESPN.com
Archive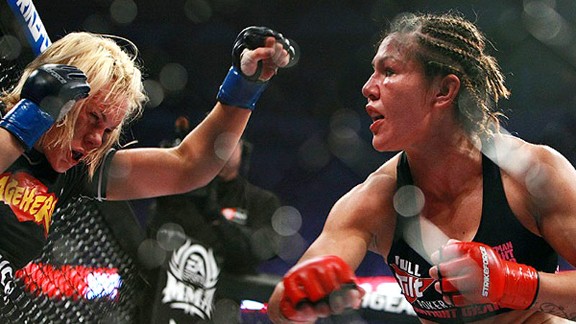 Dave Mandel/Sherdog.comWhy should fighters
stop
doping when the risk doesn't come close to outweighing the reward?
This needs to be clear off the top: Zuffa is not responsible for mixed martial artists who dope up.
Athletes make, and will continue to make, decisions to use banned substances regardless of the deterrents and penalties. There will always be someone seeking an edge. Someone who realizes they can't rise to the top without the aid of modern science. Someone willing to play a risky game in order to train harder than his or her body would normally allow.
That's the reality in the money-rich, winning-is-everything sports world mixed martial arts has joined over the past decade.
This also needs to be clear: Zuffa can, with one move, catalyze a sea change in MMA's widespread performance-enhancing drug culture. The purveyors of Strikeforce and the Ultimate Fighting Championship, the uncontested pinnacle of the sport, could decide that banned substance users aren't welcome at their events. That they won't do business with fighters who dope. They won't make money with 'em. That the risk for using must, for the first time, outweigh the reward -- because it most certainly does not now.
Many will ask: Should it be on Zuffa to do this when the sport it promotes is regulated by state governments, and when it is but one of many promoters?
I'd argue the answer is yes, and for the same reason UFC recently and rightly awarded
Duane Ludwig
the distinction of owning the 19-year-old organization's fastest knockout, even though the Nevada Athletic Commission refused to correct an error that "officially" said it wasn't. Zuffa is more important than any regulator, and has a vested interest in making sure the sport continues forward, which also means that among young fighters it's considered the place to be. Why do they see it that way now? The spoils. Money, prestige and fame of it all.
There isn't an organization in MMA that offers end-of-the-rainbow possibilities like Zuffa. Of course, there are a few groups with which fighters can sign and make a decent buck. UFC president Dana White is correct when he says his organization isn't a monopoly. There isn't a barrier to entry in the market for competitors. Viacom just purchased Bellator. Fighters can make money in Japan, though they might not get paid so fast. Asia in general is a burgeoning market for the sport, and other areas of the world are soon to follow. So, eviction from the UFC doesn't necessarily equal a death sentence for a fighter's career. But the fact remains, the allure of fighting in MMA's top organization can be a significant incentive to use PEDs. That's why fighters, including several so-called champions, have taken whatever steps they could, including doping, to get to the top. They have done this knowing the potential price.
Fighters must instead face a real choice. Is this thing I'm putting into my body worth the possibility of never fighting in the UFC? That should be a consideration for fighters these days, and it's really not. But more importantly, especially as it pertains to changing the culture that exists in MMA, kids walking into gyms for the first time shouldn't have to consider the possibility of drugs to get ahead.
Until the consensus among competitors shifts to the point it's no longer worth doing, it will be worth doing.
Still, some suggest the cost to the UFC for such a move would be too dramatic.
1. Potential competitors, like Viacom-funded Bellator, could swoop in and take promotable talent.
I guess. But that presupposes many of the fighters driving pay-per-view sales are using, and that they'll be caught. If that's the case, something drastic has to happen regardless. As it is, I think the idea that UFC would lose all its draws is way overblown. Ousted fighters, well, they'd head to a promoter who can live with an immediate reputation for signing steroid users. Don't you think the benefit of fighting in UFC and Strikeforce will actually grow? Most fans already presume a high percentage of fighters are mixed up with this stuff. Whether or not they truly care -- if responses to my Twitter account are an indication, most do, some don't -- that perception will change were Zuffa to draw a line in the sand.
We know fighters will get second chances somewhere else, and maybe some fans will be interested in how they do. But we've seen enough proof that when a fighter leaves the UFC, his stock takes a serious hit. Plus, if promoters go into the business of signing Zuffa's roid-tainted castoffs, that's great PR for the Las Vegas crew, which will only come out looking like a progressive, forward-thinking company.
I don't think it would take more than a year or two for fighters to get a clear sense that this thing was bad news for them. UFC could replenish lost names with new kids coming up, and they could do it fast.
2. Why should this happen in the UFC when the NFL, MLB and NBA don't cast aside talent when they test positive?
Sorry for answering a question with a question, but why should the UFC be like any other league?
It doesn't have a labor union to contend with. Other than being bound to work under various state athletic commission standards, and sometimes acting as its own regulator, Zuffa can operate with as much flexibility as it pleases. Simply relying on each state to get a hold of the problem isn't cutting it.
3. Stop pretending they're not all using something and let them.
The technology of kinesiology has never been more advanced. Some would say this truth represents another way in which athletes maximize their physical ability to compete at a higher level. And in the grand scheme of things, what's the difference between an innovative training technique, creatine, oxygenated water, or a consortium of nutritional supplement manufacturers pumping out new stuff every day, and anabolic steroids? It's just another piece of the puzzle for some.
There's no question competitive fields spur innovation and require determination -- nowhere is that more true than sport. But is an exercise revolution that produces faster, more powerful movements relative to fitness routines of yesteryear equivalent, in results and fair play, to its pharmaceutical equivalent?
How can anyone say "yes" to that? Not all fighters will want to use. The idea that they should be forced into a competitive disadvantage because of this is insane.
But there's a larger point here. Allowing fighters to use if they wanted would mark an even place from which to start. That's at least something.
Regulators and some MMA promoters, especially Zuffa, have made strides in working to end the use of banned substances. Problem is, the battle between drug users and drug enforcement bodies is as competitive as it gets. Lots of innovation and determination happening. No matter how much Nevada or California improve their tests, fighters will find a way around them. And it's clear in a situation as haphazard as MMA's -- standards vary greatly from state to state -- the one thing that can deliver an impact is a universal stance at the top.
A decree by Zuffa is as universal as it gets.
4. Zuffa will lose out on big paydays.
Maybe some. I mean, what happens in
Chael Sonnen
's case? That's a tough one. He's lined up to participate in one of the biggest fights of 2012 if he gets past
Mark Munoz
on Jan. 28. It's a lot to risk for the UFC; true moneymakers aren't so easy to come by.
But it's obvious Zuffa has already lost fights. While Cris Santos, the final inspiration for this column, sits out a year, she can't headline Strikeforce cards for Showtime. Champions lost their belts. Divisions were altered. It's dishonest to act like steroids haven't caused major disruptions already.
If the UFC went down this path, there could be some initial pain. But those bad actors, quickly forgotten, will give way to a new crop. Two years from now, how exactly will the UFC suffer because it can claim the strongest substance abuse policy in sports? One that will absolutely trickle down through the lower levels of MMA. One that will force rival, potentially competitive promoters to comply or be stigmatized. One that will grow more meaningful and expansive as cutting-edge testing procedures are put in place -- because that has to happen too for this thing to work over the long term.
On Monday, Zuffa could announce it will refrain from promoting anabolic steroid users, HGH users, EPO users, whatever-the-next-thing-is-called users, and the sport would be better off.
Go ahead, tell me otherwise.
December, 16, 2011
12/16/11
3:09
PM ET
Change is coming to Strikeforce.
That we were assured this week by the MMA landscape's primary architect. And when UFC President Dana White makes bold statements, we've grown accustomed to believing them. As Strikeforce unveils its latest incarnation in 2012, prelims will be aired, the heavyweight division and Challengers series will soon be things of the past and the overall production will be improved with a UFC-style facelift.
"Just sit and wait and watch what I do," White has promised.
What White does will undoubtedly be good for much of the Strikeforce roster and maybe most significantly for female fighters, who now have a solid place to ply their trade for at least another year. Yet, even as the once-struggling promotion races to evolve into something more, MMA fans will want to invest their increasingly precious time in, one of the trickiest questions remains: Can Strikeforce please find some competition for Cristiane "Cyborg" Santos?
After an awkward 18-month period where the organization and its 145-pound champ couldn't find common ground on what the best fighter in women's MMA ought to be paid, "Cyborg" returns this weekend to re-stake her claim as the division's most destructive and compelling force. She'll do it against an opponent everyone expects her to walk through and in front of a backdrop where promotional brass still struggle to find her convincing foils.
Not their fault, really. "Cyborg" is just that good; obviously the most dominant champion remaining on Strikeforce's roster. Even the extraordinary
Gilbert Melendez
is more vulnerable by comparison.
That's probably the best explanation for why, even with a year and a half to game plan for it, Santos' Strikeforce comeback this weekend in San Diego reads as yet another squash match.
Make no mistake, Hiroko Yamanaka is no slouch. Several sites see her as the No. 2 fighter in the women's featherweight division. She's amassed a 12-1 record fighting in Japan, comes in with a considerable height advantage and could be the best we could hope for in Santos' first fight back. That said, it only speaks to "Cyborg's" dominance that Yamanaka will currently fetch adventurous gamblers the opportunity for more than a 5-1 return on an investment in her at the sportsbook.
Few stand to be foolhardy enough to make one, as it seems inconceivable that the challenger could be prepared for the juggernaut she'll face this weekend. Instead, it's unilaterally assumed that Santos' most dangerous foe will be ring rust, after going off the radar in the wake of an ugly beatdown of Jan Finney in June 2010.
Yamanaka may be able to make things look more respectable than "Cuddles" did, at least. Then again, what's considered success for Santos' opponents at this point? Not getting
completely
mauled? Making it to the third round? Emerging with the bones in your face in roughly the same place as when you started?
No, a Yamanaka victory would be one of the most shocking things that could happen on Saturday night, and if women's MMA is going to stick around long enough to eventually reach its full potential, it needs to aspire to better than that.
Miesha Tate
,
Ronda Rousey
and Sarah Kaufman are off to a nice start at 135 pounds, but for female fighting to truly flourish, someone needs to come along who can push the division's best fighter.
It probably won't be Yamanaka, but if there is a 145-pound woman walking the earth somewhere who can give "Cyborg" a fight, this "new" Strikeforce would do well to find her. And quick.
June, 24, 2011
6/24/11
6:30
AM ET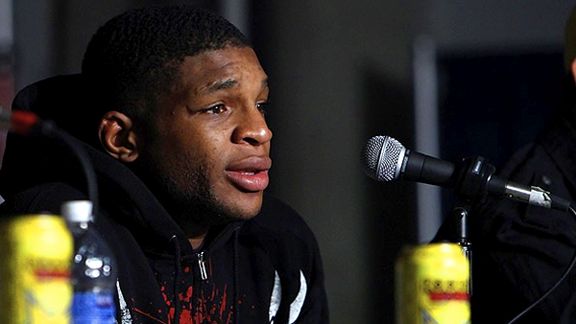 Dave Mandel for Sherdog.com"Anyone wanna fight?" Paul Daley has put the word out he needs an opponent for July 30.
Paul Daley
's management team have informed ESPN that the welterweight is searching for a new opponent after
Evangelista Santos
was ruled out of their July 30 clash.
More »