January, 23, 2014
Jan 23
9:08
AM ET
By Michael Huang
ESPN.com
Archive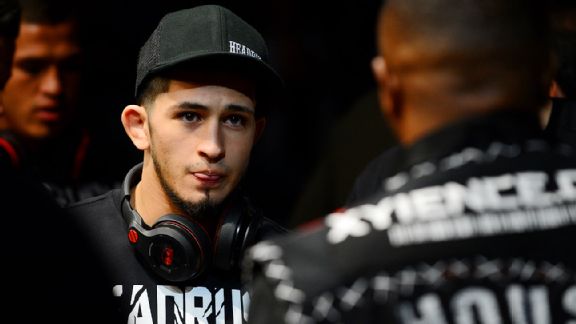 Al Powers for ESPNWith brother and UFC champ Anthony over his shoulder, bantamweight Sergio Pettis is on the rise.
Just call it brotherly love.
Fans of UFC featherweight
Clay Guida
might recall a head-shaking prefight ritual between him and brother
Jason Guida
. Before every one of Clay's fights, in the prefight prep point, Jason would slap his younger -- and significantly smaller -- brother in the face, seemingly to prepare Clay for his fight.
Whap! Whap! Whap!
Whether this was the key to Clay's success is debatable, but he certainly has had a solid and fruitful career in the UFC, which is really what any older brother would want for his younger sibling. Clay first got into MMA because Jason was fighting on a local card in Illinois. They needed a volunteer to fill in for an injured fighter, so Clay jumped in and the rest is history.
There's always a little sibling rivalry between brothers. Younger brothers often look up to their older brothers, using them as yardsticks for their own success or motivation to succeed.
This Saturday,
Sergio Pettis
, the younger brother of UFC lightweight champ
Anthony Pettis
, faces
Alex Caceres
in a bantamweight bout on the undercard of
UFC on Fox 10
. Expect a smorgasbord of athleticism. Both young fighters are technically skilled strikers with a lot of bounce and speed. For Sergio, it can't get better having his UFC champion and world-class athlete brother to help in training.
"I've got a lot of good people around me, my coaches, training partners, and I have Anthony," Sergio Pettis said. "I can learn from his mistakes. Eventually I want us to be the first pair of brothers to have UFC belts at the same time."
And who better to give him championship advice than his champion older brother.
"Anthony's always said just have fun with it," Sergio Pettis said. "Before my first fight I was starting to get some bad thoughts and hearing too many of the comments people were making. He just said to forget all that and just have fun. So I'm much more relaxed for this fight."
[+] Enlarge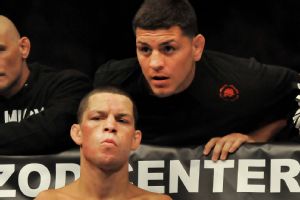 David Dermer/Diamond Images/Getty ImagesNate and Nick Diaz have become one of the UFC's more notable brother combinations with each becoming a top contender in recent years.
Mixed martial arts boasts a formidable list of brothers-in-arms. Some of the more notable sets of siblings include the Nogueiras --
Antonio Rodrigo
and
Antonio Rogerio
-- as well as the Ruas --
Mauricio
,
Murilo
and Marcos -- have long histories of success dating back to early PRIDE days. Likewise, the Overeems --
Alistair
and
Valentijn
-- have enjoyed success across fight leagues, and the Millers --
Jim
and
Dan
-- and Diazes --
Nick
and
Nate
-- have been top contenders in the UFC for the last half decade.
Perhaps it's the fraternity of the gym or the brotherhood of combat sports that strengthens the bonds between these sets of siblings, but -- like the Guidas -- it's the older brother who usually introduces the younger brother to MMA. Likewise, Valentijn Overeem brought Alistair to a gym to learn how to defend himself.
But often it's the younger brother who outperforms the older brother. Heck, even Eli Manning has two Super Bowl rings, but Peyton only has one.
While Dan Miller is a UFC veteran respected as one of the best BJJ practitioners, Jim has probably experienced more career success than Dan. He doesn't see that as a feather in his cap, however. The brothers take the wins and losses together.
"It's not something I'm really happy about," Jim Miller said. "I want all the success in the world for Dan. He's capable of so much. But because he's the 185-pounder, I'm the one who benefits from our size difference. Fighting one of the best 185-pounders makes fighting 155-pounders easy. If it was reversed, and I was the bigger one, I'm sure he'd be doing better than me."
At 10-0, Sergio Pettis is one of the new breed of young fighters who have trained in multiple disciplines from an early age. After watching Anthony's first three fights, Sergio was bit by the MMA bug. Both have deep backgrounds in taekwondo, with Sergio starting at age three. They even owned their own dojo in Milwaukee at one point with their eldest brother.
Does he think he can eventually eclipse Anthony's success? That's a tall order considering the flash with which Anthony shot up the ranks and captured the UFC lightweight title. "Showtime" might be his brother, but Sergio isn't interested in the spotlight. Is doing better than his brother just a side effect of any success or an objective?
[+] Enlarge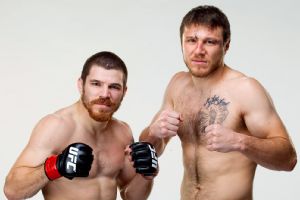 Mike Roach/Zuffa LLC/Getty ImagesHaving brother Dan, right, two divisions above him to spar against has only helped the growth of lightweight Jim Miller.
"I'm still really new to the UFC, just starting out my career," said Sergio Pettis, who had posted a 9-0 record in MMA feeder league Resurrection Fighting Alliance. "I have a lot of expectations for myself. But there's that possibility that I could be better than Anthony. I'm shooting for that!
"But right now it's about me just finding my way through the UFC and continuing to win. I want to stay active and fight four times this year. I'm still in Anthony's shadow and eventually I'm sure I'll step out from under it, but right now I'm just focused on winning as many fights as I can."
Duke Roufus, coach of the Pettis brothers, has said Sergio has the potential to be even better than Anthony. With Anthony sidelined with a knee injury, Sergio is the reigning Pettis right now. And against Caceres, fans should expect lots of leather flying.
"I know he likes to move around a lot and likes to use some flashy moves," Sergio said. "But I train with Anthony so there's plenty of flashy moves to practice against."
Perhaps for any younger brother, it might be most important to simply live up to the bar standard any older brother might set. That's a tough enough fight.
"Anyone who wants to learn how a man really holds himself with class and composure should watch my brother Dan," Jim Miller said. "I always try to live up to that."
March, 14, 2013
3/14/13
5:55
AM ET
What exactly is
Georges St-Pierre's
"dark place"? It has become a hashtag on Twitter for one thing -- an unlit place where St-Pierre himself never goes. Leading up to this weekend's fight with
Nick Diaz
at
UFC 158
in Montreal, the UFC ran a slick promo package with St-Pierre cautioning Diaz about an unfathomable self
within
. This would have passed off as normal PPV shtick if emotions didn't turn so raw in the media call last week.
Then it became actual theater.
Diaz alternately complimented St-Pierre and spat on him, often in the same breath. St-Pierre, who is usually a picture of intense cool, came unmoored a little bit. He had trouble getting a word in edgewise as Diaz rambled on about being pampered and St-Pierre's tight shorts. By the time St-Pierre called Diaz an "uneducated fool," his dark place seemed like more than "putting American quarters in vending machines," as MMA Junkie's Dann Stupp joked on Twitter. His personal torment bubbled up to the surface for a minute for everyone to glimpse.
All of this begs the question: Is Diaz in St-Pierre's head a little bit? The answer is: of course! He can't not be. But this is all just fun with intangibles. When you think about the fight itself, it's easier to imagine St-Pierre's wrestling nullifying that "Stockton Slap" than vice versa. If Saturday night's main event goes to the ground, and St-Pierre puts the hurt on Diaz (for five rounds, or for one explosive one), the sound you'll hear might be laughter emanating from St-Pierre's dark place.
FIVE THINGS TO KNOW/STORYLINES
Jake Ellenberger as dark horse contender
The third welterweight fight on the card pairs up
Jake Ellenberger
with
Nate Marquardt
. No, a win over Marquardt won't be the same as if he had beat his original opponent,
Johny Hendricks
. But an emphatic victory still might launch Ellenberger into title consideration if (A) Hendricks loses to Carlos Condit, (B) St-Pierre handles Diaz and (C) the UFC thinks it's too soon to roll out Condit-St-Pierre II.
The rise of Darren Elkins
[+] Enlarge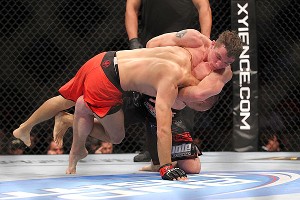 Ed Mulholland for ESPN.comWith a 4-0 mark since making the move to featherweight, Darren Elkins is in search of an exclamation mark against Antonio Carvalho.
Darren Elkins
wasn't a slouch as a lightweight, going 1-1 before dropping down to 145 pounds -- but he has been gangbusters since losing that weight. Elkins is 4-0 as a feather (even if you eye the
Michihiro Omigawa
decision somewhat suspiciously). If there's a knock, it's that all of his wins have come via decision. An exclamation point finish over
Antonio Carvalho
would do wonders.
The rise of Chris Camozzi
The middleweight division has gone on a long time without a
Chris Camozzi
to come along and mess things up. But guess what? If Camozzi gets by
Nick Ring
on Saturday night, he's suddenly riding a four-fight winning streak and begins to encroach on top-10 radars.
St-Pierre, Diaz as rivals
Rivalries consist of more than heated arguments and rising dander, don't they? The headlining fight between Diaz and St-Pierre is being loosely dubbed a "rivalry," even though this is their first meeting. Yes, they were booked to fight each other in 2011 before Diaz's insubordination became a thing. But a rivalry? If Diaz pulls off the upset Saturday night, then we've got a rivalry. Forget rematch -- that would open the floodgates to a trilogy.
Diaz's long layoff
Diaz will have gone 405 days between fights, which is the longest layoff of his career. Just how this will affect him remains to be seen. The longest he went before that was 314 days between his first pro MMA bout and his second, back in 2001-02. How did he respond to that gulf? By decisioning
Chris Lytle
. Of course, that was eons ago, when he was barely 18 years old and things like metabolites were still tucked away in their lexicons.
FIVE QUESTIONS
Can Diaz get back up?
[+] Enlarge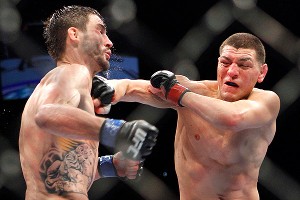 AP Photo/Eric JamisonIt's not secret that Nick Diaz, right, is comfortable trading punches on his feet. But how will Diaz fare once Georges St-Pierre takes him to the ground?
We've seen optimism from everybody St-Pierre has faced going back to
Jon Fitch
. They all talk about staying off their backs, and then end up staring at the Octagon lights for five rounds (except for
Josh Koscheck
and
Jake Shields
, who couldn't see anything past the jabs crashing into their sockets). Diaz isn't known for thwarting bull rushes. But he is known to be crafty on the ground and in scrambles. Can he get back up? Aha! That's the question. Crazier, can he reverse St-Pierre and submit him on the ground?
Can St-Pierre get a finish?
It has been four years since St-Pierre finished a fight, and that was at UFC 94 against
B.J. Penn
. Even in that one, it wasn't overly dramatic -- Penn simply didn't answer the fifth-round bell after a steady mauling. A statistic such as that can lead to "pressure," and St-Pierre can't help but feel it. Chances are, when the fight feels comfortable enough, he'll look for the finish.
Is Hendricks next with a win?
We've been asking this same question since last year when the tulips came up in the spring and Hendricks was fighting Koscheck -- does a win get Hendricks a title shot? The answer is, of course --
maybe
. Hendricks not only beat Koscheck, he salted
Martin Kampmann
next for good measure -- and yet here he is again opening for St-Pierre's big act. Unless the roof falls in on the Bell Centre, a win over Condit should get him that evasive title shot.
Can Diaz win a decision in Montreal?
Diaz doesn't particularly like judges, because he suspects they don't like him (see: UFC 143). But let's make something clear: If his fight with St-Pierre, a native son of Quebec, goes to the gavels, his chances of victory share a percentage with the world's most popular milk (2%). Not necessarily because of hometown favoritism (though there's that), but because can you imagine St-Pierre getting outpointed?
If Marquardt-Ellenberger goes past the first round, then what?
Your guess is good as mine. As
Brett Okamoto
pointed out, Ellenberger likes to throw punches with such all-or-nothing force early in fights that he's running on fumes toward the end. Then again, Marquardt has had some trouble with determined wrestlers (such as
Yushin Okami
and
Chael Sonnen
), and if patient dictation of the will is Ellenberger's tact, this thing becomes a crapshoot.
WHO'S ON THE HOT SEAT
[+] Enlarge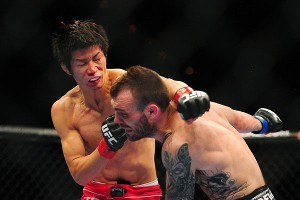 Mark J. Rebilas for ESPN.comGeorge Roop, right, enters his UFC 158 bout against Reuben Duran hoping to ensure job security by avoiding a third straight loss.
George Roop
-- Granted, losing to
Hatsu Hioki
(narrowly) and
Cub Swanson
(definitively) isn't all that bad. But a third loss in a row, against
Reuben Duran
(1-2 in the UFC), just as the UFC is tidying up its roster? Not good.
Reuben Duran
-- See above, only reversed.
Rick Story
-- Remember when he dominated
Thiago Alves
and was calling out Fitch and Koscheck? Distant memory. Losing to Strikeforce immigrant
Quinn Mulhern
would make it four losses in five fights, which is a roundabout way of saying "curtains."
Patrick Cote
-- Since coming back to the UFC, he lost very unspectacularly to
Cung Le
and then was the victim of a series of illegal back-of-the-head blows from
Alessio Sakara
last time the UFC visited Montreal (remember that inexplicable brainlock?). Play the dramatic doom music: Cote is walking the plank against
Bobby Voelker
this weekend.
Mike Ricci
-- That knockout of
Neil Magny
during TUF 16 was fun, but if he drops to 0-2 in the UFC by losing to
Colin Fletcher
, it's hard to justify his roster spot.
Colin Fletcher
-- The mask. Won't. Save him.
WHY YOU SHOULD CARE
Because it's a welterweight bonanza that features the best 170-pound fighter ever (St-Pierre) ... because St-Pierre has good reason to abandon "safe" in his attempt to punish Diaz ... because Diaz doesn't do "safe," and fights off his back like a fire hose that got away from its handler ... because with Hendricks, the word "southpaw" barely describes the brute force in that left hand … because Ellenberger leaves behind his aura each time he throws a first-round punch … because that's Marquardt's chin he's aiming at … because
Carlos Condit
is due for a finish after going 0-for-2 in 2012 in that department … because St-Pierre's dark place becomes, for one night only, a popular destination.
January, 24, 2012
1/24/12
2:19
PM ET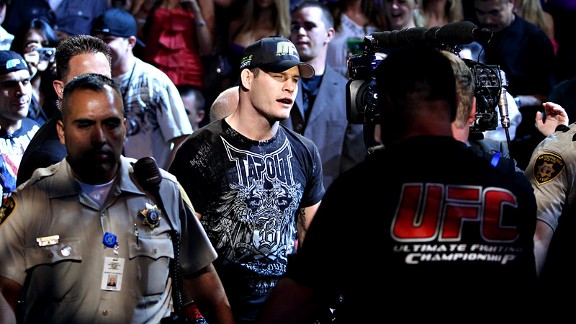 Ed Mulholland for ESPN.comWill Michael Bisping's Octagon experience kick into high gear come fight time?
It's been a long while since
Michael Bisping
was an underdog heading into a fight. In fact, the last time was back in 2009 when he fought
Dan Henderson
at UFC 100. On that occasion, with all the tensions of the "Ultimate Fighter 9" still playing in the shallows of public perception, the Brit showed up as a 2-to-1 dog. And even then there were a lot of people that thought Vegas was sleeping on Bisping a little bit. (By the time Henderson's right hand sent Bisping into the twitches, the line was long forgotten).
Since then the "Count" has been the "Bully" in Joe Silva's matchmaking.
Jason Miller
,
Jorge Rivera
,
Yoshihiro Akiyama
,
Dan Miller
and
Denis Kang
were all long shots to beat Bisping. Ditto
Wanderlei Silva
, who managed to spring the upset. For the last three years, Bisping has grown used to being the mark, not the marksman. He's been batting down the grabbing hands of opportunists on his climb, rather than clutching at the ankles of the guys above him.
That changes in Chicago. Against
Chael Sonnen
-- who fell to Bisping when
Mark Munoz
had to pull out of his scheduled fight with bone spurs in his elbow -- he is a 4-to-1 underdog.
This is unusual terrain for Bisping. And it's an incredible line for a guy who has won four in a row (finishing his last two). In fact, it's the kind of line that says two things: 1) For the last three years Bisping has had a cushy schedule for a guy who considers himself "title ready," and B) we now view Sonnen as a tyrant. In the time it's taken Bisping to make his way up the rungs enough for a bigger challenge, Sonnen has transformed from a journeyman to a contender, from an afterthought to a showman, and from cusp prelimer to PPV headliner. He contradicts himself ruthlessly in the media, but he keeps beating guys (coldly, methodically) and came close to cashing in Silva, too. The Sonnen case is one for 18th century exorcists.
Or maybe Malcolm Gladwell.
But Bisping has always been Bisping. And to become something other than Bisping he'll need to beat Sonnen, who also happens to be the guy he can take his cues from. Sonnen stood as a lofty underdog against
Yushin Okami
at UFC 104 and
Nate Marquardt
at UFC 109. Heading into that stretch he scored a workman-like decision over Dan Miller, and before then had lost to
Demian Maia
(triangle choke). So what did he do? The only thing he could. He laid the pestle down on top-ranked Okami in a fight many thought he didn't deserve, then ransacked Marquardt for three straight rounds to the point that he suddenly looked like a real impediment for
Anderson Silva
.
Out of nowhere, Sonnen beat two top-end guys who were trying their damndest to get back to Silva. This time it's Sonnen who is trying to get back to Silva (even if he says otherwise), and it's Bisping's chance to spoil that return trip. In other words, here's Bisping's chance to become Sonnen. Win it, and he'll assuredly be an underdog in his next fight, too. That's the goal -- Sao Paulo against longer odds still.
Yet lose, and it could be another three years before Bisping's an underdog again, and that's no kind of consolation.
August, 28, 2011
8/28/11
11:04
PM ET
Eleven months ago, Rousimar "Toquinho" Palhares' decision to stop fighting mid-bout cost him dearly in a knockout loss to Nate Marquardt. Saturday night in Rio de Janeiro, history very nearly repeated itself.
According to the Brazilian middleweight's trainer, however, Palhares' actions in the first round of his UFC 134 contest with Dan Miller have been misinterpreted.
Unlike his September 2010 defeat at the hands of Marquardt -- which saw Palhares punched out after the submission specialist turned to referee Herb Dean and complained that Marquardt's leg was slippery -- Brazilian Top Team leader Murilo Bustamante explained Sunday that Palhares' premature celebration against Miller actually came as a result of mercy.
Saturday night at Rio's HSBC Arena, a heavy right head kick from Palhares felled Miller with 40 seconds remaining in the opening frame. The dazed New Jersey fighter covered up as Palhares connected with half a dozen punches from above before coolly striding away, his arms raised in victory. Palhares leapt atop the Octagon fence to soak in the adoration from his hometown crowd, but there was one problem: the referee -- Dean, coincidentally -- never called a stop to the bout.
[+] Enlarge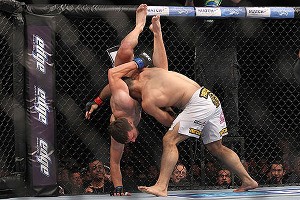 Ed Mulholland/ESPN.comRousimar Palhares was in control when he suddenly halted his attack on Dan Miller.
"Just to clarify what happened during Toquinho's fight," Bustamante wrote on his personal Twitter account, "he told me that he stopped because his opponent said 'stop, stop' when he was punching him hard. Then, he stopped [hitting] him and thought that the fight was over and went to celebrate. Who can say now that 'Toko' isn't a fair fighter? He is just too naive, but he has a big heart."
Despite Bustamante's claim, Miller's manager and trainer, Mike Constantino of AMA Fight Club, asserted Monday that his fighter never asked out of the match.
"Dan assures me he did not say a word during that exchange," Constatino wrote in an email to Sherdog.com. "Needless to say that with the loud crowd, the language barrier, the adrenaline rush and every other factor involved -- including 'do not stop until the ref pulls you off' -- I do not believe that Toquinho pulled up because of Dan murmuring 'stop, stop.' The fact remains that Dan Miller did not say 'stop, stop' -- there is no need to argue the toughness and mettle of Dan Miller, however I just have to put the facts on the table after hearing this."
While Miller did not appear to protest the "stoppage" as he stood back up and walked to his corner, Constantino said that was only because he believed the fight had actually been stopped.
"He could not see and by Toquinho's reaction, Dan assumed Herb stopped the fight," wrote Constantino. "Once he heard us screaming to turn around and the fight wasn't stopped, he ran across the Octagon to continue fighting."
Review of the fight video by Sherdog.com proved inconclusive: If Miller did verbally submit, it was drowned out on television by the roar of the Rio audience. But, as beckoned Palhares down from the cage, referee Dean's words were loud and clear: "I did not stop the fight. You have to keep fighting."
And keep fighting they did. In a surprising turn, moments after touching gloves and resuming action, Toquinho found himself in a bad way, knocked down by a Miller combination. The Brazilian would regain his composure to finish the round with a takedown, though, and followed up with a dominant second period and a closer, but slower, third.
On Sunday, Bustamante offered no complaints about the non-stoppage, nor the extra 10 minutes of work his charge allegedly had to put in. However, the former UFC middleweight champion did take issue with the company naming a lightweight scrap between Edson Barboza and Ross Pearson the evening's best bout.
"I think, as [with] everyone that watched the fight, that Toko should have won 'Fight of the Night.'"
August, 6, 2011
8/06/11
10:11
AM ET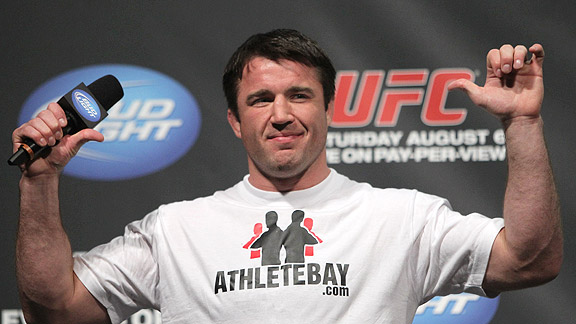 Josh Hedges/Zuffa LLC/Getty ImagesSurprise, surprise: Chael Sonnen has had nothing bad to say about Brian Stann.
PHILADELPHIA -- The truth is, if you look at
Chael Sonnen
's history of skewering opponents before a fight, you won't find many examples. He had things to say about
Paulo Filho
, particularly heading into the second bout, but the microscope wasn't on like it was with
Anderson Silva
, when he made it fairly plain that he wasn't a fan. But he was completely respectful of
Dan Miller
, and he was nothing but class leading up to
Yushin Okami
at UFC 104. The worst he would say about
Nate Marquardt
ahead of UFC 109 was that it was a "must win" for him. That was more cliché than lambast.
We've seen a billion Chael's since then, or at least seemingly. He says we've seen one. One real Sonnen -- the one who will stick to being reverent of his opponent at UFC 136,
Brian Stann
. He says he hasn't fallen out of character for any of the aforementioned fights because he was never in character.
"I don't manufacture conflict," he told ESPN.com while at a media event in Philadelphia. "I don't go out and say anything bad about Anderson Silva -- I don't like Anderson Silva. I made that known, and I make no apology for it. I do like Brian Stann and I'm not going to pretend I don't. I see guys in this sport continually attempt to imitate me and copy me and to be like me, [but] they get it wrong -- I'm real. What you see is what you get. If I didn't mean it, I wouldn't say it.
"When it comes to Brian Stann, when it came to Nate Marquardt, when it came to Yushin Okami … those are great guys and I won't say otherwise in the attempt to draw attention to myself or to the event. The event has enough attention, I've got enough attention, tickets are moving just fine. I'm not in the business of hyping or selling a fight."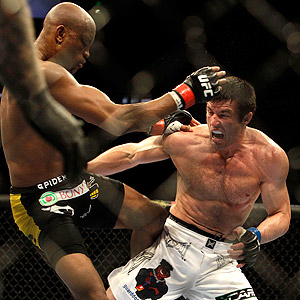 AP Photo/Jeff ChiuGrade-A beef: Chael Sonnen, right, had a real bone to pick with Anderson Silva.
Sonnen's treatment of Silva ahead if UFC 117 was novel. For one thing, up until then not many people had been irreverent toward the long-time middleweight champion (at least not in public). For another, it was hard to stay up with the Sonnen soundbites while holding your bearings -- he took things to a different level that blurred media senses. He was telling people what they had and hadn't heard, which is the closest to a Jedi trick we've seen in MMA. He contradicted himself with impossible audacity. There were moments when you wondered if Silva really did speak the King's English, but even an MMA novice suspected that a Nogueira black belt was harder to come by than a Happy Meal toy.
In any case, this split his audience up into love/hate positions with him (often interchangeable, and very close to the same). Against Stann we won't catch any of that. He likes Stann. He doesn't like Silva. It's just that simple.
"Stann's a stud, and I tried to not get on the docket with him," he said. "I did everything I could to get an easy fight. I tried to get [Lyoto] Machida to lure into a fight, I tried to get Wanderlei [Silva], I tried to get Anderson. I tried to get every easy fight I could think of, and Joe Silva didn't like it so he called in the Marines."
June, 15, 2011
6/15/11
6:33
AM ET

By Franklin McNeil
ESPN.com
Archive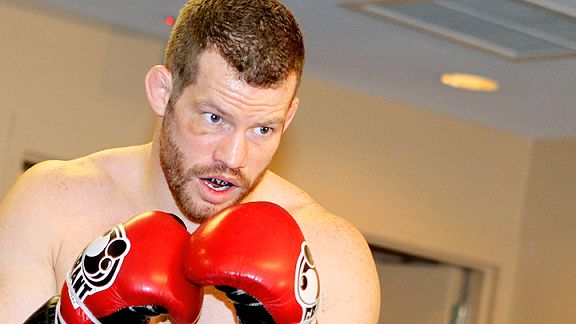 Ed Mulholland for ESPN.comWeight's over: Nate Marquardt is done fighting in a division he doesn't feel fit for.
The downward trend in UFC continues as recognizable mixed martial artists take their talents to lighter weight classes. Former WEC light heavyweight champion Brian Stann has found a home at middleweight, as has ex-lightweight contender Kenny Florian, who recently changed his address to 145.
Now comes Nate Marquardt; the longtime middleweight contender makes his welterweight debut June 26 in Pittsburgh. Marquardt is set to face fast-rising Rick Story, who agreed to fill in for the injured Anthony Johnson.
But unlike Stann and Florian, both of whom thought long and hard before taking the plunge, Marquardt had no reservations about moving down a weight class. It was time to make the move because his body told him so.
"For me it was about how I felt for my last fight," Marquardt said on Tuesday during a UFC conference call. "For my last fight [a unanimous decision in March over Dan Miller at UFC 128] I was very light, and I felt the best I'd felt in years.
[+] Enlarge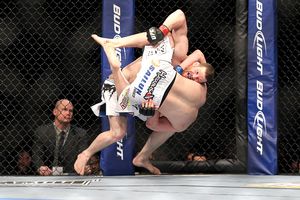 Ed Mulholland for ESPN.comDespite grinding down Dan Miller, Nate Marquardt felt it was time to fight guys his own size.
"It [170 pounds] is more of a natural weight for me. My body operates best with less weight on. It's about performance, and I feel I will perform better at a lighter weight -- regardless if I'm fighting at 185 or 170."
While the decision to drop down came easy for Marquardt, his goal is no different from that of Florian's or Stann's. He wants no shortcuts in his new division but fully expects to catapult to the top of the welterweight rankings. And it starts by putting the brakes on Story, who enters the fight riding a six-bout win streak.
"I guess [a win] would put me at the top," said Marquardt, who is 31-10-2. "Rick is as very tough guy. He just beat [Thiago] Alves who is a former world title contender. I'm just excited for the opportunity."
Marquardt is feeling very good about his decision to compete at 170 pounds. And why not? His cardio is as good as ever; he's huge for the division, and he's had a full training camp to shake any cobwebs that might hinder his effort. Marquardt expects to put on one of his best performances as a pro.
Then there is the issue of his opponent. Story has raised many eyebrows of late.
He handled Alves will little difficulty on May 28 at UFC 131 en route to a unanimous decision victory. Alves is a huge welterweight, who was expected to control Story standing. But Story not only held his own on the feet, he battled Alves strength for strength while grappling against the cage. No matter how big the opponent, and Marquardt will likely have a decided size advantage, Story refuses to get pushed around.
Story (13-3-0) is so confident in his abilities that he didn't hesitate to take this fight on short notice. A fast turnaround is right up Story's alley.
"We requested a fight quick, maybe not so quick," Story said. "But with the opportunity of Anthony Johnson dropping out, I like fighting frequently, so we jumped all over the opportunity to fill in for Anthony Johnson."
May, 27, 2010
5/27/10
8:01
AM ET
By Jake Rossen/Sherdog.com
ESPN.com
Archive
Nothing kills careers faster than disinterest, and Quinton Jackson has put out several notices that his attention may be elsewhere.
The onetime light heavyweight champion took a major film role in "The A-Team," announced his retirement, retracted it and eventually settled on the idea that he would fight -- solely for money. The minute film work became more profitable, he said, was when he decided where he'd be headed. Jackson's current film role is as a mercenary, and he's doing a method job of it.
There's nothing wrong with fighting as a means to a financial end, but for many athletes, a check is secondary to a passion for competition. Some of the sport's most highly paid fighters entered the industry at a time when there was no promise of big endorsement deals or new tax brackets. The idea you could become a millionaire in an activity prohibited by most states was a delusion.
Jackson has long maintained he doesn't love fighting, is no particular fan of it and does something he's good at in order to provide for a sizable family. If Saturday's bout with Rashad Evans is unique, it's because it appears to be one of the few times Jackson is emotionally plugged in to the proceedings: The two have nipped at each other for months in a personality conflict that's probably equal parts dislike and job incentive.
Jackson as an engaged fighter is interesting. But if he's got one foot out the door, how engaged should his audience be?
What: UFC 114: Jackson versus Evans, an 11-bout card from the MGM Grand in Las Vegas
When: Saturday at 10 p.m. ET on pay-per-view, with a live prelim show at 9 p.m. on Spike
Why you should watch: Because Jackson and Evans have expended so much energy hazing one another that putting on a poor showing now would only add injury to insult; because seven-second KO record holder Todd Duffee could have the athleticism to hang with the Shane Carwins of the division; and because booking Michael Bisping, Diego Sanchez, Antonio Rogerio Nogueira and Aaron Riley makes for one of the more substantial undercards in recent memory.
Fight of the night: Jackson-Evans, two wrestlers who prefer to stand up and have the motivation to keep stepping forward.
Hype quote of the show: "Don't believe the hype. It's all about performing night after night out there. That's the only thing that is real, getting in there and performing when it's time to go. I'd be the first to tell you I still have a lot left to prove." -- a grounded Duffee, to Yahoo's Kevin Iole.
Four questions: UFC 114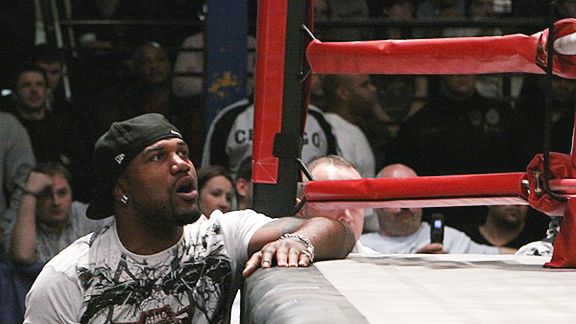 Joe Harrington/Sherdog.comSlidelined: For one reason or another, Quinton Jackson hasn't climbed into the ring in over a year.
Q: Will an extended layoff hurt Jackson?
A: Jackson hasn't competed since a March 2009 UFC event where he defeated Keith Jardine in a plodding decision; the 14-month layoff that proceeded it will be the longest of Jackson's decade-long career. While shooting "The A-Team," Jackson also put on an appreciable amount of weight, inching closer to the 250-pound mark.
Inactivity and a carb-heavy lifestyle are not friendly to fighters, who are often encouraged to relax between fights by their ability to snap into shape quickly. While the pounds drop off, the body is still not as collected as it would be if Jackson maintained top fitness year-round; Evans has fought twice in the time Jackson was absent and spent what other time he had helping teammates gear up for fights. If preparation is most of the battle, it would be hard to imagine a fit Evans didn't have the leg up going into training camp.
Q: Do "grudges" mean as much as titles?
A: UFC events without a title bout typically perform below pay-per-view business parity, but that business rule can usually be negated with an extended trash-talk build. Evans and Jackson have done their part and then some, spending months on cable and then another six months running each other down. For men who realize their finances depend on how badly they appear to dislike one another, a seed of animosity probably gets exaggerated for cameras and recorders.
If Jackson-Evans performs above expectations, you can anticipate other fighters finding new and creative ways to make an athletic competition personal.
Q: Can Duffee live up to his billing?
A: Duffee will be the first to shrug off any suggestion he's a future heavyweight contender, but any lack of boasting on his part is a space easily filled by teammates and observers -- all of whom consider Duffee to be on a level with the best. More proof? One UFC fight in, and Duffee has already made the cover of Muscle and Fitness. That's what being an in-shape 260-pound contender can do for you.
Duffee's first big test comes Saturday against Mike Russow, who will provide some indication of what happens when a high-level wrestler tries to get Duffee on his back. It's a question that will determine the fate of most fighters in the heavyweight division, currently owned and operated by mammoth grapplers like Brock Lesnar and Shane Carwin.
Q: Is "UFC: Undisputed 2010" a pay-per-view booster?
A: The UFC has gotten its major media play in the past two weeks practically doubled thanks to the release of "UFC: Undisputed 2010," a follow-up to last year's successful video game venture. Company representatives have been doing as much press for that as for Saturday's card.
In addition to indoctrinating new fans into the intricacies of the sport, the game may provide a shorter-term benefit: elevating audience awareness to the point that a pay-per-view running opposite an NBA playoff game might not necessarily be any worse off for it.
Red Ink: Jackson-Evans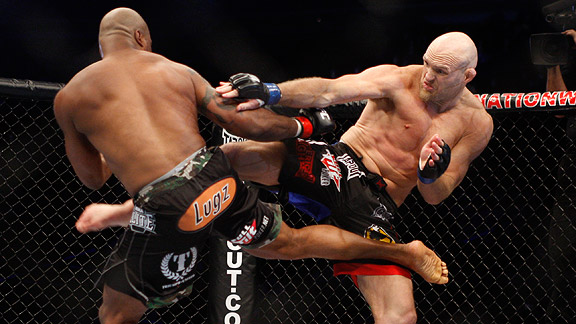 Ric Fogel for ESPN.com Rashad Evans teammate Keith Jardine, right, gave Quinton Jackson all he could handle for three rounds.
The most telling moment of Saturday's Jackson-Evans fight may come in its conclusion: Who will approach the other first to offer a handshake and the expected "all is forgiven" man-hug? Both? Neither? If the two refuse to face one another, is that proof enough that their yearlong feud was genuine and not for ticket sales?
For some, real or fabricated may not matter: Both men have done such a good job of presenting dislike for one another that it approaches the theater of pro wrestling. Who cares if they share a
cab to the arena? It's also a kind of built-in fertilizer for the action of the fight itself: Small things take on greater meaning when the fighters have raised the stakes for themselves. That's what Jackson and Evans have done: The winner gets a shot at the belt. The loser takes a shot of something else. Probably several.
What it means: For Jackson, an opportunity to quiet critics who think he's lost focus on fighting; for Evans, a chance to regain form lost in the Lyoto Machida fight and still largely missing in the Thiago Silva bout.
Wild card: Conservation: With so much ego already on display, neither man may be willing to risk too much to make something happen.
Who wins: Inactivity is any fighter's worst opponent; if he struggled with another Greg Jackson-branded fighter in Keith Jardine, he'll have a rougher time with Evans, who adds wrestling to Jackson's economical style. Evans by decision.