October, 3, 2014
Oct 3
7:07
AM ET

By Brian Campbell
ESPN.com
Archive
The big moment doesn't just happen to play-by-play announcer Jim Ross as much as the WWE Hall of Famer tends to happen to it.
There's no greater evidence of this phenomenon -- or compliment to his legacy -- than the many viral videos that flood social media immediately following a major sporting event, with
one of Ross' memorable pro wrestling calls dubbed over the top.
But when it comes to his philosophy of handling the big moment, Ross believes it's instinctual.
"Every call can't be the walk-off call, but you just have to feel it," Ross said. "It's a feel for the game and a feel for the moment of where you are. It won't be contrived. It will be organic. And if I make a legitimate emotional investment, the audience is likely to do the same."
[+] Enlarge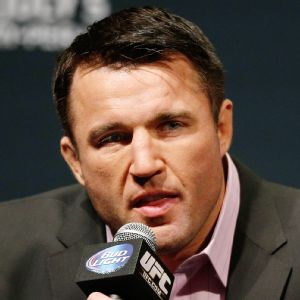 Josh Hedges/Zuffa LLC/Getty ImagesChael Sonnen's broadcasting acumen hasn't gone unnoticed by the legendary Jim Ross.
Ross admits he probably never would have been successful calling sports like golf and tennis. But he has done just fine throughout a career that has spanned four decades and produced the kind of iconic sound bites that have become part of the pop culture lexicon.
While his booming voice is best known for his work in pro wrestling, Ross' announcing background features stops in college football, pro football with the NFL and XFL, and most recently in boxing with Oscar De La Hoya's Golden Boy Promotions.
Ross will get a chance to add mixed martial arts to his resume tonight when he makes his debut alongside former UFC middleweight
Chael Sonnen
for the call of BattleGrounds MMA: "O.N.E." from the BOK Center in Tulsa, Oklahoma (10 p.m. ET, PPV, $19.95).
The event, which features a one-night, eight-man welterweight tournament, is a throwback to the early days of the sport and takes place in the same city where
Royce Gracie
submitted
Dan Severn
to win the UFC 4 tournament in 1994. On Friday,
Cody McKenzie
and
Brock Larson
will headline a group of fighters competing for a grand prize of $50,000.
"I have been a fan of MMA since the Art Davie days before Zuffa, where these one-night tournaments were kind of the bill of fare," Ross said. "It's a little guttural and quite visceral. You have to win three fights in one night, you have to stay healthy and you have to try to get your business done by going for finishes early and often. It's about as gritty as you are going to get."
Despite the predetermined nature of pro wrestling matches, Ross is comfortable making the transition into calling MMA fights because of what he calls a misconception about his previous role as a broadcaster.
"I really never encouraged knowing every minute detail of a pro wrestling presentation," Ross said. "I felt like I did my best work when I didn't know all of the minutiae. I didn't necessarily need to know who was going to win and thought that the less I knew, the better my performance would be."
One aspect of his new venture that excites Ross is the potential for chemistry with the man sitting next to him. Sonnen, who retired from fighting in June following a failed drug test that canceled plans for a bout against
Vitor Belfort
at UFC 175, is a seasoned broadcaster whose personality isn't unlike the many heel announcers Ross has worked with in pro wrestling.
"I think it's going to be exhilarating and absolutely fantastic," Ross said. "Chael is a natural communicator. He's funny when he needs to be. He can talk in sound bites when needed. He reminds me a lot of Paul Heyman -- very cerebral, high IQ, sound product knowledge. He'll tell you what time it is, not how to make the watch."
For Ross, it was also important to be paired with a partner who wasn't reluctant or resentful to work alongside a "pro wrasslin'" guy. He looks at their relationship as being simple: Ross is the point guard of the broadcast and will look to provide information and tell stories while teeing up his analyst to provide the technical expertise.
"I'm an Oklahoma City Thunder fan, and to me, Chael is K.D. He's Kevin Durant. It's my job to get Kevin Durant the ball and, if I do, more often than not he's going to score," Ross said. "I want to ask him questions that I feel like the average fan would be curious to know and ask him to get inside the head of a fighter."
Just as he did with his boxing debut in May, Ross is taking a somewhat cautious first step into this new venture, calling the show a one-off until he can evaluate how well he adapts to the genre.
"The bottom line is we have no control over the performance of the fighters inside the cage. That's completely out of our hands," Ross said. "They are going to make music. Is it going to be great music? I don't know. But our job is to provide the appropriate lyrics to whatever music they choose to play.
[+] Enlarge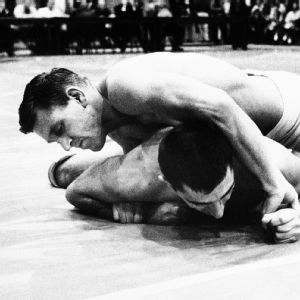 AP PhotoWrestling standout Danny Hodge would likely have made a solid mixed martial artist.
"But I have no trepidation whatsoever that my partner and I won't be able to deliver a unique, exciting and very entertaining evening of fights. Chael is going to say whatever he wants, as will I, and I think that has the potential to make the broadcast very unpredictable and unique. I think we are going to have a blast."
Ross, 62, retired from WWE in 2013 and stays busy with his traveling one-man show and his successful podcast, "The Ross Report." He also shared his thoughts on a number of other topics related to pro wrestling and MMA:
Brian Campbell:
How would you compare the similarities of marketing big fights in both pro wrestling and MMA?
Jim Ross:
There are a lot of similarities and that may not be what some MMA purists want to hear. I think as time moves on, more and more fighters in an organic, natural way are going to learn how to better sell their fights. You don't want to take it to the eye-rolling level of building a fight, but you want to be able to make it more personal. Muhammad Ali told me a long time ago that he realized he could make more money encouraging people to buy tickets to come see him get his ass whipped than he could to see him win. I think that what you're seeing is the same thing that Floyd Mayweather Jr. does now. You buy his fights to see someone shut his mouth or him continue to win. There is no gray area. There's no Switzerland or neutrality. And I think some of these fighters need to understand that you don't have to go to the pro wrestling promo school to learn how to sell your fights; but somewhere along your journey, if you want to maximize your opportunities in a business that traditionally doesn't have a long shelf life, you'd better maximize your fights. To do so, you have to learn how to sell.
Campbell:
Which pro wrestlers throughout history would have had the most success in MMA?
Ross:
Do a Google search on Danny Hodge, whom the equivalent to the Heisman Trophy in college wrestling is named after. He was a three-time national champion at Oklahoma in the 1950s and never lost a match. In his senior year, he never gave up a point, so no one ever escaped nor was he ever taken down. He went to two Olympic Games [winning one silver medal], and when his amateur career had ended, he decided he would take up boxing with zero formal training and won the United States heavyweight Golden Gloves championship. He had the ability to take people down, escape, knock you out and had this amazing strength where, today at 82, he could still
take an apple and squeeze the pulp out of it with his grip
. I saw him break a pair of pliers in his upper 70s. He had this uncanny, inhuman grip where once he latched on to you, not only was it excruciatingly painful, but it was hard to pry him loose. In today's world, I would say Jack Swagger [formerly Jake Hager], who was an All-American at Oklahoma as a heavyweight. He was 6-foot-6 and about 260, and coincidentally went to the same high school as Danny Hodge in Perry, Oklahoma. The other guy is Dolph Ziggler, who wrestled as Nick Nemeth at Kent State. He was a really good amateur and a high school teammate of
Gray Maynard
in Ohio.
Campbell:
What are your memories of WWE's "Brawl For All" tournament in 1998, which featured elements of boxing and amateur wrestling? Were the results as unscripted as advertised?
Ross:
It was a horrific idea, and I'm not taking myself out of the culpability factor because I was in administration at the time managing the talent roster as the executive vice president of talent relations for WWE. Creative came up with this idea off the heels of MMA kind of getting their toe in the water and becoming popular. We quizzed the locker room seeing if anybody would be interested knowing it's not going to be staged. You are going to go out and beat the hell out of each other, so understand the criteria going in. It's going to be the real deal. At the end of the day, because of all the injuries that those guys sustained, our medical bills were exorbitant. It caused some friction in the backstage area. Instead of going out and putting on a theatrical performance, they were really fighting each other. It's very challenging to go out and remain buddies when you are being encouraged to beat the hell out of each other. It took them out of their element and what they signed on to do. Now, they volunteered and got paid, and the king of the four-rounders [boxer Eric] "Butterbean" [Esch] got to fight the winner -- and boy, was that ugly -- but I don't know what good came out of it. As the guy who had to quell some hurt feelings and, out of my [own] budget, had to pay them while they were off work healing, it was a nightmare. But it totally was real.
March, 8, 2013
3/08/13
12:33
PM ET

By Josh Gross
ESPN.com
Archive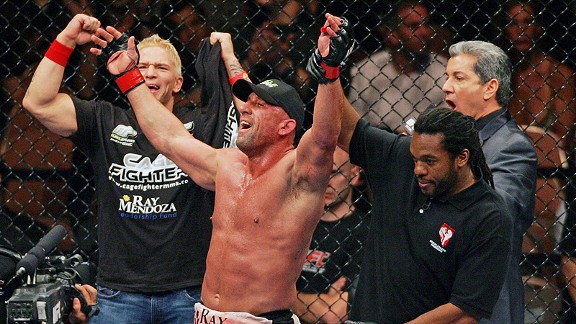 Cliff Welch/Icon SMI Mark Coleman officially retired from MMA as one of the most dominating heavyweights in the sport.
Just over two years since his last fight,
Mark "The Hammer" Coleman
officially retired from mixed martial arts this week. The 48-year-old mixed-style pioneer, a brutal force when he was at his best, will be remembered as one of the most influential heavyweights this demanding sport has produced.
Defeating
Dan "The Beast" Severn
in 1997 to become the first UFC heavyweight champion (
MMA heavyweight championship lineage timeline
), Coleman, a 1992 Olympian in Barcelona after winning an NCAA title at Ohio State University, established himself as the dominant force in UFC with a 6-0 start. Then the wheels fell off. He dropped three straight in the Octagon before taking another defeat, albeit a dubious one versus
Nobuhiko Takada
in Pride.
Coleman, the "Godfather of ground-and-pound," delivered the highest of highs and lowest of lows -- emblematic, one could say, of the man himself.
Immediate UFC dominance
[+] Enlarge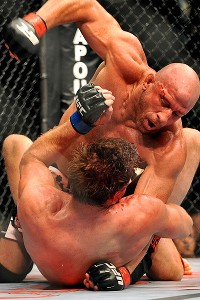 Jon Kopaloff/Getty ImagesColeman's powerful ground attack and punishing headbutts made him a dominant force in MMA.
Try as he might,
Moti Horenstein
, Coleman's debut opponent in 1996, had no hope of defending takedowns.
Gary Goodridge
lost by exhaustion. And while
Don Frye
, as hard a fighter as there ever was, managed to push Coleman into the 12th minute, he failed to match Coleman's speed, power, wrestling ability and unmerciful ground attack. That was UFC 10, an eight-man tournament Coleman used to introduce himself to the MMA world. Two months later, he won a four-man bracket at UFC 11, beating little known
Julian Sanchez
and well regarded
Brian Johnston
in a combined 185 seconds. That success led him to a title unification of sorts with Severn, then the reigning UFC Superfight champ, which he won. He undoubtedly inspired wrestlers to join up, a trend that significantly benefited MMA over the years.
Ground and pound master
There wasn't anyone worse to have on top of you in a fight than Coleman, especially when rules were liberal and he showed up in shape. Takedown to control to punches and headbutts. He ushered in this way of fighting at a time when grappling in the UFC meant the jiu-jitsu man held an advantage.
Rule changes
Pressure from politicians had as much to do with the tightening of UFC rules as anything else, and Coleman's pounding head trauma was a perfect example of that. The visage of him slamming his head into another man's while on top of him was gruesome. But so, so effective. After the UFC prohibited headbutts in Oct. 1997, Coleman seemed to lose steam. He was limited in terms of skill and relied on simply overwhelming the man underneath him. That was bound to catch up with Coleman at some point, and the rules adjustments hastened that reality.
Hammer House
Coleman became the frontman for a group of wrestlers turned fighters based out of Columbus, Ohio. They were never known for their skill, but man could they punish people. In fact, that's what training consisted of. Just beating the snot out of the other guy. Coleman's success propelled the team, which also included eventual UFC heavyweight champion
Kevin Randleman
.
Takada episode
After struggling through four straight losses, Coleman was matched with well known Japanese pro wrestler Nobuhiko Takada, Pride's first star. There's no way Takada should have defeated Coleman, even in this topsy turvy sport, but he did, and it immediately drew questions. Coleman has said he took the fight because he needed to support his family and was guaranteed another contest. He's never come out and admitted the bout was in fact a work, but he's never denied it either.
Pride Grand Prix 2000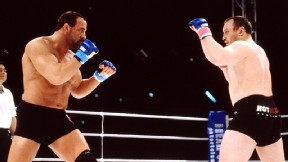 Susumu NagaoColeman resurrected his career by winning the Pride Grand Prix 2000.
Following the Takada mess, Coleman's record stood at 6-4, leaving him desperate for a turnaround. Over the next year and a half, he did exactly that, reeling off six straight wins, four of which leading to his resurrection as the Pride Grand Prix 2000 champion. The tournament was epic, and Coleman, largely dismissed heading into the 16-man competition, memorably bounced off the Pride ring ropes after stopping
Igor Vovchanchyn
to win it all on May 1, 2000.
The Smashing Machine
Several years after the Pride GP 2000, HBO aired "The Smashing Machine," a documentary that tracked Coleman and his friend
Mark Kerr
during their participation in the tournament. Kerr's story of drug addiction stole the director's focus. Coleman was grounded and professional by comparison, almost serving as a hero at the end. It remains one of the best pieces of film ever done about MMA.
Allan Goes destruction
Serving as a reminder of just how devastating he could be with less restrictive tools at his disposal, Coleman engineered one of MMA's scariest results when he repeatedly kneed
Allan Goes
in the head at Pride 13. This was the event the Japanese promotion opened up such tactics, including stomps and soccer kicks. Goes was forced to the hospital with bleeding on his brain, and Coleman seemed poised to dominate yet again. But a new breed had arrived, and his momentum was halted by
Antonio Rodrigo Nogueira
in his next fight.
Shogun win, Chute Boxe brawl
Fresh off one of the best stretches any mixed martial artist has ever put together,
Mauricio "Shogun" Rua
, the 2005 fighter of the year, was matched with Coleman. The contest ended in 49 seconds after Coleman drove Rua to the floor and the Brazilian suffered a broken arm. Coleman, however, continued to attack Rua, apparently unaware of what happened, and the Chute Boxe camp, including
Wanderlei Silva
, stormed the ring. It was wild. Silva was rabid.
Phil Baroni
, a member of Coleman's corner, responded in kind. It even spilled into the locker room area, with "The Axe Murder" declaring "war" on anyone associated with Hammer House.
Coleman consoles daughters after losing to Fedor
Of all the images Coleman produced over his career, none was more poignant than the sight of his two young daughters sobbing in the ring after their father was armbarred by
Fedor Emelianenko
. Afterwards the loss he spoke over a house microphone at the Thomas and Mack Center in Las Vegas, speaking of his love for his daughters. They stepped through the ropes, leading to incredible image of "The Hammer," his left eye horribly swollen, reaching out to his girls who seemed utterly terrified. Pride folded and Coleman returned to the UFC, where he lost a rematch to "Shogun," beat
Stephan Bonnar
at UFC 100, and fell to Couture.
October, 8, 2011
10/08/11
12:50
PM ET

By Chuck Mindenhall
ESPN.com
Archive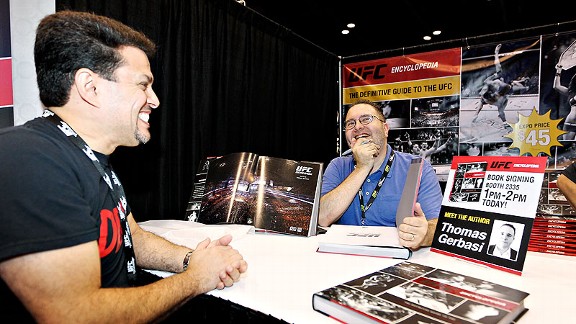 Ed Mulholland for ESPN.comThomas Gerbasi took time out of his busy schedule to mingle with fans (and coworkers) on Friday.
HOUSTON -- Whenever the UFC adjoins a fan exposition with a fight card, it becomes a testament to how far this sport has come.
The one going on in Houston this weekend is no different. Thousands of people with cell phone cameras mill about, hoping to bump into somebody/anybody in the fight game. And they do, because the place is teeming with fighters and fighter factions and fight game vendors/periphery ... almost everybody in loud, expressive t-shirts. People like Jens Pulver are happily mobbed. Jacob Duran, the man they call "Stitch" gets mobbed. MMAFighting's Ariel Helwani signs autographs and smiles for pictures.
It's organized bedlam.
And there was one booth in the middle of it all that could detail the UFC's long, curving road to the hitherto. That was the booth where Thomas Gerbasi, the UFC's Editorial Director, was signing the newly released UFC Encyclopedia (DK Books, $50) -- a 400-page undertaking that recaps and glossarizes every event that's happened from UFC 1, with bios beginning at Andrei Arlovski and ending with Yoshiyuki Yoshida.
Wondering about Anthony Fryklund? He's in there. The whole fraternity is; anybody who has ever stepped in the Octagon.
For historians who like tactile things, this beats Wikipedia -- and it's timely.
Realistically, most fans of MMA haven't been following the sport since UFC 1 in 1993. If the UFC is zeroing in on the 18-34 male demographic, that means the 18-year-olds in the equation were still in bassinets when the martial arts began to mix. There hasn't been a good, definitive look at the history of the UFC until this chronological tome, which uses graphs, stats, color pictures, blurbs and capsules to illustrate and detail every card (up to UFC 130), every fighter, every TUF season, and every nook and cranny in between (for you fetishists, there are four full pages of Dan Severn).
How author Gerbasi found the time to write it amidst all the other stuff he does at UFC.com (which is a lot) and his beat writing for the Gotham Girls Roller Derby team is beyond understanding.
"You see this red on the book spine? That's my blood," he joked. But thumbing through the book, which includes a double-truck on the Octagon girls both past and present, you can't help but think he's only half joking.