January, 19, 2015
Jan 19
6:08
PM ET

By Brett Okamoto
ESPN.com
Archive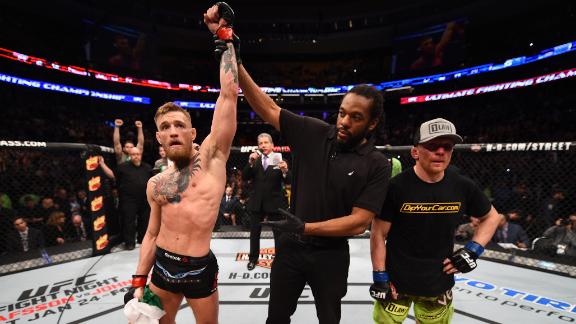 BOSTON -- Irish featherweight
Conor McGregor
will not fight
Jose Aldo
for the UFC title on Dublin soil -- but he could defend it there someday.
McGregor (17-2) is expected to challenge Aldo (25-1) for the featherweight title at UFC 187 on May 23 in Las Vegas. The promotion had reserved that date at 80,000-plus-seat Croke Park in Dublin, but logistics ultimately prevented the venue from hosting the title fight.
Among the reasons UFC will not visit Croke Park in May is that the company was unable to obtain the proper permits to start the fight in the early morning in Dublin.
The promotion alters the local start time of many international shows to allow them to air in prime time in the U.S. A UFC on Fox card next weekend in Stockholm will start at 2 a.m. local time.
UFC CEO Lorenzo Fertitta told ESPN.com that he remains optimistic the Dublin City Council might allow such an event in the future. If not, Fertitta said the UFC could explore other options.
"If Conor wins the title, we will bring him back there for a pay-per-view or maybe on Fox," Fertitta said. "We're not constrained as much at that point. But for this fight [Aldo vs. McGregor] -- believe me, as much as we wanted to go break that record over there and do 80,000 people, which there's no doubt in my mind we would do -- we just felt this fight would do better in Vegas."
McGregor has long expressed a dream of fighting for a UFC title in an Irish stadium such as Croke Park, which was built in 1884 and hosted a Muhammad Ali boxing match in July 1972.
Hosting pay-per-view events in international markets represents a major challenge for combat sports in general. UFC president Dana White estimated a 20 to 30 percent drop in buy rate when cards travel overseas.
He also said that, even with a massive Irish audience at Croke Park, UFC would profit more in Las Vegas due to overhead costs.
"At 91,000 [people] there, you actually do a bigger gate in Las Vegas," White said. "When you're in a stadium that big, you have big production costs you have to pay. Big screens. We'd definitely have to build something over the Octagon, because it will rain."
McGregor, 26, headlined a UFC Fight Night event at Dublin's O2 Arena on July 19. The sellout event drew an attendance of 9,500 for a live gate of $1.4 million U.S.