October, 15, 2014
Oct 15
8:22
AM ET

By Brett Okamoto
ESPN.com
Archive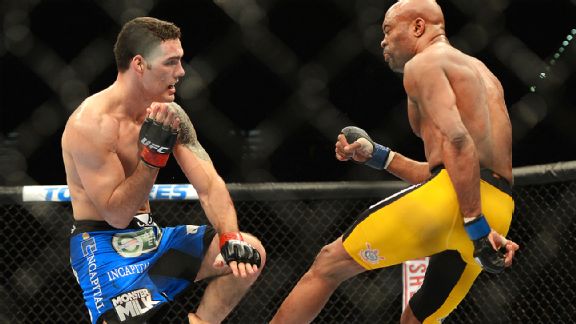 Jayne Kamin-Oncea/USA TODAY SportsAnderson Silva admits he went through trying times after breaking his leg in a loss to Chris Weidman.
A media function with
Anderson Silva
is always a bit of a crap shoot.
Silva, 39, has a few different faces when handling interviews. Sometimes he'll joke, play coy and offer seemingly nonsensical responses to anything he's asked. It's not unusual for him to grow bored in the middle of a line of questioning and start to answer only in "yes" or "no." He's also known to change his mind on rather significant topics, creating contradicting headlines within the span of weeks.
[+] Enlarge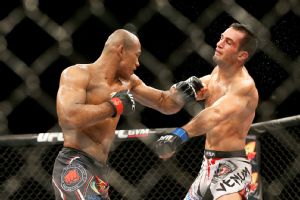 Ed Mulholland for ESPNAnderson Silva is in full support of Ronaldo Souza, left, and his quest for a UFC title shot.
At rare times though, Silva allows the fight world into his head (albeit briefly).
That was the case Tuesday, as Silva held an hourlong news conference at Copacabana Palace Hotel in Rio de Janeiro to promote a fight against
Nick Diaz
at UFC 183 on Jan. 31 in Las Vegas.
The Brazilian started the event in typical, awkward-Silva fashion -- saying something about reporters making jokes about his voice and legs (no reporter would make any such joke during the news conference). Between questions, he would treat his microphone like a pirate spyglass, scanning the audience for media members as they asked him questions.
Through all the antics, however, Silva spoke candidly about the pressure that had mounted on him over the course of his UFC-record 10 title defenses, expectations for the rest of his career and, of course, his recovery from the horrific leg injury he suffered during a loss to
Chris Weidman
at UFC 168 in December.
Silva fractured the tibia and fibula bones in his left leg in the second round of that bout, after Weidman checked an attempted leg kick. He was rushed to a Las Vegas hospital, where UFC surgeon Dr. Steven Sanders performed emergency surgery.
The former middleweight champion said he went into a state of depression after the injury.
"I don't like to remember it too much," said Silva, in Portuguese. "I went through the worst months of my life. I was in a lot of pain. The moment I broke my leg, I thought my career was over. I was depressed, upset. If I didn't have the people around me that I have, I might not have come back."
As it turned out, the break was fairly manageable from a medical standpoint. Silva avoided infection and estimates for his recovery were set at six months to one year. Five months after the injury occurred, Silva posted a video of himself kicking a heavy bag.
Since he announced he would return (immediately after the injury), headlines have gone back and forth regarding whether he'd pursue a UFC title again, how much credit he gave Weidman for the unusual win and if he wants to fight him a third time.
"

I went through the worst months of my life. I was in a lot of pain. The moment I broke my leg, I thought my career was over. I was depressed, upset. If I didn't have the people around me that I have, I might not have come back.

"

-- Anderson Silva, on life after his loss to Chris Weidman
On Tuesday, Silva (33-6) said he was neither gunning for a title shot nor avoiding one. He did say he is in full support of teammate
Ronaldo Souza
, who is currently campaigning for a UFC title shot.
"I went through that phase," Silva said of chasing a title. "I have to respect that 'Jacare' is out there and he has my full support to fight for the belt. I'm in the UFC too, but I've been through that phase. He's training a lot, doing very well and working hard for that. I'm not pretentious to go and fight for the belt right now. I have to qualify myself again to have that opportunity.
"This thing about returning -- it's because I feel I left something. I let go of this whole road of fighting in my last fights. I let something go and I'm looking for that again."
In comments similar to those of longtime UFC welterweight champion
Georges St-Pierre
, who vacated his title late last year and took an indefinite leave of absence from the sport, Silva said that the pressure of repeatedly defending a title had weighed on him and his family -- although he blamed technical mistakes for the back-to-back losses to Weidman last year.
"There's something else I felt in my past fights," Silva said. "I had a lot of pressure. I wasn't doing it because I was happy. Not that anybody was pressuring me. The UFC was not pressuring me. It was a self-pressure that ended up taking my focus and my will to do what I did. But it's been good. Everything that's happened made me restart and I've gone back a little bit. I've looked at a few things and I'm training to come back very well and continue doing what I do with a lot of love."
In regard to the left leg, Silva described it as "great." He claimed to be able to use it "without fear" and said he'd be 100 percent by the night of the fight.
Strength and conditioning coach Rogerio Camoes, who appeared at the news conference alongside grappling coach Ricardo De La Riva, boxing coach Luiz Dorea and Brazilian physician Dr. Marcio Tannure, said Silva is currently maintaining a "tactical" approach to training, relying more on pad work and drills than sparring. He anticipated Silva would continue to gain lower body strength through November and then build up his stamina in December.
Beyond Diaz, Silva didn't talk much about future opponents. He did say he would not move to the light heavyweight division to challenge defending champion
Jon Jones
(a move that seemed possible in early 2013) and acknowledged that a proposed boxing match against
Roy Jones Jr.
(another possibility that didn't seem entirely crazy in early 2013) is off the table. As he put it, UFC president Dana White took that "candy" away.
He did predict his countryman
Vitor Belfort
would defeat Weidman when the two meet in a fight expected to take place early next year. He repeatedly declined to express interest in a third fight with Weidman, though. He did say he intends to finish out the 10-fight contract extension he signed with the UFC in 2012.
"If I have to fight Weidman again, I will," Silva said. "A fight is a fight, but I don't like to keep talking about how I want to fight him again. People always ask who I want to fight and I always answer the same thing. I don't want to say anyone's name, so I say I want to fight my clone."
On a day when it appeared Silva was willing to be more honest (or at least more talkative) than the average day, it might be worthwhile to point out one of the final things he said.
Minutes before the news conference wrapped up, Silva, almost in a way that acknowledged his reputation for cryptic responses, offered a simple, direct statement.
"The new Anderson Silva -- he's good," he said. "No, seriously. He's very good."