May, 8, 2014
May 8
6:35
AM ET

By Brett Okamoto
ESPN.com
Archive
If the UFC had asked him to,
Darrell Montague
just might have paid for a ticket to his own Octagon debut.
In 2012, Montague's invitation to the UFC flyweight party must have gotten lost in the mail. He was not a member of the inaugural class of flyweights the UFC signed that year, even though he was widely considered to be a top-level talent.
Nineteen months after the first-ever UFC flyweight fight, Montague (13-3) made his Octagon debut at UFC 166. The event was incredible: six knockouts, one submission, a fight of the year candidate and a heavyweight title fight.
[+] Enlarge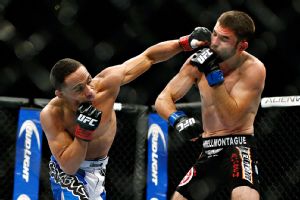 Josh Hedges/Getty ImagesDarrell Montague's UFC tenure got off to a rocky start, but he hopes to turn things around against Kyoji Horiguchi.
Unfortunately for Montague, he was on the receiving end of one of the six knockouts. Former title contender
John Dodson
viciously put him down in the very first round.
Still, all things considered, Montague says, it was a pretty awesome night.
"I've always been a fan of this sport and to be able to be on a card that big was huge," Montague told ESPN.com. "Diego Sanchez versus
Gilbert Melendez
has to be one of the top-10 fights ever in the UFC. The whole card top to bottom was just good fights.
"When I look back on it, it will be awesome to be a part of that card."
Montague's positive feelings toward a night in which he was unwillingly removed from consciousness aren't surprising once you learn more about him.
The Southern California-based flyweight started watching the UFC during childhood alongside his father -- a man Montague guesses would be less proud of him today if he were a practicing surgeon instead of a professional fighter.
In middle school, Montague and his best friend would rent VHS tapes of UFC events and fight one another in the backyard. He began training Muay Thai at age 15 and started competing in "smokers" -- unsanctioned amateur fights -- at 17 years old.
He's spent so many nights watching live UFC events on television, it actually kind of rattled him to do so on the night of his debut.
"It was weird when I was in the locker room watching the UFC," Montague said. "Then it clicked, 'Oh f---. I'm about to walk out there. I'm part of this.'"
Montague, 26, clearly isn't concerned over the outcome of his first UFC fight -- but that doesn't mean he's content with losing.
From the moment he started training, Montague says a UFC title has been the goal. He'll look to start moving in that direction this weekend when he makes his second UFC appearance against
Kyoji Horiguchi
at a UFC Fight Night event in Cincinnati.
"Pretty much the first day I walked into a gym was because I wanted to fight and be a champion," Montague said. "The only thing holding me back mentally was I didn't know if they would ever have my weight class. I was 100 pounds when I started.
"I always thought I might have to fight on just local shows. All of a sudden the sport started to blow up and now the UFC has my natural weight class."
"

Pretty much the first day I walked into a gym was because I wanted to fight and be a champion. The only thing holding me back mentally was I didn't know if [the UFC] would ever have my weight class -- I was 100 pounds when I started.

"

-- Darrell Montague
Ahead of this fight, Montague signed a representation contract with MMA Inc., which opened a door to train at Team Alpha Male in Sacramento. Many members of the gym --
Urijah Faber
,
Joseph Benavidez
,
Chad Mendes
-- are affiliated with MMA Inc.
In addition to the two weeks he spent in Sacramento, Montague trained at Nick and Nate Diaz's facility in Lodi, California and expects to pursue more training opportunities at different gyms as his career progresses.
Interest was high in Montague for his UFC debut in October. He and Dodson helped kick off the pay-per-view portion of the card. For his encore performance, he says he has given one interview. You're reading the results of it.
That suits him fine, though. He waited his turn to join the UFC's 125-pound roster and he's not especially anxious to break into its rankings. It will take care of itself.
"It would have been nice to win that fight because it would have put me close to the top of the division," Montague said. "But I'm pretty much in the same spot as before. I'll have more fights to prove myself.
"I just want to take my time and I don't care where I stand. I'll let [the media] decide that kind of stuff. I'll do my best and see where the rankings fall."
September, 19, 2012
9/19/12
1:05
PM ET

By Brett Okamoto
ESPN.com
Archive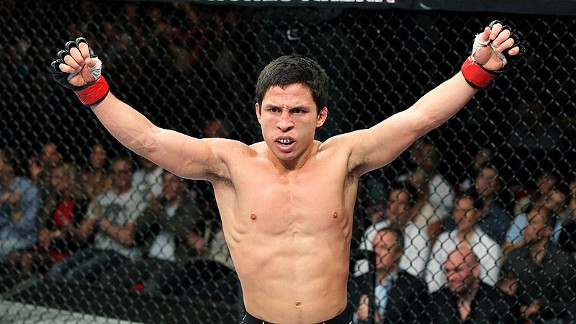 Josh Hedges/Zuffa LLC/Getty ImagesStrong and fearless, Joseph Benavidez takes aim at becoming the UFC's first flyweight champion.
The UFC will crown its first flyweight champion this week at UFC 152, making now the perfect time to rank who's who at 125.
Top-ranked
Joseph Benavidez
and
Demetrious Johnson
likely need no introduction by now, as they're set for the UFC 152 co-main event on Saturday in Toronto, but the rest of the names on this list might.
The flyweight division doesn't carry the most recognizable names in the UFC yet, but let us assure you that its Top 10 features loads of talent.
Here's a closer look at how ESPN.com staff members, including Chad Dundas, Josh Gross, Franklin McNeil and Chuck Mindenhall, see the division.
[+] Enlarge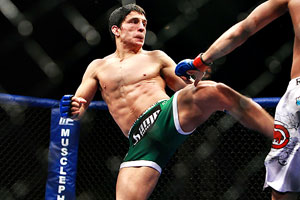 Dave Mandel for Sherdog.comOne of the most complete fighters in mixed martial arts, Joseph Benavidez gets an opportunity to compete in his natural weight class.
No. 1 Joseph Benavidez (16-2)
There's only been one mountain Benavidez hasn't been able to climb, and that's UFC bantamweight champ
Dominick Cruz
. Benavidez has two losses in six years, both to Cruz, and both very close. Now he's at his natural weight class and is the near-consensus pick to reign over the division. Wondering what he does well? Everything. He's one of the most composed fighters in the UFC, and his game has no holes. In fact, he's the only flyweight you'll find in the pound-for-pound rankings at ESPN.com.
McNeil:
The flyweight division's most fearless fighter also happens to be its most aggressive.
Mindenhall:
The division was created for him to dominate. With his diversity and strength, he will do just that.
No. 2 Demetrious Johnson (15-2-1)
Meet the fastest fighter in the UFC. Johnson's speed is one of the most talked-about advantages in the sport. Add in the fact he's also extremely technical, and it's almost not fair. Maybe the only way to slow him down is to keep him on the ground, which no one seems capable of doing. Even when Johnson gets put on his back, he's usually to his feet before judges even notice. And by the way, at 26, he probably hasn't hit his peak yet.
Dundas:
I'll consider it an upset if Johnson beats Benavidez, but not much of one.
Mindenhall:
The second McCall fight showed that Matt Hume's guy isn't all flash and thunder, but that he's a smart fighter who can execute tactically under pressure.
[+] Enlarge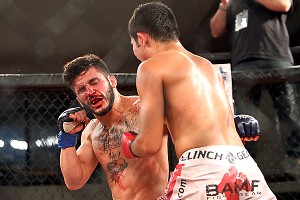 Jeff Sherwood for Sherdog.comIf there is such a thing as enjoying being hit, Ian McCall, left, proudly fits the description.
No. 3 Ian McCall (11-3-1)
McCall won't match the speed of his fellow flyweights, but he makes up for it with size and wrestling ability. He's a fighter's fighter -- the guy in the division (always seems like there's at least one) who seems to genuinely enjoy getting hit. McCall can be a bit of a slow starter, but he turns into a monster as a fight goes on. No one on this list is more influenced by the crowd, and his outright crazy side has a visible effect on some opponents over 15 minutes. He's had a bumpy road outside the cage, which could very well end up being the one thing that holds him back. In the cage, his ground-striking, takedown defense and boxing make him tough to deal with.
Dundas:
McCall spent 17 days in jail in August after his arrest for driving with a suspended license. If he can keep it between the lines, he's a potential champion.
Gross:
McCall may be his own worst enemy, and with competiveness brewing at 125, he won't do well in the long run fighting himself and the competition.
No. 4 Jussier da Silva (14-1)
The perception is da Silva poses no threat on his feet, but that's inaccurate. No, "Formiga" is no knockout threat, but watch him transition to an opponent's back without even needing a full takedown and you'll see what we're talking about. Ultimately, da Silva does need to improve his hands if he wants to topple the best, but his submission skills alone warrant this spot on the rankings. If the well-rounded UFC opposition can keep him on the outside, he's in trouble. But give Da Silva an opening to get where he wants and the Brazilian will be super-glued to your back. His only loss came at the hands of the man ranked right above him on this list.
McNeil:
That high-profile loss to McCall last year still haunts Formiga.
Mindenhall:
We know he can finish, but the question is, how does he handle the step up in competition?
[+] Enlarge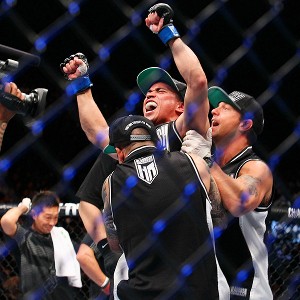 Susumu Nagao for ESPN.comWith the title path more open, striker Chris Cariaso looks to make an immediate impact at 125 pounds.
No. 5 Chris Cariaso (14-3)
Cariaso represents one of those situations where he really didn't
need
to drop a weight class, but the title path is more open at 125. He'll throw kicks to the leg and body like they're jabs, and he has good defensive instincts on his feet. He likes to counter with the right hand, which won't cause much damage on its own, but he lands it often and it's a rhythm disrupter to opponents. Only two submission wins in his career, so he's not known for his grappling, but this guy can be sneaky-good off his back. If you fall asleep in his guard, he'll take advantage of it.
Dundas:
Losses to
Michael MacDonald
and
Renan Barao
are nothing for Cariaso to hang his head about.
Gross:
Fighting at flyweight provides new life for Cariaso, who will never go down without a fight.
No. 6 John Dodson (13-5)
The hyperactive Dodson has said he'd like to win titles at 125, 135 and 145 at some point. Those aspirations might seem a little high, but 125 is certainly within his reach. He sets a pace that can wear out an in-shape flyweight (not easy to do), and he packs more power in his standup than you'd think by looking at him. His takedowns are actually incredibly explosive, but they often go overlooked because he rarely does much with them. Mostly, it feels like Dodson looks at them as a way to score a few points before getting back to business on his feet. He's fun to watch and has so much experience fighting talented, bigger opposition.
Gross:
The potential is there, no doubt about that, but it takes more than that to assert yourself in a weight class.
Mindenhall:
He was the smiling fink of the TUF 14 house. His height is a liability, but the dude's a rare combination of acrobatics and mean.
[+] Enlarge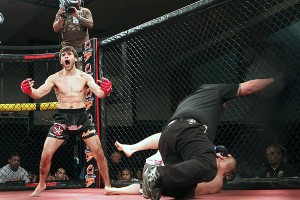 Jeff Sherwood/Sherdog.comDarrell Montague is not with UFC ... for now. But don't be surprised if you see him fighting very soon.
No. 7 Darrell Montague (11-2)
The only name on this list not currently contracted by the UFC, but it's likely only a matter of time before the 24-year-old hits the Octagon. He's been a menace in the flyweight proving grounds that is Tachi Palace Fights, with one signature loss you know he'd like back against McCall in 2011. A southpaw, Montague likes to take the center of the cage and stalk his prey. He trusts his hands and that makes him fun to watch. Good counterpunches and a high comfort level in stringing together combinations as opposed to single power shots. You will see Montague knockout highlights inevitably pop up in years to come.
Dundas:
He figured to be among the first crop of flyweights snapped up by the UFC until the loss to McCall. Back on track with two wins, it likely won't be long until he's bound for the Octagon.
Gross:
This confident kid will get his shot at the big time someday soon.
No. 8 John Moraga (11-1)
A lot to like about this dark horse in the flyweight division. Moraga isn't going to bounce around the cage like a Demetious Johnson, but he's got speed where you want it -- in his hands. This guy can unleash punches opponents never see coming and his power is undeniable. No glaring holes to speak of, and keep an eye out for a strong guillotine, much like the one we've come to learn his teammate
Ben Henderson
possesses.
McNeil:
Despite showing off his striking prowess against
Ulysses Gomez
in August, UFC fans will soon learn that Moraga has solid submission skills.
Mindenhall:
Great submissions, and he has been packing a better punch since losing to Dodson back in 2010. Verdict's still out on how he stacks up with the top guys.
[+] Enlarge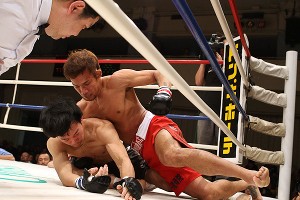 Taro Irei/Sherdog.comExpectations are high in the UFC for Yasuhiro Urushitani, right, despite a tough Octagon debut.
No. 9 Yasuhiro Urushitani (19-5-6)
Urushitani didn't exactly sparkle in his UFC debut, but he gets a semi-free pass for that loss, considering it was against Benavidez. That said, expectations are high for the Japanese fighter early, so a strong sophomore performance in the UFC is key. Urushitani is known for his counter striking, but he's actually capable of moving forward when his confidence is high. He's got a nice straight left he'll throw down the pipe, but watch that left hand when it's not being used. Urushitani tends to keep his hands around his waist and rely on elusiveness to avoid strikes. Sometimes it works and sets him up beautifully for counterstrikes. Other times, well, he wakes up to the sounds of a fired-up Benavidez running around him.
Gross:
A veteran of the division, he failed to do much against Benavidez, further cementing the weak reputation of Japanese fighters in the Octagon.
McNeil:
He's a much better fighter than the guy who appeared lost in his Octagon debut against Benavidez.
No. 10 Louis Gaudinot (6-2)
What a difference 10 pounds can make. Any fighter on this list likely knows that feeling from competing at 135, but Gaudinot might know it best. His particular style just doesn't bode well against bigger guys -- but it should be darned effective on smaller ones. Gaudinot is not fleet of foot. He's got a flat stance, and he's unafraid to sit in the pocket. At 135, walking down bigger guys just wasn't going to get him to the top. At 125, the green-haired Gaudinot is going to be an imposing figure. He'll take one to land one, and if he can catch up with the speed of the other flyweights and work a takedown here and there, his tenacity and bullish attitude will win fights. A Gaudinot-McCall fight would produce fireworks.
Dundas:
Had the heart but not the size to be UFC bantamweight champion. His high-octane style likely makes him a matchmaker's favorite.
Gross:
If you can get past the green hair, you'll see a hard-nosed powerhouse benefiting from fighting at his natural weight.
August, 6, 2011
8/06/11
3:46
PM ET

By Josh Gross
ESPN.com
Archive
LEMOORE, Calif. --
Ian McCall
's third round submission Friday night over Tachi Palace Fighting flyweight champion
Darrell Montague
suggests several things about the 27-year-old.
McCall's decision win in February against Brazilian
Jussier da Silva
, then ranked No. 1 in the division, wasn't a fluke.
When he's focused and determined, a guy known as "Uncle Creepy" might be the best 125-pound mixed martial artist in the world.
Based on the looming possibility that Zuffa will adopt the weight class by the start of 2012, his ascension could not have come at a better time.
"Right now I feel like I am the [flyweight] torchbearer and that means so much to me," McCall said following a dominant performance against 23-year-old Montague (9-2). "I can be the guy that everyone looks at and says he's the best -- look at him. If I don't have some sort of magnetism now I want to figure out how to get it because I want to make people fall in love with me."
For various reasons, flyweight agrees with the 5-foot-5 McCall, who shed 10 pounds and joined the improving cast in that particular division earlier this year.
"At 125 the guys are his own size," observed McCall's trainer Colin Oyama. "At 135, he cuts about five pounds. Those guys like
Dominick Cruz
are humongous. At 125, at least the guys won't have that significant weight advantage.
"He's a lot more focused now than he was then. Becoming a parent, looking at some of the legal problems he got into, realizing jail is for real and mom and dad can't save you if it goes wrong, kinda scared him a little bit to where he knew he had to grow up. Even at 135 I think he'd be OK, maybe not as dominant because of size. But the effort he's put in, the stuff he does now, trying things instead of just taking guys down. He's learned a lot of things."
McCall's skill was on display in the main event of the final night of outdoor fights at the Tachi Palace Hotel & Casino, a Vegas-style oasis in the middle of Nowheresville. Originally the host venue for World Extreme Cagefighting, a pioneering promotion in its own right, Tachi crowned and hosted a featherweight champion by the name of
Urijah Faber
in the early part of his career. Business shifted and eventually Faber matriculated over to the UFC. McCall said he thinks "all the time" about his chance to do the same, taking every opportunity to prod UFC president Dana White on Twitter or text Strikeforce matchmaker Sean Shelby, which he did tonight after winning.
TPF matchmaker Richard Goodman expects to promote one more fight with McCall this year, and if Shooto obliges he wants to match the new champion against Yasuhiro Urushitani (19-4-6). Otherwise, a rematch against da Silva (10-1) could be next. The 26-year-old Brazilian grappler also out-pointed veteran Mamoru Yamaguchi on Friday.
Da Silva bulked up after the loss to McCall, and seemed much more prepared for the physical style he knows he'll encounter in the States. After sweeping the cards, da Silva relaxed and watched McCall and Montague live up the expectations as they put on the best bout of the evening.
"Ian fought really well," said da Silva. "He had the right strategy, was patient to take [Montague] down at the right time. He didn't rush into it and get caught in something."
McCall, in fact, overwhelmed Montague. He dropped the younger man with a right straight at the end of the first round, and battered him on the floor in second before sealing the choke victory.
"I felt a lot stronger than he is," McCall said. "I felt him break."
The performance against Montague was a marked improvement on his effort against da Silva, which though successful included moments of uncertainty.
"I didn't go all out with Jussier," he said. "I felt guarded, nervous. I gave him too much respect. He deserves it, the guy is a stud, but you gotta throw caution to the wind sometimes and I didn't go all out in that fight. Obviously he won tonight so we'll probably fight again. Next time it will be different."
Defeating Urushitani or da Silva would secure McCall's top spot at 125, which presumably makes him first in line for a UFC flyweight title shot when Zuffa gets around to promoting one.
"Who knows, when the UFC merges I'm sure
Demetrious Johnson
and those guys will move down," Oyama said. "They're all good wrestlers as well. I think Ian has a wide array of weapons and keeps adding new things. He's going to continue learning. Fighting here has been good for him, to get his confidence back and to expand the toolbox a little bit and test it out on people, good people, not chumps."
August, 5, 2011
8/05/11
11:55
AM ET

By Josh Gross
ESPN.com
Archive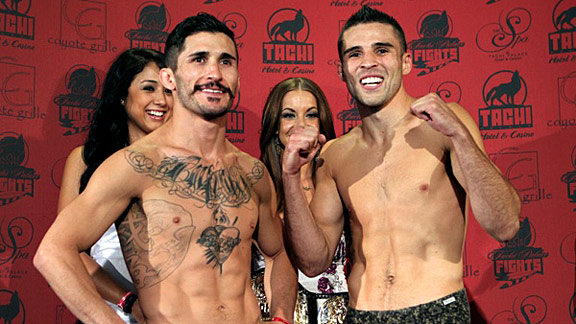 Sherdog.comLittle big men: Flyweights Ian McCall, left, and Darrell Montague are set to soar at TPF 10.
Sorry, Philadelphia, you're not hosting the best mixed martial arts main event of the weekend.
That honor goes to tiny Lemoore, Calif., where flyweights
Darrell Montague
and
Ian McCall
are slated for what sets up to be a five-round war at the Tachi Palace.
"I think if you tune in [today] you'll see," said Montague, who captured the 125-pound title with a dominant decision over Ulysses Gomez in February. "We'll definitely have a more exciting fight than Rashad [Evans] and Tito [Ortiz]. There are some good fights on the undercard in the UFC -- of course the UFC is the best organization in the world and more people are going to be excited about that -- but if you look [at] main event versus main event we have a better matchup style."
Because Zuffa has yet to fold the flyweight division into its ranks, Tachi Palace Fights, a promotion tied to the Central California tribal casino that gave rise to World Extreme Cagefighting, has established itself as the preeminent promoter of 125-pound mixed martial artists.
"Two years ago it wasn't even talked about by UFC," said Richard Goodman, the promotion's matchmaker. "Now they've openly said they'll have that weight class eventually. I think we've done an awesome job showing what this weight class has to offer compared to some of the other weight classes."
Montague (9-1) and McCall (10-2) are currently Tachi's top two flyweights, each ranked among the top five in the world, each eyeing the future while focusing on what's directly in front of them.
"We're going to beat the s--- out of each other for five rounds, if it lasts that long. Obviously, I don't plan on it lasting that long," said McCall, who went the distance with
Dominick Cruz
at bantamweight in 2009. "Technically we're up there. I don't think people give us the respect we deserve."
TPF-contracted fighters, of course, cannot compete with their brethren in the Ultimate Fighting Championship for attention. With UFC 133 in Philadelphia on Saturday, headlined by a three-round light heavyweight tilt between former champions
Rashad Evans
and
Tito Ortiz
, Montague-McCall was already going to struggle for coverage. Caught in the deluge of news about fighter cuts, including what appears to be the end of
Fedor Emelianenko
in Strikeforce, the TPF main event may not get noticed until it's over. And even then, only if it delivers.
"The online community, I'm pretty sure they'll be excited to watch," Montague said (fights will be streamed live on Sherdog.com at 8:30 p.m. ET). "Both of us feel that we have so much to prove we'll do what we have so much to prove that we'll do whatever it takes to put on a good fight. It's a good recipe for some exciting stuff."
Neither flyweight had the same to say about the matchup between Evans and Ortiz, especially the 27-year-old Colin Oyama-trained McCall, who personally dislikes both fighters.
"I definitely think we're one of the best matchups of the weekend," said the flyweight challenger. "Evans and Tito, in all honesty, who really cares? Neither of those guys are going to beat
Jon Jones
. ... They seem like idiots and a--holes. That's just me venting a little bit. I've met them both on a couple of occasions and kinda not liked them."
A month removed from the first bantamweight main event in the UFC, it's not so crazy to think flyweights could soon benefit from a similar opportunity. That would likely mean an end to Tachi Palace Fights as the home to the best 125-pound matchups in MMA, a fate Goodman has already accepted.
"We're just going to go back to building up fighters rather than having the top fighters with us," he said.
Montague, 23, is a sharp striker who expects to be tested by McCall's strength and wrestling.
"I think if I do the same thing that I did to Ulysses and shut Ian down, make it my fight, I assume all the media will jump on my bandwagon and tell me I'm the best," the titleholder said. And if that happens, Montague expects to soon be aligned with the UFC, grabbing headlines instead of fighting for them.