March, 14, 2013
3/14/13
5:55
AM ET
What exactly is
Georges St-Pierre's
"dark place"? It has become a hashtag on Twitter for one thing -- an unlit place where St-Pierre himself never goes. Leading up to this weekend's fight with
Nick Diaz
at
UFC 158
in Montreal, the UFC ran a slick promo package with St-Pierre cautioning Diaz about an unfathomable self
within
. This would have passed off as normal PPV shtick if emotions didn't turn so raw in the media call last week.
Then it became actual theater.
Diaz alternately complimented St-Pierre and spat on him, often in the same breath. St-Pierre, who is usually a picture of intense cool, came unmoored a little bit. He had trouble getting a word in edgewise as Diaz rambled on about being pampered and St-Pierre's tight shorts. By the time St-Pierre called Diaz an "uneducated fool," his dark place seemed like more than "putting American quarters in vending machines," as MMA Junkie's Dann Stupp joked on Twitter. His personal torment bubbled up to the surface for a minute for everyone to glimpse.
All of this begs the question: Is Diaz in St-Pierre's head a little bit? The answer is: of course! He can't not be. But this is all just fun with intangibles. When you think about the fight itself, it's easier to imagine St-Pierre's wrestling nullifying that "Stockton Slap" than vice versa. If Saturday night's main event goes to the ground, and St-Pierre puts the hurt on Diaz (for five rounds, or for one explosive one), the sound you'll hear might be laughter emanating from St-Pierre's dark place.
FIVE THINGS TO KNOW/STORYLINES
Jake Ellenberger as dark horse contender
The third welterweight fight on the card pairs up
Jake Ellenberger
with
Nate Marquardt
. No, a win over Marquardt won't be the same as if he had beat his original opponent,
Johny Hendricks
. But an emphatic victory still might launch Ellenberger into title consideration if (A) Hendricks loses to Carlos Condit, (B) St-Pierre handles Diaz and (C) the UFC thinks it's too soon to roll out Condit-St-Pierre II.
The rise of Darren Elkins
[+] Enlarge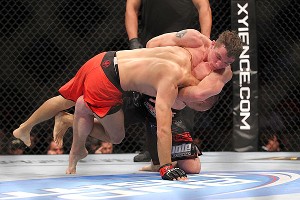 Ed Mulholland for ESPN.comWith a 4-0 mark since making the move to featherweight, Darren Elkins is in search of an exclamation mark against Antonio Carvalho.
Darren Elkins
wasn't a slouch as a lightweight, going 1-1 before dropping down to 145 pounds -- but he has been gangbusters since losing that weight. Elkins is 4-0 as a feather (even if you eye the
Michihiro Omigawa
decision somewhat suspiciously). If there's a knock, it's that all of his wins have come via decision. An exclamation point finish over
Antonio Carvalho
would do wonders.
The rise of Chris Camozzi
The middleweight division has gone on a long time without a
Chris Camozzi
to come along and mess things up. But guess what? If Camozzi gets by
Nick Ring
on Saturday night, he's suddenly riding a four-fight winning streak and begins to encroach on top-10 radars.
St-Pierre, Diaz as rivals
Rivalries consist of more than heated arguments and rising dander, don't they? The headlining fight between Diaz and St-Pierre is being loosely dubbed a "rivalry," even though this is their first meeting. Yes, they were booked to fight each other in 2011 before Diaz's insubordination became a thing. But a rivalry? If Diaz pulls off the upset Saturday night, then we've got a rivalry. Forget rematch -- that would open the floodgates to a trilogy.
Diaz's long layoff
Diaz will have gone 405 days between fights, which is the longest layoff of his career. Just how this will affect him remains to be seen. The longest he went before that was 314 days between his first pro MMA bout and his second, back in 2001-02. How did he respond to that gulf? By decisioning
Chris Lytle
. Of course, that was eons ago, when he was barely 18 years old and things like metabolites were still tucked away in their lexicons.
FIVE QUESTIONS
Can Diaz get back up?
[+] Enlarge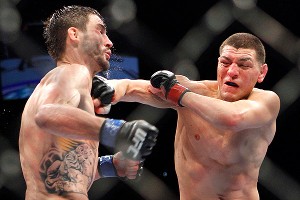 AP Photo/Eric JamisonIt's not secret that Nick Diaz, right, is comfortable trading punches on his feet. But how will Diaz fare once Georges St-Pierre takes him to the ground?
We've seen optimism from everybody St-Pierre has faced going back to
Jon Fitch
. They all talk about staying off their backs, and then end up staring at the Octagon lights for five rounds (except for
Josh Koscheck
and
Jake Shields
, who couldn't see anything past the jabs crashing into their sockets). Diaz isn't known for thwarting bull rushes. But he is known to be crafty on the ground and in scrambles. Can he get back up? Aha! That's the question. Crazier, can he reverse St-Pierre and submit him on the ground?
Can St-Pierre get a finish?
It has been four years since St-Pierre finished a fight, and that was at UFC 94 against
B.J. Penn
. Even in that one, it wasn't overly dramatic -- Penn simply didn't answer the fifth-round bell after a steady mauling. A statistic such as that can lead to "pressure," and St-Pierre can't help but feel it. Chances are, when the fight feels comfortable enough, he'll look for the finish.
Is Hendricks next with a win?
We've been asking this same question since last year when the tulips came up in the spring and Hendricks was fighting Koscheck -- does a win get Hendricks a title shot? The answer is, of course --
maybe
. Hendricks not only beat Koscheck, he salted
Martin Kampmann
next for good measure -- and yet here he is again opening for St-Pierre's big act. Unless the roof falls in on the Bell Centre, a win over Condit should get him that evasive title shot.
Can Diaz win a decision in Montreal?
Diaz doesn't particularly like judges, because he suspects they don't like him (see: UFC 143). But let's make something clear: If his fight with St-Pierre, a native son of Quebec, goes to the gavels, his chances of victory share a percentage with the world's most popular milk (2%). Not necessarily because of hometown favoritism (though there's that), but because can you imagine St-Pierre getting outpointed?
If Marquardt-Ellenberger goes past the first round, then what?
Your guess is good as mine. As
Brett Okamoto
pointed out, Ellenberger likes to throw punches with such all-or-nothing force early in fights that he's running on fumes toward the end. Then again, Marquardt has had some trouble with determined wrestlers (such as
Yushin Okami
and
Chael Sonnen
), and if patient dictation of the will is Ellenberger's tact, this thing becomes a crapshoot.
WHO'S ON THE HOT SEAT
[+] Enlarge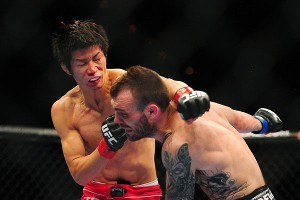 Mark J. Rebilas for ESPN.comGeorge Roop, right, enters his UFC 158 bout against Reuben Duran hoping to ensure job security by avoiding a third straight loss.
George Roop
-- Granted, losing to
Hatsu Hioki
(narrowly) and
Cub Swanson
(definitively) isn't all that bad. But a third loss in a row, against
Reuben Duran
(1-2 in the UFC), just as the UFC is tidying up its roster? Not good.
Reuben Duran
-- See above, only reversed.
Rick Story
-- Remember when he dominated
Thiago Alves
and was calling out Fitch and Koscheck? Distant memory. Losing to Strikeforce immigrant
Quinn Mulhern
would make it four losses in five fights, which is a roundabout way of saying "curtains."
Patrick Cote
-- Since coming back to the UFC, he lost very unspectacularly to
Cung Le
and then was the victim of a series of illegal back-of-the-head blows from
Alessio Sakara
last time the UFC visited Montreal (remember that inexplicable brainlock?). Play the dramatic doom music: Cote is walking the plank against
Bobby Voelker
this weekend.
Mike Ricci
-- That knockout of
Neil Magny
during TUF 16 was fun, but if he drops to 0-2 in the UFC by losing to
Colin Fletcher
, it's hard to justify his roster spot.
Colin Fletcher
-- The mask. Won't. Save him.
WHY YOU SHOULD CARE
Because it's a welterweight bonanza that features the best 170-pound fighter ever (St-Pierre) ... because St-Pierre has good reason to abandon "safe" in his attempt to punish Diaz ... because Diaz doesn't do "safe," and fights off his back like a fire hose that got away from its handler ... because with Hendricks, the word "southpaw" barely describes the brute force in that left hand … because Ellenberger leaves behind his aura each time he throws a first-round punch … because that's Marquardt's chin he's aiming at … because
Carlos Condit
is due for a finish after going 0-for-2 in 2012 in that department … because St-Pierre's dark place becomes, for one night only, a popular destination.
May, 29, 2012
5/29/12
1:12
PM ET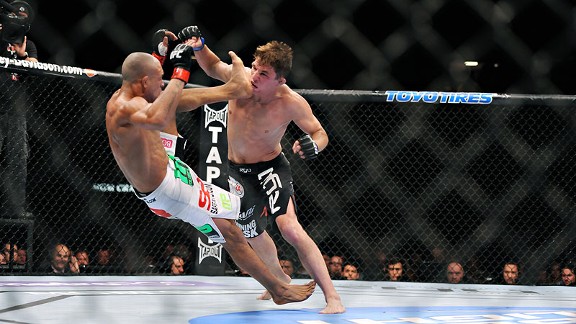 Rod Mar for ESPN.comTripped up: Diego Brandao's "can't miss" stock took a hit on Saturday.
At the end of April, prospects
Rory MacDonald
and
Michael McDonald
did work at UFC 145 in Atlanta. MacDonald's work was a showcase fight with an outmatched Che Mills, while bantamweight McDonald's was an eye-opening win over
Miguel Torres
.
Today, both are being speculated in title talks. That was April.
May has not been so kind for prospects and buzz names in the UFC. First it was featherweight
Dustin Poirier
, who was made a centerpiece for his UFC on Fuel fight with
Chan Sung Jung
. He was being groomed as the next in line for the
Erik Koch
/
Jose Aldo
winner, and was riding the wave of intrigue when the "Korean Zombie" happened. Who was this Jung, and where did he spring from? This version was light years removed from the stumblebum who traded with
Leonard Garcia
for three rounds back in the WEC.
The fight game is full of surprises. Suddenly, it's Jung closing in on a title crack instead of Poirier, who is forced to treat the whole thing as a set back.
And he wasn't the only fresh batch to be thrown out. At UFC 146 in Las Vegas, two more prospects went down.
There was 24-year old Diego Brandao, whom many people were talking about the first big talent to come off the "Ultimate Fighter" series in years, who lost to a resilient
Darren Elkins
. Extract the Brandao of the first round and spread it over three, and there's the star in wonder. But, as everybody knows, fights have moods. Elkins came roaring back. Brandao succumbed.
[+] Enlarge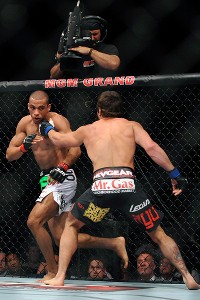 Rod Mar for ESPN.comEdson Barboza was on the fast track toward a title shot -- until this happened.
And then there was
Edson Barboza
, who scored what might be the knockout of the year against
Terry Etim
at UFC 142 with that spinning wheel kick. He lost to an opportunistic replacement in
Jamie Varner
in his follow-up.
Of all of the upsets to occur in May, this one stands out as the true thud. With Poirier, you knew Jung would be tough, and Brandao is still green enough to trip. But Barboza? He was undefeated and fierce and fighting a guy who was largely thought to be washed up and recycled out of necessity. He was fighting the replacement. Nobody saw Varner coming. Not many believed in Varner's second coming the first time through.
But Varner became to Barboza what
Charlie Brenneman
was to
Rick Story
a year ago, back when Brenneman took the fight on late notice when
Nate Marquardt
was plucked for high testosterone levels. He became a monkey wrench. Story was on pace for a title shot in the welterweight division and was calling out guys like
Jon Fitch
after dominating
Thiago Alves
. When Brenneman was dealt in just 24 hours before the fight, it felt like he was nothing more than a warm body being stuck in there to salvage the card.
On Saturday, Varner was thrown in there for the injured
Evan Dunham
-- and Varner made the most of it. Dunham has seen this stuff before. Remember when
Kenny Florian
got hurt, and
Melvin Guillard
stepped in to face Dunham? Same thing. Guillard heard the buzz coming off of Dunham's name, and muted it. It happened to Guillard later against
Joe Lauzon
. Lauzon did it to
Jens Pulver
back in the day.
Fighters have been linked by travesty forever.
If these outcomes tell us anything it's that A.) there's no such thing as a warm body in the UFC, and B.) the greatest motivation heading into a fight is to be counted out of it. It's what makes MMA fun. You can't pencil people into the title picture without using your eraser.
Now Varner is back. Elkins is mean. Jung is a contender. And those other guys, the ones they beat? It's back to their relative obscurities and rededications.
This is a sport where gimmies are hard to come by.
March, 18, 2012
3/18/12
7:39
AM ET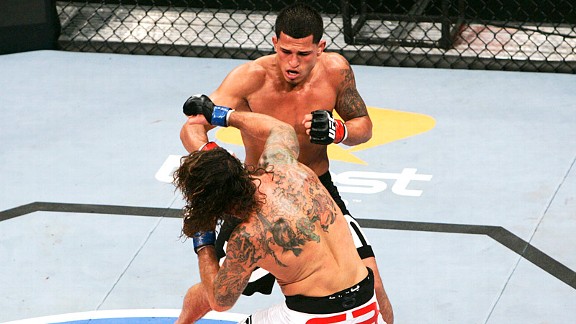 Marc Sanchez/Icon SMIAnthony Pettis flirted with a move to featherweight, but ultimately passed on the idea.
When the UFC introduced the featherweight division into its ranks at the beginning of 2011, it was as if the floodgates opened for two types of lightweight -- those who were small for 155 pounds, and those losing at 155 pounds. Joining up with the smaller class of men, under the aegis of the UFC, spelled out second chances, reinventions and broadened opportunity.
That's why company brand names found themselves shoulder-to-shoulder in the sauna.
Kenny Florian
,
Tyson Griffin
,
Ross Pearson
,
Manny Gamburyan
... even skinny
Darren Elkins
wrung his muscles of moisture to make it. As for the accordion-thick kickboxer,
Dennis Siver
? Just know that the threat is still there.
Yet for the most part, these days a drop to featherweight feels more like a demotion than an exodus. Either that, or the more people became familiar with
Jose Aldo
, the more the alternative path to glory presents itself as an unhealthy one. However you cut it up, the 145-pound division isn't salvation anymore. And that's why
Dustin Poirier
had better be ready for the title gig if he beats
Chan Sung Jung
in May (and vice-versa), and
Hatsu Hioki
had better start smiting his chest after wins. None of the big guns in the lightweight division want anything to do with the featherweight strap right now.
In the past couple of weeks we've seen it. First the chants of
Frankie Edgar
to drop to 145 pounds became loud when Dana White got to nudging things along. When Edgar refused to budge and was reluctantly granted a rematch against Benson Henderson, the focus switched to the odd man out of the lightweight title picture,
Anthony Pettis
. Here is a lean, dynamic striker that suddenly could be thrust into a default title shot against a lean, dynamic striker who surfs (both crowds and waves).
Perfect, right?
Not really. Though there was some mild flirtation from Pettis's camp that he'd be open to the idea, upon reflection the final word was "no." Pettis tweeted that he was staying at 155 pounds where there was a lot of unfinished business.
[+] Enlarge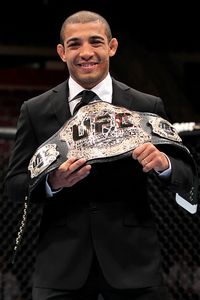 Ed Mulholland for ESPN.comLightweight contenders aren't exactly clamoring for a chance at the featherweight title.
Of course, in the two aforementioned scenarios the common link is Henderson. Edgar lost a close decision and was asking for some return love for his open-mindedness toward rematches throughout his time as champion. His case was so strong that the UFC relented. Pettis is the last guy to defeat Henderson, and he didn't just beat him -- he posterized him with that Matrix kick at the WEC finale. Though his chance at a title shot at 155 pounds could be a couple of fights off and a year down the road, he wants to pursue what he started. Good for him.
But you do have to wonder why one belt looks that much more desirable than the other. Yes, the lightweight division is deeper, has bigger fights and is uber-competitive -- but there's no waiting line to Aldo. Pettis, who has a very stylish fashion sense, is a very select shopper when it comes to accessories, too. Winning just any belt won't do for somebody -- the reigning WEC lightweight champion, no less -- who's had his heart set on a specific one for so long. People have been quick to understand his decision. Don't rush to conclusions. You don't just jump around divisions. That sort of thing.
There are, however, guys who have and who've done it well.
B.J. Penn
has held gold in two weight classes, and
Dan Henderson
stands at the ready to fight in any of three weight divisions. Nothing they did was irreversible, nothing was ever deemed permanent. They just happened to be at cusp weights that could go either way, much like Edgar and Pettis. Greatness is rarely so specific, anyway -- why not pursue a collection of hardware? Isn't this what
Jon Jones
is talking about when talking of an eventual move to heavyweight?
Pettis likely has his reasons (having Henderson's number is chief among them), but a lightweight title shot might be a dangling carrot forever just out of his reach. Right now the UFC is saying that the winner of
Nate Diaz
/
Jim Miller
will fight the winner of Edgar/Henderson, the latter of which is being discussed for August. That makes his road to a title a very long, detouring one with no guarantee of an end.
And that he's willing to take it instead of clashing with Aldo tells you that the featherweight division isn't as enticing. Either that, or Aldo has gained a little invincibility.
June, 26, 2011
6/26/11
9:03
AM ET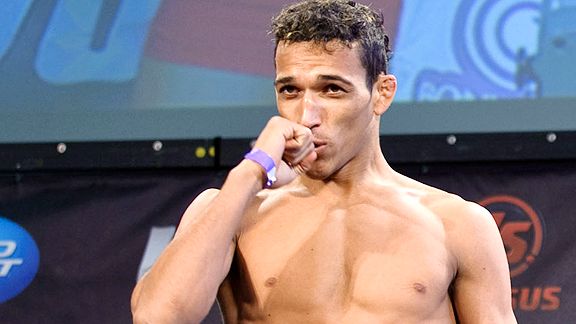 Martin McNeil for ESPN.comWild thing: The future size of Charles Oliveira's animal collection hinges on his success Sunday.
PITTSBURGH -- Charles Oliveira is an interesting dude, and part of that is because he's a very young dude.
At 20 years old, he came into a truckload of money by that age bracket's standards -- winning "Submission of the night" against Darren Elkins in September, pocketing $40,000 on the spot -- and he went on a bit of a spree.
What'd he buy, you ask? The standard things of youth: a fish aquarium, some calopsita birds, a couple of parrots (with particularly vertical crests), a dog, and an assortment of other small animals for around the house.
"This is true," he said through his interpreter Jorge Patino. "It's a zoo at home, and I love animals. When I got some money, when the UFC paid me, I had dreams. My mom and dad gave me everything they could in Brazil (growing up). But some things I could buy, and I bought stuff for fishing; a remote control car. Little kids stuff, but it made me feel good because I am 50 percent kid and 50 percent man."
Oliveira is now 21 years old and owns a 14-1 record after his setback loss to Jim Miller at UFC 124. As a Brazilian jiu-jitsu wunderkind, he was an unlikely candidate to fall for only the eighth kneebar in UFC history that night -- but fights have a funny way of playing out. Had he beaten Miller, he'd likely be considered a top 10 lightweight with designs on being the UFC's youngest champion. As is, he's fighting on tonight's prelims against Nik Lentz at UFC Live on Versus 4 with designs on being the UFC's youngest champion.
That little fork in the road didn't do much to damper those aspirations.
"I never give up," he told ESPN.com a few hours before yesterday's weigh-ins. "It's better that the loss happened now, than in a title belt fight. Because now, I get the focus again and can keep it going my way, and I'll never lose my focus anymore.
"After I lost I felt bad because I lost my game plan. But two weeks after that I started training again, getting focused and I just began looked forward to my next victory and my next fight. But the problem with Jim Miller is I forgot my strategy. I wanted to finish the fight fast and he's strong, and he put me down -- I made a mistake, and that's the problem."
Against Lentz he might be going against the promotion's most underrated fighter. In six fights, he is officially undefeated with one draw (though the Tyson Griffin decision remains mighty iffy). In other words, he's not exactly a can that the UFC has lined up for Oliveira to regain his footing -- Lentz is a very real threat to send him into an early career tailspin.
Which is why he's looking to trade making mistakes for exploiting them.
"I have to recognize that each fight is different," he said. "I watched a lot of videos with Lentz, and I saw little mistakes. And I'll work to take advantage of those mistakes."
It'd be another solid notch on Oliveira's belt to score big against Lentz. If he wins another bonus? There's talk of fishing tackle to catch those elusive wild tucanare and baiacu down in Brazil. But you know what? As a young eccentric sportsman, he would never bring harm to those little fishies.
"I catch a lot," he says. "But I don't kill them, I catch and release. I love animals."